Expressive Art, Large and Small, Among Art Basel 2017 Highlights
With each successive year, Art Basel Miami grows in size thanks to its popularity and the quickly expanding number of concurrent art shows in the city. As the event has become a who's who of art, design and fashion, the fair itself has grown, attracting more than 82,000 visitors in 2017. The show featured 268 galleries from 32 countries, making it hard for us to pick a handful of artworks to highlight. Nonetheless, here is a selection of pieces that caught our attention for one reason or another.
Every year, there is at least one large-scale piece that captivates and this year, we thought it was this one by Ugo Rondinone. The artist is known for eclectic work, often with pop art references and colors, but also for works on a large-scale like this cast bronze tree sculpture.
China's most famous artist might be more known for his installations — or his political and social activism — but he also creates colorful pieces like this self portrait done in Legos. The self portrait is similar to the 176 portraits he made for his show called Trace, focusing on people that he considers to be political prisoners and prisoners of conscience. The pixelated look is meant to evoke surveillance photos.
Another colorful piece was semi-abstract acrylic and fabric collage on wood called Tlazolteotl giving birth by Alexander Tovberg. The artist is said to meld his dreams, European fold tradition and religion to come up with his pieces. The feel of the piece is difficult to pin down and it would be an intriguing work for a home or office.
When your space needs a good dose of colorful neon, look to American artist Beverly Fishman. This is her Untitled (Digestive Problems), which is composed of urethane paint on wood. Her abstract works are discussions of technology and the pharmaceutical industry. Fishman is an artist-in-residence at the renowned Cranbrook Academy of Art, where she has taught since 1992.
In a melding of art and furniture, this sculpture by Danish-born Carl Mannov is meant to provoke thought and discussion. From a series called "Feeding Grounds" it is a statement sculpture crafted from a desk, magazines, and alder wood. To be properly appreciated, this sculpture needs a larger space where it can stand solo and be contemplated.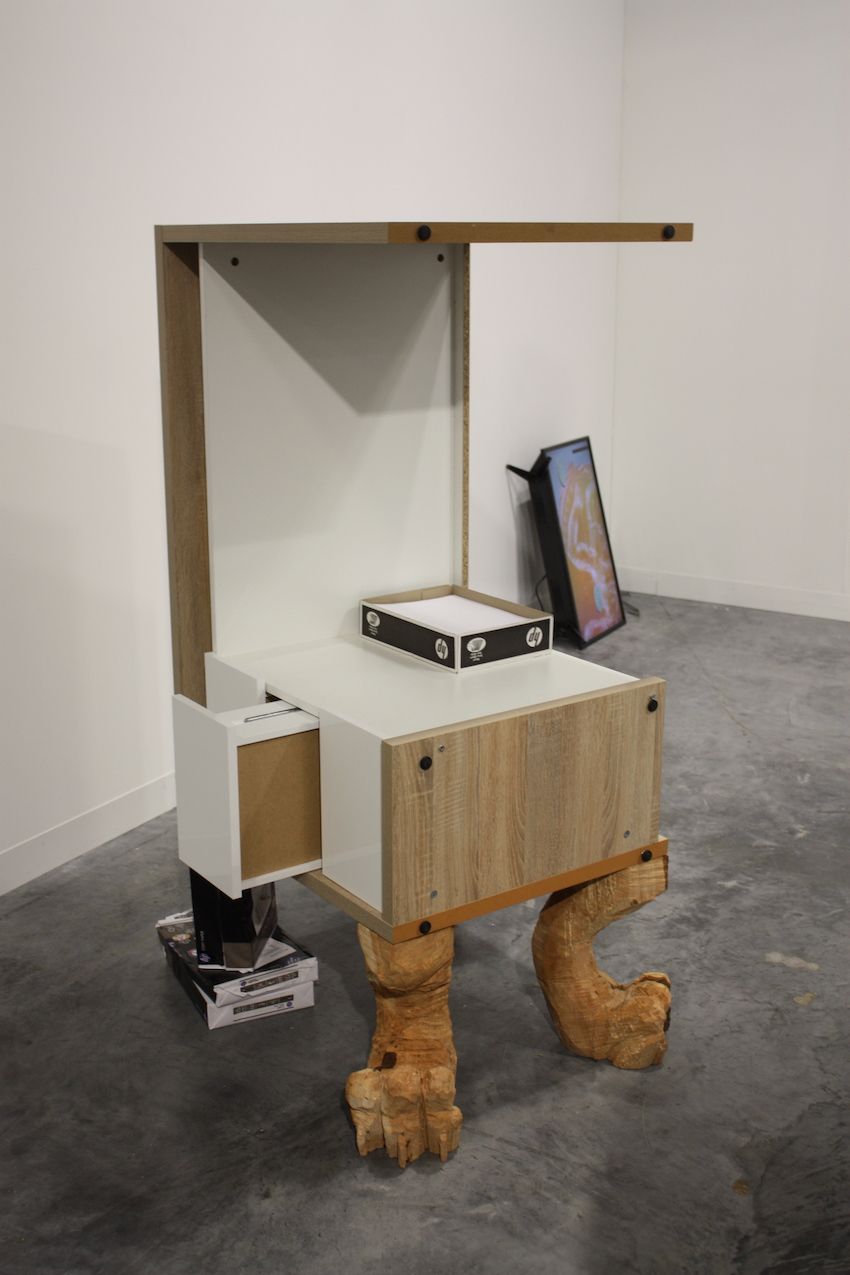 This fluffy work is made of hand tufted wool by Caroline Achaintre, who works in a number of mediums, including textiles, ceramics, prints and watercolors. It is a very tactile piece that colorful — as are many of her works — that would bring life and texture to a large feature wall. Achaintre's pieces are meant to evoke the spirit of Carnival and has been called "simultaneously playful and absurd."
Sculptor Charles Harlan was quoted in a book as saying that "dumb objects can become artworks simply by moving them somewhere." The artist should know, as his work focuses on everyday, industrial objects that he reframes in a new context. This work, called Pallets, is composed of stone, wood, steel and plastic. While these objects individually are mundane, together they form an intriguing, though-provoking assemblage.
The Late Italian artist Dadamaino — who's real name was Eduarda Emilia Maino — created this social charged work. As a social statement, it is unfortunately as relevant today as it was the day it was created. Choosing to display this type of artwork is a one way to express a social opinion and perhaps provoke conversation with the guests who visit your home.
This large wall sculpture by Daniel Buren is graphic and dramatic, typical of the artist's works. Buren was big in Paris in the sixties and challenged conventional notions of where art can be seen, write Artsy. He stopped paining and started pasting vertical stripes on all sorts of structures across the city. This is his Daniel Buren Polychrome High Relief, an aluminum sculpture that would be most fitting in a modern — and sizable–  space.
We couldn't help but think about the butterflies and bugs we captured and pinned when we were children when we saw all these pins. Elliott Hundley's collages contain hundreds of images printed on rice paper along with other materials. This work includes some buttons and seashells. Hundley's work is said to be inspired by Greek plays. We would hang this in a living room or study, somewhere we could see it all the time. We can't image ever tiring of examining the piece, finding different images and elements, each with a variety of meanings.
Fausto Melotti was known for his Surrealist sculptures, like this one called Contrappunto XI. The late Italian sculptor worked with all kinds of materials including metal, wire, plaster, ceramics and wood. The small work features weightless little shapes arranged to hang in harmony. It's a calming little sculpture that is also playful with its  little metal balls and swoops of wire.
This anthropomorphic sculpture was a big draw. Francesca DiMattio's Boucherouite V, is a glazed porcelain and stoneware piece that seem like a figure, but aren't really. Her works are informed by Renaissance and Gothic architecture as well as lace and quilt patterns, among other things. Viewers keep circling the sculpture, expecting to find the face, looking for the front of the piece, but it's not there. Very intriguing.
All types of neon art could be found at Art Basel, but this one was intriguing in its simplicity. Décrochage n°8 by François Morellet is composed of acrylic paint on canvas on wood. Morellet worked in minimal and conceptual art, was important in the development of geometrical abstract art. Neon was his material of choice. According to Artsy, Morellet said that "We were passionate about modern materials that hadn't yet been 'polluted' by traditional art. We particularly liked anything that could produce movement or light."
Haegue Yang's hanging faceted ball is stunning not just for its shine and shape but for the amazing shadows it casts on the walls. This is the perfect piece for a minimalist space with enough plain wall space to let the shadows make a statement. The double copper edges created interesting geometric on the wall that are repeated within each of the facets.
Another hanging pendant we discovered is this untitled work by Jorge Pardo. The sculpture of powder coated aluminum, includes lights hanging from a curvy sapele wood hanger. Perhaps we were drawn to them because they are essentially artistic lighting fixtures by this Cuban American artist, whose works merge art and design. It's a stunning piece of art that doubles as a wonderful light fixture.
One of the features of Art Basel each year is the Kabinett, which allows galleries to feature an individual artist within their booths in a specially delineated space. The Zeno X Gallery featured Kim Jones and a variety of his works, including this shirt-based piece. Jones started as a performance artist with the alter ego of Mudman, a shaman-like itinerant. He caked himself in mud and other organic things and appeared in different public places in Los Angeles. In New York since the 1980's Jones focuses on themes related to war.
If you want to go for something splashy and colorful, try Maryam Haddad's Le Parapluie Jaune. The oil painting is actually a triptych, and has an almost abstract impressionist feeling. You can just make out the young woman and the yellow umbrella of the title. It is a happy piece that would brighten any space.
Maybe it's the curl, or maybe it's the wood, but we love these wall pieces by Norwegian arts Matias Faldbakken. He uses "traditional acts of vandalism and its materials" to generate aesthetic forms, says Artsy. He may be best known for his work with black tape in a nod to graffiti culture, but also for a series with garbage bags the feature drawings in black marker on dark plastic trash bags. These wall pieces seem less chaotic and have a more calming aesthetic.
It's amazing that you can find works by Picasso along with the contemporary pieces at Art Basel. In fact, that's one of the joys. We have to admire and highlight this work and while we could never afford a Picasso, it's fin to contemplate the piece and dream of putting it on our living room wall.
Mixed media pieces are a favorite, and assemblages like this are particularly interesting. Brazil's Rodrigo Bueno is best known for his furnishings that are embellished with natural materials. Here, however, he has transformed a painting in the same way. Titled Maria Quechua Kaiapó, it is a great example of his use of urban waste for creating his art and the innovative use of materials in expression. Again, it is an evocative piece and rife with meaning.
Monochrome yet rich in texture, light and shadows, this work is by Rosemarie Trockel, a German surrealist artist. She is known for controversial pieces that take on topics like sexuality and culture, such as her machine-made balaclavas sporting symbols. This piece is dramatic and dominant, even with its modest size.
From a distance, this looked like a creature taking flight or a woman unfurling her cape, however closer inspection reveals omitting very different: An artful construction created from paper hats used in commercial  kitchens. Created by Mexican artist Tania Candiani, Obreros, is a large and dominant work that is a certain focal point. Candiani's website notes that she is interested in the intersection of language systems, sound, and logics of technology, but with "some nostalgia for the obsolete." The piece is also a strong social statement because it uses paper hats from an American company reputed for hiring illegal immigrants and treating them poorly.
Another work by Ugo Rondinone drew our attention for its flowing lines and the way it evokes movement, much as do some of the Italian masters who carved in marble. The torso of the woman enhances the feeling of a swirling whirl, as she spirals upward, half consumed by the spiral. Unlike the massive tree we included earlier, this piece could fit in most homes!
Best known for her dotty pumpkins and now her highly Instagramed Infinity Rooms, Yayoi Kusama has also created a large volume of smaller works, like this one. Called Shooting Star in Summer, the piece was created in 1988 from acrylic, synthetic fiber and plastic. The materials are composed in a painted wooden box. Using bright red as the dominant color for a stellar setting is unexpected and characteristic of Kusama's pieces.
Adorned in a print that recalls batik print textiles, Nigerian-born Yinka Shonebare takes on political and social history connected with post-colonialism and globalization. Artsy notes that Shonebare, who is a Member of the Most Excellent Order of the British Empire, uses iconic imagery but with a playful touch. The colorful sculptures make multiple statements and will be a definite conversation starter.
So much art, so little time. It's the way we feel about Art Basel every year. The creativity and imagination concentrated in one location can be overwhelming, but one thing is for sure: There is something for everyone at this amazing art fair.