15 Most Unusual Houses Around The World
The world is full of creative minds that transform the way we perceive even the simplest things – like houses. Some unusual houses seem to defy gravity, while others look like they're from another planet or made of glass. If you need some design inspo, check out these top fifteen weird houses from around the world.
1. The Pole House (Australia)
Designed and built by F2 Architecture, the Pole House overlooks the Great Ocean Road in Australia, taking advantage of its location in a very unusual way.
The plot of land with a steep hillside presented a challenge. But, the architects who designed this home came up with a creative solution: they built a concrete platform on a 13-meter-high pylon and put the house on top.
The revelation led to great views and a second challenge: there was no way to comfortably access the house. To solve this problem, the architects also built a narrow concrete bridge, linking the house to the hillside.
2. The Steel House (Texas)
Located 20 minutes outside of Labbock in Texas, the Steel House looks nothing like a conventional home. In 1973 unconventional sculptor Robert Bruno started this project. He worked on it until 2008, handcrafting everything with no outside assistance.
The house (which was never completed) has a very unusual form. Some think it resembles a UFO, others think it looks more like a massive insect, and there are also those that compare it to a Star Wars AT-AT Walker. Either way, it's at the top of our list of weird houses.
3. The Slide House (Japan)
The Slide House is fun and playful. It has a modern design except for the giant slide, which spans three floors and is an integral part of the building.
The slide runs the entire inner perimeter of the building, which has rounded corners. Level Architects designed and completed this unusual home in 2009.
4. The PAS House (California)
The PAS House, located in Malibu, California, is a collaboration between Francois Perrin, Gil Lebon Delapointe, and their client, pro skater and former World Champion Pierre Andre Senizerques.
The interior is organized into three main areas, one of which is a skateboard practice zone. Of course, it's possible to skate on pretty much everything, including the walls, ceiling, and even the furniture. Nothing is off-limits here.
5. The Seashell House (Mexico City)
Have you ever wondered what it would be like to live under the sea? We like to think it would be like living in this giant seashell house from Mexico City.
Javier Senosiain drew inspiration from the Nautilus for this unusual house design. The project was completed in 2016, and one of the most notable elements, besides the shape of the house, is the wall of colored mosaics creating a rainbow effect.
6. The Flintstone-style house (California)
From Malibu, California, we find this contemporary Flinstones-inspired home. Everything about this house looks like it's made of stone, with its organic and uneven surfaces.
While it features a kitchen, bathroom, and bedroom, everything is combined into one open floor plan.
7. The Keret House (Poland)
The Keret home is the world's skinniest house, measuring only 122 centimeters at its widest point. You can find this unusual structure in Warsaw, Poland, wedged between two existing buildings.
Jakub Szczesny first presented his idea for this home at the WolaArt festival in 2009. Three years later, he materialized that idea into this installation. The house has no windows but is semi-transparent with a white interior. It now serves as a temporary home for traveling writers.
8. The Caterpillar House (Chile)
The Caterpillar house is a family home located in Chile. It's made of 12 shipping containers, one of which has an open top and serves as a swimming pool.
The unique building material isn't the only thing that qualifies this structure as an unusual house. The most interesting feature is the distribution of the internal spaces and how the zones interact with each other while maintaining their individuality.
9. Resident Church XL (The Netherlands)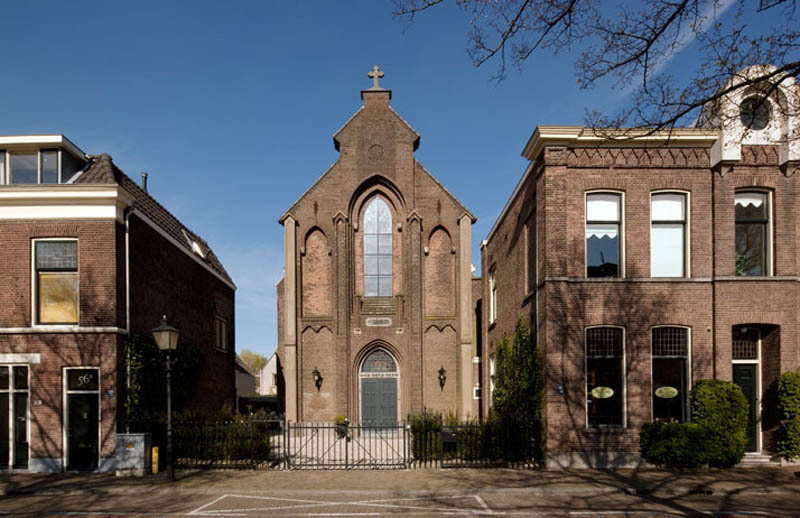 From Utrecht, this church underwent a residential conversion in 2009. The Saint Jakobus Church dates back to 1870 but ceased to function as a church in 1991. It was later used as a showroom for events and furniture displays before being turned into a home.
10. Cement factory conversion (Spain)
If you thought that converting a church into a family home was amazing, wait until you see this residence. It's located in Barcelona, Spain, and used to be a cement factory.
Ricardo Bofill discovered the factory in 1973 and decided to give it a new meaning. The factory was abandoned and partially in ruins. It had over 30 silos, a series of underground galleries, and huge engine rooms. Certain parts of it were demolished, with only eight silos preserved. These silos became offices, archives, a library, a laboratory, a projection room, and a space dubbed "The Cathedral," which serves as an event venue.
After two years of hard work, the architects managed to turn the raw structure into a stunning complex that serves both as a home and an office.
11. Water tower conversion (Belgium)
Architects have turned Numerous water towers around the world into cozy homes. One of them is located in Steenokkerzeel, a village in Belgium.
The water tower was built between 1938 and 1941 and was in service until the 1990s. At some point, it served as a watchtower. In 2007 it underwent a complete renovation when Bham Design Studio converted it into a single family home.
12. House NA (Japan)
There's nowhere to hide in this house. House NA is located in Tokyo, Japan, and designed by Sou Fujimoto Architects using 21 individual floor plates placed at various heights. The entire home is transparent, with no privacy in any of the spaces (except for the bathroom, of course).
The homeowners wanted to experience living as nomads and were inspired by the idea of living in a tree. In a way, the whole house is a giant room divided into several smaller rooms.
13. The Jellyfish House (Spain)
Located in Marbella, Spain, the Jellyfish House is distinguishable from its neighbors with its swimming pool that cantilevers from the roof.
This unusual design solution was chosen by Wiel Arets Architects in response to nearby properties blocking the view of the sea. In order to let their clients take advantage of this view, they gave this house an infinity-edge rooftop pool with a transparent glass bottom.
14. The Tree Hotel (Sweden)
Treehouses aren't what they used to be, at least not the modern and sophisticated ones like the Tree Hotel from Harads, Sweden. The structure is a cube-shaped volume wrapped around the trunk of a tall tree. It's lightweight and made of aluminum. Its exterior is clad in mirrored glass, which allows it to blend in with its surroundings.
The interior is made of plywood and offers 360 degrees views of the landscape. The internal functions include a living area with a roof terrace, a bedroom, and a small bathroom. To reach the entrance, you must traverse a rope bridge connected to the next tree. This was a project by Tham & Videgård Arkitekter.
15. Hotel Costa Verde (Costa Rica)
Believe it or not, this hotel used to be a Boeing 727 airplane from 1965. It's one of the most unique and crazy hotels in the world. The salvaged airframe was transported to the site piece by piece. It was then reassembled on a 50-foot pedestal at the edge of the National Park in Costa Rica.