15 Most Unusual Houses Around The World And Their Insane Designs
The world is full of creative minds that are able to transform the way we perceive even the simplest and most basic of things like a house for example. We've all seen some interesting houses in our lifetime but they can't even hold a candle to the insane houses that we're about to show you. These strange and unusual structures are memorable each in its own unique way.
1. The Pole House (Australia)
This house is as dramatic as it is simple. Designed and built by F2 Architecture, the Pole House overlooks the Great Ocean Road in Australia and takes advantage of its location and spectacular views in a very unusual way. The plot on which it was built is a steep hillside which obviously presented a challenge. The architects came up with the most intriguing solution. they built a concrete platform on a 13 meter high pylon and they put the house on top. By elevating it like that, they put an emphasis on the views but were faced with a second challenge: there was no way to comfortably access the house. To solve this problem the architects also built a narrow concrete bridge which links the house to the hillside.
2. The Steel House (Texas)
This is not exactly a house but rather a giant work of art. Located 20 minutes outside of Labbock in Texas, the Steel House looks nothing like a conventional home. Once you find out its story you'll see why that is. It al started in 1973 when unconventional sculptor Robert Bruno started this project. From then until his death in 2008 he worked on this amazing project, handcrafting everything with no outside assistance. The house (which was never completed) has a very unusual form which could be interpreted in a lot of different ways. Some think it resembles a UFO, others think it looks more like a massive insect and there are also those that compare it to a Star Wars AT-AT Walker.
3. The Slide House (Japan)
The name pretty much explains everything in this case. The Slide House is one of the most fun and playful homes out there and yet its design is surprisingly simple and common except for the giant slide which spans three floors and which is an integral part of the building. It runs the entire inner perimeter of the building which has rounded corners. This wonderful house was designed by Level Architects and was completed in 2009. Figuring out all the details like the right angle of the slope or the best materials for the slide was not easy but it all came out great eventually.
4. The PAS House (California)
This is a skateboarder's dream come true. The PAS House is located in Malibu, California and its bizarre design is the result of a collaboration between Francois Perrin, Gil Lebon Delapointe and their client, pro skater and former World Champion Pierre Andre Senizerques. It's the structure which can be used both for skateboarding and living. the interior is organized into three main areas, one of which is a skateboard practice zone. Of course, it's possible to skate on pretty much everything, including the walls, ceiling and even the furniture.  Nothing is off limits here.
5. The Seashell House (Mexico City)
Have you ever wondered what it would be like to live in a seashell, like hermit crabs do? Well, we'd like to think it would be like living in this insane house from Mexico City which looks like a giant seashell. The house was designed by Javier Senosiain who drew inspiration from the Nautilus. Of course, the shell was stylized a bit and its form and design were adapted and translated into this amazing architectural jewel. The project was completed in 2016 and one of the most notable elements, besides the obvious shape of the house, is that wonderful wall of colored mosaics which created the most exquisite rainbow effect.
6. The Flintstone-style house (California)
Since we're imagining how it would be like to live in all sorts of crazy homes, it would be a shame to fail to mention this extraordinary retreat from Malibu, California. This is how the Flintstones' house would look like if they were our contemporaries. Everything about this house looks like it's made of stone and has unchiseled and uneven surfaces, the lines and the angles are never perfectly straight and the whole design has a very organic feel. The interior features a single huge room.
7. The Keret House (Poland)
You may know this structure as the world's skinniest house and for good reason since it measures only 122 centimeters at its widest point. You can find this unusual structure in Warsaw, Poland, wedged between two existing buildings. The project started with an idea that architect Jakub Szczesny first presented at the WolaArt festival in 2009. Three years later, that idea was materialized into this installation which will serve indefinitely as a temporary home for traveling writers. The house has no windows but is semi-trasparent and has a white interior which allows it to feel a lot less tiny than you'd think.
8. The Caterpillar House (Chile)
Although we're not really sure why this name was chosen, we can't deny the fact that this house is pretty unconventional as well as really interesting. This cool family home is located in Chile and was designed by shipping containers. In total, 12 containers were used, one of which has an open top and serves as a swimming pool. Of course, that's not the only thing that makes this house special. In fact, the most interesting of all is the distribution of the internal spaces and the way in which the zones interact with each other while maintaining their individuality.
9. Resident Church XL (The Netherlands)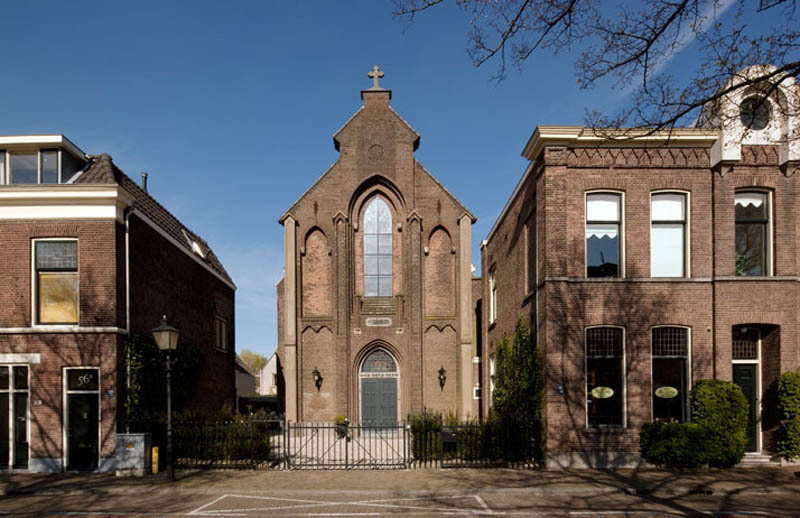 Not everyone would enjoy living in home that used to be something else but there are plenty of interesting conversion projects out there so they must be cool in some way. One of them is a church from Utrech which in 2009 was converted into a residence. We're talking about the Saint Jakobus Church which dates back to 1870. It ceased to function as a church in 1991 and was later used as a showroom for events and furniture displays. Then, in 2007, transform the church into a residence and to bring this beautiful historical monument back to life. The project was approved and these are the results.
10. Cement factory conversion (Spain)
If you thought that converting a church into a family home was amazing, wait until you see this residence. It's located in Barcelona, Spain and it used to be a cement factory. This is by far one of the most amazing conversions ever. It was a project completed by Ricardo Bofill who discovered the factory back in 1973 and decided to give it a new meaning. The factory was abandoned and partially in ruins and had over 30 silos, a series of underground galleries and huge engine rooms. Certain parts of it were demolished and only 8 silos were preserved. They became offices, archives, a library, a laboratory, a projection room and a space dubbed The Cathedral which serves as an event venue. Finally, after two years of hard work and after planting lots of greenery, the architects managed to turn the raw structure into a stunning complex which serves both as his home and office.
11. Water tower conversion (Belgium)
In case you didn't already know this, it is possible to live in a water tower and quite comfortably. Numerous towers around the world have been transformed into cozy homes and some are really inspiring. One of them is located in Steenokkerzeel, a village in Belgium. It was built some time between 1938 and 1941 and was in service until the 1990s. At some point it served as a watchtower and in 2007 is underwent a complete renovation when it was converted by Bham Design Studio into a single family home.
12. House NA (Japan)
There's nowhere to hide in this house. It's all transparent with no privacy in any of the spaces (except for the bathroom, of course). House NA is located in Tokyo, Japan and was designed by Sou Fujimoto Architects using 21 individual floor plates placed at various heights. Their clients wanted to experience living as nomads in their own home and were inspired by the idea of living in a tree. In a way, the whole house is a giant room divided into several smaller rooms.
13. The Jellyfish House (Spain)
Located in Marbella, Spain, the Jellyfish House is distinguishable from its neighbors through its amazing swimming pool which cantilevers from the roof. This unusual design solution was chosen by Wiel Arets Architects in response to the fact that the nearby properties were blocking the view onto the nearby sea. In order to let their clients take advantage of this view, they gave this house an infinity edge rooftop pool with a transparent glass bottom.
14. The Tree Hotel (Sweden)
Treehouses aren't what they used to be, at least not the modern and sophisticated ones like the Tree Hotel from Harads, Sweden. The structure is a cube-shaped volume wrapped around the trunk of a tall tree. It's lightweight and made of aluminum and its exterior is clad in mirrored glass which allows it to perfectly blend in with its surroundings and to reflect the sky and the trees. The interior is made of plywood and offers 360 degrees of the landscape. The internal functions include a living area with a roof terrace, a bedroom and a small bathroom. To reach the entrance one has to traverse a rope bridge connected to the next tree. This was a project by Tham & Videgård Arkitekter.
15. Hotel Costa Verde (Costa Rica)
Believe it or not, this is a hotel that used to be an actual Boeing 727 airplane from 1965. It's one of the most unique and most crazy and unusual hotels in the world. The salvaged airframe was salvaged and transported to this site piece by piece. It was then reassembled on a 50-foot pedestal at the edge of the National Park in Costa Rica. From up there the views of the jungle are quite amazing.