100 Beautiful Living Rooms to Nurture Your Home's Tranquility
As you decorate your home, it's important to take into account what each room will provide for you and your family. Kitchens are gathering spaces for creativity and nourishment. Bedrooms are calming spaces to find rest and rejuvenation. Bathrooms are preparation spaces for cleanliness and self care. But what about living rooms? Living rooms are the spaces in our homes where we relax and have fun. Whether it's just with your family or the friends you host, your living room becomes the space to watch a movie, play a game or even just talk about the last book you read. So when styling your living room, you want to be sure that it incorporates the elements that help you let your hair down. Scroll through these 100 beautiful living rooms that will inspire you to nurture your home's tranquility.
When you are the hosting guru among your friends, seating is one of the primary elements in your living room. Caroline Legrand Design uses a circle rug and sectional to bring everyone together, whether it's your book club or your cocktail buddies.
Leslie Rylee is a master of pattern mixing. This living room displays four different patterns, not counting the walls' architectural interest. It's a great example of how you can really infuse your space with playfulness.
Is your most relaxing space void of color? If that's what really lets you relax, embrace it in your living room. Use black, white and brown in your color scheme and focus more on texture to make things interesting.
Designing a living room that looks out on a lake or ocean can be tricky. You want it to have that waterside feeling but without the cliche shells and rowboats covering every surface. Take a page out of Southern Studio Interior Design's book and make your living room's canvas as neutral as possible. Then any blue accents will immediately lend that seaside look.
How do you create a modern living room that's cozy at the same time. You'll find the answer in the books. Bookshelves lend that feeling of home and comfort to a space, even if the rest of your living room is straight edges and black accents.
Charla Ray Interior Design knows that you can mix several shades of the same color and the will match. Suddenly your opportunities for fun colored sofas is endless.
When you're working with neutral colors, it's essential that you think about your textures to give your living room a rounded look. Lisa Sherry Interiors added fur, jute and weaves to their accents and the space definitely feels finished.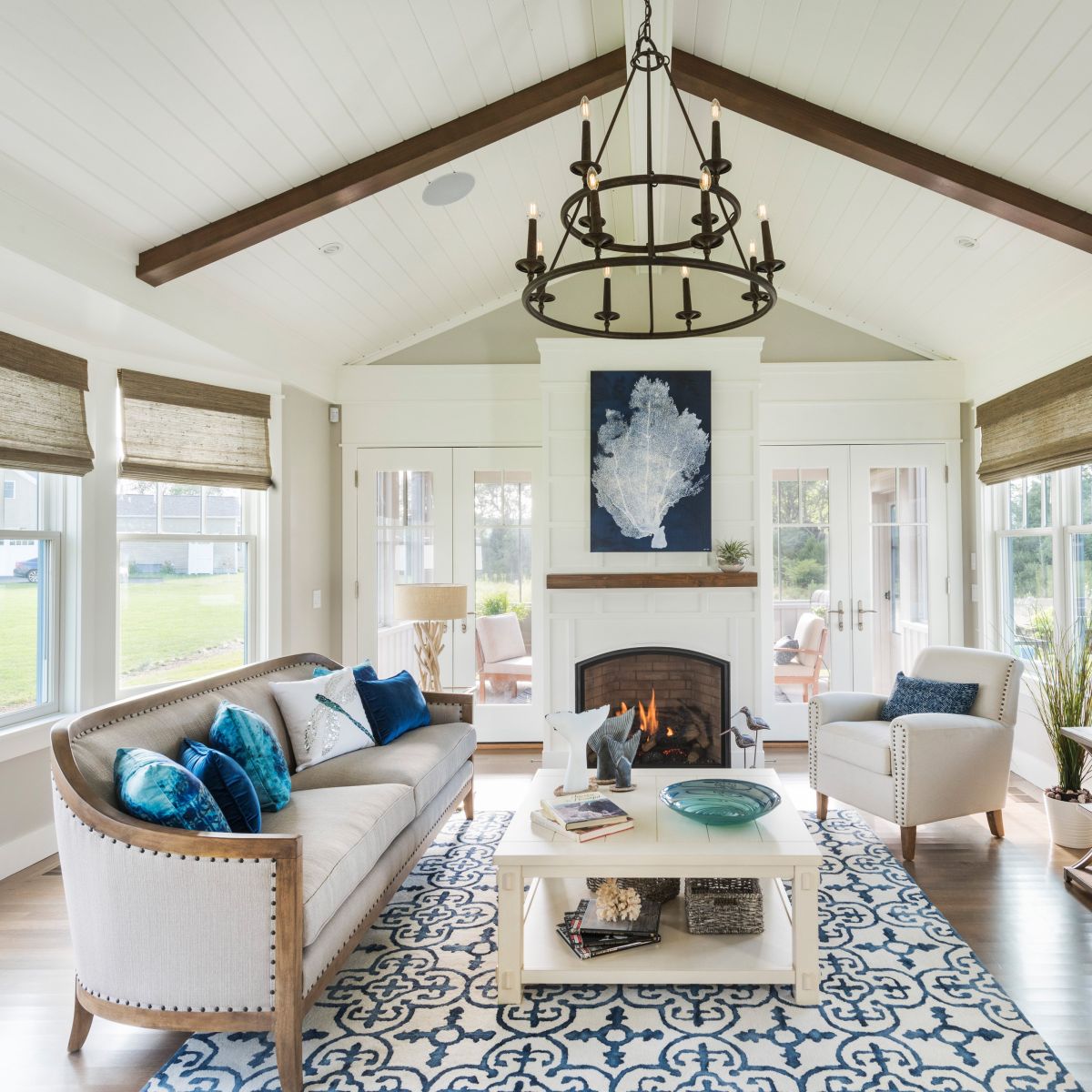 Styling a traditional living room can be a challenge but This Old House knows exactly how. A patterned rug gives a great landing pad for your living room furniture and will help hide the hard wear and tear from kids and pets.
A rustic home doesn't have to be all heavy wood and buffalo check. With a myriad of creams and linens, the heavy wood accents you do choose will stand out better without weighing down your space. M Naeve shows off some rustic wood in that beautiful coffee table which makes the perfect focal point.
Art in your living room doesn't have to be bold to make a statement. Carrie Brigham Design uses three similar pieces to create flow and continuity for the eyes. It definitely comes off more peaceful than a gallery wall.
Does your living room have a fireplace? Make it the focal point of your space like Studio Steidley did with this nice living room. It will make your living room seem even cozier than any number of throw pillows could bring.
If we could choose big picture windows, wouldn't we all give a resounding "yes"? If you have them, follow the example of this living room by M Naeve and keep all your living room decor creamy white to catch all those rays.
Life gets busy and when your living room acts as several rooms put together, it can be tough to keep the tasks separated. Monique Gibson put a desk behind the sofa to give some separation between work and play in the same room.
Old homes have such wonderful features. Grey Dove Design kept the style of this living room light and simple to really draw attention to the wood floors, heavy beams and brick fireplace in this historical space.
So many people recommend plants and flowers to finish out a room. But what if you have a brown thumb and will kill them all? Estudio María Santos uses simple large branch clippings to bring the greenery into the room without the hassle.
Don't think that your living room must have expensive art to be beautiful. When you're are a photographer, you can use your own prints to decorate your walls. Jeff Schlarb keeps it black and white to continue the look in this living room.
Sometimes the best most beautiful living room is full of vintage finds and hand me downs. Shoot Factory relies on the mismatched coziness to bring this living room together.
If the walls of your living room are a neutral color, don't shy away from brightly colored accents. The myriad of lush fabrics in bright shades in this living room by Casa Botelho can't help but invite you to stay awhile.
A living room with multiple focal points is hard to design. Desjeux Delaye fixed this problem by putting all the focal points on one wall. The fireplace, bookshelves and TV together keep everyone's attention instead of not knowing where to look.
A kid filled home is a funky home, or at least it should be. Funky in a good way. SJB designers found the best striped chair that really grabs your attention in this living room. Your kids will be fighting over a chair like that.
Bright colors are also a trademark of a kid friendly home. George Penniman Architects really embraced turquoise in this beautiful living room and you know that it is inspiring to kid play.
Nathalie Deboel knew that the key to bringing modern style to this cottage living room was a blank slate to begin with. Painting the walls and ceiling in the same shade really makes them blend into the background while the modern styling stands out.
These days, who doesn't love a good wallpaper? Gregory Shano covered this living room in a textured wallpaper that really brought this space to the next level. Can you imagine it in flat paint? It just wouldn't be the same.
Not all rooms require fabric drapes to look finished. Kate Lester Interiors uses bamboo blinds to provide a textured accent as well as the necessary privacy in this beautiful living room.
Such a bright couch really takes up so much visual space, it's almost essential to use see through accents for the rest of the room. Itta Estudio adds those bamboo accent chairs for the perfect supplement seating.
Deep colors are so fun to use in your home. Andria Fromm gave this white living room all kinds of navy blue accents. The white walls and light floors create the ideal background to support such dark seating.
Some say that small living rooms should have smaller furniture but Blackband Design shows us different. The overstuffed seating and heavy surfaces make this beautiful living room so welcoming.
Most sofas require you to add your own cushions, but a sofa like this one comes with everything you need. Plus all those pillows are going to be the same color, making it a calming scene in your living room.
Natalie Haegeman Interiors had an interesting living room layout to work with here but they made it work for them instead of fighting it. Using a deep windowsill as a side table and a beam as a focal point, it makes everyone's job easier.
Many think that traditional design revolves around neutral colors but J.Latter Design shows is that that isn't necessarily the case. When you keep to the rolled chair edges and classic coffee tables, you can use any bright colors you want.
High ceilings and large windows are prime real estate for potted plants. Having a tree in your living room will make the whole space seem a little more like a greenhouse.
A large open living room can't be styled like many other living rooms. While there is usually a central area with a sofa and coffee table, you need to think about how to create little nooks in the empty corners. Maybe a desk in one spot and a couple comfy chairs in another to fill out the space.
There is no empty corner that a built in bookshelf won't fill. If you're struggling to get a grasp on that empty spot, set your hands to work and give yourself a corner to fill with all the books and tchotchkes your heart desires.
Jessica Helgerson wins at creating a completely beautiful airy space to relax in. With leggy furniture and white walls, it's a comfortable yet breathable space to hang out in at the end of the day.
Just because you have shelves doesn't mean you need to fill them. Nook Architects used the credenza for the TV and left the rest bare to create a pleasant look with the negative space.
Starting to feel like your furniture is blah? Rather than buying a whole new living room set, switch out your lighting for something more fun. Corrine Bensimon Maison uses bright basket shades to liven up an otherwise neutral living room.
It's easy to find all the things you dislike about a rental living room. Workroom used large statement art pieces to cover up a brick wall and make this living room feel decidedly industrial, teaching us that it's all about creativity.
Multiplicity definitely isn't afraid of black. That black statement wall makes this living room feel so modern, even though all the textures are comfortably woven.
Let's talk about that painting because if there was a good example of statement art, this would be the poster for it. While it can cost you a fortune, you can also put your own paint brushes to work and create your own masterpiece.
Every living room needs a pouf. Amanda Webster Design used an coffee table with space underneath to stash them when not in use. They make wonderful extra seating!
Hello beautiful living room we all envy. When you have elements like a brick wall or a gorgeous ceiling, you really want to make those work for you. Because the more original character you can display, the less decorating you will have to do yourself.
Every so often, you run across a piece of furniture that you just have to have. Jenny Madden Design added bright floral accent chairs to an otherwise traditional living room and it definitely paid off. They steal the show, sitting amidst all those neutral shades.
While most designers seem to stay on one end of the color wheel, Celerie Kemble took a leap in this living room. Who would have thought that aqua and coral would look so perfect together, but they do.
When your living room is rather lacking in light, it can be difficult to get a good vision for it. But Tiffany Duggan solved the problem by giving this space a serious library feel with blum bookshelves and plaid chairs. It ends up feeling cozy instead of cavelike which is the goal for every living room.
Looking to create the perfect bachelorette pad to come home to? Take a tip from Géraldine Prieur and don't shy away from pink. From the walls to the furniture, infuse your space with a good dose of blush and you're living room will feel fit for a princess.
Electric Bowery did fantastic work infusing this modern space with Scandinavian comfort. Warm wood tones and a plush rug will do so much for space that would be rather colorless and cold without them.
Since your living room will be the space that guests will see the most, don't be afraid to make it a mirror of your personal style. Mix a modern painting with a vintage sofa if that's what floats your boat. It will make your living room uniquely you.
At first glance, this beautiful living room seems modern. But then you realize that Standard designers have added a persian rug and rustic coffee table. Together they make the perfect balance that would fit in any home.
Brown Design Group really did this living room a favor when they kept the Spanish Revival accents. It's a great example for how you don't have to completely start over in an old home, even with your modern style.
Bright white walls have been on trend for a while and when you have a living room like this one, you should take advantage. All that natural light will keep your space feeling fresh and airy, no matter what season it is.
Robert McKinley certainly had his work cut out for him with that asymmetrical fireplace hearth. But by installing shelves on the wall, it fills the space and makes it look intentional instead of wonky.
Don't rely only on your wall art to give your living room the color you need. POCO Designs took their pink scheme and went wild with it, all the way to the floor. It certainly gets the imagination going.
Marie Flanigan might have been questioned when she covered the living room in shiplap, but in the end it all worked out. The simple white pattern gives a good canvas for all the texture going on in this space.
Striving for a modern living room is all about simplicity and creativity. Summer Thornton had the right idea by covering the windows with shades and curtains. There is softness there without the busyness of much texture or pattern.
It can be so fun to experiment mixing styles in your home. Alison Damonte put a lime green sectional in this midcentury living room and it definitely worked to update the style without losing the charm.
Elodie Sire hit the nail on the head when she used a patterned rug in this Tuscan living room. You would almost think it's a beautiful tile until you sink your toes into the plush fibers.
Does your living room have a stunning view? Design like Ardess and position your sofa against your windows. You'll create a favorite spot for watching the weather pass by outside.
For some people, the quirkier the space, the better. Rachel Meadows created a perfect den of Bohemian glory in this living room. Full of pattern and color, it looks like a fun place to hang out.
There is something to be said for monochrome decor. Michael Del Pietro basically used three colors in this living room; gray, black and brown. Even the accents are all one shade, creating a simple looking shelf.
Thank you Anders Bergstedt for this classic Scandinavian living room. Simple furniture allows for you to focus on the knits, furs and weaves of the room's accent pillows and blankets. Just goes to show that you don't need color to be perfectly cozy.
Who says that plank walls are out of style? This gorgeous chalet by Marianne Tiegen shows off probably the best plank wall in the design world. Such a rustic feature is balanced out by those black and white patterned chairs.
Comfort is key when you host a lot of parties. Samantha Hauvette chose plush seating with soft fabrics for this otherwise very French apartment and it created the best spot for hanging out with all your best pals.
Tiffany Duggan does it again with this gorgeous traditional living room. And a pink sofa? OF course because it balances out the other pink elements in the room.
Gallery walls are fun to organize due to all the possibilities. If you're afraid that a gallery wall will be too overwhelming in your living room, pay attention to your colors like this display by Studio Gild. When they're all in a certain color pallet, it will feel full without being too busy.
Got pets? This living room by Barker Freeman incorporates ledges and hidey holes for the home's cats into the style. While you might not be able to incorporate it into your architecture, you can still think about how you can DIY some spots in your living room especially for your furry friends.
Black is so edgy and dangerous in the decorating world. But when you choose it for materials like fur and velvet, like in this beautiful living room by Ryan Korban, it becomes a little less dangerous and a little more luxurious.
When you come across those certain chairs that are a little above budget but totally perfect, you buy them. cityhomeCOLLECTIVE definitely made the room with those acrylic seats filled with fur.
Even with the classic architecture and that stained glass window, Stephane Chamard managed to make this room a modern wonder. It really challenges the rest of us to look past the space we have and see what it could be.
Rather than covering up the ceiling and beams, Maison Hand makes them the centerpiece by painting the walls black. Somehow, against the dramatic backdrop, the imperfectness of the original structure becomes more interesting.
Are you in love with fur? Pearson Design Group shows us how to really embrace it in your home without making your space look like a hunter's lodge. That rug just screams comfort.
Is your living room wildly imperfect? Join the club. But rather than covering it all up, embrace the imperfections like Michel Perry does in his rustic home. All those not-so-pretty parts become interesting and beautiful.
Hilary Robertson kills it with the soft warm gray walls in her living room. It sets the tone perfectly for all the touches of vintage and glamor throughout the space.
Even with all that natural light coming from the ceiling, this living room by James van der Velden demonstrates the importance of secondary lighting in our living areas. With sconces, table lamps and track lights, you can get a warm glow exactly where you want it, leaving off the harsh overhead lighting.
Do you travel? It's quite fun to shop for souvenirs when you explore new places, especially if it's something that you can display every day. Look for rugs and pillows that match your living room's color scheme and if all else fails, something for the bookshelf.
A giant coffee table might not seem like an essential piece in your living room, but if you have kids or host your friends, it's necessary. You'll be glad of the space when it comes time for game night.
Some colors we might like but we aren't sure if we want to decorate with them. Design your living room around a neutral color pallet to create your canvas and then add just a few pops of the questionable color. It's a great way to decide if it's going to stay without spending through your budget.
We spy a duck in the corner of this living room. While we're not sure why Shoot Factory would include one, it's certainly a conversation piece and makes us wonder what other things could serve the same purpose in a living room.
When it comes to lighting, there is always creativity to be had. Wrap your overhead chandelier in rope or foraged branches to create a completely new look in your living room without the expense.
While some might say a white sofa is a bad idea, it's certainly the perfect background for any pillows you want. So grab that opportunity by both horns and collect all the spring patterns for your living room.
Need a big punchy makeover on a low color scheme? Black and white patterns are where it's at. Who knows what exactly Greg Natale started with but in the end, the wallpaper plus that rug plus those pillows make a great combination.
It's ever so easy to make your living room feel like an art gallery. Like Nest Architects displays, keep your space neutral and let your artwork do the talking.
What do you do when there isn't a good place for a bookshelf? You make a place. Ensemble Architecture built bookshelves around the windows and ultimately created a personal library.
Nikki Tibbles home is a beautiful mash of all the pastel shades you can think of. With black accents thrown in to make it feel more grown up, it really achieves a beautiful living room.
Is your living room desperate for a little more light? Use a large mirror to help brighten up those dark corners like the big mantle mirror in this apartment by Maison Hand.
Some living rooms are big enough to really benefit from dual sofas. But what if you don't have the budget for that? Deborah French Designs built a simple daybed and filled it with cushions to provide extra seating on a dime.
Sometimes a bookshelf wall can overwhelm your living room with all it's colors and styles. But Studio RO+CA turned all the books backwards so the creamy pages add texture without the busyness.
When you want to style a really relaxing space, minimalism is key. Arent & Pyke achieve this even in a traditional sense with deep colors and a lack of wall art. The negative space feels cool and clean.
Ahh pink. We just can't seem to get over it, probably because it's such a happy color. The pattern of the pink rug helps all the shades to really blend in the same space.
You might not choose a patterned couch from the get go but after seeing this living room by Arent & Pyke, you might just reconsider. It eliminates all need for throw pillows because it's comfortable and bright enough itself.
Disc Interiors combined modern and farmhouse aspects in this beautiful living room and we couldn't love it more. It gives you permission to put wrinkled linen against modern black fixtures any time you want.
There's nothing like a good masculine leather chair in a beautiful living room. This space by Lorenzo Castillo is the perfect example of how you can mix masculine and glamorous styles together in one room.
As a collector, it's important that you show off your collections in a living room that's yours. Wendy Haworth provided ample surface space in this living room to display all kinds of tchotchkes.
When your living room doesn't have a good focal point, you obviously have to make one. TomMarkHenry filled a wall with this statement print and it's definitely an attention grabber.
If you think that just because your home has French or Spanish architecture, you have to decorate that way, let this beautiful space prove you wrong. Even with wrought iron accents or elaborate crown molding, you can still have a tribal rug.
A clean fireplace is a happy fireplace. Cortney Bishop chose to forgo a mantle or fireplace decor and let the architecture speak for itself. Doesn't it make you want to clear your walls?
Have you ever thought about putting curtains other places than windows? Let the line shine in and hang your curtains across a doorway instead. Or maybe create a curtain wall that hides your TV. So many possibilities.
So many people push their furniture against the walls but if you have enough floor space, let your walls breathe. In fact, it will make your whole living room look bigger.
When your sofa is velvet, you can get away with all kinds of colors. Studio CMP went with a mustard yellow and it turned out to be the sunniest spot in the whole living room.
Black isn't the only eye grabbing color. These red bookshelves by Desjeux Delaye beckon you to host cocktail parties and late night soirees galore.
Salt + Bones really outdid themselves in this beautiful living room. The black and gray tones against white walls are completely modern in concept but lay it all on top of a plush rug and it really feels like home.