100 Beautiful Bedrooms You'll Never Want to Leave
Beautiful bedrooms provide an area to unwind and rest after a full day. Bedrooms are also the most personal room in the home – a place where you can freely express your design tastes.
Since you and your partner spend about a third of your day in the bedroom, it should reflect your style and promote relaxation.
100 Pictures of Beautiful Bedrooms
For inspiration, we've rounded up 100 pictures of beautiful bedrooms in a variety of interior design styles. Use these images to plan your bedroom makeover.
1. Enjoy The View
This house by Design Raum is surrounded by nature. The designers took full advantage, installing a large window in the bedroom, acting as a frame for the outside views.
2. A Beautiful White Bedroom
Designed by Alexandra Fedorova, this apartment bedroom features a minimalist white look. Solid wood planks cover the wall behind the bed and the adjacent floor. For a modern-minimal look, you can't go wrong with wood and white.
3. Dark-Stained Wooden Floor
The same designer remodeled the interior of an apartment in Zelenograd, featuring this beautiful bedroom with a dark-stained wooden floor, a warm neutral accent wall, and cheerful green and yellow accents. The bed is the focal point, featuring a flexible shell.
4. Use Natural Materials For A Cozy Atmosphere
The use of natural materials and the presence of a large panorama window contribute to a cozy atmosphere. Elías Rizo Arquitectos designed this bedroom for a project called Casa VR.
5. A Minimalist Wooden Bedroom
A-cero is known for its minimalist and sculptural approach to interior design, like in this beach-house bedroom in Thailand. The wall divider molds into a headboard which gently curves and continues onto the ceiling, forming three sculptural modules that contrast with the wood-clad wall and the floor.
6. Use Various Textures in Your Bedroom
The masculine vibe in this bedroom designed by Yodezeen is quite charming. The designer maximized texture through the flooring, leather bed, rug, and wall treatment.
7. Bedroom with Wooden Walls, Floor, and Ceiling
Somewhere in the French Alps, there's a lovely chalet known as Le Petit Chateau – this is one of its bedrooms. It has wood on its walls, floor, and ceiling, access to a small terrace, and a mixture of modern and rustic elements.
8. A Luxury Penthouse Bedroom
Architect Jean Nouvel designed a luxury penthouse in Chelsea, New York. Although small, the bedroom is bright and open thanks to the large windows. The views complement a minimalist decor with Nordic influences.
9. Cover an Entire Wall with Long Curtains
The long curtains in this bedroom create a space fit for sleep. Designed by n232, the space is crisp but cozy. The accent lighting is also integrated into the room's decor.
10. Use Raw Materials in Your Beautiful Bedroom
A while ago, Hufft Projects designed a home dubbed the Heavy Metal Residence. The design integrates raw and rugged materials, metal being one of the most important. The wooden accent wall is the perfect focal point.
11. Use Simple and Neutral Colors for a Relaxing Bedroom
Designed by Luigi Rosselli, this home is surrounded by tropical vegetation. To complement the natural landscape, the interior design is based on simplicity, neutral colors, and pure materials.
12. A Simple Yet Sophisticated Bedroom
Simple and sophisticated, the Y House designed by Ofist in Turkey, features a mixture of modern, classic, and industrial design elements. The bedroom opens onto a large wooden deck.
13. Enjoy Extraordinary Views From Your Master Bedroom
By embracing the rugged terrain and facing the challenges, BLANKPAGE Architect managed to build this amazing house with extraordinary views from its master bedroom. The house is located in Lebanon.
14. Blend Formal and Casual
The design plan for this residence was to blend formal and casual. The interior design was done by John Maniscalco Architecture, and the team managed to make all the spaces look elegant, including this beautiful master bedroom with a marble fireplace.
15. Design Your Room to Admire the View
A gorgeous view is your bedroom's best asset – this bedroom designed by Studio Arthur Casas is the perfect example. The bed is facing the huge windows, and the low unit doubles as a bench.
16. Add Vibrant Accents to Your Bedroom
Light colors and neutrals make spaces seem larger and more open, like this cozy London bedroom designed by TG-Studio. The neutral backdrop is ideal for brighter accents and the textures creat a relaxing space.
17. Work to Find the Right Balance
Finding the right balance is difficult, especially when you want to give the bedroom privacy and panoramic views. The solution found by Pitsou Kedem Architects for the S House in Israel allows light to filter in while still shading the room.
18. Dark Wooden Floor with Crisp White Curtains in the Bedroom
Developed by Mancini, this bedroom in South India is serene. The contrast between the dark wooden floor and the crisp white curtains creates a space that's easy on the eyes. The vibrant green surroundings act as natural decor.
19. Sliding Glass Panels Instead Of Solid Walls
By opting for sliding glass panels instead of solid walls, KCD Design Studio gave this apartment a refined and sophisticated interior design. The panels allow the internal spaces to form a flexible layout with an open feel.
20. A Linear Minimalist Bedroom
The minimalism of this bedroom's interior, designed by Paul de Ruiter Architects is anything but boring. The neutrals create a clean look, but the textures in the wood, floor, and bedding add interest to the space.
21. Accent Lighting Ideas for the Bedroom
The master bedroom of this Netherlands home incorporates lots of accent lighting. The ceiling's design paves the way for a unique glow, and the can lights above the bed add to the look. This was a project by Centric Design Group.
22. A Majestic And Glamorous Bedroom
This luxurious and beautiful bedroom is a part of the Elysium Penthouse in Vancouver. Its design is glamorous, with a sense of grandeur emphasized by the high ceiling and arched window.
23. Blending Modern Minimalism With Traditional Elegance
Designed by See Construction, this is one of six bedrooms in a contemporary house in Beverly Hills, LA. Its decor is a blend of modern minimalism and traditional elegance.
24. Rich Wood with Golden Accents
Rich wood mixed with gold accents gives this bedroom a sophisticated look. Designed by NG Studio in St. Petersburg, this is an example of a luxury bedroom design.
25. Include a Cozy Sitting Area in the Bedroom
Spacious enough to include a cozy sitting area in the corner, this bedroom designed by Gestion René Desjardins welcomes the Canadian landscape inside. The white finishes and natural light creates a calm and relaxing space.
26. Beautiful Bedroom with A Checked Throw
Checked patterns add character to a wooden bedroom for a rustic look. The wood detail is the star of the show, so other elements are simple.
27. A Mountain Cabin Bedroom
Mountain cabins and chalets are cozy and welcoming. You can find this bedroom in Chalet Les Serbies from Courchevel, France.
28. Unique Patterns to Create Style in the Bedroom
Find fun and unique patterns to brighten neutral bedrooms. We love the brown patterned throw and cushions, which make this bed stand out from the rest of the wooden décor.
29. Use Paler Wood
Chalet Karakorama is located in the same area of France, but its interior design is different. The lighter wood offers a modern look compared to the medium and dark-toned rustic wood in similar Chalets.
30. Blend Modern and Rustic in a Charming Cabin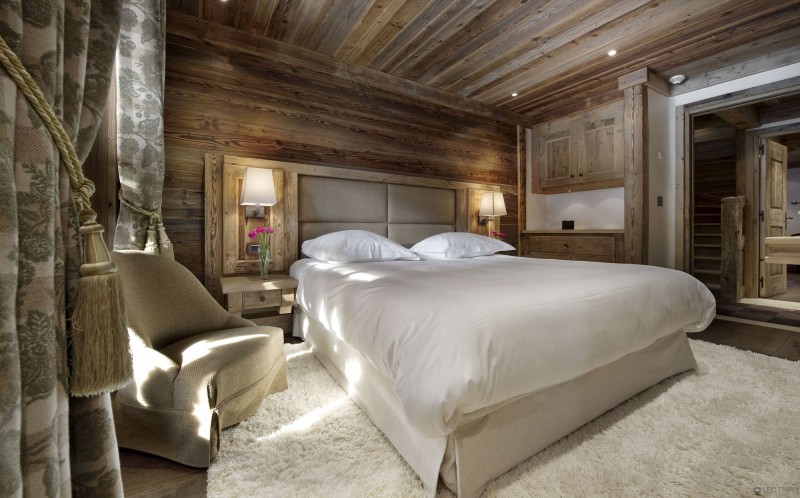 The French Alps have a ton of charming cabins, including Chalet Les Gentianes 1850. The master bedroom is a blend of modern and rustic.
31. Keep Things Simple to Create a Beautiful Bedroom
A beautiful bedroom's decor doesn't have to be complex to be charming. Designed by Daniel Cassettai Design, this bedroom features show-stopping wood with minimal decor.
32. Let In Natural Light with a Window Wall
Designed by Robert Bailey Interiors in British Columbia, Canada, this vacation home bedroom is the perfect place to unwind. The faux ceiling trim and built-in accent lights are simple but add to the room's look. The window wall lets in lots of natural light.
33. Yellow Accents in the Bedroom
Add fun and bold accents, such as this yellow chair in the bedroom. Even the darkest room can benefit from a few hints of color – choose something that stands out from the rest of the space.
34. Add Black for a Stylish Bedroom
A very simple detail, like the use of an unexpected color, can be the difference between a beautiful bedroom and one that's boring. Black is one of the least popular colors in bedrooms, even though it can add elegance. Designed by BWM Architekten und Partner for Hotel Topaz in Vienna, this black bedroom looks high-end.
35. Add a Pop of Color to a White Bedroom
Designed by A-cero, this white bedroom adds brightness through the throw pillows and seat cover. Even though these accents are small, they make a large impact.
36. Attic Bedrooms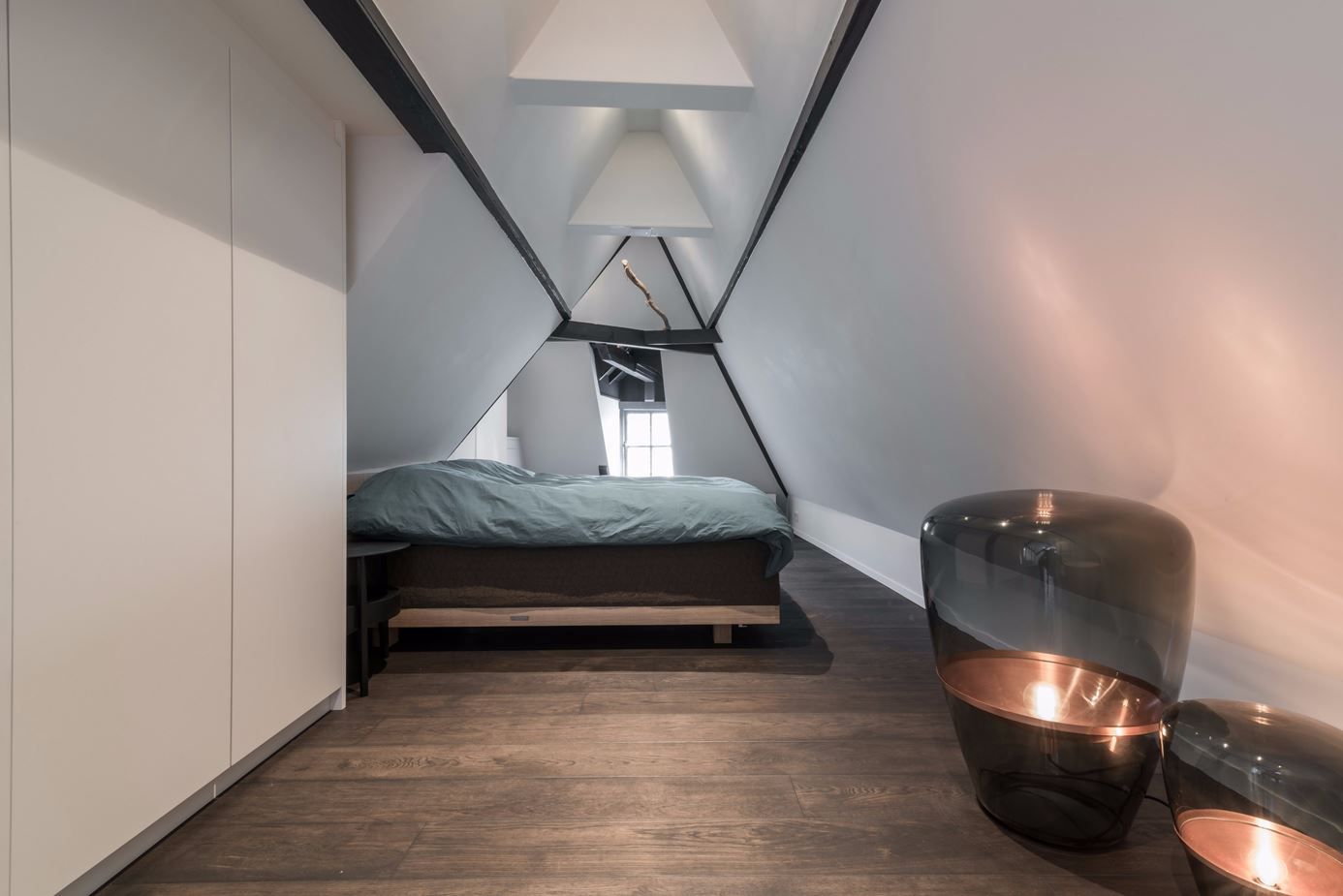 Attic bedrooms can create a design dilemma thanks to their sloped ceilings. Willem Benoit Interieur managed to work around this, creating a minimal and relaxing bedroom.
37. Connecting the Bedroom and Bathroom
We love bedrooms that have access to their own balcony or terrace, but we also enjoy those with en-suite bathrooms. This apartment from Tel Aviv was designed by Dori Redlich studio and showcases an unusually close connection between the bedroom and the bathroom.
38. A Hanging Bed
Most apartments are part of a residential building and follow a certain layout, like a template. That's not the case here. Ashari Architect turned this rooftop apartment into a living space, and its bedroom has a really cool feature: a hanging bed.
39. Use Reclaimed Wood for Texture in the Bedroom
Reclaimed wood adds texture to the bedroom, as was done bere by ARRCC. They combined boards with different colors and finishes to create a charming wall backdrop for the bed.
40. Make the Most of Your Natural Surroundings
The team from ARRCC excels at creating amazing spaces with detailed interiors and a perfect relationship with their surroundings. The bedroom of this apartment from South Africa is one of the many examples.
41. Mix Light and Texture
The interplay of light and texture gives this bedroom a lot of character. Wall & Deco kept the color palette simple, allowing the focus to be on form.
42. Beautiful Bedroom with Bay Windows
The bay windows open this bedroom, bringing lots of natural light inside. The traditional interior is the work of DeForest Architects in collaboration with NB Design Group.
43. A Glazed Wall to the Side of the Bedroom
Designed by FARQ Architects, this glazed wall allows natural light to enter from the side, rather than being directly in a person's face. All other elements are simple and uncluttered, making this a room fit for deep sleep.
44. Use Gray as an Accent Color
Using gray as an accent color, Buchanan Architecture gave this bedroom a chic and classy look. The room also features a tidy, connected walk-in closet.
45. A Minimalist Desk in a Beautiful Bedroom
We can't decide what we like most about this bedroom – the hanging bed, skylights, or the minimalist desk in front of the large windows. The room is placed on the upper floor of a remote house built by LTD Architectural Design Studio.
46. A Tranquil Garden View
Waking up in the morning to this tranquil garden is a wonderful feeling. It's just one of the things that make this newly extended house in Claremont so charming. The extension and remodel were done by M Construction.
47. A Futuristic And Geometric Bedroom Design
The futuristic and geometric design of this bedroom is from ad2 architekten. Although the configuration and decor are simple, the room is bold and eye-catching. The bedroom is enveloped in full-height windows with beautiful views.
48. A Modern Treehouse Bedroom
As a modern tree house, this home is structured into four cylindrical towers which rise amongst the trees. The bedroom takes advantage of the curvature of the walls to encompass a panoramic view. The house was designed by Malan Vorster.
49. Sweeping Views From Your Bed
The exclusive residential development planned by SB Architects in Las Vegas was extraordinary from the start. The sweeping views are the main attraction, and we appreciate the choice of warm wood for the ceiling and soft neutrals for the rest of the decor.
50. A Modern and Chic Bedroom
TSEH Architectural Group turned an abandoned house into a chic home. In the bedroom, the robust bed takes up most of the floor space without making the room feel tiny or cluttered.
51. A Small Balcony
Designed by Una Arquitetos, this bedroom space opens onto a small balcony with an overhang for shade. The wall on the left side of the bed has windows at the bottom, letting in some light without making the room feel exposed.
52. An Indoor-Outdoor Bedroom
The relationship between indoor and outdoor spaces is expressed in many ways. Take this pavilion designed by Branch Studio Architects, for example. It has a vast bedroom with views of the garden that don't compromise its privacy.
53. A Panoramic Beach View
A beach house isn't complete without a panoramic view of the sea. When designing this Malibu home, architect Doug Burdge and interior designer Tim Clarke brought the views into the most important spaces, like the bedroom.
54. A Cozy Barn Bedroom
Somewhere in Gloucestershire, England, there's a charming residence that used to be a barn. It features a combination of rustic warmth and modern simplicity. The exposed beams stand out against the crisp white walls. The light-up nightstands give the room a whimsical touch.
55. A Contemporary Gray Bedroom
Grey is a versatile color common in contemporary interior design. gray bedroom.
56. A Tropical Hawaiian Bedroom
When designing this residence in Hawaii, Steven Cordrey wanted to complement the views of the Pacific with a rich and tropical decor. The most notable source of color for the space is the artwork.
57. Windows Instead of Walls
In this bedroom, windows replace the walls. Located in Lower Manhattan in New York, there's an abundance of natural light in this airy bedroom space.
58. An Ombre Bedroom Wall
The ombre wall acts as a focal point in this beautiful bedroom. The use of grey and white and the subtle shades of light pink, gold, and wood results in a well-balanced palette. This interior design is the work of Interjero Architektura.
59. A Charming Pastel Bedroom
The pastels mixed with the warm gray in this charming bedroom. The breezy curtains, cozy rug, wooden floor, and mirrored divider work together to create a tranquil ambiance. This apartment was designed by Gluckman Tang Architects and Nina Seirafi Interior Design.
60. Mix the Past and the Present
When they redesigned this apartment, Cadaval & Sola-Morales blended the past and present. As a result, this bedroom features painted brick walls with sleek furniture.
61. Use Mirrors to Create a Spacious Room
The use of mirrors maximizes the airy and open decor of this bedroom. The space was designed by Sarah Waller, who kept the color palette neutral and added interest through texturized materials.
62. A Circular Bedroom
If it seems like this is a circular house, that's because it is. A beautiful retreat designed by 123DV Modern Villas, this home is surrounded by a forest and lots of vegetation. The unusual shape allows it to engage the surroundings in a unique way.
63. Transform an Unusual Space into a Bedroom
Barn conversions create an interesting space – this windmill conversion is even more unique. The interior features white shiplap walls complemented by vertical wood beams.
64. A Single Small Skylight
A single small skylight gives this bedroom designed by A61architects and YYdesign a unique character. Skylights are a great way to let some light in and set circadian rhythms in the bedroom.
65. A Sophisticated White Bedroom
White is a versatile color that can look boring or lavish, depending on the design. Transformed by A-cero, this bedroom is spacious and airy. The full-height windows have a big impact on the look.
66. Incredible City Views
Even though city apartments aren't known for their views, some are impressive. Designed by Suzanne Lovell, this bedroom has a panoramic view of Manhattan.
67. A Duplex Penthouse Bedroom
The bedroom of this duplex penthouse designed by Beyer Blinder Belle and Costas Kondylis also has a gorgeous view of Manhattan. The room features numerous windows on adjacent walls, welcoming Central Park and the skyline in, making them a part of the decor.
68. Make Sure You Have Adequate Lighting
It's important for a bedroom to have adequate lighting, both natural and artificial. Interior designer Maxime Jacquet installed a glamorous chandelier and lamps with equally eye-catching designs.
69. A Large Rug for the Bedroom Floor
In the big picture, certain design elements and accessories can have a surprising impact when paired with the right pieces. For instance, the area rug gives this bedroom designed by Blu Water Studio a sophisticated look while the rest of the decor maintains a simple and neutral palette.
70. A Calm and Soothing Bedroom
Sometimes a white backdrop (white walls and ceiling) are ideal for a soothing space. Warm wood on the floor and the occasional burst of color can fill the room with style without overwhelming it. This space by Joshua Rice Design is an inspiring example.
71. A White Attic Bedroom
M Architecture shows us that a bedroom decorated in all white can look stylish too. White helps this slanted attic space feel more open. The bed frame is the central piece and the main source of contrasting colors.
72. Panorama Windows and Sliding Glass Doors
With panorama windows and sliding glass doors that wrap around the room, this bedroom by Neumann Mendro Andrulaitis has a strong connection to its surroundings. The roof and fireplace offer a sense of security and comfort.
73. A Forest Bedroom
A great view is a precious feature of any space, and this bedroom takes advantage of that. With such great views there's no need for excess decor.
74. An Open Layout Bedroom
A spacious and open layout suits bedrooms connected to the outdoors. A less confined space lacks a certain amount of privacy but gains other advantages.
75. A Waterfront Property with a Beautiful Bedroom
Waterfront properties like this welcome the outdoors in. The bedroom almost appears to be floating, featuring open views of the water and the distant shoreline.
76. Pick an Accent Color
Picking an accent color isn't easy. Blue and gray is a nice bedroom combination, creating a relaxing space that's conducive to sleep.
77. Use Wood Tones to Create a Comfortable Bedroom
Using wood tones to make the bedroom feel inviting and comfortable is a common strategy. It can be adapted to suit any style, as you can see in this contemporary bedroom.
78. Choose Stylish Furniture Pieces
The collections offered by Roche Bobois feature modern, stylish furniture. Simplicity and beauty go hand in hand, and the designs stand out for all the right reasons.
79. A Platform Bed
Platform beds come in many varieties, each stylish in its own way. Coco Republic Interior Design introduced this low-profile platform bed in this penthouse design in New South Wales.
80. Take Inspiration from a Hotel
Every once in a while, a hotel features a beautiful bedroom. One such example is La Plage Casadelmar Hotel, designed by architect Jean-François Bodin.
81. Look at Hotel Suites for Ideas
Here's another hotel with stylish bedrooms. Each room is unique, with some elements common to all rooms. The designs are a balanced combination of warm wood, dark and light nuances, and one or more contrasting accent colors.
82. A Spa-Inspired Bedroom
The futuristic spa-inspired decor of this bedroom was designed by KLab Architects. It's one of the 13 suites of Hotel Andronikos. As you can see, the main color is white, which is quite common for most resorts found in Greece.
83. Dark Color Tones for a Mountain Lodge
Dark color tones suit mountain lodges and cabins. You can appreciate the beauty in the interior design of this residence developed by LC2 Design Services. The alpine view and color palette are in tune with the interior decor.
84. Cozy Attic Bedrooms
Attics are cozy and attic bedrooms are usually super cute, as demonstrated in this apartment from Stockholm. The wooden floor complements the white walls in a typical Nordic fashion, while the accent lighting and the accessories complete the decor.
85. Wood Furniture, Floors, and Ceilings
The style chosen by the architects at Olson Kundig for this residence in Ketchum is a combination of modern and industrial. Wood is extensive throughout, featured on the floors, ceilings, and furniture.
86. A Bedroom Connected to a Private Garden
The connection to the private garden brings a sense of openness and a fresh dynamic to this bedroom. Its interior decor is simple and reduced to basic furniture pieces and a selection of neutral colors.
87. Matching Floors and Walls
The wood-paneled accent wall and the matching floor give this bedroom by MU Architecture a cozy feeling. The large windows let in lots of natural light and a view of the tree canopies.
88. Blend Modern and Traditional Bedroom Decor
The blend of modern and traditional chosen by wohgelmuth & pafumi for this bedroom is elegant and functional. We like the strong presence of the wooden wall and the oversized wall art.
89. Support Beams in a Bedroom
There are many cases where support beams on the ceiling become a part of the room's interior decor. Designed by David Nossiter Architects, the beams in this bedroom are one of its best features.
90. An Interior Garden in a Bedroom
DOMO Design Studio integrated an interior garden into a residence in Miami. Nature plays an important role in the design, hence the presence of large windows, gardens, and courtyards like this one.
91. Straight Lines and Angles
The clean geometry, straight lines, and angles define this bedroom. They contrast the home's exterior appearance, which is dominated by curves and wavy lines. This was a project by Mario Romano.
92. Blend in with the Local Land
The design concept employed by Elias Rizo for a project in Jalisco, Mexico, features natural materials. The idea was to let the house become one with the land by using materials that weather and become more similar to the surrounding topography.
93. A Charming Bedroom
It may not look very cozy on the outside, but this home designed by mode:lina architekci tells a different story inside. The bedroom welcomes the outdoors in, and its simple color scheme is ideal for a good night's sleep.
94. A Simple Yet Beautiful Bedroom
Designed by f + f architects, this is an attic loft bedroom in Strasbourg. The color palette is kept neutral, the emphasis being on white and a few gray and black accents. The wood in the chair provides a touch of texture.
95. A Glamorous Black and White Bedroom
Black and white is a simple glamorous combination, as proven by Studio Tate. To soften the contrast between these two colors, they introduced various tones of gray in the bedroom and layered several textures.
96. A Panoramic Bedroom
After the renovation by Dos G Arquitectos, the focus was redirected to the views, hence the wonderful panorama from this bedroom. The apartment welcomes the outdoors into every room, and it does so in the most pleasing manner.
97. Casual Area Rugs in the Bedroom
While the view plays a crucial role here, it doesn't diminish other aspects. Loyn and Co Architects selected the casual rugs, tub, and furniture.
98. A Calm and Relaxing Space
Designed by Metropole Architects, this bedroom features ocean views. The soft color palette creates a soothing space, perfect for resting after a hard day.
99. Add a Few Rustic Accents
A few rustic accents create a warm and inviting feeling. If you need rustic bedroom ideas consider wood floors, a wood accent wall, or a wooden bed frame.
100. Focus on the Roof and Structure
Designed by Archispektras, the ceiling, and walls in this beautiful bedroom are one of its best features. The rest of the room is subdued so that the decor isn't competing for attention.