60 Master Bedroom Ideas That Go Beyond The Basics
Although I'm sure you already have plenty of master bedroom design ideas in mind, before you start decorating the room you must pay attention to the basics.
By definition, the master bedroom is usually the largest one in the house but there are also other elements that capture the essence of the concept. It normally includes more than just the basic amenities and it's up to you to decide what they are.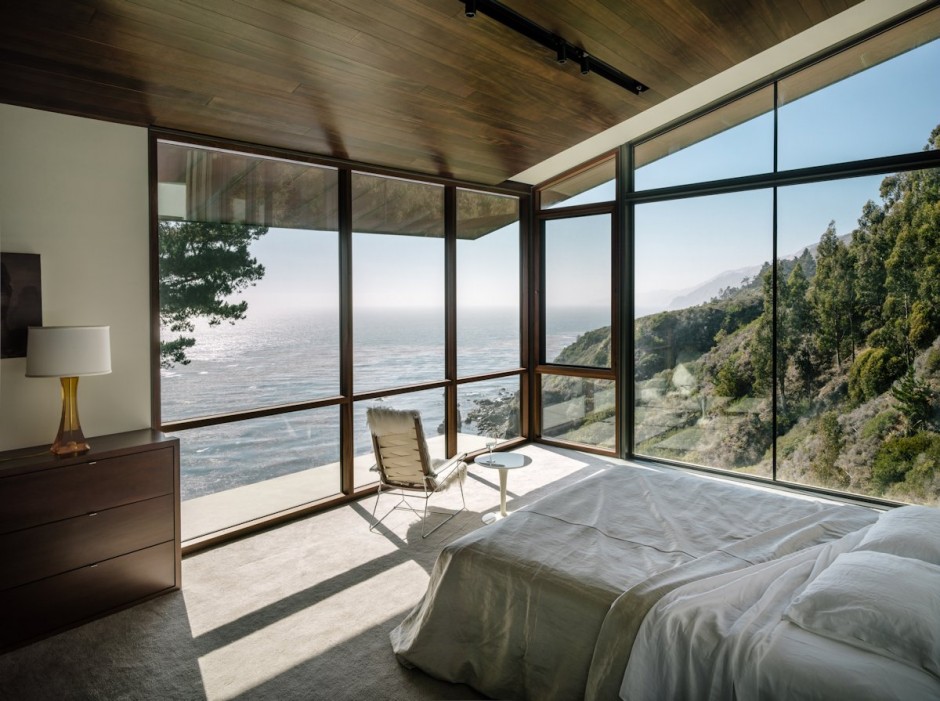 Placing the bed.
First things first. The bed is the main piece in the room so figuring out the best way to make it fit is important. Try as much as possible to place the headboard on the wall opposite to the bedroom's entrance, even if that means it would be in front of a window. It's more important to smartly assess the space than to be blinded by small inconveniences. Also, avoid a diagonal position as it takes up unnecessary room.
Choosing the nightstands.
Once you decided on a bed and on where it will be placed, it's time to choose the nightstands. Think of the size you want for them, what you need to store in them or keep on top and the height at which they will be placed. Usually they sit at the height of the mattress so you can comfortably reach them but you can go with a different approach for stylistic reasons. Keep in mind that nightstands are a great way of adding color and texture to the room.
The ceiling.
Since the bedroom is the place where you will be frequently looking at the ceiling, you might as well make it look interesting. You can opt for exposed beams for a more rustic or casual look, planks, an eye-catching trim or you can simply paint the ceiling an attractive color. In this case, the walls should remain neutral.
Average master bedroom dimensions based on bed size
The overall size of a bedroom and the size of the bed are closely linked together so you might want to get an idea of what the average dimensions for a room such as yours are before you start diving deep into its interior design. Since the bed takes priority, there's not much room for other furniture pieces in a small bedroom. As the size of the room increases so do your design options.
Twin/single bed room size
As a general idea, most building codes require a minimum floor area of 70 sq ft and a ceiling height of 7 ft for a room to be considered habitable. In theory, you could have rooms that are smaller than this and actually feel comfortable but you won't be able to list them as bedrooms. There's enough space in a small bedroom for a single bed, a wardrobe and a desk but you might need to find some clever storage solutions if you want to utilize the space as best as possible.
If you want the bedroom to accommodate two single or twin beds it should measure at least 9ft x 9ft. Although this would make the room habitable, it wouldn't leave a lot of space for other furniture pieces like the wardrobe or desk. Even a small increase in size can make a big difference in this case.
Also, if you want a bunk bed then you need to pay special attention to the height of the ceiling. The minimum ceiling height for bunk beds in between 8ft and 9ft.
Most typical bedrooms have double beds and in this case the minimum room size is 9ft x 9ft 6''. Such a room doesn't look particularly spacious since the bed takes up the majority of the floor area. If you're going for the minimum size requirement you'll probably need to find a clever way to add a wardrobe. Consider mounting cabinetry over the bed and opting for built-in nightstands.
The minimum room size for a queen bed is 9ft 6'' x 10ft which is pretty close to what a double bed requires. Again, it would be difficult to fit a wardrobe in such a space but if the room is just slightly bigger than everything changes. Wardrobes with sliding doors are a particularly practical option in this case. The most efficient layout would be to have the wardrobe and possible a desk too positioned on the wall opposite to the wall.
King beds are the biggest so you need a larger bedroom size to accommodate them. The minimum size requirement, in this case, is 9ft 6'' x 11ft 6'' but typically a 12ft x 12 ft is considered the standard bedroom size. This gives you enough room for the bed, a couple of nightstands and a wall of wardrobes. Of course, sliding doors are your best option since there's not a lot of room to spare.
Master bedroom layout ideas
One of the first things you do when designing or remodeling a bedroom is choosing a layout. This will determine how the room will be organized and how the furniture and decorations will be arranged. Base your decision on the size of the room, your needs and personal preferences. Here's a few ideas that you might like to try:
Spacious bedroom with a sitting area
This is a nice idea for a master bedroom. If the room is big enough you could have a king size bed be the centerpiece and place a small sitting area in front of it. This is a nice way to fill the room without cluttering it. The layout works for large floor plans. The sitting area doesn't need to take up a lot of room. A couple of comfortable chairs and a small table are enough.
Master bedroom with multiple openings
If you have a bedroom that has more than one access point or has access to a balcony, a terrace or to the backyard, coming up with a suitable layout can be quite tricky. If there's a beautiful view that you want to highlight, make that the focal point of the room. The bed can be facing the view or, in case the placement of the doors prevents that, you could set up a small sitting area that takes advantage of it.
A flexible bedroom design
Sometimes flexibility and versatility are important when designing a particular space. For example, the kids' bedroom would need to be flexible enough to accommodate potential guests for sleepovers and to leave some room for the kids to play and hang out in. Similarly, a guest bedroom should be versatile enough to accommodate multiple types of persons and groups. Consider bunk beds and extensible beds. You can have a regular double bed and a bunk bed on top to create an extra sleeping space.
What a bedroom lacks in square footage you can make for through design. Don't let the small size of a bedroom bring you down. You can make a small space look wonderful by putting an emphasis on the ambiance and aesthetic. A good idea would be to keep the design simple and to use light colors. Also, try to maximize the amount of natural light that enters the room. Another trick is to use mirrors as decorations and to keep furnishings to a minimum.
It's very important for the layout of a bedroom to take consideration the way in which one moves through the space and the paths that they take. For example, if you have a bedroom that's adjacent to a balcony or is open to another space, try to keep a clear and open walkway between these spaces. Don't put furniture in the way and keep this area unobstructed.
Showcase the focal points
If there's a particular feature that you want to show off, then make it a focal point. For instance, if your bedroom has a fireplace this means you can design the layout around this detail. The bed would bed to face the fireplace for a full effect and you should try to keep this part of the room simple and without other elements that might distract from the actual focal point.
Account for unexpected elements
Not all bedrooms have a straightforward layout. For instance, some can have the entry placed at an odd angle, in the corner or in a less than optimal spot. Also, the room might have an unusual shape. You need to account for these elements when choosing the layout of the bedroom. Position the furniture in such a way to create a nice flow through the room and take advantage of the odd features rather than considering them a disadvantage.
Make a small kid's bedroom special
As it's usually the case, kid's bedrooms are quite small. This can make it challenging to pick a layout that works with all the furniture pieces and accessories that the room needs and that also looks good. Try to find ways to make this room special while also keeping the design simple. A small bed is typically a good fit for such a room. You can design the space similarly to how you would a master bedroom but on a smaller scale. The single bed can sit at the center and you can have a small desk on one side and a stylish nightstand on the other.
Tips for choosing the lighting for a bedroom
The bedroom is perhaps the best space where you can choose to layer the lighting. That's because this a room that you use mostly after dark so you want the lighting to be soft and soothing but that should also look bright and cheerful in the mornings when you wake up. Here's a few elements to keep in mind when choosing the lighting for your bedroom:
Ambient lights
This includes both natural and artificial lighting. Make sure your bedroom can be properly lit both during the day and at night. Large windows and skylights can give you sufficient lighting during the day and ceilings lights, chandeliers and pendant lamps can do the same thing after dark.
Task lighting
Ambient lighting is not enough for activities that requires more focus. If you like to read in bed or if you put your makeup on in the bedroom you're going to need some task lighting. You can take care of these needs with features such as table lamps, low-hanging pendant lamps, sconces or floor lamps.
Accent lighting
This is different than task lighting through the fact that it's not meant to assist you with a particular activity but rather to draw attention to a particular design element like a piece of art, an accent wall and so on. You can use accent lighting to draw attention to the ceiling, to a wall, to a decoration, etc. It doesn't need to be very bright. It should give off a subtle and pleasant glow.
Adapt the brightness
As mentioned before, different types of lights have different purposes and that requires different brightness levels. This is important because it can influence the overall balance of the décor. Ambient lights or accent lighting that's too bright and powerful can make the room feel uncomfortable. Also, task lighting that's insufficiently bright is not really useful.
Consider dimmers
Dimmers can help to make the bedroom feel more comfortable and relaxing. In fact, this is the perfect room for them. Dimmers also give you more flexibility because they allow you to adjust the brightness based on your needs or the type of ambiance that you want to create. This can also meant that a single lighting fixture can become multi-functional and that can reduce the clutter in the room.
Lighting options.
You won't be spending much time in the bedroom during the day so artificial lighting takes priority in this room. Chandeliers are a nice option as they can add a glamorous look to the room but there are also plenty of other options such as sconces, table lamps, cove lighting and, of course, candles for a romantic touch. Pay special attention to task lighting and keep in mind that the light needs to be warm and subtle but not lacking.
Sitting areas.
It's common for master bedrooms to also include a sitting area. It doesn't need to be big. A small table and a chair work just fine. This can serve as a quiet area where you can read, contemplate, write, etc. most often, it's the corner of the room. You can be creative and decorate it any way you want, perhaps with a hanging chairor a tree bookshelf.
Warm vs cool colors
Another detail to consider is the light color. We're referring to the distinction between warm and cool lights, specifically blue and white lights versus yellow lights. Blue and white lights are not ideal for the bedroom because they don't induce sleep and the promote alertness. Warmer lights, on the other hand, are ideal for such spaces because they're more relaxing.
It's not just the color of the light that affects your mood. It's also the overall color scheme of the bedroom. Warm colors such as red, orange, yellow, brown or tan make room feel more intimate, inviting and cozy. They're great for large master bedrooms. For smaller bedrooms you might want to consider cool colors such as blue, green, purple or gray. They can make a small space appear larger but be extra careful when using them because they can also make the room feel dark and cold. Cool colors are best when paired with rooms that are sunny and properly lit.