The Best 22 Kitchen Appliances You Can't Live Without
Upgrade the functionality and convenience of your kitchen with the best innovative kitchen appliances. The newest products will make this hard-working space even more stylish and enjoyable. From smart appliances to flexible-use components, new models have amazing features that you have to see to believe. Any of them will enhance your home life and make entertaining a breeze.
The Ultimate Entertaining Convenience
Chilled wine, liquor or water is always handy when you have a bottle cooler built into your countertop. This is fabulous for entertaining because you can have your beverage of choice at your fingertips and ready to drink at the right temperature the entire evening. And, if you're enjoying a bottle of wine for two, it stays at the perfect chilled temp no matter how long you linger. Having this kind of countertop chiller also makes it easy for guests and prevents them from having to rummage through your refrigerator for the right bottle.
Elevated Wine Storage
A wine cooler under the counter has become ubiquitous in kitchens these days, so for something more distinctive and design-forward, opt for an integrated wine cooler. Choosing this type of model incorporates the cooler into an overall, cohesive design, no matter how sleek or traditional it may be. Here, the kitchen is quite minimalist and the single glass window of the wine cooler set into the full wall of matching cabinetry transforms it from just an appliance to a visual highlight.
Show off Your Foodstuffs
When you choose to have a glass door on the refrigerator, as on this model by True Residential, you do more than just show off your food. With just a glance, you can see if you have what you need before you go to the store. This is the perfect style for those who like to be super organized – and for those who need motivation to keep the fridge clutter under control. All those beautiful fruits and veggies that you like to eat will also be on view, so you'll reach for those more often instead of the junk food in the cupboard.
Chic on the Inside
The exterior designs of refrigerators have come a long way in looking more stylish and now you can have a whole new level of chic on the inside too. Jenn-Air makes a fridge with a sleek, dark interior that is very cool looking and will make even yesterday's leftover more appealing. Perfect illumination keeps the interior bright so nothing get lost at the back of the shelf.
A Designer Look
Dolce and Gabbana has teamed up with Smeg and has been creating refrigerators and ranges in colorful designs from the iconic fashion brand. Not surprisingly, they can be pretty pricey but you can still add a touch of high fashion with some of the smaller appliances from the collab. Choose from a juicer, toaster or teapot in the vibrant Italian patterns that are instantly recognizable and you'll immediately brighten up the kitchen.
A Killer Range
If you love to cook, splurging on a killer range for the kitchen is a great investment. Not only is it super functional and stylish, but it'll make cooking more fun, whether you're churning out a huge holiday dinner or whipping up a quick weeknight dinner. It doesn't hurt to go big when choosing a range because that way you'll always have the capacity to entertain a crowd. And, cooking several things at once is a breeze. When buying a high-end range, decide which features are most important to you and purchase the best range you can afford and you'll be all set!
Add a Little Personality
There aren't many ways to add personality to the interior of a refrigerator beyond the types of food you store in it, but now you can have some lovely embellishment with this Dacor model. In design and décor, it's often the little details that make the biggest difference: The front panel on the top drawer in this column refrigerator is decorated with a Portuguese-style tile design. Now you can have a fridge with not only the latest cooling technologies, but with some added visual appeal too.
Go Touchless
The range of kitchen faucet designs available are already nearly endless and now you can add touchless technology to the options. While this type of faucet was available before the pandemic, interest has blossomed with the new focus on best sanitary practices, even at home. You can still have the pull-down sprayer style that you want along with new tech, which includes preset temperatures and being able to turn it on and off with just the wave of a hand.
A Sink with a Moveable Divider
Turn a standard two-bay sink into a large farmhouse style sink with a removable sink divider. Franke's versatile sink includes two drains for maximum functionality.
Chef's Center Adds Function to the Sink Area
Franke's Chef Center helps you squeeze the most convenience and functionality out of the sink area. Bins, shelves, racks and accessories make this hard working area more useful.
Integrated Kitchen Sink Bins
Stash those drippy sponges and other wet items in these integrated bins in Franke's sink system. The bins drain directly into the central line, making them super convenient.
A Brand New Style of New Faucet Sprayer
Franke's latest innovation for the kitchen faucet eliminates the need for a pull-out hose. The new design switches the sprayer head from the main faucet head to the back of the fixture.
Miele Vacuum Seal Drawer
Miele has created a vacuum seal drawer that allows you to keep food fresher longer. Prepare your food — meat vegetables, anything really — and place it in the drawer. The sealer will fill the bag with gas, suck it back out and then seal it. It is the perfect companion for the steam oven above, which has a sous vide function. Sous vide cooking requires food to be vacuum sealed to cook properly.
Make Custom Coffee Drinks at Home
Make the full range of barista-style coffee drinks in your own home with the Bosch coffee Center. The machine even lets you pre-program favorite coffee drinks for your family and friends.
Fit More Into the Dishwasher with a Deeper Third Rack
The new third rack in the Bosch custom dishwasher holds more than just silverware. It's now deep enough to hold all those cereal bowls your family uses.
Shed Some Light on the Inside of the Dishwasher
Now you can see better inside the dishwasher with new models that include a fully lighted back wall. No more struggling to see inside the depths with this Gaggenau dishwasher..
Plenty of Power in a Minimalist Kitchen Vent
Small kitchen? No problem because you can have a powerful vent in a small retractable unit. Gutman's sleek cooktop includes a central vent that retracts at the touch of a finger.
An Ideal Workstation for Any Kitchen
Galley's Ideal Workstation turns any kitchen into an extra functional space for cooking and entertaining. The central sink can be outfitted with a full array of surfaces and accessories to make cooking a breeze.
Undersink Swing Out Bins Make Clean Up Easy
Reaching the cleaning supplies and things you stash under the sink is a task that can require getting down on your knees. Scavolini's swing out cabinet doors with bins make accessing these items a breeze.
Combine Lighting and Ventilation with a Sleek Retractable Unit
Lighting and ventilation doesn't have to clash with a sleek kitchen design. Adding a vent like this one from Best gives you all the function you need in a tidy retractable unit.
Kitchen Appliances that Virtually Disappear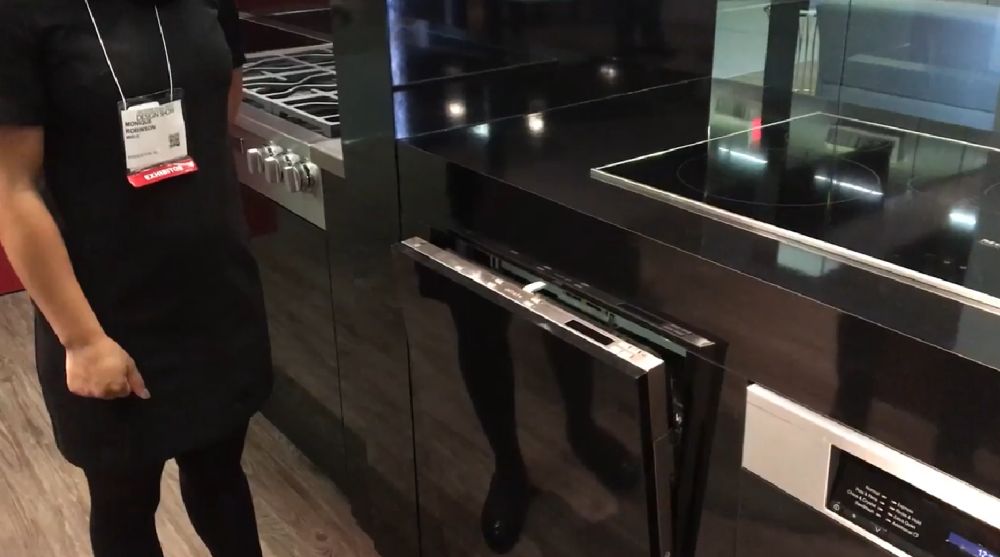 New kitchen appliances that virtually disappear into the cabinetry have made is possible to have an invisible kitchen. Devoid of any hardware or handles, this Miele dishwasher makes a kitchen super sleek.
A Drawer Microwave is a Safe and Stylish Option
Choosing a built-in microwave makes it stylish and if it's a drawer model from Thermador, it's also safe. The drawer style is lower and makes it easy to use, especially with the mechanism that prevents fingers from being caught in the closing door.