The Best Kitchen Appliances You Can't Live Without
Upgrade the functionality and convenience of your kitchen with the best innovative kitchen appliances. The newest products will make this hard-working space even more stylish and enjoyable. From smart appliances to flexible-use components, new models have amazing features that you have to see to believe. Any of them will enhance your home life and make entertaining a breeze.
A Sink with a Moveable Divider
Turn a standard two-bay sink into a large farmhouse style sink with a removable sink divider. Franke's versatile sink includes two drains for maximum functionality.
Chef's Center Adds Function to the Sink Area
Franke's Chef Center helps you squeeze the most convenience and functionality out of the sink area. Bins, shelves, racks and accessories make this hard working area more useful.
Integrated Kitchen Sink Bins
Stash those drippy sponges and other wet items in these integrated bins in Franke's sink system. The bins drain directly into the central line, making them super convenient.
A Brand New Style of New Faucet Sprayer
Franke's latest innovation for the kitchen faucet eliminates the need for a pull-out hose. The new design switches the sprayer head from the main faucet head to the back of the fixture.
Miele Vacuum Seal Drawer
Miele has created a vacuum seal drawer that allows you to keep food fresher longer. Prepare your food — meat vegetables, anything really — and place it in the drawer. The sealer will fill the bag with gas, suck it back out and then seal it. It is the perfect companion for the steam oven above, which has a sous vide function.  Sous vide cooking requires food to be vacuum sealed to cook properly.
Make Custom Coffee Drinks at Home
Make the full range of barrista-style coffee drinks in your own home with the Bosch coffee Center. The machine even lets you pre-program favorite coffee drinks for your family and friends.
Fit More Into the Dishwasher with a Deeper Third Rack
The new third rack in the Bosch custom dishwasher holds more than just silverware. It's now deep enough to hold all those cereal bowls your family uses.
Shed Some Light on the Inside of the Dishwasher
Now you can see better inside the dishwasher with new models that include a fully lighted back wall. No more struggling to see inside the depths with this Gaggenau dishwasher..
Plenty of Power in a Minimalist Kitchen Vent
Small kitchen? No problem because you can have a powerful vent in a small retractable unit. Gutman's sleek cooktop includes a central vent that retracts at the touch of a finger.
An Ideal Workstation for Any Kitchen
Galley's Ideal Workstation turns any kitchen into an extra functional space for cooking and entertaining. The central sink can be outfitted with a full array of surfaces and accessories to make cooking a breeze.
Undersink Swing Out Bins Make Clean Up Easy
Reaching the cleaning supplies and things you stash under the sink is a task that can require getting down on your knees. Scavolini's swing out cabinet doors with bins make accessing these items a breeze.
Combine Lighting and Ventilation with a Sleek Retractable Unit
Lighting and ventilation doesn't have to clash with a sleek kitchen design. Adding a vent like this one from Best gives you all the function you need in a tidy retractable unit.
Kitchen Appliances that Virtually Disappear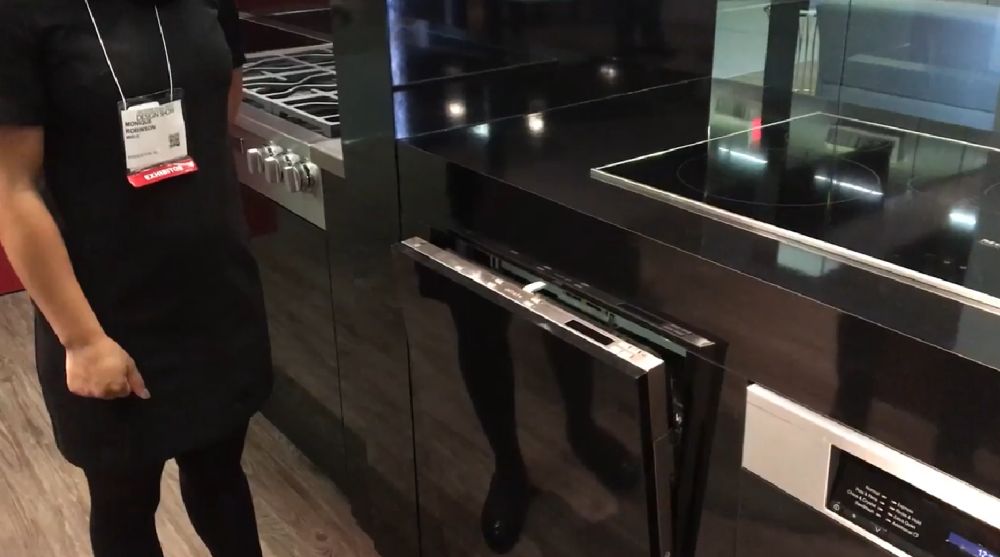 New kitchen appliances that virtually disappear into the cabinetry have made is possible to have an invisible kitchen. Devoid of any hardware or handles, this Miele dishwasher makes a kitchen super sleek.
A Drawer Microwave is a Safe and Stylish Option
Choosing a built-in microwave makes it stylish and if it's a drawer model from Thermador, it's also safe. The drawer style is lower and makes it easy to use, especially with the mechanism that prevents fingers from being caught in the closing door.