Kitchen Island Vent Hoods That You Can Actually Be Proud Of
What's the one kitchen appliances that you wish would be reinvented? It's probably not the range hood since this is one of the most overlooked design elements ever but let's take a moment to think about just how important it actually is. Maybe you don't use it all the time but you sure need it and a lot of kitchen hoods take up so much space and look so… unsightly that you want to just give up on them altogether. But don't give up hope just yet. Check out these innovative designs that are simply perfect for kitchen islands with built-in cooktops.
Just like the stove and the cooktop, this range hood is built into the island. It sits right at the center and you can lift it up whenever you need it. It's one of the least invasive and most elegant-looking designs available right now.
Not a fan of range hoods that are built into the counter? How about a ceiling-mounted one instead? The concept is no stranger to us but the design sure is innovative. What's great is that this range hood is useful is lots of unexpected ways.
Sometimes the range hood has to be big if you also want it to be efficient but that doesn't mean it can't also look good. This one can be easily disguised as an oversized pendant lamp.
This sleek type of hood remains a valid option especially if you want to maintain a minimalist design throughout the kitchen. It's reminiscent of those clever power sockets that you can hide inside the counter.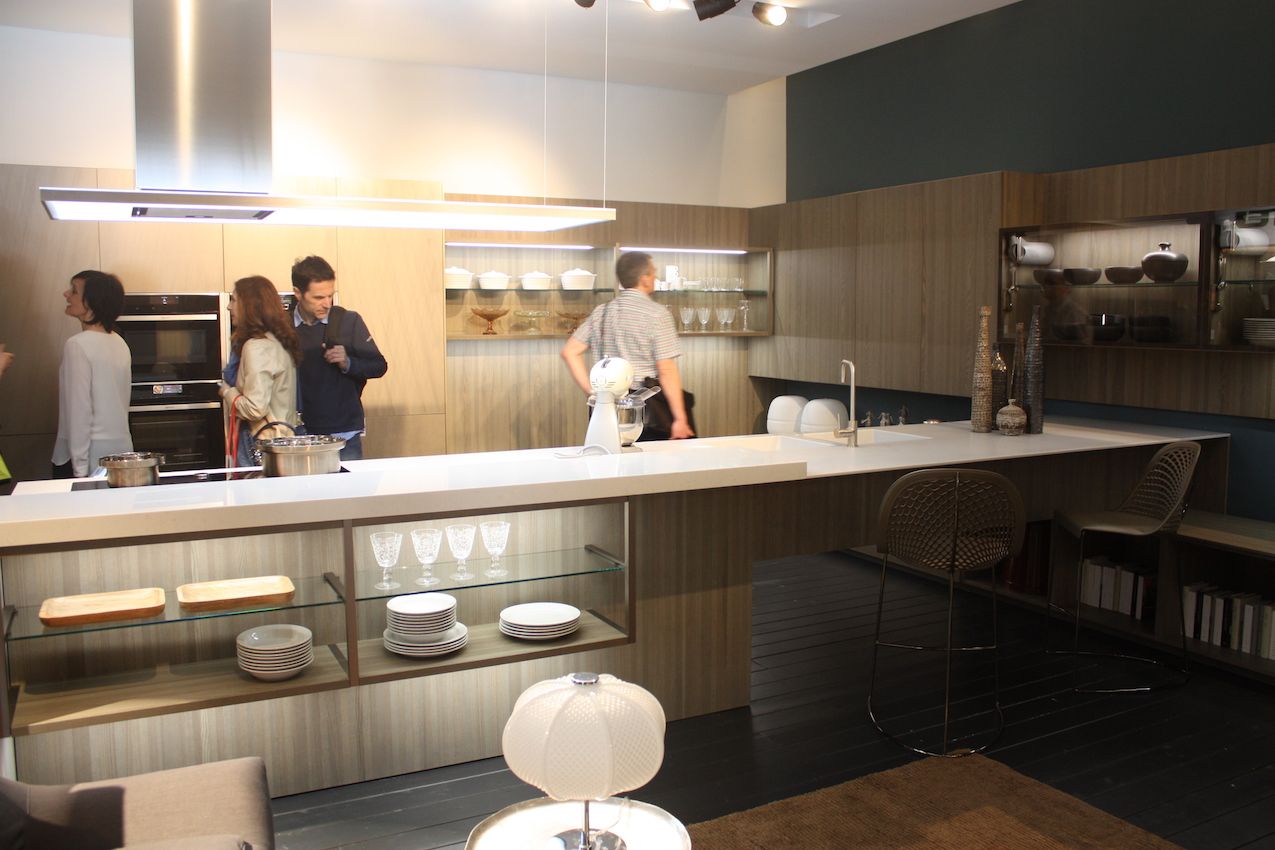 It's actually not that hard to beautify a ceiling-mounted vent hood or to make it extra efficient. This one for example doubles as a light source which is actually perfect since task lighting is needed in this area anyway.
More than that, the hood extends on one side and its surface can be used as a shelf. Use it as an extra storage surface for herbs, spices, pots and pans or other things that you want to keep close at hand when cooking.
This vent hood is disguised as a cabinet, a great way to help it blend in with the rest of the kitchen furniture and think of it not as an eyesore but a n integral part of the space, an organic and natural addition to the decor.
Again, the vent hood rises from the counter and in this cases it has this overhang above the cooktop. It's not the least-invasive option out there but it sure looks elegant while also being efficient.
What if instead of trying to hide the vent hood you embrace its industrialism instead? That's actually a cool strategy demonstrated here by studio Planmaestro who designed this stylish home in Araucanía, Chile.
The Bates Motel Suite designed by Egue y Seta was inspired by the movies and TV series but at the same looks nothing like them if we're to judge it by this modern kitchen and that sleek vent hood hanging from the ceiling.
Another similarly sleek and stylish vent hood is featured in this kitchen designed by CONTENT Architecture as part of a loft located in Houston, Texas. It's hanging from the underside of storage shelf – a great use of space.
Of course, a lot of times it's not just about the vent hood itself but the kitchen as a whole and how all the features interact with one another. A typical ceiling-mounted range hood looks at home here and blends in pretty seamlessly.
If we're strictly looking at the range hood alone, it doesn't look great no matter the angle. However, the custom shelves built around it change the decor drastically plus they also add extra storage to the otherwise tiny kitchen.