Stylish Options for Kitchen Hoods from EuroCucina
Kitchen hoods and venting might not seem like the most exciting part of a kitchen upgrade, but Homedit was very enthused by all the new designs shown at EuroCucina in Milan. From traditional style vented hoods, low profile wall mounted models and ductless varieties that look more like a lamp than a vent, many stylish options exist for making sure your cooktop or range is properly vented.
Downdraft hoods
Down draft hoods ventilation systems have been around for a while, and have most often been a built in part of a cooktop.  Now, you can choose from traditional downdraft vents or those that can be automatically raised up and out of the counter when needed.  When not in use, they retract into the counter, leaving a flat surface.  Some also come with a light included.
Hoods That Look Like Lamps
One of the coolest trends is that of ductless kitchen hoods that look like a lamp.  This is a very stylish option if you can't or don't want to have a traditionally vented kitchen hood.
Flush Mount Kitchen Hoods
A kitchen that is tight on space, or that has a lower ceiling that will not accommodate a large vented kitchen hood is the perfect setting for a flush-mount hood. It's important top remember that a flush-mounted hood still need to be located properly to actually vent the cooking space.
Wall-Mounted Hoods
While wall mounted hoods are the most common standard style, new designs — both vented and ductless — are sleeker and more low profile than the older types. Square, round, angular or colorful, these kitchen hoods take up less space but are no less dramatic.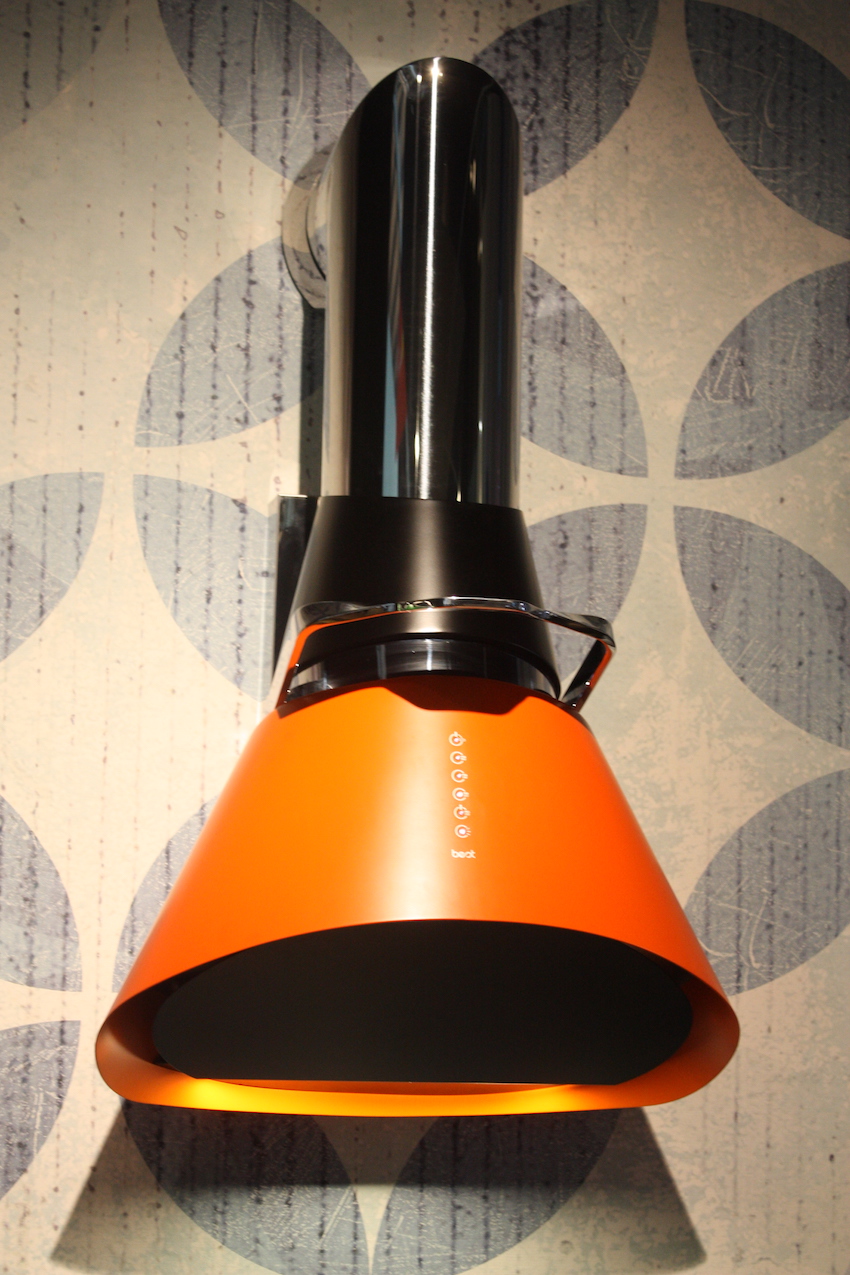 An Industrial Look
Modern and metallic, kitchen hoods with an industrial feel were shown in modern, contemporary as well as more traditional settings. No matter the style of decor, the edgy feel of these kitchen hoods mixes well to make an interesting kitchen design.
New features on traditional kitchen hood shapes
Brands have upgraded the traditional shape of kitchen hoods with new technology, materials and design elements.  No matter what your kitchen style preference, there's a new range hood that will provide not only function but fashion to your home.
Invisible kitchen hoods
Kitchen ventilation is a must for any cooking area, but that doesn't mean that every homeowner likes to look at large kitchen hoods.  For these people, there are new options for kitchen ventilation that is nearly invisible.
The range of kitchen hood designs presented in Milan was overwhelming. Design and technology for these often overlooked kitchen appliances has evolved to the point where they are just as stylish (and integral) as any other kitchen element.