21 Bathroom Decor Ideas That Bring New Concepts To Light
Unlike the living room or the bedroom, the bathroom doesn't get much attention. We don't really analyze the style and decor of this space because it's meant to be a utilitarian space. This often makes us overlook important details and minimize the impact that the little details can have on the overall design. There are more interesting bathroom design ideas than you can imagine and this opens a whole range of possibilities we haven't even though of exploring. Tons of great bathroom decor ideas come to light right from the start and the lit only get bigger.
The sink or washbasin can be a wonderful focal point for the bathroom if you give it the chance. Forget for a while about the typical designs, all white and boring and imagine something completely different, something innovative and eye-catching like the Eden Freestand featured here. Made of polished brass, this piece will add a golden touch to any bathroom.
Idea Group can offer some very beautiful and stylish designs that would give any bathroom a luxurious touch. The designs are simple and clean cut with sleek lines and smooth angles.
Collections such as My Time bring forth a series of minimalistic designs that play with forms, materials and colors, distancing themselves from traditional concepts and aiming for a look that inspired emotion and comfort.
Sculptural designs such as the one featured by the Tuba 3 washbasin are meant to give the bathroom a sophisticated look. This particular model is extremely simple and this makes it stand out from other washbasins that include unnecessary details. It's a discreet and stylish accessory meant to impress in a subtle way.
Similar characteristics are also featured by the Strappo sink. Its minimalist design is the key to its success and popularity. The sink is seamlessly attached to the wall and can even be made to look like a tear in the wall. It can be customized with any color and a texture that matches the wall behind it.
The bathtub is often the element that often has the biggest impact on a bathroom's decor and interior design and that's mostly because of its size. Consider this, you have a wonderful opportunity to take advantage of the fact that the tub is inadvertently a focal point and to make it stand out even more. The Bettelux Shape design, for example, is minimalist and redefines the concept by not featuring a visible overflow.
The little things also play an important role in creating the right look and the right ambiance in a bathroom. A ladder casually used as a towel holder and a ceramic stool used as a side table can be elements that define a chic bathroom. The green wallpaper featured can't be ignored either.
Other small things that can make a big difference or have a big impact on the overall look of a bathroom include the mirror and faucet. The mirror can be lit from behind and this would give it a nice glow, especially at night.
Since we mentioned a bathtub that had no visible overflow, here's another interesting design. The interesting thing about this particular design is its soft and textured shell. The tub is dressed in fabric which is definitely unusual but not all unappealing. This creates a very nice contrast between the steel structure and the soft shell. This concept is offered by Bette.
Contrasts have a unique role in every design and decor. In the case of the bathroom, it can be interesting to experiment with combination of cold materials such as steel and ceramic and warm wooden accents.
It's easy to update a bathroom with a few little changes. For example, get a new mirror, larger than the previous one and add some LED accent lighting to it's nicely highlighted at night. This will give the bathroom a modern and even futuristic look.
Speaking of which, the lighting is very important in any bathroom. As a general rule, it's best to have light that illuminated from the sides in a symmetrical way than from above. That's why sconces attached to the sides of the mirror are a great option.
Then there's also color. To make a bathroom look cheerful and fresh use colors such as yellow and green. At the same time, you can make the space feel cozy and comfortable by adding warm and earthy hues such as brown or beige. You can add color to a bathroom in a lot of ways, including through vibrant sinks like these ones.
Every bathroom needs a focal point. You can easily control the overall ambiance and decor by highlight certain features such as a large mirror or a beautiful pendant lamp.
You can find some inspiration in the products offered by Artelinea. Elegant sinks and washbasins, illuminated mirrors and chic vanities can all become beautiful focal points for this space.
If you plan to have two sinks in the bathroom then you could create a symmetrical design. The sinks can have identical designs and can be integrated in a counter with storage underneath. Also, each mirror can have its own mirror and accent lighting.
To solve the storage-related issues in a chic and stylish way, consider a ladder-style shelving unit. They usually have larger shelves at the bottom which can be occupied with storage boxes and smaller ones at the top which are perfect for displaying a small vase.
An interesting idea is to customize the bathtub so its frame includes useful storage. For example, it can include built-in shelves on which you can store books and other things so you never get bored when taking a bath. Also, gt yourself a bathtub tray.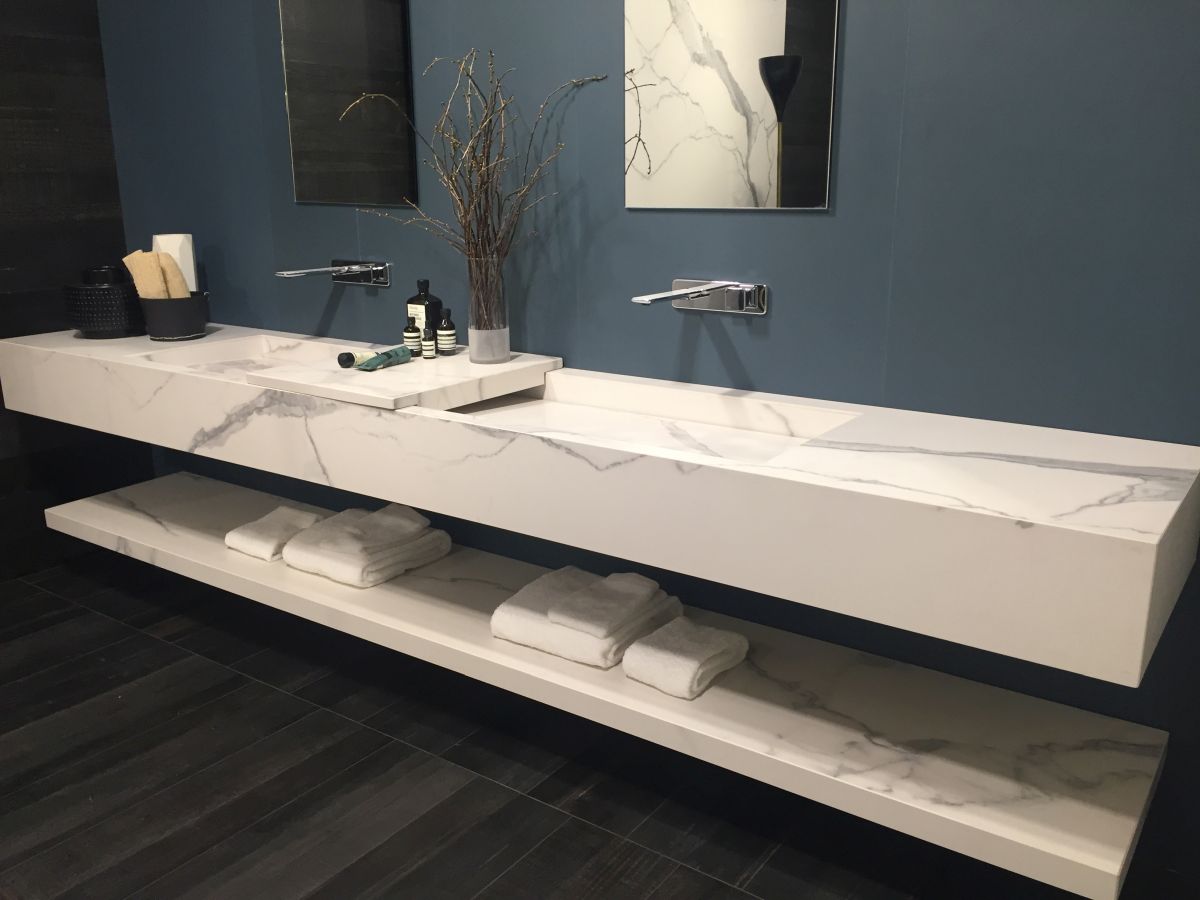 Marble sinks and vanities are often considered very elegant and stylish. In addition, they're also really versatile. Marble is timeless and never loses its appeal. It can be beautifully integrated into a modern bathroom just as easily as in a traditional space.
For a luxurious look, you can also take into consideration a marble bathtub. It's a piece that will have a big impact on the room's design and which doesn't need anything else to stand out.
For a clean and airy design, consider a glass shower. The transparency ensures a cohesive look throughout and allows the bathroom to look larger. At the same time, the shower will get to enjoy the light coming through the window or light fixtures in the room.