The Ultimate Inspiration For Spanish Styling
Spanish styling can immediately bring to mind several things. Terra cotta roofs, bright patterns, wrought iron, maracas, and you would be right on all of those accounts. With the right mix of earthy tones and rustic elements, you can easily create a Spanish paradise in your own home, even if you live in a cold climate. Sometimes though, you still need that bit of inspiration to get you going on such a big project. So let's journey through some wonderful Spanish styled specimens that will help you decorate every nook and cranny of your own space, from the front door to the back fence.
Front Porch
I hope you're comfortable with the color burnt orange because all good Spanish homes have terra cotta roofs. But before you go burnt orange crazy, the rest of the home is usually a creamy white so you won't be overwhelmed with color. Once you have your two base colors, it's time to add some interest in a few ways. First, rock the arched doorways! Second, add some wrought iron. Third, embrace the potted cactus. You'll also notice that in lots of Spanish styled homes, they've traded their grassy front yard for gravel. This makes your yard manicuring duties a breeze and allows you to have a nice exterior even if grass won't grow in your front yard.
(via 1, 2, 3, 4, 5, 6, 7, 8, 9, 10)
Living Room
There is one big element to watch out for in your living room. The wood to everything else ratio. In Spanish decor, there are lots of beautiful dark wood pieces that take center stage among all your furniture so be sure you have a few of those. Also, you'll want to leave your fireplace brick. Yes, I know everyone is painting their fireplaces white, but in a Spanish styled home, the fireplace is going to be as natural as possible. Otherwise, let your patterns shine and you'll have a Spanish living room hit.
(via 1, 2, 3, 4, 5, 6, 7, 8, 9, 10)
Kitchen
You know that patterned tile you've been coveting? Well, your Spanish kitchen is just the place to indulge yourself and install it. You have a choice of wood or tiled floor and whatever you do, incorporate the exposed beams on the ceiling. Now just use your best thrifting skills to find a rustic wood table with spindle legs that can act as your kitchen island. Suddenly, your kitchen space will be the place where you'll want to spend all your time!
(via 1, 2, 3, 4, 5, 6, 7, 8, 9, 10)
Dining Room
Where do you eat all the food you prepared in your Spanish styled kitchen? In your Spanish styled dining room, of course! You need basically to thing for that classic Spanish look in your dining room. A heavy wood table and a large chandelier, preferably black. Once you have those two things, you can add all the wear and tear in your chairs and your other decor that you like. You get bonus points if you display brightly patterned dishes in your heavy wood china cabinet. And as with the rest of the house, arched doorways and exposed beams never hurt anybody.
(via 1, 2, 3, 4, 5, 6, 7, 8, 9, 10)
Bedroom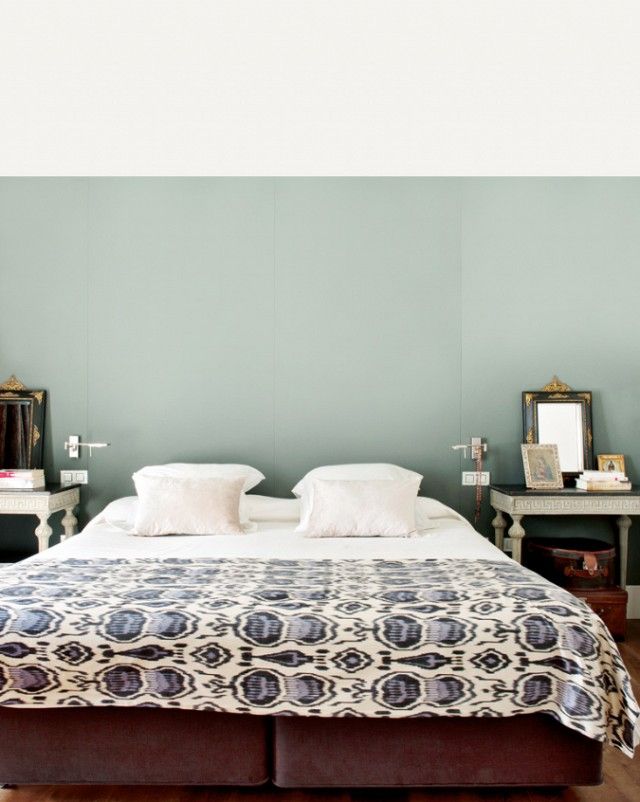 One extremely satisfying aspect of Spanish styling is that Spanish decor emanates the feeling of warmth and tradition. So with such a pleasing feeling, why wouldn't you continue your Spanish decorating trend in your bedroom? Embrace natural fibers like linen bedding and jute rugs along with your wooden bedroom furniture. Add a gilded mirror to the wall and throw bright pillow on the bed and you'll find that that's all it takes. A little bit of luxury and a little bit of earth combined in perfect harmony to create the most relaxing space in your home.
(via 1, 2, 3, 4, 5, 6, 7, 8, 9, 10)
Bathroom
Ahh the bathroom. While it might feel like you can't really style it much due to the basics, I'm here to say that you can totally get a Spanish style bathroom! Go ahead and choose the sink and shower in your budget but when you're done, focus on the light fixtures and tile that will get you to that Spanish place you're headed. A patterned tiled will give your space the pop and go that it needs and a chic black chandelier will come as a surprise to anyone who walks in. I promise, baths will become a major enjoyment in your Spanish styled bathroom.
(via 1, 2, 3, 4, 5, 6, 7, 8, 9, 10)
The Backyard
I think Spanish styled backyards are my favorite. They have a definite focus on hosting and catering to large groups of people. So it's really important that your Spanish styled backyard has some kind of patio or terrace for entertaining! This can be made out of terra cotta tiles or stone or even brick. Pools are a great way to incorporate some colored tiles into your exterior decor, but if that sounds too daunting, consider installing a splashing fountain instead. The finishing touch on your outdoor space would be the ability to roast marshmallows. Whether it's an outdoor fireplace or a clay stove or even a simple fire pit, it adds to the warmth and welcome of your outdoor space.