100+ Cool Things to Add to Your Home's Decor
Perusing the latest offerings at design fairs, showrooms and shops across the globe, we run into some really cool designs: Lighting designer furniture, accessories, rustic bits. So much great design exists that it's not possible to include everything in stories, so here's a collection of 100+ cool designs that we've discovered. From highly functional to outrageously decorative, they are all creative and enticing pieces that will add a real wow factor to your home's decor.
Seating
When it's time to add or replace seating in your home, why not choose something that has extra style. This chair by Philippines designer Kenneth Cobonpue is his Peacock Easy Chair. Don't stick with basic wicker when you can have a modern, stylish seat that is done in iridescent green and blue, mimicking the plumage of a peacock. It also seems a bit throne-like, so your guests will feel extra special sitting in it.
The shape of this wooden chair, also from Cobonpue, is very cool for its slouchy frame profile, resembling a person sitting with their arms along the edge of the chair. The ribs of the frame and unusual arm construction, along with the generous cushion, make this special
One-of-a-kind designer furniture is extra special and Sergio Villa's offerings are really something. Tattoo artists apply unique designs to leather sofas and chairs, creating amazing, artful furnishings. These cool designs will immediately become the focal point and conversation piece of any interior. We can't imagine a guest who won't want to touch and comment on this incredible art furniture.
At the luxe end of the spectrum, this round sofa from VG is like a siren call, beckoning just about everyone to come and lounge on it. The plush velvet upholstery, ample feeling from the round shape and pile of pillows are nothing if not welcoming. This is one of the best furniture pieces for relaxing; all you need is a book, a cup of tea, and maybe the TV remote.
The Together chairs by Xiaotong Wang are a modern piece of designer furniture that looks like one unit but is actually two chairs that can change with the relationship of the people sitting in them. They can be arranged to face each other directly, to sit closely side by side, or in a looser arrangement as shown here. In any of those situations, the two are still joined by the laced-up edges and are visually cocooned together.
Whimsical fabric for the upholstery of the Christie Chair by Fama is a perfect choice for this lounge chair that features an attached table. Sit and read, jot a few notes, or sip your tea in a seat that has a bit of a wonderland feel. It's a versatile design that would be perfect not only in a living room, but especially in a bedroom seating area.
Turning up the collar on your shirt is a cool move and these Cuello chairs Hulsta offer the same concept. One chair offers two personalities: When the "collar" on the back of the chair is up, the exterior is all gray and encloses the person sitting for a more private feeling. When the collar is turned down, the bright colored interior is open to the room and the chair has a more open feel, perfect for conversing with a room of guests.
Verfo Design set out to show that it's possible to make a chair from a straight line and the Fold chair is the result. Its cushy, comfy and low to the floor, perfect for chatting and as extra seating for guests. We love the textured upholstery and the flanged edge that goes all the way around which helps it feel like they really did fold up a flat piece into this chair.
A basic bench that is far from boring. Niko Yeketai's hand crafted-wood bench features cool designs for both the seat and the base of the bench. The color choice is also very different and adds a light element to any space.
Stools have always been a functional item that is hopefully coming back into vogue, especially with options like this one from Sollos. The popular hairpin leg design has been combined with an awesome adjustable seat. Moreover, it is done in a rose gold finish, which is very trendy right now. While this is a small piece among the designer furniture offerings, it really packs a lot of punch for its compact size.
Being suckers for a gorgeous chair back, this Couture chair from BD Barcelona made us swoon. The back has a cool design that features plywood pieces that are shaped and sewn together with polyamide thread. The upholstered front repeats the same peaked form. Swedish designers Färg and Blanche are known for their work using a sewing machine to stick the parts together.
Wonderful, yet a little weird is the Möbius chair by Wood Tech. The entire lounge is like one continuous piece of spruce wood, made from upcycled scraps of construction beams. The futuristic upholstery layout is fitting for this lunge, which includes an optional headpiece that holds a 3D or virtual reality glasses.
The cool factor with these chairs is due to more than just the colored lights in this display. Black and white upholstered chairs by Missoni Home have an innovative wood frame, paired with the iconic brand's fabric. The graphic textiles and wooden frames make the chairs versatile pieces of designer furniture.
Jonathan Adler always has so many cool pieces, but the best furniture design we saw recently was this sofa that features a gold zig-zag shaped base. What was just a neutral piece becomes extra stylish with the novel frame. The best thing is that it could work with all sorts of interior decor styles.
For those who are really into cutting edge designs, this may be the perfect sofa. Extra plush thanks to the weaving technique as well as the upholstery fabric, this piece of designer furniture will be the star of any living room thanks to its unusual look. It is somehow casual and highbrow at the same time. It has an elite air while charming you into taking a seat.
Some of the best furniture designs play on subtle lines and design features, as does this dining chair by Christopher Guy. Extra details like the white piping that highlights the periwinkle-colored upholstery helps outline the tapered back design. Best of all, the gracefully back leg construction is like a pair of daintily crossed ankles.
Modern acrylic combined with a centuries old tradition, Jomo Furniture's Birth Chair II design evolved from traditional African birthing chairs. This cool design has removable back rests that can be changed out to suit mood or decor. When not being used with the chair, extra backrests can be displayed as art.
Gallery ALL's R series chairs and stools are cool in and of themselves, but they got even more bewitching when the designer added fur. The juxtaposition of the golden squiggle of a base set against the plush fur makes for a visually interesting and comfortable looking piece of designer furniture.
For those who are into switching things around, this customized Couchino Sofa by Margaux Keller for Le Pointd is perfect. The cushions are all moveable, so you can switch around the colored cushion in the seat and the back cushions can be rearranged as well. This is modern, fun and very cool
The Camus Collection has all sorts of cool designs furniture and it's hard to point not one cool piece over another, but this chair's elegant curves and unique armrest style is a winner. The Spanish company's wood pieces all have sinuous curves and gorgeous wood that together seduce you into taking a seat.
Almost as good as laying down in a bed of roses is sitting in this chair by Annie Evelyn. This big pouf of blooms is a prototype of handmade paper flowers, but the arts creates these in silk flowers as well, allowing you to actually sit in it. How fun would it be to have this cool design in your living room or office, where you can sink down into a mass of colorful flora and think up your next creative idea?
Leather furniture isn't anything new, but the master craftsmanship of the material by Mascheroni of Italy brings the designer furniture a whole new level of cool. The attention to detail in this armchair's stitched sides and the gold accents at the leather-accented bolster pillows is exquisite.
Falling squarely in the realm of the unconventional is this daybed by Birnam Wood Studio. We weren't quite sure what it was when we first saw it, but discovered all the cones are made from silicone, including the ones that serve as feet. The result is a surface on which you can sit, sleep or loll about. The surface supports the body while allowing air to circulate, keeping you cool.
In the category of elegant and stylish, Bernhardt's leather swivel chair that is attached to a side table. The designer furniture piece features the table as the base of the chair, as well as a stylish surface. The table section also sports a round leather inlay that highlights whatever you wish to place there, such as a flower vase.
Brazilian design Paolo Alves designs and makes all sorts of cool pieces, but these stools are particularly marvelously because they are made from recyclable plastic and repurposed sawdust. The wood detritus used on the pieces is from pine, cedar, cumaru, ipê and roxinho, which gives the pieces their color.
Wood Dining Sets
Three dining sets caught our eye this year for a variety of cool factors. All three demonstrate that a wooden dining set does not have to be standard or being in any way. The first one is from Passoni Nature may look simple at first glance but the backstory is really cool. All the wood in the collection colored with dyes made from the winemaking process. We love that, combined with the design of these Back chairs, which have a back that resembles a ring from a wine barrel.
Eugene Stoltzfus Design has its iteration of the ever-cool Gerrit Rietveld's Zig Zag chair. Here, the imposing chairs are paired with a plan table, as they should be. This is a great chair design that will never go out of style and adds a good dose of cachet to any dining space.
The simplicity and beauty of the wood is paramount in the designs from the Hida Woodworking Federation of Japan. All the handcrafted pieces of designer furniture are expertly finished with surfaces as smooth as silk. The cool designs feature various wood components that are highlighted in the tables and chairs. This dining set has a warm brown wood that is accented with a darker type, with in the table and the chairs.
Storage
Sometimes, storage space can be a necessary evil, especially when trying to devise a really cool design for your decor scheme. Fortunately, there are all kids of ways to incorporate striking elements that also serve as a functional place to stash all your stuff. the kitchen is the first place where cabinet are of paramount necessity. Nowadays, however that does not mean they have to be wood and basic. These cool kitchen cabinets from Alex Andrite Design have interchangeable fronts, which means you'll never tire of them.
Ikea cabinets — everyone has them and they are, unfortunately, readily identifiable. However you can change that with custom doors for you Ikea pieces from Semihandmade. The company makes all sorts of custom door finished so that you can customize the look of the stands furnishings. So cool and cost effective!
For a really spectacular piece of designer furniture, look no further than Egli Designs. The Lithuanian artist behind the designs creates showstopping pieces, many of which are very functional as well as highly decorative. This bar cabinets can be purchased as a single unit or as a winged pair. Inside, there is a bar and a gorgeous wine rack.
A credenza is a credenza, except when it is done in a cool design that is textured and features a multidimensional look. These two credenzas from Arther of Mexico are very different but both feature distinctive textures on the front and sides. The carved wood surfaces elevate these pieces from basic to wow.
Boffi makes some very special designer furniture, including cool designs like this avant-garde cabinet. The slice through the middle and the shift in perspective are surprising and different. Best of all, the cabinet is still entirely functional.
In another example of creative repurposing and sustainability, Ting of London creates wall and floor tiles, as well as designer furniture featuring discarded leather belts. The resulting designs are made all the more interesting and stylish because of their "green" perspective.
More art than credenza, this cool design is from Opinion Ciatti and is a truly modern piece. Constructed of sections of customized blocks, this can be as low or as large as you desire. It also includes a variety of types of storage, from shelves to drawers or customizable units.
Here's a really cool way to store and display wine. Unlike the typical wine storage system, this has no big cupboards or cases, and relies on a sleek set of metal rods. The XY Winepeg system from Vin de Garde comes as a kit so you can mount it anywhere in your home where you want to create a wine tasting area — or where you simply want to store or display the bottles.
Bathrooms
Because companies put out new bathroom designs every year, there are plenty of cook designs to choose from. Without getting into all sorts of variants on sinks and tubs, these are a few of our picks that really stood out. The first is a bathroom design from Porcelanosa, which features gray marble sinks, wall-mounted faucets and a textured wall that is just amazing. It's a serene palette that's perfect for a modern bathroom.
This washbasin is more than just a wooden model of a washbasin. First, the shine on the surface is amazing, which highlights the woods and grains in the vessel. Ammonitum of Switzerland specializes in these yacht-style bathrooms and fixtures. If you can't have a yacht, you can at least have the sink!
On the retro side of design, this vanity with basins from Stone Forest features a marble top. It's a little bit of farmhouse combined with a little bit of steampunk, adding up to a whole lot of cool.
Color is a fabulous thing, especially when it takes the form of stripes on a rectangular bathroom sink. This cool design is from Hastings Tile and Bath, and is best with a wall mounted faucet like the one here, which has an offset mounting. The striped design is also available in an awesome free-standing bathtub.
Speaking of free-standing tubs, this Avalon NativeStone concrete bathtub would be the coolest addition to any bathroom. Amazingly, the material used in this designer tub is a combination of natural jute fiber and cement, which is then given any number of finishes. So deep and inviting.
Who should think of turning your toilet paper supply into a work of art? This is the Concrete Cloud Toilet Paper Shelf, by Bertrand Jayr for Lyon Béton. It's a far more artful way to store this necessity than the typical vertical stack holder. Plus, why hide it? It's something you definitely need, so turn it into something cool and attractive.
Kitchen
We're only picking one kitchen innovation that we think is eminently cool: A programmable coffee maker that will create all your favorite coffee drinks at the touch of a button. It can also be queued up to make all your guests' favorite after dinner or brunch coffees with the same great base as your local barista. This one is from Thermador.
Tables
Tables are another category the has an endless supply of cool designs. Some are fancy, some are charming and some are downright amazing, but all of them will add a terrific dose of style to an interior. First up is this modern and colorful table from Kiel Arto. Crafted from recycled automotive steel, what was once the hoot of a Mustang could be your new dining room table. The layers of color are achieved by buffing away the top layer of paint, not beading anything. The designers say that you never know what you'll find underneath.
Yet another style of upcycled designer furniture is from Spolia of Austria. The company makes limited edition pieces that features repurposed materials and the fine craftsmanship necessary to make them shine. The various geometric shapes are a fitting structure for the surface design.
Crafted from real slabs of gemstones, these tables from Anna by Rablabs are stunning with their druzy centers and gilded edges. These will take any setting to a luxe level. These kinds of tables have a cool design and are extra durable. Regardless, they are exotic, rare and striking.
Sand mixed with silica and powdered glass and layered into a stunning landscape is the basis of this designer table by Fernando Mastrangelo. From Maison Gerard, it is a modern piece that mixes easily with more serious designer works, as it does here. The form also plays to the layered look of this cool design.
The sweet little table is cool for its shape as well as the fact that it is done in a rose gold finish. Bloomingville's occasional table is an excellent piece to go with the "millennial pink" color that is trending for interiors.
Furniture with anthropomorphic details is always among the best furniture, and this piece from John Rais Studio is no exception. Each end of the table looks like the haunches of an animal, enhanced by the texture of the overlapping metal pieces that form the bottom of the table.
Okay, so this is technically not a table but a desk. However, it is definitely the coolest desk we have seen. Unlike the typical slabs glass on some sort of base or legs, this one from Glas Italia is made from one piece of glass, cut and carved to form the desk and legs. It's a remarkable piece of designer furniture for a home office.
Cam Crockford's artful little table sort of reminds us of an anthill, only upside down. This might be because he creates it by pouring the molten metal over a pile of sand, allowing the grains to texture and form the middle, which is visible through the glass top. Truly a cool design and imaginative execution.
Nesting tables have been around for ages, but Bower NYC has a unique take on the shape and the design. Instead of the typical arrangement, the Contour side tables have a flat side and are great for a tighter space. The slim design is modern and the colored class makes them have a different look when paired than when separated. They can also be arranged in for different geometric looks.
Kids Rooms
Kids rooms are a perfect place for all kinds of novel, cool designs. Even baby can benefit from some of the new things out there. This is a music therapy cradle from Valeschi that studies have shown can soothe a crying baby. The music and vibrations can calm the child. It's also a very attractive piece of designer furniture with a tech edge.
On the no-tech side is this modern and gentle-looking bassinet from Monte. The Rockwell Bassinett has a minimalist look with plain white cradle, modern chrome frame and walnut rocker base.
Every kid needs a table and the whiteboard top of this one is fabulous for creative little people. It's from Duc Duc and features hidden storage inside so cleanup is easy and fast. Oh yes, and the materials used in making it are all eco-friendly.
Shelving
Cool shelving is another feature that can elevate a space and we could a couple of examples of some fund designs for displaying and storing things. First up is a sofa backed by an attached shelf system from Annibale Colombo. We love this because it means you don't have to search for console tables that will work with a rounded sectional. Besides, the wood used for this designer furniture is gorgeous and makes a fabulous accent.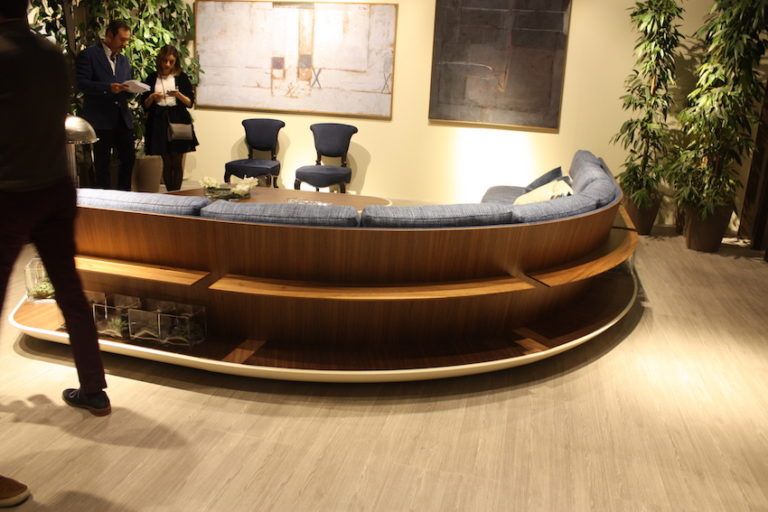 Modular storage can be a lifesaver in a variety of spaces and a company in Norway has devoted this modular construction that would be great for a home or home office. The ability to construct the unit it a variety of different directions could make it useful for so many different things.
Home Tech
We definitely could not pick highlights without including the latest in home tech and we recently found a number of cool designs for the home that are based in cutting edge technology. Nolan Niu debuted its MOVE massage chair and with it, you can say goodbye to the massive massage chairs that work by beating on your back, shaking you to your core. This stylish lounge works using cutting edge sound waves techniques that medical technology uses for healing. With a headset that contributes to the experience, its one of the most relaxing and otherworldly experiences you can have.
Healthy environments and lighting are really hot right now, and Argus also debuted a cool design for smart furniture in its sensing chair. Sensors hidden inside the chair read the vitals of the person seated and project them onto the screen. You can have your heart rate and respiration, as well as stress level charted. This is easy and painless — a great option for keeping your health top of mind!
A little less high tech, but still technology based are these wall units from Arper that are lights, speakers, and wall decor all in one. the geometric shapes are modern decor. The cool design provides great mood lighting and gets rid of the need for unsightly speakers in your room.
A little more "techie" is this interactive wallpaper, which is a collaboration between Flavor Paper and UM Project. Using conductive ink, the design is connected with copper joints to various tools like lights, fans and elements that spin. By interactive with different parts, you can turn on and off these functions. It's a really novel use of conductive ink in a cool home design.
Even though we can have screens with us wherever we go these days, there's something about being able to project a movie anywhere that is freeing — both in design and function. This tiny TV projector from Sony can play your favorite show, movie or family photos on any surface, eliminating the need for multiple televisions. Now that's cool!
Technology has also come to the fireplace. No flue? No problem. This cool design for a fireplace cabinet from Brabbu uses an ethanol fire that give you all the ambiance of a real fire without the mess, heat or ventilation requirements. Now it's possible to have a fireplace anywhere in the home.
What started from a lightbulb with a very cool design, Nanoleaf has expanded to other lighting projects like the Aurora, which is composed of modular smart light panels that connect to your phone or tablet. You can use them as decor and program them to change colors with time or your mood. Or, set the colors to your favorite music to really make an impression at your next party.
Lighting
Ever since the advent of the LED, the lighting sector has absolutely blossomed in terms of the wide variety of cool designs being created. Besides pure artistry and novel materials, a good deal of new lighting is going cordless and portable, thanks to USB charging technology. Starting with artistry, Arturo Alvarez has a number of innovative designs that would fit into this collection of cool lighting fixtures. These are his Pili, which are like puffy little clouds made from one single painted stainless steel thread.
Glowing orbs of light hanging from the ceiling are actually carved from alabaster, which is incredible. The stone fixtures are by Alain Ellouz, who creates all his works from alabaster rock and crustal. The contrast of stone — typically a "heavy" material — and the delicate light from the pendants are a dichotomy.
Among the portable lights are these little colorful lamps from Marset. The Bicoca portable lamp, designed by Christophe Mathieu, can go anywhere in the house with you. This is great for a number of reasons but this cool design means you might not need as many different lamps. It also can go outdoors in case you need a little light while sitting on the patio.
Colorful, modern and adjustable, the Gravy Wall Sconce from Koncept is perfect for hallways or anywhere you want some light. They can be hardwired for a cordless look, or can be plugged in. They are dimmable and you can turn the light source to cast light in any direction. Or, leave it mostly closed for a gentle nightlight.
This little unassuming table lamp is made from some of the coolest materials around. It's fashioned from a wood veneer that is attached to a special material, allowing designers to roll and fold it, creating cool designs that cast a really warm light. From LZF, the fixtures con=me in all sorts of colors too.
Ligne Roset has solved your corner lighting problem with this upside-down lamp, called Omage, that was created with Salvador Dali in mind. You can just the lamp to a corner shelf, a couch end, or anywhere the angle makes it difficult to add a lamp.
Amid all the modern, we fell in love with this retro lamp, that most definitely has a steampunk feel. Plenty of shiny metal and all sorts of elements come together in this awesome design. From Nested, the lamp has style, grace and an edge to it.
TRUK lights from Wakanine look simple, but they have complex previous life — as truck carburetor parts. Artist Steve Pikus of South Africa transforms the discarded parts into these amazingly cool light fixtures that look like they were newly manufactured. The steel mesh gives the light really nice quality.
A ceiling light display by Blackbody OLED is composed of just that — organic light-emitting diodes, OLEDs, for short. The way they create light is different and with these individual lights, you can easily pop the top source right off. This "Rain" ceiling fixture is a cool design that truly looks like light is raining down.
Unusual but very cool are rectangular lights like these from CVL of France. Far from the typical wall sconce, the minimalist "Link" fixture is perfect of hallways and tight spaces.
A little like giant paperclips, these lights from Hollis+Morris are a whimsical design that would be a cool addition to a home office — at least in our opinion. Also called the "Link" pendant, they are actually inspired by "the purity and strength of nautical hardware."
Decor Accessories
It's easy to find all cool accessories for almost every decor style, and of course we have our latest favorites, starting with candle holders from Ooumm. The Parisian company makes a system of different marble holders that holds their home fragrance candle refills. The holders are gorgeous who empty and there's no waste, tossing holders after you use them.
The HAHA Alia Candle holder is a cool little accessory that more than one function and can be mixed and combined. Made from a zinc alloy, it is chrome-plated, while the cylindrical pillar is solid stainless steel.
Rubber baskets Italian style are the specialty of Neo, which uses special neoprene "yarn" for these sturdy, slushy baskets, as well as jewelry and poufs for your living room. It's a cool design, especially with the variations in thickness of the material.
Laser-cutting is really cool especially when it is used for wooden creations like these from Baltic by Design. Made using Baltic birch, the bowls, baskets and other items are made from a flat sheet of wood, cut into concentric shapes and artfully stacked into the final product.
Like moths to a flame, we were immediately attracted to the whimsical, colorful — and slightly peculiar — decor accessories from Miho Unexpected Things. Bugs that hide a little shelf, fish that swim across the wall, flowers that bloom with prints and color — they are all cool designs that are, as branded, unexpected.
Uashmama makes these little baskets — along with larger accessories — that look like simple fabric baskets but in actuality they are made from paper up cycled from industrial production. The coolest thing about them is that they can be washed. The process that makes the fibers makes creates material that looks and feels like leather. Its durable, stylish and sustainable.
Mirrors are popular home accessories and this one from the Camus Collection is a little Tim-Burtonish, with its squiggle shape and single leg bracing it from the side. While it's functional, we think it's more of a designer decor item because of its whimsical look.
Heads on the wall haven't been too popular, but that was before Breon Dunigan's animal heads appeared. Her wall pieces are fashioned from repurposed furniture leg and upholstery. They are a modern take on the old concept of trophy heads on the den wall that is sustainable an animal friendly.
Entertaining is a lot more fun when you have great little accessories dress up your place settings. Hester and Cook has a wide variety of cute placemats, place cards, menus and invitations that enliven the table. Kids and adults alike will enjoy these.
Outdoor Things
You outdoor living space can feature plenty of designer furniture and cool accessories as well. Bend Goods has colorful coated wire seating, tables and accessories that are cheerful, cool additions to your patio or deck.
Concrete furniture is modern and stylish but extremely heavy, making it difficult include in many locations. Enter Zachary A Unexpectedly Light, concrete furniture that you can easily lift and move. They can withstand the element and will elevate the look of any outdoor living space.
Another piece that can withstand rain and the summer elements is this fabulously modern seat from Fermob. The upholstery fabric is waterproof and the style looks like something you would find in a stylish interior. Its one of the best furniture pieces for making your outdoor space stylish and chic.
Surprisingly, these two lounges are the same piece by Extremis. It is the Sol +Luna Australis Borealis outdoor lounge bed with backrest. They can be changed up depending upon the use you have planned. This cool design increases the functionality of your outdoor living space by making useful for just a few people or many.
Other Cool Things
We found quite a few of things that defy categorization but they are such cool designs that we really want to show them to you. Usually, when someone mentions ceramics, pots and plates come to mind, but this room by Peter Lane is mind-blowing. Every piece and component is fashioned from ceramics, from the wall coverings to the tables and accessories. Not only are the designs cutting edge but the textures are amazing.
Ghostly plexiglass and LED creations by Partisans Factory are equally art and artful lighting. Made by heating thick plexiglass, bending it, and then attaching an LED light source to one side makes creates these GWEILO fixtures that are dimensional and intriguing light pieces.
Usually a rug is a rug but these hair-on-hide rug designs from Castelluxe are something else entirely. When the typical hide rug is simply composed of squares — big or small — this company raises the rugs to another level by turning the hides into complex and color graphic rugs, whose material is really a big surprise.
From a distance, these look like chinks of steel girders being used as architectural elements. But as we got closer, we found out that these are actually Featherbeams, replicas of girders made from a lightweight plastic. They can easily be used to inject an industrial vibe to any space and can become pedestals for plants and art. Very cool designs indeed.
Hang around design shows enough and you will have seen surfaces made of geometric wood pieces. Now we've discovered a fabric by Mika Barr Textile Design Studio that looks the same, folds in the same way, but is a soft and pliable fabric suitable for pillows and other home decorative uses.
Most kids love to look for fossils and now those who have a penchant for geologic history can have a very special table or wall piece with real 50-million-year-old fossils from the western United States. The fish fossils make for a cool design and using them in a table creates very unique designer furniture.
Room Dividers
These may be functional room dividers but we see them as major art pieces when they look like the samples we have here. A golden, somewhat mystical room divider by Christopher Boots of Australia. The one-of-a-kind screen took four years to create and it incorporates clear and smokey quartz crystal into the design.
More functional but equally cool is MIO culture's modular room dividers that also have sound dampening properties. Made from industrial felt or corrugated cardboard, the walls can be built without special tools or the need for a contractor. They are freestanding and easy to move.
This screen is like a wave of color, different when viewed from various perspectives, From Noemi Saga Atelier, the Conog screen is a mix of cultural inspiration and contemporary art.
Wall coverings
One of the decor sectors with some of the coolest innovations recently has been wall coverings. From dimensional, modular coverings to textural tile and digitally printed wallpapers, they are not what they used to be. The first up is wallpaper from Sidonie Studio that plays on the features of paper folds themselves. While the wall covering looks like creased paper, it's actually as smooth as silk, no folds or creases.
Even more textural is this wall tile made from glazed and finished pottery pieces that come together in a collage of earthy shards. Great for a full accent wall or just a few tiles, this pottery wall covering is truly a conversation piece.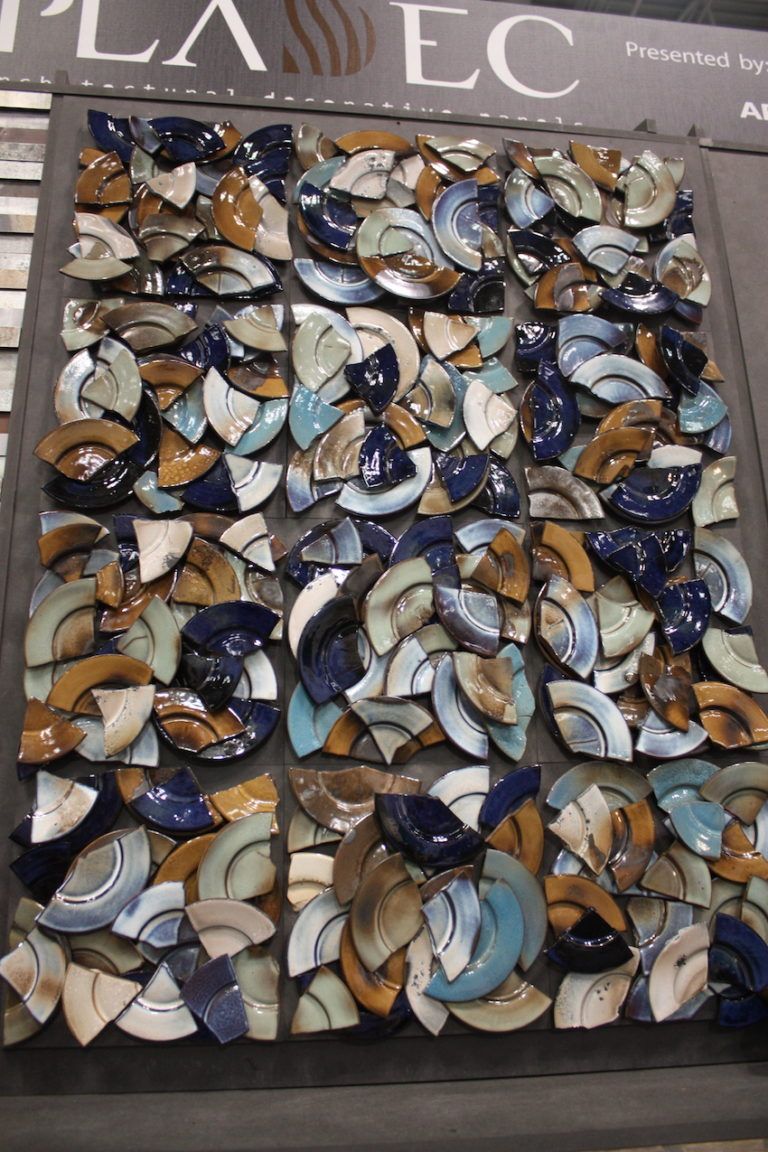 We're used to seeing leather designer furniture and increasingly, leather home accessories, but now Mascheroni has given us the coolest walls ever — suede covered and paneled. These walls are texture, depth and luxury in the extreme, crafted from this opulent material.
Now you can see how hard it is to choose favorites when there is such a wide array of cool designs in all areas of home decor.
Décor Accessories
It might not be a task light, but it's surely the coolest piece of mood lighting! This neon ball on its own tripod is by Alê Jordão for Mercado Moderno is a modern globe filled with pieces of neon in different colors that shines across the room. The look is really fabulous and having this in your living room – or bedroom – would really up the vibe in the space.
Why settle for a regular chess set when you can have one-of-a-kind weirdness by Nick Wedell? The ceramic artist is known for creating versions of mundane objects that are "rebounding between absurd seduction and unsettling repulsion." This fantastical chess set has eyeballs for pawns, various figures, skulls and vessels for the other pieces. Each has a rounded bottom and fits into the depressions in the custom board. Chess has surged in popularity thanks to The Queen's Gambit, so why not have a weirdly cool game set?
Tables
For an accent table like no other, look no further than this spiky, brutalist work by artist Nadège Mouyssinat for Galerie Scene Ouvert. The table is actually a porcelain sculpture and not really a functional piece, but the look of the pointed spires on the Pseudosphere would be a fabulous substitute for a console table. This one is mounted to the wall so that it seems to float, which is what the artist tries to do with each of her works While the entryway would be the best placement for this, it will draw everyone's attention no matter where you put it.
Ok – this really isn't a table but it could be. The desk by Daniel Arsham for Friedman Benda is titled Shanghai and is made with cast resin. It looks like it has chunks missing, is disintegrating. The gallery says that the desk is part of his work that is "a continuation and further exploration of Arsham's iconic and immediately recognizable practice of creating fossilized 'future' relics that distort the viewer's perception of space and time." It may have been designed as a desk, but could also work as a very cool console table.
Storage
If you need a cabinet, why stick with something basic? This arresting cabinet is by Dokter and Misses and is called Rat Trap. The hand painted steel piece has a really unusual spiked surface with amorphous multicolored blobs. Created in Johannesburg, South Africa by the husband and wife team, the piece is a good example of their modernist works that have "strong construction lines and a bold use of colour." The artists create pieces that are totally functional furnishings but have imaginative twists on their decorative finishes, their shapes or their overall silhouettes.
Seating
This chair is definitely not your grandmother's wicker style! The Nalgona Chair 04 by Chris Wolston for The Future Perfect is a made of mimbre fiber that is ethically sourced in Colombia. The artist used the human form, which is not often found in furniture, but in this case evokes the forms commonly found in pre-Colombian clay figures. "Wouldn't it be nice to create a chair that embraces a different physicality–a chair that hugs you back," Wolston has been quoted as saying. This is just a very cool – and comfortable – chair.
Lighting
Stylish book covers become distinctive light fixtures, creating an ideal choice for readers. Imagine your living room, library or home office accented by these innovative pendants. These use design and floral subjects but designers can create them to fit your individual interests. Lights that highlight your bookish interests will be a conversation piece and a delightful reminder of your favorite genre too.
Outdoor
For many years, outdoor furniture was quite predictable: Natural wood, resin, or metal were the choices and the color options were not always so interesting. Now, however, pieces like these from Twist Living are really different. The Italian designers have created this Anisotropia Collection that is distinguished by the slats that vary in length as well as color. The powder-coated aluminum is rust resistant, which makes them great for outdoor use and the color combinations will really liven up any patio or deck.
Bathrooms
Call it the Cadillac of toilets: This Kohler Numi Toilet has everything you might never expect from this bathroom fixture: LED lighting, Bluetooth music, a heated seat, remote control and hands-free, motion-operated opening and closing. It also has an integrated bidet, eliminating the need for a separate fixture. All those features are just for starters. Most of all, it has a very modern look, along with a comfort height and one-piece construction. This is a very cool bathroom fixture!
Every bathroom need a sink, but how about one that looks more like a geological relief sculpture? The alternating layers of black and white emphasize how it resembles a geological excavation and the undulating edges make it feel so natural. Skilled manipulation of solid surface materials turns the everyday countertop materials into this fabulous statement sink.
Do you have favorites?