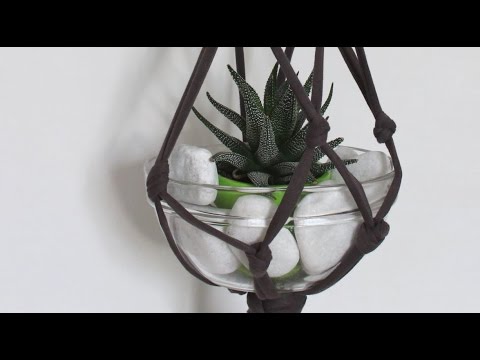 First, lay a t-shirt out on a flat surface. Cut the shirt straight across the front, from under one armpit to the other. Then, cut the remaining rectangle of t-shirt into strips about an inch wide. Cut each strip at one seam. Pull each strip so that it rolls into a tube.  You need eight strips.
Lay each strip out with the ends even. Gather up all the strips and tie them into a loop near the end of the strips and pull it very tightly to secure the knot. Lay down the bundle and splay out the strips.
Pick up the first two strips on the left and tie them into a knot several inches down from the large knot. Pull the knot tight. Repeat the process with each of the next two pairs of strips. Now, take one of the strips from the left hand pair of strips and and knot it with one of the strips from the second set. Repeat all the way around the strips and square up the hanger with your fingers. Go around one more time, taking one strip from each set and knotting it with one from the next set.
Set your plant pot in the middle of the hanger you just created and gather up the strips above the pot. Pull the loose ends of the strips through a ring and knot them. Pull the loose ends down alongside the strips. Take a spare strip and tie it around the entire bundle and wrap the excess like a tassel. Tie off the loose end.  At the bottom bundle, trim the ends of the strips at an angle using scissors.
Your hanging plant holder is now ready to hang!