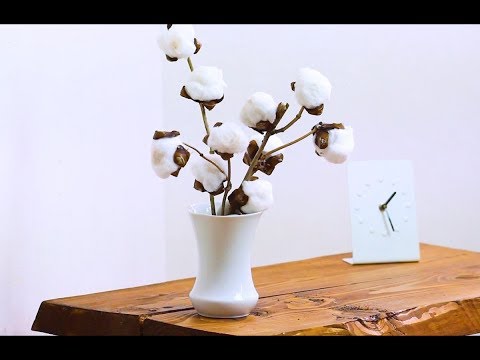 Keeping fresh flowers is costly and artificial flowers can look cheesy, so why not try your hand at making these charming cotton stem branches? They have a natural look that goes with all styles of décor and are far more appealing than plastic!
Start with branches that you find outside. Cut apart a large pine cone as shown and reserve the individual scales. Make a round ball out of the cotton and hot glue it to the end of a branch. Next, attach enough of the pine cone scales with hot glue to form a base for the cotton stem. You can also attach the scales to the cotton ball first and then glue the entire thing onto the branch, whichever you find easier. Repeat the process for the end of each branch that you have. Finally, using brown powdered color, dust the top of each cotton ball with a little bit of brown.
Arrange the branches in a container – big or small – and place anywhere you want to have a touch of natural décor. Beautiful!