How to Decorate a Small Living Room with Style
Beautiful photos of large, spacious living rooms abound in printed publications as well as online. They can be quite inspiring, of course. But what about the real-life small living room? What are some great ways to decorate a small living room without sacrificing style in the limited footprint? This article showcases a variety of small living rooms where decoration tips abound. We hope you find plenty of inspiration, no matter your own living room's constraints, for how to decorate a living room.
Small Living Room with Modern Warmth
A tight, almost monochromatic, color palette helps to create an inviting warmth to this small living room space. Soft neutrals in brown and grey are found on the walls, flooring, and furnishings, while yellow and cream patterned curtains add subtle color and energy.
If your small living room space can accommodate a piano or other large instrument, try to set aside space to accommodate an appreciative audience, even if that is a single chair.
Small Living Room with a Bold Focal Point
In this sweet, postage stamp-sized living room right off the home's front entryway, there is no shortage of natural light, which makes a vibrant red painted piano the perfect touch of energy and contained color. The piano was primed and painted with three or four coats.
With such a bold statement piece, it's a good idea to keep the space grounded with other neutral pieces. A woven-textured round coffee table keeps things visually interesting without competing with the red painted piano.
In a bay window, a pale elephant grey loveseat provides much needed seating in the small living room. Its light color keeps the space feeling airy and more spacious, backlit by the large living room windows.
One of the keys to this small living room's style success is thoughtful balance of form and color. Asymmetry and a lived-in, accumulated collection of unique pieces help the space look and feel original and fresh.
Living Room with a Cozy Contemporary Essence
It can be challenging to strike a functional and aesthetic balance of cozy and welcoming with well-edited modern in a small living room, but this one fits the bill perfectly.
A brick surround sets off the inset wood burning fireplace without detracting from the room's warm, muted color palette. To cut costs on a living room project like this, you could do the brickwork yourself (as the homeowners did here).
Creamy linen floor-length curtains flank the many doors and windows for a polished, finished look. Simple shaded wall sconces add to the charm and function of the living room when natural light is low.
A sofa that has clean lines and a modern feel can be slipcovered relatively easily to work well in any small living room, regardless of color or style. One tip for decorating a small living room is to choose a sofa with care – leggy pieces tend to look and feel less heavy, which makes for a more spacious feel all around.
A clutter-free home office-type space, or "control center," smartly takes up one large wall of the living room. Shelving here is painted the same color as the living room walls, which is another tip for decorating any smaller space – the fewer the abrupt visual borders, the more cohesive the room looks overall.
Layered rugs is a great way to showcase style and help a hard floor to feel more inviting. We recommend keeping at least one of the layers limited to a very natural weave and color.
Creating a thematic nook in the small living room helps the space to perform double duty; here, a piano and wall-mounted musical instruments provide structure.
A wall-mounted swing lamp adds a touch of functional style to the music nook here without calling too much attention to itself. The same strategy could be applied to a study nook or a reading corner in the small living room.
Centered at the base of a large living room window is a large trunk holding…who will ever even know? It doesn't matter to us, because the look is clean and modern with plenty of vintage character to maintain warmth.
By keeping the color palette warm and neutral, this small living room thrives because of thoughtful layout, plenty of texture, and a sense that stylish comfort is a win-win.
Living Room with a Traditional Fireplace
A beautiful slice of wood, planed from a gnarled old branch, becomes a traditional mantel's focal point. Or, at very least, it sets off the fireplace seamlessly and beautifully, creating an essence of natural beauty.
A detailed, custom iron fire gate maintains the earthy tones of the fireplace (and entire living room) as well as the integrity of the fireplace's style overall.
Living Room with a Dividing Wall
As with any space divided, it's important to decorate the divided living room with stylistic cohesion between the two spaces. Colors, textures, and even the general feel of your pieces in both parts of the room should flow.
A single large piece of art makes a lovely backdrop to a small vignette, whether it be a reading corner with a chair and a lamp or a small conversation nook.
A beautiful wood piece provides a substantive and grounding component to a space. If the piece is large, you can paint your walls a similar shade to make it blend in a little more for balance or for continuity, helping a small living room look larger with fewer visual contrasts.
A small gallery wall of children's artwork on canvases is a fun way to add color, as well as to give the children artists confidence and pride in their contribution.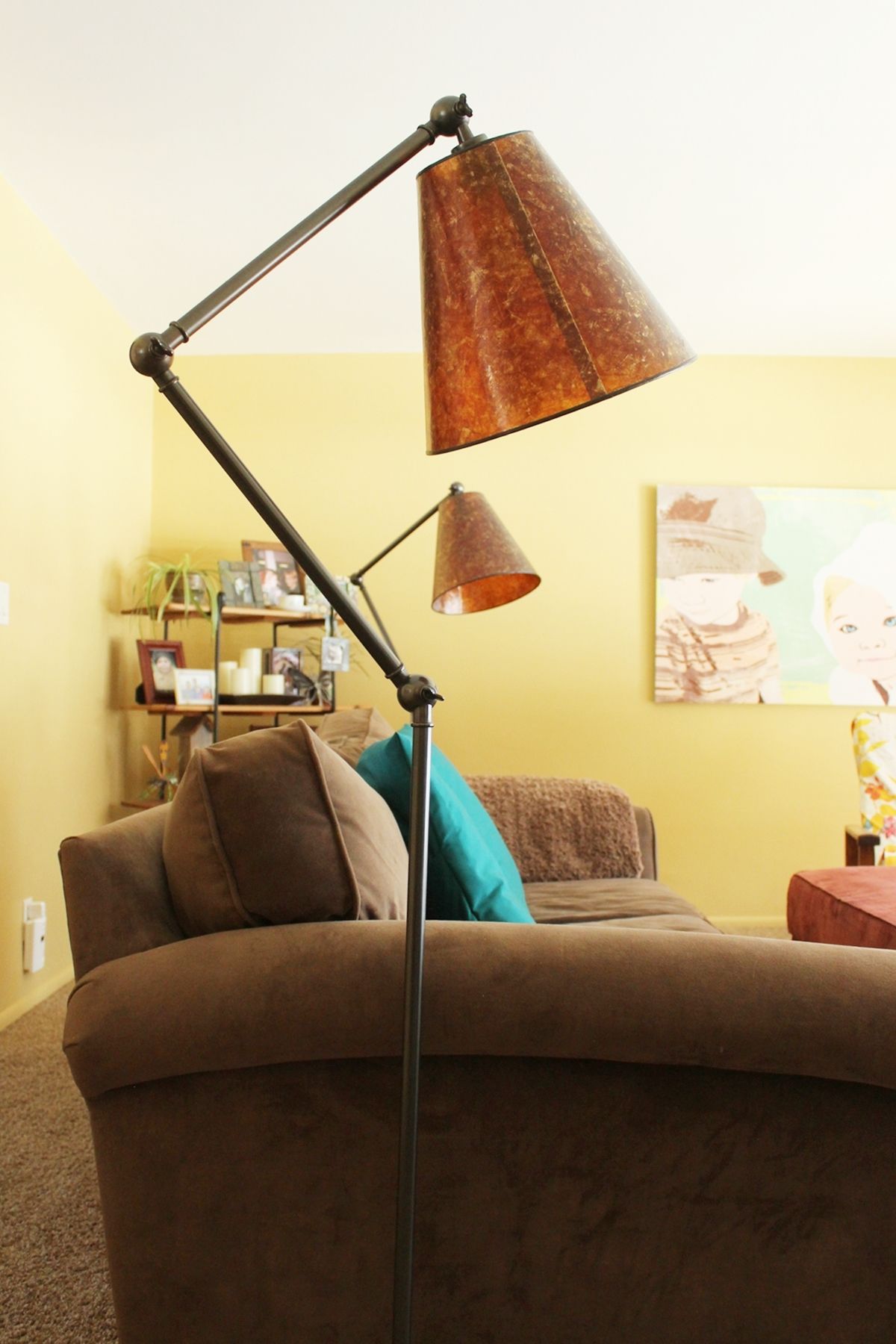 In determining how to decorate a small living room, it's useful to pay attention to the style of the functional (and necessary) components. One of the best ways to do this is through lighting.
Lighting that packs a stylistic punch, infuses personality, or simply quietly makes its own statement is always going to benefit the small living room's décor.
Another tip for decorating a small living room is to repeat shapes and keep them proportionate to the space. A bean bag chair is in one part of this living room, a papasan chair in the other, and other circles and spheres are tastefully incorporated throughout both sections of the divided living room.
Easy-to-pull-up seating, such as floor pillows, poufs, or padded seat cushions on the floor, help the living room to feel welcoming and friendly.
These are a casual way to bring in a pop of color to a very neutral space as well.
Air purifying plants, or other greenery, give off an indisputably organic and earthy vibe, which is perfect on a mantel above a stone or brick fireplace surround.
Small Living Room as Part of an Open Concept Space
In an open concept floor plan, where the living area merges with dining and even kitchen, it's helpful to arrange furniture and decorate in such a way that the living room flows seamlessly with the other spaceos but is, in fact, its own space as well. You can do this with a large area rug, on which you arrange furniture for seating.
The rug sends an important visual message to those approaching the small living room area, breaking it down into a cozier and more approachable unit.
Living Room with a Deep Wall Color
Any small living room that has deep color on its walls will benefit significantly from some source of natural light. This allows the space overall to feel welcoming rather than formal and overbearing. And in the small living room that houses a large musical instrument, such as a grand piano, a bass, or even a drumset, it's a good idea to keep the seating to a comfortable yet smaller scale as a balancing act.
Living Room with an Obvious Focal Wall
Although this small living room houses a beautiful fireplace, the fireplace is not the focal point of the room itself. This works in large part because the focal wall and the fireplace are positioned closely together, so the two single features become one uber-feature of loveliness.
When decorating a small living room with a television, you can do a built-in entertainment center that almost camouflages the TV screen. Surrounded by books and other décor, the TV is accessible and visible, but it does not feel like the sole purpose of the space.
Mixed pattern upholstered pieces provide a beautiful detail and visual interest to the small living room. When the fabrics are kept to the same color palette but vary in pattern or texture, a small space benefits from increased texture (and, therefore, depth) without visual chaos or busy-ness.
This gorgeous slate blue-grey leather sofa is a perfect addition to a stately small living room. Its color is soft enough to not jump out at anyone who enters the room, but it's also got a nice modern feel to its touchable leathery softness.
The front-end curve is a beautiful feature on this sofa that provides a custom and expensive look and feel while also helping to designate the living room space itself.
Living Room with Modern Musicality
Club chairs are a quick, easy, and relatively inexpensive way to bring immediate style into a small living room. Low profile chairs are still comfortable with enough depth in the seat itself, but they don't infringe too heavily in the small living room's visual air space.
Mounted instruments on the wall next to the piano provide easy access and an instant sense of "art." Overall, the effect is both modern and musical – an important stylistic combination for the inhabitants who eschew clutter while embracing life's musical opportunities.
A single oversized piece of art can be imposing, lending a sense of formality to a space. But to decrease its formality, simply lean the artwork against the wall, either on a raised surface or on the floor.
Layering art is also a great decorating tip, providing visual depth without eating up too much real estate from the rest of the small living room.
Small Living Room with Painted Fireplace
A chunky striped rug matches the straightforward, contemporary feel of this small living room with a painted white fireplace. Neutral, classic colors on large furniture items make for long-lasting style.
Furniture is clean-lined and on the smaller scale, keeping proportion and making the space feel comfortable and appropriate. Throw pillows are an imperative part of infusing the small living room décor with personality and style; change these up for seasons and just because to keep the space fresh.
A coffee table is a thoughtful way to provide horizontal space for guests or people in the room. This one is kept free of clutter and, because the table itself is architecturally interesting, it doesn't need additional decoration.
Small Living Room in a Historic Home
This home was built in the early 1900s, but a lot of work has been done to bring it up to modern standards for living…and well above average standards for style. Gorgeous, high ceilings are emphasized with ceiling-to-floor-length curtains in a tasteful contemporary print.
The wall color is soft but not devoid of color, which serves to make this small living room feel spacious and airy. Of course, large windows help achieve this aura as well. A colorful corner in the traditionally rich hues of navy and tweedy burnt orange give a nod to this historic nature of the home itself without sacrificing the energy of modern colors and style.
Large plant life packs a huge visual punch, in the best of ways, in the small living room that benefits from plenty of natural light. Potted plants and flowers across the window sills keep this down-to-earth vibe delightfully present and accounted for.
A completely mobile and comfortable bean bag chair is tastefully covered in printed fabric that helps to break up the chunky solids of the larger pieces but maintains the color scheme beautifully.
Small Living Room Packed with Pieces
For the lover of all things ornate, gilded, stately, and visually stimulating, the small living room is going to be a delight to decorate because you can pack in all the things you love and show off substantial taste in doing so.
This look is anything but minimalist modern. It is stuffed to the brim of pleasant and lovely things to look at, curious shapes and details. It's a feast for the eyes. Stuff your plush sofa with throw pillows as varied in print and pattern as they could be.
Make four stacks of books on your coffee table, not one. And then add flowers and an ornate candelabra to round out the hard angles of the books. What keeps this abundance of décor charming and appealing is its unabashed love of fanciness within a restrained color scheme of neutrals.
Keep the color palette simple, but embrace the details of all things. Metals should interact seamlessly throughout the décor, complete with trustworthy and lovable textures such as leather, wood, velvet, linen. Stack and layer and then layer the stacks within the color palette.
Display a collection of milk glass vases, for example, on a shelf in your living room. The lightness in color helps this collection to feel more airy and aesthetic than, say, if they were all black vases. The darker and more numerous your collection pieces, in general, the closer to the ground they tend to display well because they have a visually grounding effect.
Another stack of trunks provides a charming storage shelf system and is a great place to house some greenery.
Victorian-style furniture is elaborate in curves and detail, which fits right in, but it is on the diminutive side of furniture size, which is perfect for the small living room footprint.
A bench-ottoman is upholstered and serves multiple purposes, another must in the small living room. It displays décor, provides a place to rest one's feet, and can also be a seat when the living room occupancy increases. Placing such a piece at an angle helps to decrease the inherently formal feel of a space that embraces Victorian and detailed design.
Stacks of reading material are confined stylishly to simple wire baskets on the floor.
Small living rooms don't require a less-is-more approach, unless that is your true style. This living room is evidence that an appreciation of beautiful things, even in abundance, can work to create a completely inviting, comfortable, and charming living room, no matter its square footage.
One wall of the living room (shared with a small entry way) is a wall-to-wall gallery of art. Gilded, detailed, slightly over-the-top frames combine together to create more of an experience than a view. Again, notice how the layers help to create a feeling of informality that is delightful when juxtaposed with the ornateness of the décor itself.
Living Room in the Basement
Décor is kept to a minimum in this basement living room, which is beneficial for maintaining a cool, modern vibe. A few curved metallic pieces help to keep the décor from feeling too sparse and utilitarian.
A small loveseat provides extra seating, a softened corner, and is a perfect stylistic sidekick for inspirational thoughts on a reader board.
The polished concrete floors give this small basement living room a decidedly industrial, modern vibe. Their hard, cool aesthetic is balanced nicely with a huge modifiable and soft sectional.
Living Room with Built-In Bookshelves
Sometimes, in viewing photos in an article like this, you might find yourself thinking, "That's lovely, but for me to decorate my small living room in that way, it would require a massive overhaul. I can't do that right now." Here is one way to incorporate an awesome feature into your small living room without depleting time and budget: built-in bookshelves with a contrasting back wall. Be sure, as you decorate them, that you leave plenty of white space to let the shelves themselves shine.
Another way to infuse built-in bookshelves with some style is to add architectural appeal, such as a curved top shelf and beadboard on the shelf's back wall. Details like this make a stylistic statement before the shelves are decorated with any specific thing.
Yet another example of built-in bookshelves are the shelves that transform a useless small wall into something both aesthetically pleasing and functionally beneficial. If you want the shelves to stand out, consider a stained wood finish. If you want them to be less noticeable, paint them the same color as your walls.
Living Room with Farmhouse Charm
A classic blue-and-cream color palette, with milk painted wooden furniture and organic fabrics creates a lovely and restful sense of farmhouse charm. Thin stripes on curved furniture is a great way to keep the more traditional cottage look "buttoned up" and contemporary.
As you're decorating your living room, consider creating small pockets with specific purposes. A reading corner or a conversational nook, for example, help people feel at ease and at home because it's something different from the standard sofa-loveseat-coffee table setup. (Not that that setup is bad! It's just that it's more common than other layouts.)
Here's another example of a neutral and inviting pocket for conversation. Notice how the pattern of the throw pillows plays off of the floor-length curtains, and neither takes away from the soft, soothing vibe of this nook.
Provide patterns with the color scheme to increase the energy of the space. This doesn't have to get crazy. When you mix patterns, keep one or two factors the same, then vary one or two others. If you're starting out, try to mix a few throw pillows by taking into account the print or pattern's size, color, curvature, or linear bearing.
A living room with furniture that tends to be large, plush, or on the more traditionally stately side can feel a bit heavy. To avoid this, let the furnishings show a bit of leg here and there – this also adds to the stylistic element of the space overall.
A place to rest one's feet is always a plus in a living room's reading corner or anywhere you want to allow for total relaxation and comfort. A tufted ottoman makes a great footrest in a small living room, because it can double as an extra seat in the event of a happy houseful.
Window treatments in a farmhouse living area, or many different styles of living room for that matter, look great when they are textured and feel slightly more organic than simply a drape or two. These woven roman shades, for example, provide plenty of privacy but also allow for lovely filtered light and a slightly darker, more textural component amid lots of creamy hues.
In the instance that you have a large piece of furniture or a shelf that feels unfinished, consider decorating with some vintage-looking pieces. The benefit of stacking old trunks like this is that you can actually use them for storage for seasonal or seldom-used items, which is a huge benefit in a small living room.
If your living room has a wall with windows, consider building in a bench (which can also offer plenty of storage space). This doesn't exactly replace a sofa, in terms of ultimate comfort, but it is a great way to save space by decreasing the need for additional bulky furniture.
If your furnishings are new, for example a leather sectional, consider pairing them with a well-worn, vintage, or otherwise somewhat chippy piece to bring the feeling of warmth and welcome back in. You probably don't want your farmhouse living room feeling like a furniture store, which can sometimes happen when new furniture sets are purchased. So mix up the colors and the vibe of newness with your larger pieces for a beautifully lived-in look and feel.