How to Decorate a Living Room Simply and Stylishly
The living room is probably the first place people choose to decorate. It's a fun room with so many possibilities, what with the furniture and the accessories and lighting options. Plus, the living room is generally located in a higher traffic area, and the publicity the room receives from visitors is often motivating for homeowners to get the décor right. Here are some peeks at a few real-life living rooms in a variety of styles and layouts to inspire and guide your own living room decorating decisions.
How to Decorate an Open Concept Living Room
In the contemporary house layout called "open concept," where the living room, dining room, and kitchen all physically join together within the same space, the living room area must be designated by something other than walls.
The layout of furniture in an open concept living room is critical in defining the space. A focal feature, such as a fireplace, provides a good starting point for furniture arrangement and orientation. A sofa and pair of club chairs can face the fireplace, which means that their (the furniture's) back will form a sort of visual and intuitive designation of "living room" space that is joined but separate from the other spaces in the open concept.
A round glass coffee table is an excellent way to break up the harsh right angles that can be prevalent in most living rooms, particularly those that align themselves with contemporary design and the clean lines that go with that.
The open concept living room does well when it is founded upon the neutral color palette that permeates the open space; it might look a bit off-ish if the living room was fraught with color while the visually connected kitchen and dining rooms maintained neutrality (or vice versa). However, that's not to say that even the neutral living room should avoid all color. These colorful blocks, tucked away under a side table, welcome children while providing a discreet dose of color.
Another round form connects with the round glass coffee table. Larger, more substantive pieces tend to work well in minimalist modern living rooms, even when they are printed or designed with multiple smaller patterns on that singular piece. Because one piece is simpler and less cluttered than multiples.
Grey stone or tile provides a textural vibe or sense of depth as a fireplace surround, which is another way to "decorate" with great design that complements a contemporary scheme.
Warm wood floors balance out the cooler tones of grey and black. Notice, too, how the television and fireplace are aligned precisely, providing aesthetic order and visual connectedness in the space. Whenever you can align objects, your living room will feel more structured and intentional.
A single clock serves as the hearth's sole adornment. Where walls are at a minimum in an open concept (and, in this case, with a wall of windows and a wall of fireplace stone), a clock makes an excellent hearth accessory. As a side note: It's generally a good decorating strategy to have some sort of timepiece within view of the living room's inhabitants.
One last piece of great design that impacts living room décor is this wood vent cover that matches the wood floor, as well as a brass outlet cover that can easily be opened and closed. This, too, simplifies the overall aesthetic, which is key to a successful open concept living room.
How to Decorate a Living Room with Vaulted Ceilings
There are a variety of schools of thought when it comes to decorating a space with vaulted ceilings. One of those is to enjoy the natural light that comes from higher windows, and let the airy feeling be the décor.
In this case, it's wise to opt for some pieces that will help to (a) ground the space, and (b) warm it up. Darker, simple, and/or classic furnishings help to keep the living room feeling grounded. Wooden pieces give the space a sense of the natural, which works beautifully with all that natural light bouncing around.
How to Decorate a Funky Living Room
For the eternal teenager or the lover of funky, eclectic, and 100% unique style, here's a decorating tip for your living room: Paint the walls a beautiful, rich jewel tone and then use a creamy color of spray paint to "graffiti" a message or two. The effect is urban, but the gorgeous foundational wall color helps to elevate it to intentional rebellion. An unexpected take on living room décor, for sure.
How to Decorate a Symmetrical Living Room
For some homes' layouts, symmetry in decorating is the way to work with the architecture to its best advantage. This is the case when a focal feature, such as a fireplace or large window, is flanked symmetrically by other architectural features, such as windows, posts, columns, or other things.
If symmetry is in your living room's bones, then symmetry should be considered. Center your coffee table (in this case, an oversized ottoman) with the fireplace or central feature, and work outward from there with other furniture.
Designate the living room space with an area rug. This is key when the living room floor is shared with other spaces, such as a hallway or dining room.
It's not for everyone, but a single panel curtain pulled to the side can really help to frame out the living room feature; especially if another single panel on the other side of the feature is a mirror image of this first one.
Decorating ideas abound in regard to how to fill an empty fireplace with décor. This homeowner has embraced the simplicity and appeal of an empty fireplace. It works here, when there is plenty of other decoration vying for attention.
For the narrow vertical wall, consider hanging large black and white photos or pieces of art, all framed the same way. It gives the wall a purpose without drawing disproportionate attention that way.
On the other side of this living room is a stairway headed to the basement. A modern steel and cable railing was installed to lighten and open up the space.
Again, when great design comes into play in any space, including the living room area, extraneous décor isn't necessary. That is great news for the person wishing to simplify and/or display a clean, contemporary aesthetic.
How to Decorate a Living Room with Only Furniture
In the instance that your living room only has furniture, and you're happy with that, you don't need to worry about filling it with décor just for the sake of decorating. Your carefully chosen furnishings can speak for themselves.
A cheerful sofa, for example, with a couple of printed throw pillows provides plenty of color in this type of living room. This reprieves the room's need for wall art or extra stuff, simply because the color gap has been filled.
A gorgeous fireplace connects with the furniture, with its turquoise tiling and dark wood surround. This is an important feature in this living room, which is only airy and bright otherwise.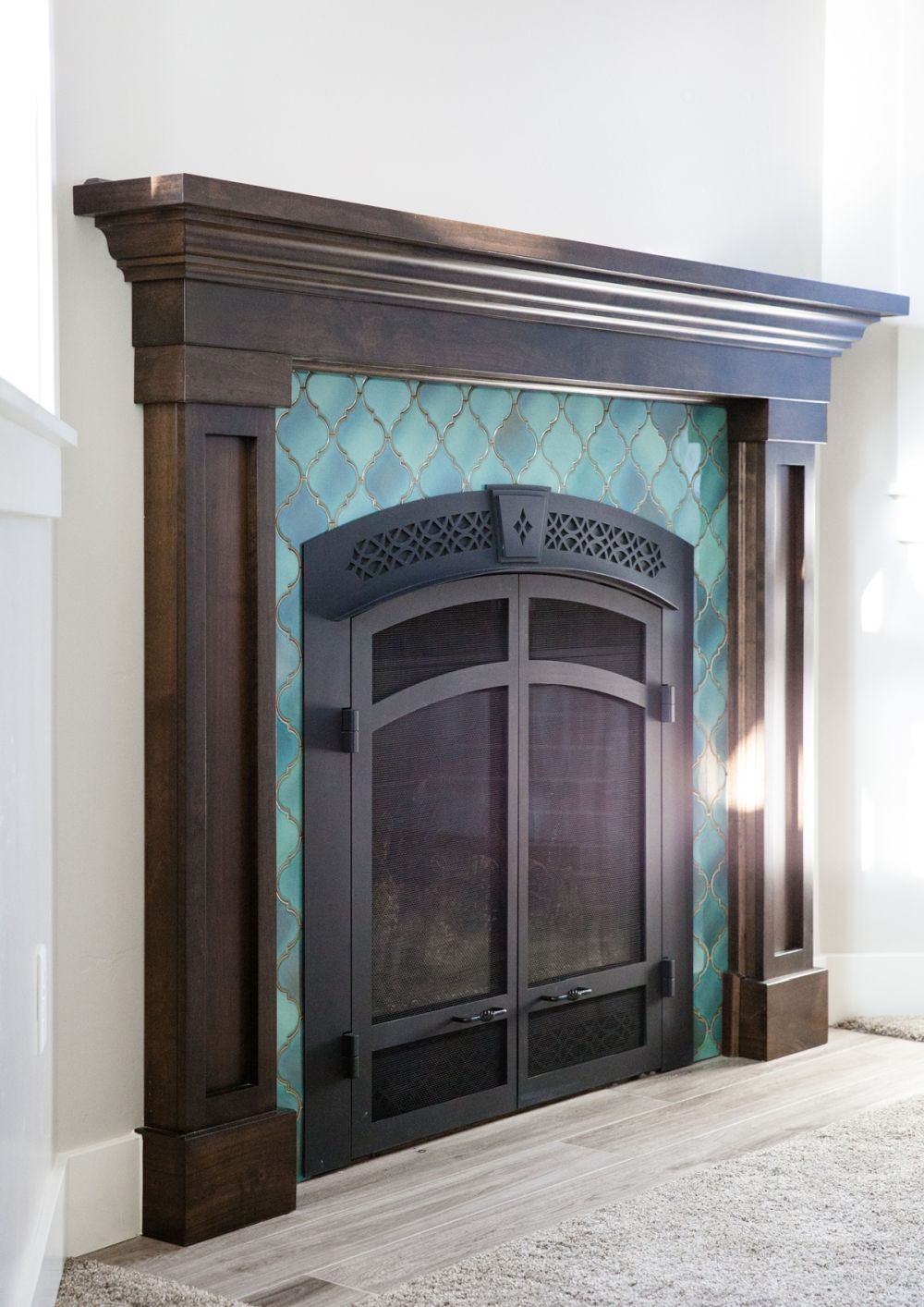 While someone could decorate the fireplace's mantel if it brought them joy, this fireplace is adornment enough that the extra decorations aren't needed if the homeowners are content without them. Decorating the living room really comes down to what brings you joy, what displays your style and preferences, and what works in your space. This simplicity is refreshing.
How to Decorate a Contemporary Living Room
Clean lines, white space, and well-edited details are what makes a contemporary living room sing. It's a balancing act, though, to make the contemporary living room also feel inviting and welcoming.
A bit of color is a good way to bring in some warmth and personality to the contemporary living room space. Maps are on trend right now, particularly those with a brighter, bolder, and more modern look. Whatever you choose, keep the colorful piece proportionate to the living room's size.
Stacking the flat screen TV on top of the similarly sized fireplace is a good way to make both focal points work together for the space; they merge to become one feature this way.
Simple, low-profile mantel décor is one option for decorating the mantel in a contemporary living room. (It's also a pragmatic option when the TV is relatively close to the top of the mantel!)
Here's the thing about a blank corner space in the living room: Many people are scared of it. They'll throw up any old thing just to have something – anything! – there so it's not blank. But a blank space can feel like a luxury in a contemporary living room. It's a visual respite from other interesting details. It's a statement that says the emptiness is intentional, strategic, and confident. I happen to love a blank space every now and then, especially when between two vivid focal features (e.g., large windows and the fireplace/TV wall).
A modern ceiling fan blends form and function in this living room and continues the contemporary lines in all aspects.
How to Decorate the Cozy Living Room
Some living rooms are tiny, and some serve the double role as entryway. This cozy living room does both, with style and confidence on both counts.
The front door opens directly into the living room. A single, solid floor mat designates the "entryway" area in a simple, straightforward way. The small door rug matches in tone the entryway chair, making a sweet and classic vignette.
On the other side of the chair closest to the front door (which is a gorgeous, deep navy color and has beautiful modern lines), a basket almost overflowing with children's books illustrates both the love of literature and children that the homeowner possesses.
The living room overall is small, although a couple of large windows helps it to feel a bit more spacious than the square footage suggests. The windows also take up a lot of the wall space, decreasing the need (or capacity) for many decorations.
Two contemporary bookshelves on the front door's opposing wall house nearly all the decorations of the cozy living room. The shelves are orderly and contain classic colors, which resonates with the space's color palette.
A slate blue loveseat (a full sofa wouldn't fit on this wall) rests under a gallery wall of identically framed photographs. When mounted this way, the nine photos look like one large piece of wall art. Simplifying and combining individual decorations into one larger whole always helps a cozy living room feel decorated but not cluttered.
The décor of this cozy living room makes an entering guest excited about seeing the rest of the cottage, too. That's one thing that good decorating does.
What are some of your favorite living room decorating tendencies, strategies, or tips?