50 Decorating Ideas You Didn't Know You Knew
While many of us scour the design world resources for tips and tricks to do this and that to our homes to make them "perfect," what is actually true is that, most of it, we already know or have heard before. This is an article to remind you that you may already be a good designer, you may already have fantastic ideas, and there are STILL fresh, new twists to age-old decorating ideas. Enjoy!
FURNITURE
Make your furnishings make your space. Here are some fantastic ways to do just that.
Tuft it Up! – Tufting on furniture, whether it be a headboard, a sofa, or even an armchair, certainly adds to its luxurious look and feel. The detail has come into popularity in recent years, but the sophisticated look is also timeless. Consider it a worthwhile investment, to be sure.
Kid-Friendly Furniture in Kid Spaces – It may bring out the kid in all of us, frankly, but we need to decorate kids' spaces in ways that are harmonious with play and creativity. This doesn't mean you have to sacrifice style, though!
Retro 4Ever – Depending on your style preferences, one decorating tip is to consider vintage (or at least vintage-inspired) pieces. What's old is now new, and when a room mixes pieces from times past as well as today's styles, the end result will be something spectacular.
X Legs – Xs are one of the legs of choice when it comes to modern furniture. Stools, tables, and chairs are particularly prime candidates for an X leg or two. A fantastic way to add some diagonal dimension to your space!
A "New" Old Painted Piece – You can hide a variety of flaws and scuffs on an old piece of furniture by painting it. White paint will give it a fresh, airy feel, while a bolder color will turn it into more of a statement. Better yet, completely transform it by turning it into a bathroom vanity.
Extra Horizontal Surfaces – When it comes to useful characteristics of furniture, horizontal surface real estate has to be among the top. Choose furniture with multiple horizontal surfaces – tiered coffee tables or stools can hold more than single-surface units.
FORM + FUNCTION
These days, you don't have to choose whether to use something beautiful or functional. Opt for both!
Floating Shelves – We can't say enough good about floating shelves. They are the epitome of modern functionality, with their minimal clean lines and their inherent versatility. Use them for tchotchkes, photos, even a desk…or leave them bare. The possibilities are pretty limitless with this decorating tip.
Satisfying Symmetry – It's not just facial symmetry that's inherently attractive to human eyes, it's all symmetry. For some reason, the spatial balance of symmetrical objects tends to be psychologically reassuring as well as aesthetically pleasing. Take some decorating cues from this tidbit and create a symmetrical arrangement (e.g., nightstands + lamps flanking the bed) or vignette to see how it feels.
Beautiful Bathroom – As functional a space as they come, the bathroom has a reputation of being one of the least-decorated spaces. But the truth is, even though this is one of the smallest spaces in our homes, it's one of the most frequented. Add some pretty touches to the bathroom – a gorgeous mirror, some artwork, a new faucet, even a shelf or flowers. It will make the space instantaneously cheerier.
Statement Lighting – While canned lights are useful in some spaces, be sure to consider putting the finishing touches on your decorating with a statement piece of lighting. From pendants to lamps to sconces, there are so many gorgeous options to fall in love with.
Eclectic Décor – Because it's totally unexpected, pairing pieces from different eras, styles, makes, or time periods is one of the most satisfying decorating choice you can make. An eclectic mix, or even a singular piece that exudes eclectic design, is bold, it's fun, and, when done well, it's alluring and interesting. Highly recommend it to anyone.
MATERIALS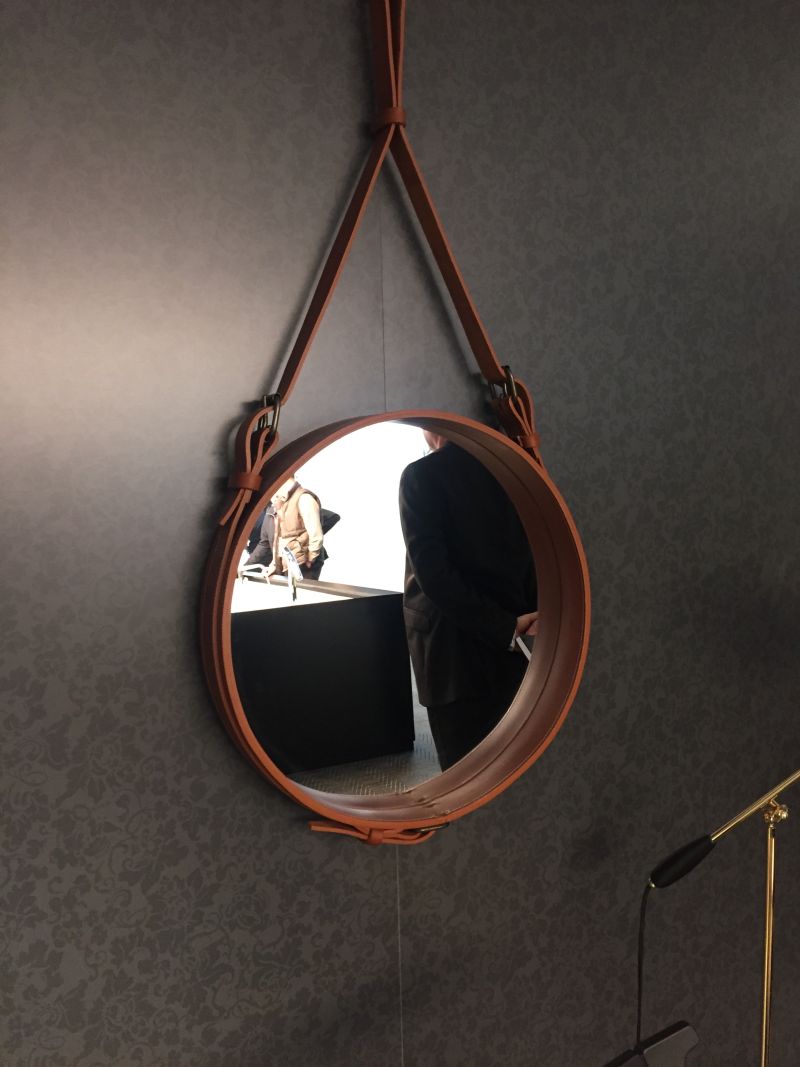 Make your space illuminate your style by selecting the best materials for the job.
Marble in the Limelight – Marble is The It right now as far as designers' choice of materials for a plethora of surfaces. It's luxe and sophisticated, and it can be incorporated on both large and smaller scales. For a budget-friendly project that's high on style, consider a simple marble hex tile tray DIY.
Clear as Acrylic – It's lighter, and perhaps less stressful, than glass and carries with it the same visual lightweightness, making acrylic pieces an excellent choice for updated decorating. If a large piece is required in an otherwise busy space (living room coffee table, anyone?), acrylic might be just the thing.
Leather for the Win – Leather furnishings have to win all sorts of awards. Not only does this material genuinely look better with age, but it's also one of the most kid- and pet-friendly furniture covering in the land. That's a perfect pairing.
Rustic Rope – Before you discount this idea because you feel like rustic style isn't your thing, consider the fact that rope also works well in coastal and preppy (nautical) spaces. Or any space that could use a little organic texture. It's not hard to transform pieces with twine or rope, either, and many of them you might already own.
Wall-to-Wall Wallpaper – It's no secret that wallpaper took a bit of a break from the design world in past decades, but it's back, and it's better than ever. Bright, bold, unabashed, and unashamed. You could always wallpaper just one wall in the space, if you feel like fully surrounding yourself would be a bit too much.
Paint Perfection – Get a bit more creative with what and how you paint in your interior, and your space will breathe and feel like a brand new space. Highlight a single cabinet in the kitchen, fake a stair runner, or paint "frames" on the walls…these are just some ideas to get your creative juices flowing.
Nail Trim – It's not just for oversized leather wingbacks tucked away in a dusty library, obviously. Nail trim is an easy furniture update that most people can do themselves. The detail provides a fantastic finishing element to most furnishings and balances out the traditional with the modern.
ACCESSORIES
Accessories are one of the easiest (and most fun!) ways to really showcase your style in a space.
Exposed Illumination – Embrace the raw mechanics of your light fixtures and show them off to the world. Lighting with an industrial feel somehow steps the entire space's cool factor up a notch.
Trays& Bowls to Cage the Clutter – Trays and bowls are as much useful for corralling an assortment of items into a vignette as they are a decorating element in their own right. Opt for the size, shape, color, and finish of your choice to work best in your space.
Rugs to Amaze – Area rugs are a great way to incorporate color into your space in a subtle way. Although the surface area might be significant, the fact that the rug is on the floor might help to lessen its impact. If the rug is patterned or uber colorful, be sure to pair it with neutral furnishings to maintain balance.
Collections on Display – A collection is most fun when you can show off at least some of your beloved pieces, don't you think? If you've been collecting for years, you likely will have to keep your displayed items pretty well-edited; feel free to rotate them regularly, though, if you find it hard to choose your favorites.
Asymmetrical Mirrors – We often see square mirrors, and round mirrors, and rectangular and oval mirrors. But to really catch someone's eye, you could consider a more non-traditional approach to your wall-mounted mirror displays. They still reflect light, but in an almost artistic way.
COLOR
Love color? Don't be afraid to use it in your decorating! Now, more than ever, color is winning.
Color-licious – While white and greige have their place, latest decorating trends gravitate much more heavily toward color! Keep it in check to avoid visual cacophony, of course. A good rule of thumb is to limit use to three main colors.
Grey is the New Black – Grey is the new…everything, really. It's a neutral, it's a statement, it's a connector. It soothes, it pops, and it disappears. A million shades of grey are yours for the decorating, and we recommend you take advantage of your favorite shade of this gorgeous hue.
Cheery Accent Color – Whatever your color preference, make your space pop with a cheerful color. A bit of unexpected color, on a pillow, a throw, a rug, or a piece of art, will liven up the entire palette.
Golden Touch – Glittering gold is taking over the design world, in both large- and small-scale design elements. Opt for some gold touches like accessories or hardware in your space to give it an on-trend look.
Color-Block – For a budget-friendly decorating idea, try painting in a color-block method to score major visual points and a modern update. (Bonus: Painting half a wall takes half as long as the whole wall, right?)
Monochromatic for Multi-Effect – If you gravitate toward a certain color time and time again, you might consider using that color as your jumping-off point for a monochromatic design.
Black and White – There's a reason black-and-white has been around forever. It's because it's the perfect color combination, full of pure yin and yang and contrast and all that. Let's trust history here and facilitate more of this classic color combo in our homes.
PATTERN
Add visual interest without straying from your color palette with plenty of pattern.
Stripety-Stripe-Stripes – Sick of stripes yet? No? Good. This classic pattern is so versatile; a few tweaks of size, alignment, color, or any number of factors, and it can change the entire energy of your space.
Forever Floral – Floral prints aren't just for your grandmother's matching living room set anymore. The right floral print can add just the right amount of decorating pizzazz to an otherwise ordinary space. Consider a variety of proportions and colorways as you decide if floral is right for you. (PS – It is.)
Geometric Love – Geometry isn't simply a class you fail in high school. It's a prime design pattern that can (and should!) be incorporated with a generous hand. On walls, upholstery, accessories, or rugs, geometric patterns and prints provide structured vibrancy to the space.
Mix & Match Bedding – Mixing and matching bedding, as opposed to buying a set, gives the bed (and, consequently, the bedroom) more of a lived-in, lovable feeling. Vary the scale of your pattern mixes, though, so they work together without competing.
Mixed Patterns – Textiles present an awesome opportunity to incorporate mixed patterns into your decorating scheme, which ultimately increases visual interest and the space's overall energy. Keep the color palette similar if you're new at this.
DÉCOR
Here are some things to consider in the overall scheme of decorating your space to suit you.
Perfect Imperfection – A space that feels too perfect tends to be an uncomfortable one. And a boring one, what with all the rules being followed in a textbook sort of way. Break out of that mindset, and mix things up a bit! Paint-splattered wood-frame armchairs, for example, launch a traditional space into design relevancy.
Go for the Gallery – Gallery walls have been around for a long time, and for good reason – they're a perfect place to showcase things we love, places we've been, art we enjoy, and design we appreciate.Go large or go small, colorful or b&w, eclectic or related – options are the beauty of a gallery wall. Change things frequently to keep it fresh.
Mixed Metals – Gone are the days when all the things had to be matching shiny brass or aged bronze. These days, more can be more! Don't worry about matching your hardware to your faucet to your lighting fixture; in fact, focus on variety for a chic, updated look.
Faux Taxidermy – While mounted animal heads are a hot decorating item, there are certainly other (kinder!) ways to mimic the look and feel of a mounted head. The look is somewhat rustic and woodsy and provides a great three-dimensional aspect to décor.
Jazzed-Up Shelf Backs – Lay an interesting visual foundation for your bookshelf with stencils, paint, wallpaper, or even fabric on the shelf backs. Layer fantastic color, shape, and pattern on top of that foundation for a pleasing, personal #shelfie style.
Textured Walls – A new fad in design involves textured, or, more accurately, three-dimensional, walls. Generally in some sort of geometric pattern, this might involve the walls themselves or wall tiles (such as textured copper tiles in the kitchen). Regardless, the look is anything but flat.
Backlights – This is an up-and-coming design tactic, and the look is stunning. Backlight mirrors, shelves, or three-dimensional wall-art pieces for the ultimate dramatic effect.
TIPS & TRICKS
Read on for a few tips and tricks that can guide you in implementing your decorating ideas flawlessly.
Create an Inviting Nook – Create a completely inviting, relaxing corner with a comfortable chair, a nearby horizontal surface of some sort, and some lighting. Though not grand in scale, this may very well become the favorite and most sought-after spot in the house.
Use Opposition in Accents – Use opposition to your advantage when you make decorating decisions for your space. If the majority of the space is light neutral, for example, throw in a dark chair or lamp to tie everything together and ground the space.
Hide the TV – Sure, this could mean building a massive cupboard+door that you can close over your television. But it could be something a little subtler, such as mounting a gallery wall around your flatscreen or designing open shelving to accommodate your family's favorite winter pastime.
Float the Furniture – Of course we're not talking about the literal variety of floating, seaworthy pieces. One of the best decorating ideas involving furniture is to pull it out away from the walls. Let it "float" without the wall's anchor (even a couple of inches makes a huge difference), and your space will have an instant breathability.
Mix Lines & Curves – In many rooms, the standard décor comes with right angles to spare – think of sofas, coffee tables, chairs, mirrors, shelves, and on and on. Consider searching for pieces that incorporate curves as well, which will create a friendlier, more relaxed and comfortable setting.
Consider Your White Space – Just as in photography, where the negative is just as important as the positive, so, too, does white (blank) space play a critical role in visual appeal. Give your eyes a break from the décor with some carefully considered empty space, whether on the wall, on a shelf, or in the floor plan.
Dare a Dark, Moody Wall Color – It may not make sense in your home…but then again, it may. There's something instantly sensuous and inviting about a dramatically dark-walled space. Just make sure there are great lighting options as well.
Color the Floors – This used to mean basically to use carpet or area rugs to add color to your floors, and that's still a wonderful option. You can even take this decorating advice a step further color your actual floors. Paint them if they're wood or concrete, or lay a fantastic colorful tile if they're not.