Tufted Furniture – Popular For Ages And Still Going Strong
Tufted furniture has been around for centuries and continues to be popular even today. So why is that? Is it because of its increased level of comfort, because of it looks cute or chic or elegant or is it because it simply offers the perfect combination of good looks and comfort? One can only answer these questions after trying out furniture with tufted upholstery.
So what would your first piece of tufted furniture be? A tufted sofa sounds nice although if you want something a bit more unconventional you should try a tufted cabinet or table. As strange as that may sound, there are plenty of such quirky designs out there. Each plays with tufts in its own way in order to get the desired look.
One of the reasons why tufted furniture is so appreciated is because it makes spaces look cozy. Bedrooms needs such a warm and comfortable touch. You can add it with a tufted nightstand. It's an interesting concept. The sides and top of the nightstand are upholstered while the drawer fronts remain simple.
A tufted sofa is the way to go if you want the living room to look welcoming and to be really comfortable. Such a design can suit a lot of styles. The sofa can be a nice addition to a traditional living room but can also look lovely in a modern environment.
For the bedroom, one of the most popular options is the tufted headboard. It's the type of detail that can really change the ambiance in the room without interfering with the furniture functionality.
Tufted sofas definitely have a certain vintage appeal. They usually suit well interior with traditional decors. Their backrests are tufted while the seat is simple in order to offer optimal support and comfort.
In the case of individual seats, a tufted chair can offer the same level of comfort as a sofa with the same type of design. Both the backrest and the seat are tufted in this case and I have to say this chair looks really comfy.
It's not hard to envision a tufted sofa in a modern living room. In fact, it adds a delicate and feminine touch to the decor which softens the harshness of all the clean lines and the minimalism usually associated with the style.
Tufted sofas don't really need extra cushions to be comfortable. Still, a few decorative ones can enhance its beautiful design and add a touch of color or establish a contrast that completes the room's decor.
The tufted upholstery on these chairs is only one of the elements that makes their design special and interesting. The way the backrest encompasses two adjacent sides is a bit unusual. Then there's also the color: a beautiful shade of chartreuse.
What better and simpler way to give a bedroom the inviting and cozy look it deserves than with a tufted bed? That's right, the entire frame of the bed can be covered in tufted upholstery, not just the headboard.
If you already have your hearth set on a minimalist sofa, perhaps you can add a tufted ottoman to the living to also get that nice puffy pattern and lovely texture. Actually, the bedroom could use such an accent piece as well.
When it comes to sofas and couches, the design options are very numerous. A tufted couch can take lots of different forms, depending on the style, size, selection of materials and lots of other details.
This is a very interesting and funky design. The entire couch is tufted, including the backrest, seat, armrests and even the cushions that are casually placed on top.
The classical beauty of this furniture set is partially given by the tufted upholstery but also by the rounded form and the contrast between the beige upholstery and the dark trim.
Even though tufted furniture inevitably looks more ornate than other types, it can still be a good option for minimalist contemporary spaces. As long as everything else around is kept neutral and simple, a tufted sofa can be a lovely focal point.
Fabric is a better option if the goal is to make a space look cozy by decorating it with tufted furniture. However, leather has its charm too. It adds sophistication to the design.
The color and the type of material are important in determining the overall look of a tufted sofa, couch or sectional. Velvet, for example, is a rich fabric which used to be very popular a while back. It doesn't really say modern.
Matte finishes are best for minimalist and contemporary designs. This is a very stylish example of a tufted sofa with a very simple and yet very interesting and intriguing design.
Consider a tufted armchairs such as this one for the living room, bedroom or even your home office. It can be accent piece that sits in the corner providing you with a comfy reading nook.
The versatility of tufted upholstery is expressed in a lot of interesting ways. Check out this rustic-looking sofa. Its design is quite eclectic, borrowing features from different styles and using the contrasts to look modern.
Complement the color or the look of a sofa with tufted upholstery with a few small accent pillows. If the upholstery is dark, add a touch of pastel pink or some cheerful yellow to the mix.
Add a tufted sectional to the living room if you want it to be space-efficient and inviting. Sectionals can accommodate a lot of guests and some even have modular designs which let you reorganize the pieces according to your needs or the layout of the space.
We love turquoise and this sofa really knows how to make the most of it. The turquoise upholstery is complemented by a dark brown frame and the contrast is not only elegant but also bold and very harmonious.
We often say that a touch of gold can make anything look glamorous and elegant. This also applies to tufted furniture like this unusual chair. The frame and accent cushion contrast with the dark upholstery and the combination is both eye-catching and good-looking.
A few tufts can make the difference between a boring-looking sofa or sectional and one that looks just right. A fully-tufted upholstery can be a bit much in some cases but if only the seat or the backrest are tufted then balance is restored.
This design is really interesting. A rectangular tufted seat occupies the center of this living room. The armrests and cushions can be positioned however the users wants and their orientation can be established according to the rest of the decor.
Sofas and chairs aren't the only pieces of furniture that can be upholstered. Cabinets a rather unusual option. But there's something really fun and intriguing about a cabinet that has tufted doors covered in fabric.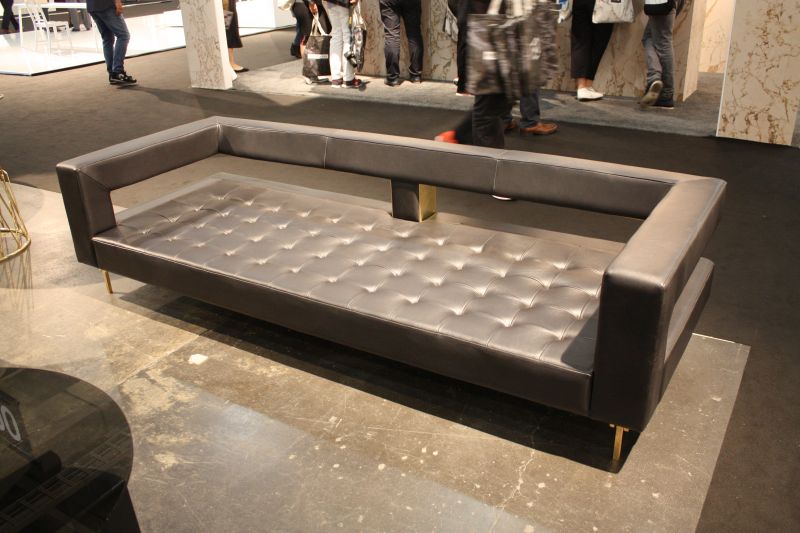 A tufted leather sofa can be the centerpiece of any living room. The impact it has on the room and its decor depends on a lot of things such as style, size, color and shape. This, for example, is a sculptural sofa with a minimalist and austere design.
On the other hand, this cute little thing looks like an inflatable chair. Its fluid and organic look and tufted seat are a really nice combo. Such a sofa can fit well in modern spaces with chic decors.
But if a more traditional look is preferred, perhaps a chair similar to this one can do the trick. Its ornate wooden base has the elegance required by the style while the tufted upholstery makes it comfortable and the color makes it stand out.
We'll finish the list with something truly unusual: a tufted sink. Actually, the sink matches the tub and both look extremely chic and stylish. The tufted pastern and the golden buttons that mark the intersecting points give the design a glamorous look.