Bathroom Light Fixture Designs Which Blend Looks And Function
We rarely give lighting the importance it deserves, especially in auxiliary spaces such as the bathroom or the kitchen. Partially, that's due to the fact that in order to achieve optimal lighting in a room serious structural changes need to be made and this calls for a complete renovation. However, that's not always the case. There are ways to make improvements in this sector. For instance, a lot of bathroom light fixtures can be added at any time and in this case it would be all about style.
A bathroom that could use a little bit of extra light would find a wall mirror with a frame that lights up a really great addition. Periplo is a minimalist mirror that sits flush with the wall and has this stylish edge light that's reflected in the depth of the niche, creating an interesting visual effect.
Mood light is just as important as an overhead light fixture and the bathroom is no exception, being a space that could definitely make the most of a cozy and inviting ambiance. The Rondo sconces have a modern design that diffuses the light in a beautiful way. Their contemporary design combines blown glass and polished chrome.
It's important for the bathroom vanity lights to complement the vanity or washbasin in order to form a beautiful duo. Take for example this combination between a Crochet washbasin and a pair of Burj wall lamps made of gold-plated brass and handmade crystal glass tubes.
Pendant lamps are not usually very popular in bathrooms. That's because they're not usually very practical or particularly safe in such cases. But as long as you're not hanging the pendant above the tub and at a very low height, you can only expect beautiful results. We really like this minimalistic pendant lamp used here in combination with a modern vanity from Idea Group.
The combination of gold-plated brass and handmade crystal glass tubes is a very glamorous one especially in the context of a modern bathroom. The Waterfall sconces are designed to abstractly bring this water feature into your decor.
Opting for a pendant lamp instead of the usual wall sconce is a pretty interesting decision and, when you think about it, a practical one as well. You can hang the pendant at any height you want, making sure it lights up the space in a flattering way. Further more, pendant lamps sometimes tend to look more elegant and more glamorous simply because they're less common in bathrooms.
It's recommended to place the sconces or pendant lamps to the left and right of the bathroom mirror and not directly above it. This way the light will be dispersed more evenly and in a more flattering way. Symmetry is important in this case and definitely worth the effort.
The symmetry mentioned just now also applies in the case of double-sink vanities. Pick the design and dimensions of the sconces or whatever other light fixtures you want to use in the bathroom based on the size of the room and the proportions of the furniture and accessories in it.
If you decide to pair a double-sink vanity with two separate wall mirrors, you can still have two sconces, one on either side of the vanity but in this case you can also add a third one in between the two mirrors. Of course, that's not a mandatory detail so make a decision based on your preferences.
When you have a bathroom mirror that lights up you can use it as mood lighting, only relying on sconces when you need additional light for particular tasks. The great thing about this type of mirrors is that they evenly disperse the light.
There are many design strategies you can use in the case of a bathroom. For example, you can treat the bathroom as you would any other room in the house. Forget about any preconceptions you might have. If you want a chandelier in your bathroom you can definitely have that. Similarly, a cluster of small pendant lamps could look really elegant here.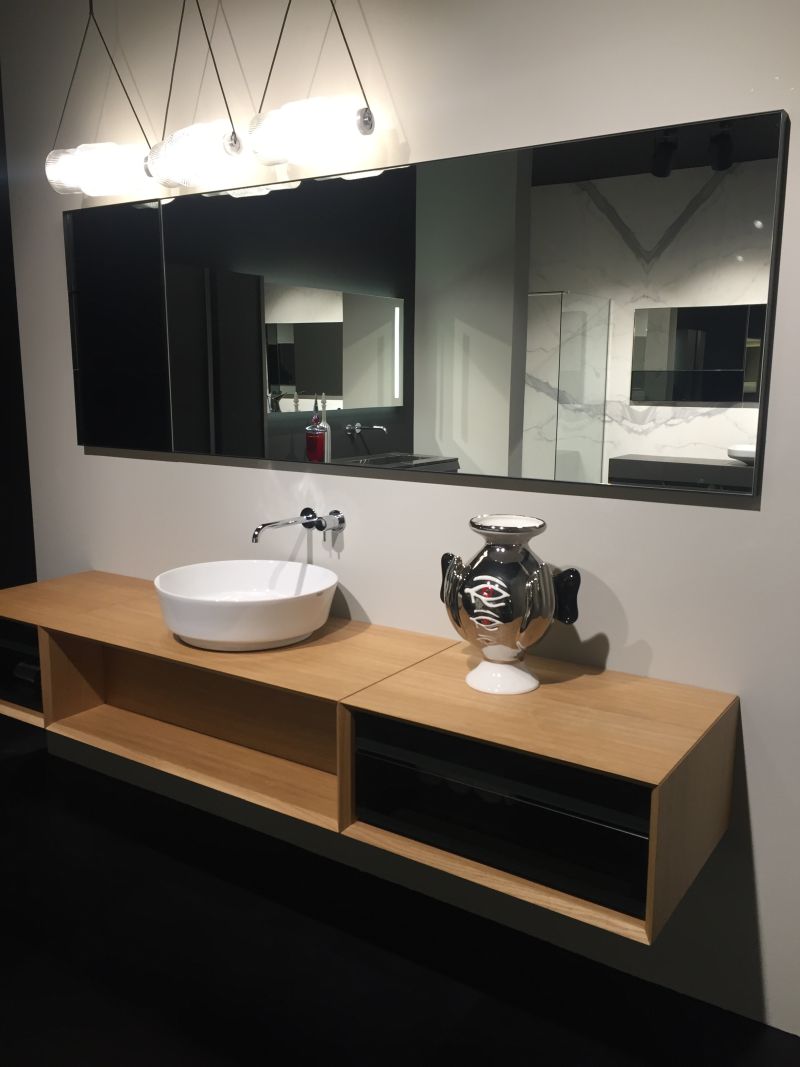 Although it's very common for bathrooms to have wall-mounted light fixtures, there's no fixed rule regarding this feature. In other words, you can choose ceiling-hung fixtures for a more interesting and sophisticated look. In some cases this can also be more practical if, for instance, you have a large mirror covering most of the wall.
The type of light fixture you choose for your bathroom is not really important as long as the choice you make is practical and functional. So pay attention to things like the angle at which the light falls, the height at which the fixture is placed as well as form, color and material. As it turns out, looks aren't everything so you need to find the right balance between aesthetics and function.