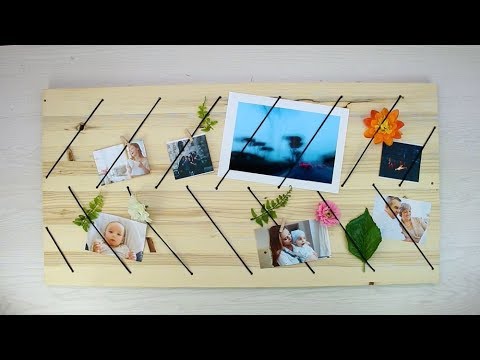 Wall boards are useful in so many ways and in so many parts of the home that you can almost always use another one. Create your own in a size and style that fits your specific needs – all with a minimum of tools.
For a large wall board, start with a piece of wood that is 50 x 100 centimeters. Mark the center of the board and draw a line. Mark dots every 7.5 centimeters along this line. Make a similar line a little way in from each long end of the board as shown and make dots every 15 centimeters. Drill a hole at each dot and then sand the surface at each hole. Take some colorful rope and pull it through the first hole at the top and know it on the back. Pull the other end through one of the center holes at an angle as shown, knotting the other end at the back to secure it. Repeat for the rest of the holes, yielding the pattern shown. Now it's ready to hang and add photos, notes and reminders.
Another version of a wall board can be created with a smaller board that you have stained. Instead of drilling holes and using rope, grab a staple gun and attach attractive unused belts to the surface, creating holders for photos, notes and other necessities.
For a smaller space, try making a vertical wall board with just some wood and wide elastic. Simply place strips of elastic across a tall board and staple them in place on the back. This is a great holder for sunglasses, mementos or anything else you might need as you head out the door.