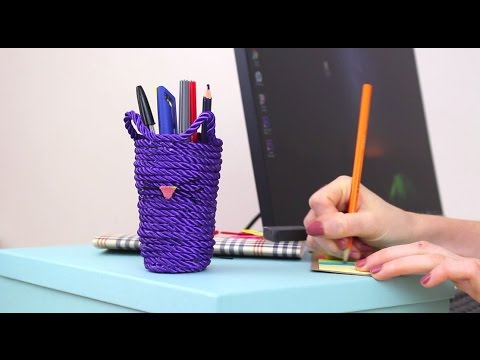 Sometimes it's hard to find desk accessories in your favorite color, so why not make one of your own?
You'll need a tapered glass, a hot glue gun and a long length of decorative rope or cording. Starting at the bottom of the glass, create a tight spiral of the rope, gluing the coils to each other, not the glass. Continue working your way across the bottom and up the sides of the glass, attaching each coil to the previous layer with hot glue. Once you near the top, pinch up the last coil of rope in two places, like cat ears. Trim the end of the rope. Pull out the glass and then glue the tail of the rope to the inside of the holder behind one ear.
Make a small coil of thread or string and create whiskers. Glue them to the middle of the holder and add a little triangular nose. Your cute custom pencil holder is ready to use!