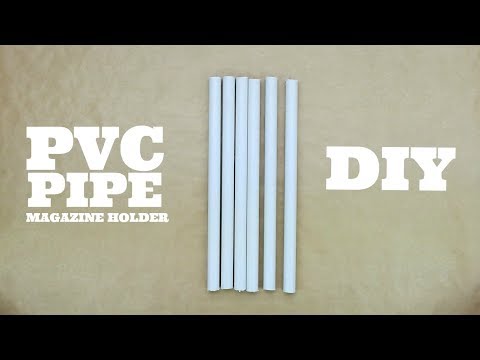 Move over baskets and bowls, this magazine holder made from PVC pipes is far more colorful and fun that the usual. You don't even need any special tools to make it.
You will need six pipes that are 35 centimeters long, two that are 25 centimeters, and eight elbow joints. Using sandpaper, remove any lettering on the pipes. Next attach an elbow to each end of the two short pipes.  Do the same for two of the long pipes and then attach another long pipe to each open joint. Now, place the short pipes on the floor with the open joint facing up and insert the loose-ended long pipes. Repeat for the other end of the short pipes. Spray the pipes any color you desire.
Now, take a length of fabric that is 30 x 140 centimeters with the raw edges folded over and ironed. Lay it out on the floor and place the pipe frame on top as shown. Fold the fabric over glue it in place, and let it dry. Flip the pipe frame over and arrange the fabric to create a sling to hold the magazines. That's all!Now you have a colorful magazine rack with a fabric that suits your décor perfectly.