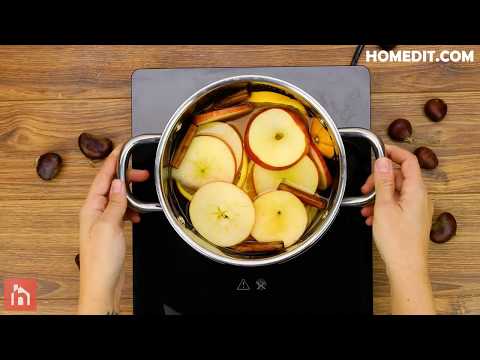 Whether you want to freshen up your space or give it a holiday aroma, we have some natural ways to make your home smell good. No canned chemicals necessary! First, try whipping up a pot of fruity freshness. Start by slicing up a large orange and two apples. Place these in a pot with a handful of cinnamon sticks and good splash of vanilla extract. Add enough water to reach the top of the fruit and boil it for 10 to 15 minutes. Ladle some of the mixture into a decorative pot and place it on the table. Anytime you want to rekindle the smell, just add some more boiling water.
Or, try making your own scented pinecones. Go outside and gather some up, clean them off, and place them in a sealed plastic bag with the essential oil of your choice. Leave them in the bag for three weeks to absorb the smell and then place them in a bowl or decorative arrangement to release a gentle aroma into your room.
Another option is to make your own scent diffuser – much cheaper than buying one! Place the rind of an orange, bay leaves, cinnamon sticks and whole cloves into a pot. Add enough water to cover the ingredients and bring it to a boil. Let the liquid cool and then pour in in a glass container or vase. (Cooling is very important so you don't shatter your container!) Add a handful of bamboo skewers and place it anywhere you want a long-lasting fresh smell.