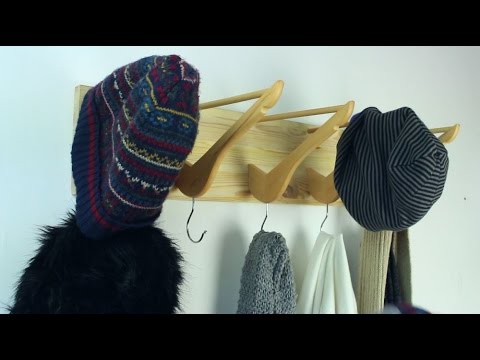 It can easily be one of the most disorganized areas of your home: The entryway. Corral that mess of coats and hats with a hanger system you can make yourself. Start with a board that has the dimensions shown. Make five evenly spaced measurements across the board, 3.5 centimeters from the bottom edge. Drill a hole all way through the board at each of the five spots you marked.
Take five wooden hangers and saw off one end from each, as shown. Sand the edge smooth. Line up the head of a hanger with the bottom edge of the board and mark the distance to the hole on the cut edge of the hanger. Drill a guide hole into the hanger.
From the back side of the board, attach the head of the hanger with a screw. Then, use a nail to attach the cross pole of the hanger to the other edge of the board, again from the back side. Repeat for the remaining hangers. Voila!Mount the board to the wall and hang up those coats, scarves and hats.