35 Great DIY Wood Projects That You Can Do From Scratch
Wood is easy to come by and really versatile. It's an excellent resource for lots of different types of projects and you can use it to craft all sorts of cool and useful things for your home.
Common wood projects include DIY furniture and accessories so that's what we're going to focus on today.
We've put together a collection of wood DIY ideas that we think are great to get you started on this route. They're quite simple and very satisfying plus each offers lots of customization options.
35 Wood projects made from scratch
Building a composter for the garden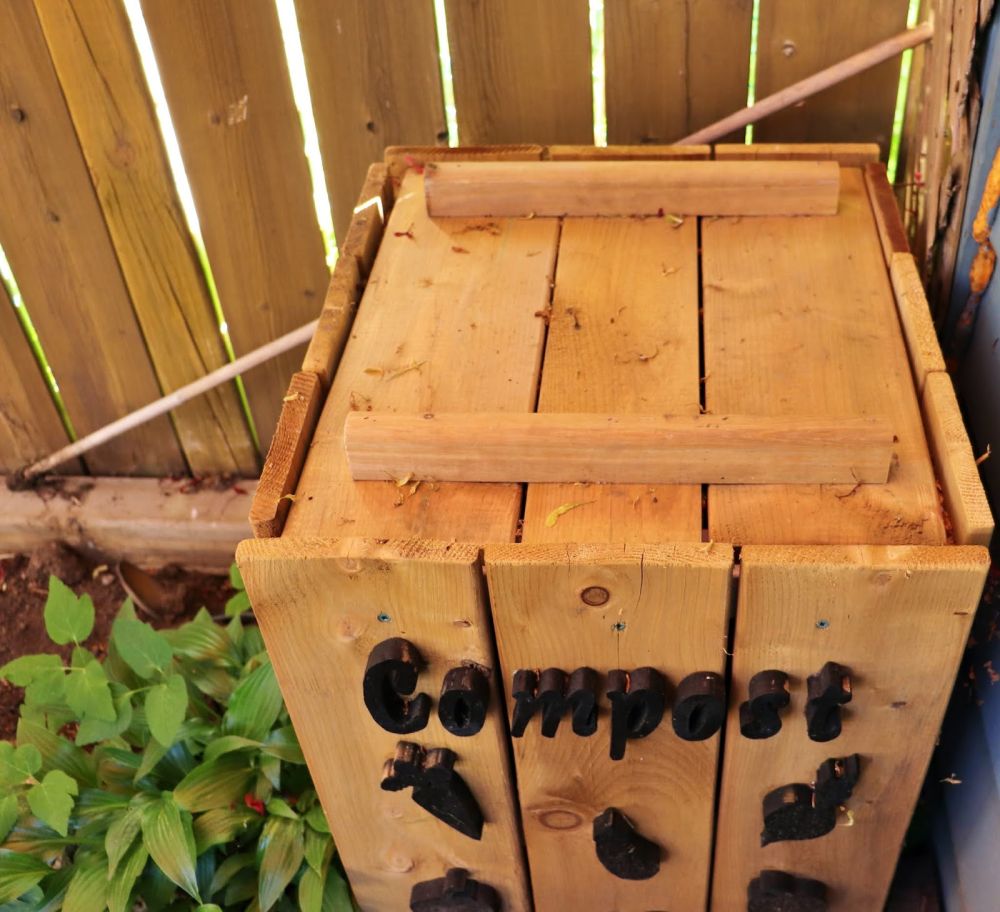 One of the easiest things to build is a wooden box and that's more or less what a compost bin is. This is such a simple project and the end result is quite great.
You can build your own compost bin from scratch using just a 2 x 2, some fence boards and a few deck screws. It can be a fun weekend project and you can find cute ways to decorate the bin once it's all done. There's a tutorial on createwithmom that you can check out if you're interested.
Beautiful wall art made of wood
Just a few simple pieces of wood can be arranged in such a way to create beautiful wall art that you can display in your home.
This for example was made using a few plywood sheets cut into different shapes of different sizes and layered in order to create an abstract, mid-century modern inspired design. Check out thecraftygentleman to find out more about this cool DIY project.
Craft a comfortable reclining chair for the outdoor areas
Furniture is not that much more difficult to make either, especially the outdoor kind. For instance, this reclined chair is a fairly straightforward project.
You can save a lot of money by making it out of reclaimed pallet boards instead of store-bought solid wood. It has a simple design and it's a comfortable chair even if you don't add any cushions to it.
Place it on your porch or in the garden and pair it with a few other handmade pieces of furniture such as a small table for instance. You can find the details of this project on instructables.
Make a custom nightstand from scratch
Another pretty simple item to build would be a nightstand. Including a drawer or some other type of storage would be super useful, giving you a place to store a few items by the bed such as a book, chargers and cables, glasses and so on.
The design featured on themerrythought is both easy to build and nice to look at. Consider staining or painting the wood if you want to match the nightstand to your bedroom decor.
Flower display shelves made of repurposed wood boxes
We often come across items that seem worth saving but that we don't really have a plan or an idea for. For example, you might find various types of containers that you could potentially repurpose and do something cool with.
These two vintage wood boxes were turned into a nice flower display piece and it was a simple and quick project which you can find out all about on petticoatjunktion.
A super simple and practical coat hanger
A lot of accessories including coat hangers and towel racks are surprisingly easy to make. This for instance is basically just a wooden board with a few dowels inserted in it and the tools and supplies needed in order to make it are very basic: just a drill, a tape measure, wall anchors and of course a piece of wood and a few dowel pieces as well.
You can use teak oil to give the wood a natural finish but staining or painting it would also be nice options. Either way, you can head over to themerrythought if you want more details about this project.
Organize your desk with handmade accessories
If you're the type that keeps a lot of items on their desk and has all sorts of gadgets and accessories that need to be easily accessible like printers for instance, consider building a custom stand with two or three shelves so you can organize them in a neat and efficient manner.
There's a tutorial on bybrittanygoldwyn that shows exactly how it's done. It's made of wood and has a simple and elegant design plus it's multifunctional and versatile.
Make a simple bench with an interesting geometry
Another fairly easy thing to build out of wood would be a bench. surely you could use something like this on your patio or in the backyard and if you're using the same design as the one on danslelakehouse then you'll also be able to use this as a table or a stand for your flower pots.
The design is modern and has an interesting geometry and the colored frame gives the bench lots of character.
Craft the perfect coat rack for your entryway
Something else you might struggle with is finding a suitable coat rack for your entryway. The wall-mounted ones are definitely practical but they limit the flexibility and versatility of the decor.
On the other hand, a portable coat rack like the one featured on craftberrybush can be easily moved around and placed anywhere it's needed plus it also looks very chic and stylish.
It has dowels at the top for hanging coats, bags, hats and other things and a shelf at the bottom for shoes or various accessories.
A plant stand for your favorite indoor greenery
Plant stands, especially the kind that fits and matches a particular type of planter, can be hard to come by and often crafting one from scratch is the better option.
The tutorial from instructables shows how you can make this stylish wood plant stand from scratch and as usual you can quite easily adapt it to suit your own particular planter if needed.
Put together a chair using reclaimed wood pallets
The first pallet chair we've mentioned earlier was pretty easy to build but this one is even easier. For an outdoor chair like this one you're going to need two wooden pallets and a few tools including something to cut the wood with, a hammer, a drill, a screwdriver, a few screws and nails and some sandpaper.
It would be best to apply a protective varnish coat to the wood if you're going to leave the chair outdoors and exposed to the elements. The tutorial for this can be found on instructables.
A wooden chair with a cool design
Speaking of DIY chairs, there's one more design that we'd like to share with you today and this one is visibly more refined than the others.
In addition to looking super stylish, this is also a folding chair which makes it extra convenient and practical. It's made of cedar wood which is a great material for outdoor projects in general.
You can find a full tutorial for this project on instructables if you ever want to build something similar.
Make a cute pot out of a piece of log
Isn't this log planter just adorable? It's so simple too, basically being nothing more than a piece of log with a hole carved into it where you can put a bit of soil and a little succulent.
The best part about it is the wood texture and that beautiful authentic look. Make your own wooden plant pot and customize it with a bit of your own style so it matches your home décor.
Welcome guests with a lovely pallet sign
Want to add a bit of charm to your house's front porch or entryway? This wooden pallet welcome sign is perfect for that.
It combines woodworking and string art in a really cool and user-friendly way and there's all sorts of ways in which you can personalize the sign to your liking.
A cute wooden sign for Thanksgiving
Wooden signs are a nice way to add warmth, color, texture and charm to your home's interior and there's tons of different designs and styles to choose from.
There's even themed signs that you can make for special holidays, like this wooden Goggle Gobble sign for example. It's simple and cute and a lot of fun to make as well.
Stylish candelabra made of wood bits
Want to use more candles in your home décor? Then how about making a wooden candle holder to display a bunch of them in style? This one has a simple and modern design and making it is a bit like crafting a puzzle.
A versatile wooden tray with a geometric design
Some projects are just nice to make without a specific purpose in mind. This wooden hexagonal tray is one of them.
This is something that you could use to organize your desk or coffee table or something to place on the entryway console table to hold a few things like your keys, wallet, spare coins and so on.
Simple wooden frame for your mirror
Mirrors make nice decorations and are really great if you want to make a small space seem bigger and brighter or to create a subtle focal point in one of the rooms.
Finding the perfect mirror can be tricky so consider making it instead. Just get a mirror cut to the desired size and shape and then build a wooden frame for it.
A stylish live edge cheese board
Something as simple as a wooden board can become a great asset and it doesn't really require a lot of work from your part.
Making a stylish cheese board is quite easy provided you can find a cool-looking hardwood board.
Half log bookends
Some of the best ideas come when you stop overthinking things, like these wooden half log bookends for example.
They're so simple but they're so great at the same time. All you need for this project is a half log, some paint and varnish.
A cute cork board for the office
This framed cork board would look super cute on a wall in your home office or your work area in general. It's both functional and decorative and what makes this particular design special is the frame which is covered in beautiful tissue paper.
Large hanging planter made of pallet wood
It's no secret that wooden pallets are super versatile and useful for a lot of DIY projects both big and small. They're especially suitable for rustic and outdoor projects because the reclaimed wood makes sense in these contexts.
Something like a hanging planter for example is also fairly easy to put together and this particular design is right on point.
A chic wooden strip candle votive
Small projects have their own charm and are can be just as rewarding as something big and complex. On of the smallest and simplest projects on our list is this wooden strip candle votive. To make it you only need a glass tumbler, some cane reed and a glue gun.
Rustic solid wood coat rack
Here's something that you can make for the entryway, both a practical and cool-looking addition. This wood coat rack will help keep the place organized and will also add warmth and character to your home.
It has a fairly rugged design which gives it a certain rustic flair and makes it easy to build at the same time.
Wood and resin coasters
Wood slices already look like coasters and can be used as such without changing anything about them. However, it would a shame not to do so when there are so many cool and interesting ways in which you can decorate them. These lovely resin coasters show you just one of the possibilities.
A gilded pencil holder
There's also all sorts of projects and crafts that can help you keep the clutter at bay on your desk, like this gilded pencil holder.
All you need for this one is a block of wood in any size and shape you prefer, a drill with bits of different sizes, sandpaper and some spray paint. Use bright gold paint if you want to give it this nice gilded finish.
A flip clock-style desk calendar
Sure, nowadays we all have digital calendars on our smartphones but there's something unique and charming about an actual physical one that makes projects like this one very inspiring.
This design is inspired by retro flip clocks but in the form of a wooden deck calendar. Make this for yourself or as a gift for someone you care about.
Wood slab accent table with hairpin legs
Did you know it's super easy to build a small table from scratch? Hairpin legs are the key in this case. They're very versatile and easy to work with and they do really well with wood.
One of the many ways in which you can use that in your projects is to make a side table that features a wood slab as a top and three hairpin legs as a base.
Wooden coasters decorated with pressed flowers
This project, in addition to being super simple, makes use of something very special: dried pressed flowers. If you're not familiar with this, you can basically preserve beautiful flowers and leaves indefinitely by placing them between the pages of a book and letting them dry. Here these were used to make these gorgeous wooden coasters.
Modern DIY cake stand
Here's another simple and beautiful DIY project that makes use of wood among other things: a modern cake stand. It's made from a circular slice of wood which serves as the actual top surface and a small bowl as a base for it to sit on.
A wooden create sign
If you're someone with a lot of creativity who likes to craft all sorts of things and come up with interesting and original things to do, let that show with this inspirational Create sign that you can hang somewhere in your home. This one uses old paintbrushes as decorations and has this nice speckled design.
Rustic wood frames for family pictures
We all have those old family pictures that we keep around, pictures from our childhood that are dear to our hearts. Well, here's a really cool way to display them. Make a few of these rustic wood frames that will go great with the photos. You can actually do this for any type of photos but they look better with retro-looking ones.
Scrap wood picture frames
On a similar note, here's a cool design for some picture frames that you can make out of scrap wood and leftovers from other projects. The wood serves as a backdrop for the pictures which are attached with thumbtacks. It's super simple but it looks so nice, especially if you're going for a rustic aesthetic.
Minimalist photo holder
If you'd like a simpler, smaller and more modern way of displaying your favorite photos, check out this triangle wooden holder.
It's something that you can keep on your desk or display on the shelves in your home. From a small wooden plank you can make several of these and once you cut it into triangles you only need some sandpaper and a bit of paint to complete the project.
Stylish frame for canvas photos
Instead of paper, you can have some of your favorite photos printed on canvas. They have this really nice texture and they look stylish and sophisticated. Make a few custom wood frames to go with your canvas photos to really put the spotlight on them.