10 DIY Desk Ideas For The Home Office Of Your Dreams
A proper desk that fits both the space around it and the user's needs can be hard to come by and since working from home is more popular now than ever we thought it would be helpful to put together a list of ideas and tutorials for anyone who wants to take matters into their own hands and build themselves a custom desk. There are lots of different DIY desk styles and designs to pick from and like with most DIY projects there's rooms for customization so you can make the desk suit your needs and style to perfection.
The first tutorial comes from instructables and explains how you can build this beautiful campaign desk. It has a stylish design with a distinctive border around the back and the sides to prevent items from falling off the edges. There's also a little built-in storage module in the corner where you can keep some papers and other small items. There's plenty of space on top for a laptop or a regular monitor plus a few accessories as well in case you want a lamp for example.
If you're really short on space then a full-size regular desk is out of the question. However, that doesn't mean other options don't count. This hanging desk is very space-efficient and lets you set up a work area in a really small space. You could add this to a living room or a bedroom without having to worry about changing the layout at all. It's super easy to make and it only requires a few basic supplies such as a piece of lumber, 2 L brackets, some screws, some rope and rope loops. All the details can be found on instructables.
Adjustable-height desks are really cool in general and this one also lets you adjust the angle of the work surface which is really great if your work involves doing sketches, drawing or painting. With this desk you get a lot of freedom and flexibility and the design is quite simple as you can see here. If you don't have all the tools required for this project an option is to ask your local hardware shop for help. You can find the plans and the instructions on imgur.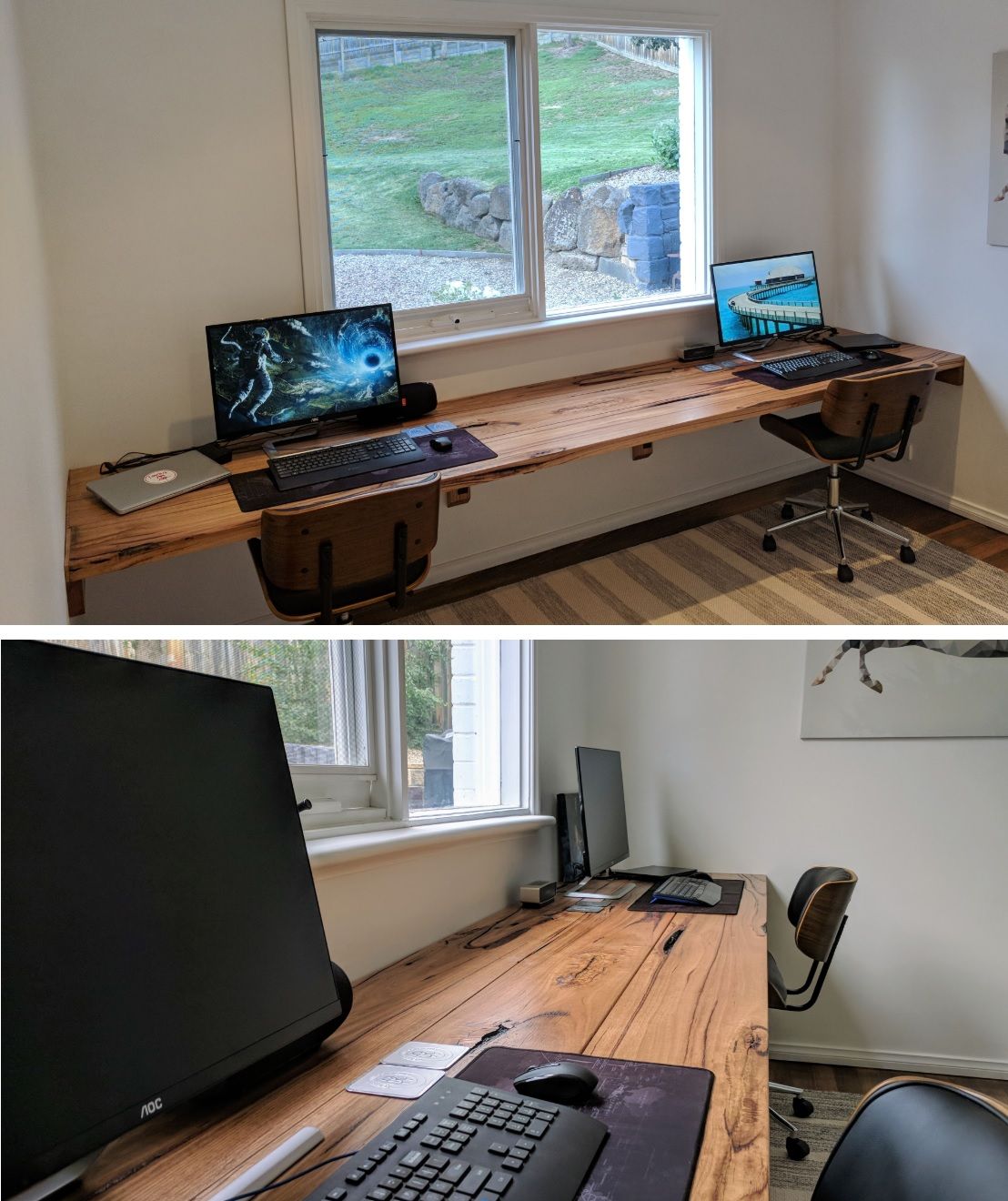 This double desk is pretty cool too mainly because it has such a simple design. It's basically a big long shelf that stretches from wall to wall. You can place it in front of a window so you get all the natural light and you can set at any height you prefer. Two persons could use it at the same time or you can keep it all to yourself if you have different workstations or different computers that you need to use for different things. Check out imgur for more details.
Freestanding desks offer more freedom when redecorating or changing things around the room and they're the most popular kind. This one has a simple and modern design with a clean geometry and no unnecessary details. If you want your desk to include some sort of storage you can potentially modify the design, although we think it's pretty cool as it is. Check out this video tutorial on youtube if you want to find out how it can be built from scratch.
Sometimes a simple and basic design is exactly what's needed and this desk fits the description. It has a super clean look and it's made of solid wood which gives you the option to stain it for a rich finish or to go with a more natural look and to lighting the grain. Regardless of the details, this is a very solid and durable desk which would look at home in pretty much any decor. Check out the youtube tutorial and see how it was made.
If you want a desk that's simple but also looks chic and modern and has some built-in storage options as well, considers a classic A-frame design. It's elegant and it has a nice Scandinavian vibe to it which helps it to look lightweight and fresh. This one has two drawers and an open storage shelf in between them, offering you space to store and to organize all your desk supplies, documents, chargers and cables so they're out of the way and the work area is nice and clean. There's a video tutorial on youtube that you can check out if you want the details.
If you want the option to use your desk while sitting down but also standing up then you need one that lets you easily adjust the height. Standing desks are appreciated for their versatility and for the fact that they encourage their users to be a bit more active and aware of their posture throughout the day. They can also be super expensive which is why building your own standing desk is a really great idea. Check out this youtube video if you want some inspiration before you get started.
There's an easy way to greatly simplify the design of our DIY desk and to make it really easy to build and it involves hairpin legs. They're inexpensive and easy to come by and they look really beautiful on a desk, giving it a lightweight and slender appearance. Pair four metal hairpin legs with a solid piece of wood and you got yourself a beautiful and modern desk. Paint the legs if you want to add a bit of color to the desk without being too bold about it. If you want the full story, check out modishandmain to find out more about this simple project.
Another cool idea is to build the base of the desk out of metal pipes and fittings. This would look great if you have a modern-industrial interior design but would also fit in a retro decor with ease. Complement the pipe frame with a wooden top to add some warmth and texture to the design. This tutorial from housebyhoff also shows you how to install casters on the base so you can easily move the desk around if needed.