33 Wonderful DIY Projects For The Outdoors
Spending time outdoors is both fun and healthy and there are lots of different types of activities to be enjoyed throughout the year.
Spring and summer are perfect for doing some work in the backyard or the garden. You could do some gardening, redecorate the patio, set up a cozy lounge area for your and your guests and do various other things based on your hobbies, needs and lifestyle.
Today we're going to go through a few of the projects that you could do outside and we hope they'll inspire you.
Cool outdoor projects you can do this weekend
Cute heart-shaped decorations for the garden
The first project is a very simple one and it involves making cute little concrete hearts that you can use as decorations for the garden or the yard.
They're made using heart-shaped silicone molds and they have wooden skewers sticking out so you can insert them into the ground.
You can customize them by painting and decorating them once the concrete has dried. Add them to the flower beds or sprinkle them along the driveway. You can find a full tutorial for this project on diys.
A beautiful planter chair
One of our all-time favorite outdoor projects involves converting a chair into a planter. It's a really cool idea especially if you're doing some spring cleaning or getting some new furniture.
Any old chair could look nice as a flower bed. It would be nice if the frame was outdoor-friendly although that's not really a requirement.
This metal garden chair for example was perfect for the transformation. A fresh coat of paint made it look like new and some fabric and chicken wire attached to the frame with zip ties were all that was needed to complete the project.
Colorful garden bench made of pallet wood
Something else you could do is build a garden bench to make it more enticing and comfortable to spend time outdoors. You can use wooden pallets for this project which would save you some money plus it would make it really easy to put the bench together.
If you're placing it against a fence or a wall there's no need for a backrest. Paint the bench to make it look more interesting.
You could use lots of different colors for the seat and leave the base neutral or you could try a simpler approach based on the supplies available to you as well as your preferences.
A practical hanger for the garden hose
Even doing small projects around the yard can be very satisfying, not to mention it would make it more enjoyable to spend time outside in the future.
If you have a garden or a yard that need irrigation, you could build a hose hanger that would make this activity less frustrating and that would also keep the area looking neat and organized the rest of the time. You could make the hanger out of wood and if you want you could also give it a sturdy cement base.
Adorable garden gnomes with fluffy beards
Traditional garden gnomes are pretty cute and easy to find in stores but if you want something a bit different we suggest into looking some DIY options.
These concrete garden gnomes featured on diys are absolutely adorable and they'd look lovely not just outside but indoors as well. You can casually place them among the flowers, set them on a rock or find a spot for them on your patio.
To make them you need a few things such as fine particle cement mix, tape, glue, felt, pillow stuffing, faux fur and pom-poms.
Outdoor seating area makeover
When things start to look outdated and ugly, a makeover can usually fix the issue. A fresh coat of paint or a change of color can make all the difference.
This applies to lots of things including outdoor furniture and decorations such as lamps, planters and so on. It's also convenient and exciting to repurpose various items or to move them to different locations. In that sense, you can find an inspiring upcycling project idea on wonderwood.
Concrete planters that look like sculpted heads
Concrete is really great for lots of DIY outdoor projects. You can use it to make cool-looking decorations such as the head planters featured on lilyardor.
They have cut-outs at the top and these grooves where you can add soil and the plants look like hair which means you can actually get very creative and style your planters however you want to.
Use styrofoam heads as molds and concrete mix as your clay and have fun sculpting the faces, adding little details and giving them expressions. If you want them to look aged and overgrown you can add a moss effect at the end.
A couple of old chairs turned into a garden bench
Old chairs are not as useless as you might think. In fact, they're often used in a lot of outdoor projects. A great example comes from makingmanzanita where you can find a tutorial on how to use two old dining chairs to make a bench for the garden, backyard or patio.
It's easy and it doesn't require a lot of materials. The seats need to be removed from the chairs so you can build a new one for the bench.
Using pallet wood for this could end up being very convenient plus it would give the bench a weathered and rustic look.
DIY stock tank pool with a wraparound bench
Setting up your own tank pool in the backyard is a nice idea if you have the space for it. It's a great way to cool off during summer and it's fun and enjoyable for the whole family.
A cool way to improve your tank pool is by adding a bench around it. It would be like a border all around the pool and it would give you a place to sit, to place a few drinks, some towels, pool toys and so on plus it would also cover up the tank and give your pool a nicer look. Check out heywandererblog to find out how it's built.
A grill table for the outdoor kitchen
Having an outdoor kitchen could sure make it more enjoyable to spend time outdoors most of the year. It doesn't need to be super fancy or to include a lot of features.
A grill would be enough as far any appliances go. You can set up your own outdoor kitchen from scratch and customize it however you see fit.
There's a great tutorial on bobvila which explains how you can make an island out of plywood and concrete and how you can integrate a portable grill into it. It has an open shelf at the bottom for storage and a wooden cutting board built into the top.
Wood-burning pizza oven made from scratch
It's even possible to build your own pizza oven from scratch. It would make an awesome centerpiece for the backyard and you could enjoy a lot of wonderful moments with friends and family around it.
If you're starting off with a big empty space, consider building a sturdy pizza oven and integrating a few extra features in its design such as some counter space for prepping, storage and so on.
There's a great tutorial on tikkido which explains how this wood-burning pizza oven was made. The design is beautiful, a nice blend of rustic and modern details that go really well together.
Wooden logs turned into succulent planters
If you're looking for a small project that you could make right now, perhaps a succulent log planter would fit the bill. The first step is to find a log.
Perhaps you can find one in your own backyard. Clean it up a little bit and if necessary flatten the base, then carve out some spaces for the succulents.
This could make a nice centerpiece for a table or you can display it as a decoration anywhere you want to, whether it's inside the house or outdoors. Check out hearthandvine for more details about this project.
A wooden pergola with a custom design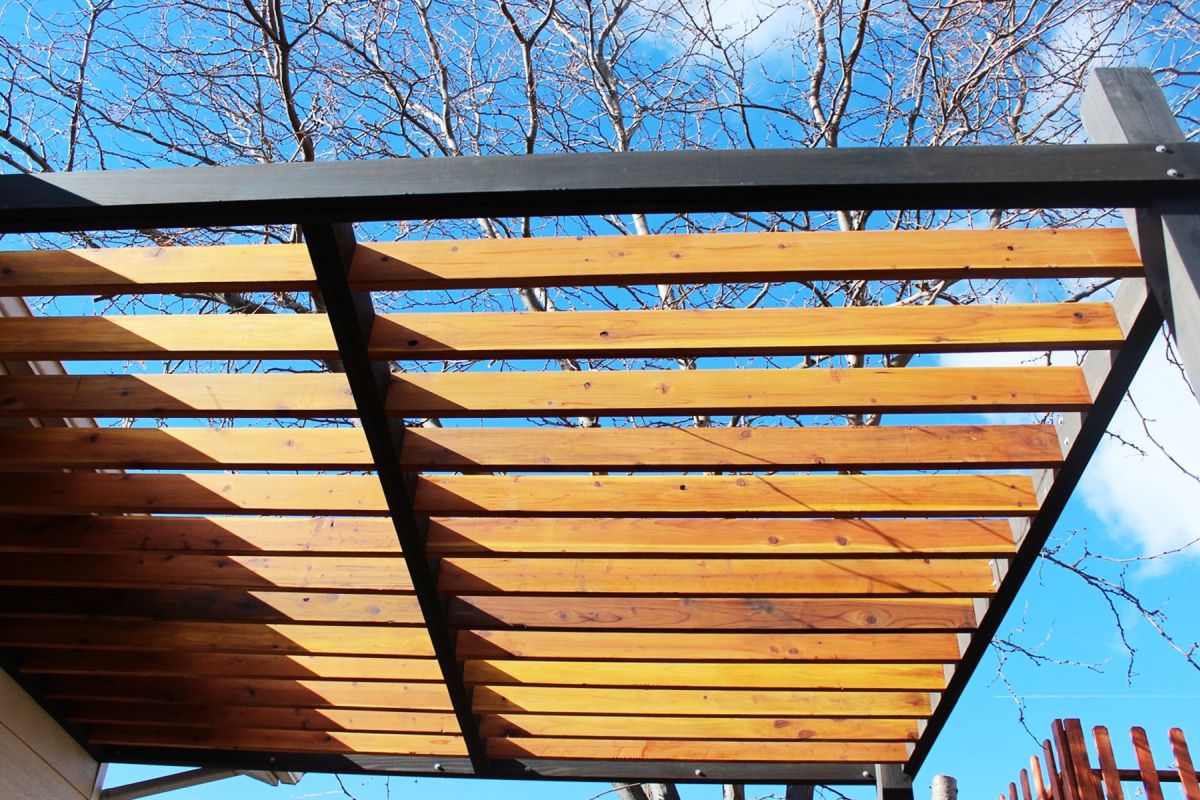 A pergola could look wonderful in the backyard plus it would be a great accessory for an outdoor lounge area.
You can build it yourself and customize the shape and dimensions so it fits and looks great at the same time.
Take step by step, starting with the posts, then the frame and the roof and you'll have your pergola up and ready in no time. There are numerous different designs and styles to choose from so take some time to do a bit of research first.
Flagstone pathways through the yard and garden
Add a bit more structure to your outdoor areas by creating flagstone pathways. This is a nice way to connect various different areas and to decorate the area around the house.
The organic design fits beautifully into lots of different types of decors and also makes the entire project easy and enjoyable. You can lay your own flagstone pathway without having to make major modifications to your lawn and without needing lots of tools or materials.
An outdoor playground for the kids
Another cool idea is to build a playground for the kids so they can exercise and have fun in the backyard. You can include features like a slide, swings and ladders and you can stay within budget by using reclaimed wood for the frame. A few wooden pallets would be perfect for this project.
The number you'll need varies based on the design and the dimensions that you choose. Check out this playscape idea from frugalmomeh if you need a bit of inspiration.
Simple swing hanging from a tree branch
If you have a big tree in the backyard with a low branch that extends horizontally to the side, that would be a perfect support for a swing. A tree swing is super easy to build.
All you need is a wooden board, some strong rope, sandpaper, a drill and a saw in case you need to trim the wood. Check out the tutorial on themerrythought to find out all the details and how to make the swing safe and secure.
Artificial water feature for the garden
Adding some sort of water feature to the garden would look really beautiful and although natural ponds are definitely amazing, an artificial one can also look lovely.
A small deck-top pond is a nice alternative if you lack space or if you want to spice up the decor around the house. This is basically a tiny pond inside a box and it's something that you can build from scratch by following the instructions offered on lowes.
Wooden planter box with a built-in hose holder
Both a planter and a hose holder would make nice additions to a backyard so why choose between them when you can have both?
We're not talking about two separate projects but actually about a single one: a wooden planter with a built-in hose holder, or the other way around depending how you look at it. You can find the tutorial for it on diycandy if you'd like to give this project a try.
Colorful cinderblock planters
Don't these planters look lovely? The colorful patterns on them give them a fresh and cheerful look and the best part is they're super easy and cheap to make.
That's because they're actually repurposed cinderblocks that went through a bit of a makeover process using spray paint. Check out akailochiclife for more details.
Custom flower boxes
Adding some greenery and color to the outside of the house can definitely make it pretty and adds curb appeal to the whole place.
Flower boxes are a good way to go and if you prefer something custom then go ahead and build them from scratch for a bit more character and charm. Check out the tutorial for these wooden flower boxes on yellowbrickhome to learn how to get started.
A wooden privacy fence
As nice as it is to have an open view of the surroundings, a privacy fence between you and the neighbors is better in most cases. This horizontal slat fence design featured on freshmommyblog is really great because it makes it super easy to add decorations to it like hanging lights and planters.
DIY backyard fountain
A water feature adds a lot of style and charm to a backyard or to a garden and fountains are especially nice because they also double as decorations.
Contrary to what you may think, making an outdoor fountain doesn't really require that much effort. The one featured on ramshackleglam can be easily made from a big planter and a bucket so check it out for some inspiration.
Custom wooden fence gate
In some cases you may need not just a fence but also a gate for your backyard or garden area. You can build both yourself out of wood which is probably the most versatile and practical material for such projects. If you need some inspiration for the design of the gate checks out this project on twofeetfirst.
Pergola and swing combo
Swings are always fun and having one out in the garden surrounded by flowers and vegetation can definitely be amazing.
It would look even more gorgeous if you were to hang it from pergola support and this way you would combine two beautiful features. Check out this pergola tutorial on singlegirlsdiy to learn all about it.
The foundation for a fire pit patio
Do you know what else would be amazing to have out in the backyard? A fire pit with some seating around it where you can relax with family and friends in the evenings. But before you can focus on the details you need to create a solid foundation for this area.
How about a stone patio with a cool pattern? There's a tutorial on recapturedcharm which tells you all about this sort of project.
An outdoor chalkboard for the kids
As simple as they are, chalkboards are super fun to play with because they're really nice for nurturing one's creativity and imagination.
They're also quite messy so it would definitely be practical to keep them outdoors. With that in mind, check out this outdoor chalkboard project from gina-michele so learn how you can make something similar yourself.
A patio made from scratch
Regardless of size, outdoor patios have a lot to add to a place. It's natural to want a patio in your backyard and to feel a bit overwhelmed by the idea of having to build it yourself from scratch.
Luckily, there's plenty of projects to take inspiration from like this one from thestonehead. It actually makes building a patio seem easy.
Extending the outdoor area with pavers
Pavers are super friendly when it comes to DIY projects for the outdoor areas. There's plenty of types to choose from and another fun thing to do is come up with a custom pattern for the floor when you arrange them.
They're also perfect for extending your outdoor areas if you'd like for example to add a small patio or to create a cozy seating area. Check out thisfrugalflippinglife for more info and details.
A pergola with curtains and string lights
Isn't this pergola just the perfect thing to frame an outdoor dining area with? It really ties the space together and the curtains are a lovely touch.
They make this area look really cozy and inviting. At the same time, the pergola roof is ideal for hanging string lights. If you want to know how to build a pergola just like this one head over to thecreatedhome for a tutorial.
A cute bird bath made of planters
Would you like to make your garden more enticing for small and cute creatures like birds and squirrels? Then attract them with things like feeders or for example with a cute bird bath like this one.
It's really easy to make out of some urn-shaped planters and a saucer. You can spray paint them so they fit better in your garden and you can also fill the large urn with some flowers. Check out the tutorial on mamitalks for more details.
Hanging planters made of bottles
Wouldn't it be nice to have some cute little planters hanging from the branches of the trees in your backyard? They don't need to be expensive or fancy so something cheap and simple would do.
We recommend recycling a bunch of plastic bottles and turning them into hanging planters. The idea comes from helloglow.
An outdoor table with built-in ice boxes
One of the most attractive things about having a backyard or an outdoor area, in general, is the fact that you can spend time outside with family and loves ones, enjoying bbq parties, picnics and so on.
With that in mind, you're going to love this project from remodelaholic. It's an outdoor table that has two built-in iceboxes that keep the drinks cold.
Freestanding lamp posts
Any outdoor area can look welcoming and charming when it's properly lit and decorated. You can do both things at once with these beautiful lamp posts featured on ishouldbemoppingthefloor. They're perfect for an illuminating an outdoor area with string lights and they double as planters.