25 Easy And Adorable Yarn Crafts For Your Home
Yarn crafts are a lot of fun and in case you didn't know it yet, this is a magnificent resource for all sorts of DIY home projects. Today we're hoping to spark your imagination and to inspire you to try your hand at some of these lovely ideas that we gathered below. They're all pretty simple so you shouldn't have any problems with these yarn crafts for your home.
Creative DIY Yarn Crafts to Decorate Your Home
1. Yarn-Wrapped Hanging Planter
With yarn, you can turn any basic planter into a hanging one. The project works best with a simple terra cotta pot and since these are easy to find and fairly inexpensive that works out great. In addition to the pot and the yarn, you're also going to need a mod podge, a hot glue gun, and a paintbrush. As it turns out, making a yarn-wrapped hanging planter is not just fun but also easy.
2. Arm Knitting to Create a Cushion Cover or a Cozy Blanket
Arm knitting is a cool technique where you use your arm to… knit. Obviously, you need to use bulky yarn for this. You can use this technique to make all sorts of cool things, like a cushion cover or even a cozy blanket. Once you get the hang of it, the ideas never stop coming.
3. A Colorful Pom-Pom Basket
Smaller yarn projects can be super fun and creative too. For instance, you could make a colorful pom-pom basket that you can use to store and organize your toiletries and all sorts of other things. You'll have to buy the basket but the pom-poms are something you can craft yourself. You'll need yarn in different colors, thin floral wire, scissors, wire cutters, and pom-pom makers.
4. Easy DIY Wall Hangings
Yarn is also something you can use to make wall hangings. This one right here was made with just three simple things: a metal ring, a wall hook, and yarn, obviously. You can pick a different color or a different pattern for your own yarn wall hanging project, just to make it suit your decor better.
5. Halloween Spider Webs
Some yarn and some tape… that's all you need for this project. Using these two things you'll be able to make Halloween spider webs which are cool decorations that set a spooky mood without taking lots of space. Depending on the color of your wall, you can choose a yarn color that stands out.
6. Mini Yarn Christmas Trees
These mini yarn Christmas trees look absolutely adorable and they're pretty easy to craft too. You need yarn in various shades of green, floral wire, super glue, scissors, and either a wooden dowel with a hole in it or a piece of cork. You can display these cute little trees on your fireplace mantel, your desk, etc.
7. Yarn-Wrapped Lighting Feature
Some yarn crafts are pretty intuitive while others not so much. This yarn-wrapped lighting feature would probably fall into the second category. To make this you need some thick wire, yarn, parcel paper, thin cardboard, a glue gun, and a light fixture kit. You're basically making the lampshade from scratch. If you want to simplify the project, use an existing shade.
8. Hand-Stitched Wooden Christmas Ornaments
If you liked those cute little Christmas trees made out of yarn, check out these other Christmas decorations that you can make. These are hand-stitched wooden ornaments and to make these you need pre-cut wooden shapes, a drill, an embroidery needle, a small piece of scrap wood, and some yarn scraps. Feel free to come up with your own geometric designs. Check out the tutorial on diys.
9. A Rustic Wreath
Wreaths are wonderful decorations too and this one looks super chic and cozy. It's made using a wreath form and chunky yarn plus the bow which you can make out of some burlap. Believe it or now, this wreath can be made in only 30 minutes which is pretty impressive actually. Find out more details about this yarn project on littleyellowwheelbarrow.
10. DIY Wall Weaving
This is a project featured on idlehandsawake which involves a loose weave blanket and extra chunky jumbo yarn. With these two things, you can make something pretty which you can hang on your wall, as a sort of cozy-looking backdrop for your bed.
11. Yard-Wrapped Vases
Yarn-wrapped projects are some of our favorites. You can use this simple technique to make all sorts of cute and colorful decorations for your home, like these vases featured on deliciousanddiy for example. It's a great way to upcycle old glass bottles and to gain some funky new vases at the same time.
12. Pom-Pom Lamp Makeover
Pom poms are super fun and also easy to make if you have a pom pom maker. You can use them to decorate all sorts of things around your home, like those boring and plain-looking lampshades that could definitely stand out more. So go ahead and make a bunch of pom-poms in different colors and then attach them to the lampshades with glue. It's that easy. Check out deliciousanddiy for more details.
13. Pom-Pom Rug
Do you know what else you could make with a bunch of colorful pom-poms? A rug. That's right, you can make a beautiful pom-pom rug that will add texture and color to your home decor and you can do it all by yourself from scratch. We suggest starting with something small, like a bathroom mat or an entryway rug. Of course, if you're confident in your crafting skills and patience, you could even make a custom living room rug.
14. Yarn Cover for Your Wall Clock
If you like knitting, how about a cute yarn cover for your wall clock? Sure, wall clocks aren't that popular or stylish anymore but you can make yours look fun and exciting with colored yarn. It's a fairly simple project, as long as you know how to do a basic garter stitch. use as many colors as you want. Check out more details about this project on retrobabydesign.
15. DIY Yarn Tassel Bedskirt
I know what you're thinking, who uses bedskirts anymore? Well, they're very pretty and they add a whimsical and bohemian touch to the bedroom decor so why not use one, especially when you can decorate it with all these colorful yarn tassels. Find out how to do this by checking out the tutorial on tatertotsandjello. You might even be able to improve the project so let this serve as a source of inspiration.
16. Round Pom-Pom DIY Rug
This round pom-pom DIY rug from Make and Do Crew will look fantastic in any home, and of course, you can customize it with any color of yarn you like. We love the subtle lighter colors used to create this rug, but you could make it as bold and bright as you fancy. It would be lovely in the entry to your home and is so soft against your feet.
17. Decorative Yarn Globes
If you are looking to brighten up your children's bedrooms or a playroom, these decorative yarn globes from Fave Crafts will add a splash of color to any room. They look best in bold colors, such as orange, red, blue, or green, and will look fantastic hanging from the ceiling. They are so quick and easy to make and are a fun craft you can enjoy doing together with your kids. Balloons are used as the base of this project, and they help to create a round and even shape.
18. DIY Yarn Covered Pencil Pot
This DIY yarn-covered pencil pot from Samelia's Mum is perfect for brightening up your home office or a child's desk. It's the perfect size for clearing away your pen collection from your desktop and will add a splash of color to any area of the home that is often overlooked. The project is super easy to make, and you just use an empty glass jar as the base of your pencil holder.
19. DIY Yarn Fringe Pendant Light
You'll brighten up any bedroom with this DIY yarn fringe light from A Kailo Chic Life, which looks like something straight out of a designer store. It's a fun yet chic design that teenage girls will love, but it would also look great in any bedroom. You can fully customize the color scheme to your home, so you could go for more muted colors than the pinks used in this example.
20. Fleece Tassel Blanket
Club Crafted shares this lovely fleece tassel blanket idea, which is perfect for those cold winter months where you need something extra to add to your bed. This would look lovely in a guest bedroom and would be a welcoming touch that any visitor would appreciate. The simple color scheme in this example makes a versatile piece that will look great in any home. The project uses quite thick wool, which makes the tassels extra fluffy, and you'll make twenty-two tassels in total to complete the blanket.
21. DIY Christmas Vase Filler Yarn Balls
Unoriginal Mom shows us how to make this easy project that your kids will love taking part in. If you've ever had empty vases or Christmas decorations that look a bit plain around your home, these DIY Christmas vase filler yarn balls are the perfect solution to fill in any gaps in your house. They will hardly take any time at all to make and can be created in a neutral color to fit any space in your home. We love the little sleigh design in these photos, which would be a fun addition to your Christmas decorations this year.
22. Fringed Mirror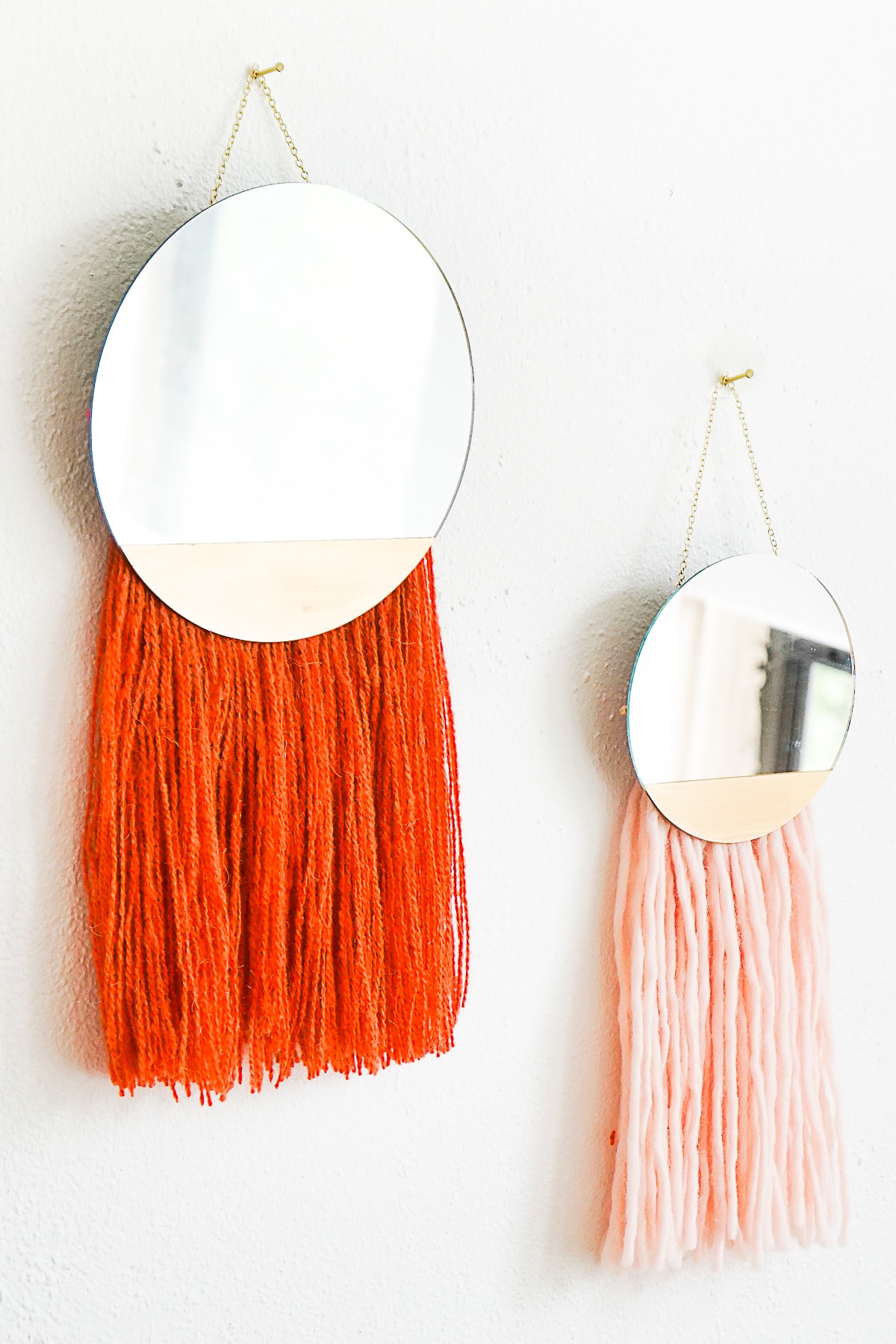 Turn your plain wall mirror into a piece of art with this DIY fringed mirror project from Sugar & Cloth. You might not even just stop at one mirror and instead may want to consider adding a whole collection of mirrors to your wall. This is a simple project that will require minimal time or skill yet can brighten up any corner of your home. Try to use quite thick yarn if you can, as it adds more texture to the mirror.
23. Pom-pom Flowers
If you don't feel like looking after live flowers in your home, these pom-pom flowers from Dill Pickle Design are a great alternative. They'll brighten up any space you would usually place flowers, but you'll never need to water them or throw them out. You can create them in pink and red colors to match your typical flowers and then place them in a vase to display.
24. DIY Yarn Mobile
Sugar Tot Designs offers us this fun DIY yarn mobile that is ideal for hanging in a nursery or kids' bedroom. It's a subtle yet colorful project that will add a touch of excitement to any room. The best thing about this option is that it involves absolutely no knitting, so you don't need to be very skilled or creative to make this mobile.
25. A Colorful DIY Lamp
Vintage Revivals shows us how to make this colorful DIY lamp project that has a stunning ombre effect. Your friends and family won't believe it's handcrafted, as it looks like something you would spend a fortune on in a store. Choose any colors of yarn you like to create this lamp, which can be a subtle or bold addition to any room, depending on your tastes.
Yarn is such a great addition to any craft project and can create fun pom-poms, tassels, and balls to spruce up any piece of home décor. You'll have a full range of yarn colors to choose from, which means you can match your next DIY yarn craft project to your home décor. As many of these projects don't involve knitting, they are a fun way to get your kids involved in crafting, and they'll love creating something new to display in their bedroom. The best thing about yarn is that it's so inexpensive to buy, so none of these projects will cost you much to create.