50 Crafty Ways To Update Your Bedroom With DIY Projects
Over the years we gathered all sorts of interesting and inspiring ideas regarding the interior design and décor of specific parts of the house. Today the focus is on bedroom décor. So we made a list of simple and budget-friendly DIY projects for the bedroom that anyone can try. Use them to update your home and to make it more inviting and friendly-looking.
Update Your Bedroom With These Awesome Bedroom Projects
1. Custom Picture Frames
Everyone has picture frames in their homes so this would be a very approachable project. The idea here is to give the frame a new look and in this particular case, this can be done by dipping the frame in paint. Here's what you need to make paint-dipped picture frames: some masking tape, a paint brush, paint, and obviously some picture frames. It's an easy and cheap way to update this timeless accessory.
2. A Unique Jewelry Holder
Some of these DIY bedroom projects are focused on the décor while others are meant to help you organize the space and maintain a clean and pleasant ambiance. This tree branch jewelry holder suits both functions. To make your own version of the project you're going to need a branch, a concrete plant pot saucer, a rubber chair leg tip, glue, sandpaper, and timber wax or oil. Some of these materials can be replaced by others that might be more accessible to you.
3. A Stylish Tray
A tray is another accessory that can help you keep a space clean and organized. It can be something you use to keep small items in one place or it can serve a different purpose. Whether you use it as a serving tray or as a storage container, it doesn't really matter. Either way, the project is really simple. To make a wooden tray like this one you'll need a sheet of plywood, handles or knobs, a hand saw, a drill, a few nails, and some paint.
4. Hanging Ornaments
The walls of a bedroom can look empty, especially if you choose not to have a TV in the room. You can decorate them with all sorts of things, including this wall-hanging ornament made of felt. It has a lovely raindrop pattern and it's really easy to make if you have some felt, a branch, embroidery thread, and a big, sharp needle. To make sure all the raindrops have the same size and shape, make a cardboard template.
5. DIY Wall Art
If you put your mind to it, you can make all sorts of interesting things with which to decorate your bedroom and home in general. One example could be this pineapple wall art idea. It has a childish look and that's where its charm comes from. To make your own pineapple decoration you'll need a blank canvas, recycled cardstock, glue, acrylic paint, a paintbrush, and scissors. Start by painting the canvas. Use two contrasting colors. Then use quilling techniques to make the pineapple out of colored paper or cardstock. Glue it onto the canvas.
6. Build Your Own Nightstand
In case you feel like your bedroom could use a new nightstand, perhaps you'd consider building one yourself. It's a great DIY bedroom idea with plenty of design options to choose from. For instance, this two-toned modern nightstand only requires some basic crafting techniques and a few simple materials such as some lumber, a circular saw, a dowel jig, a drill, and a nail gun. You can paint it white or any other color you want.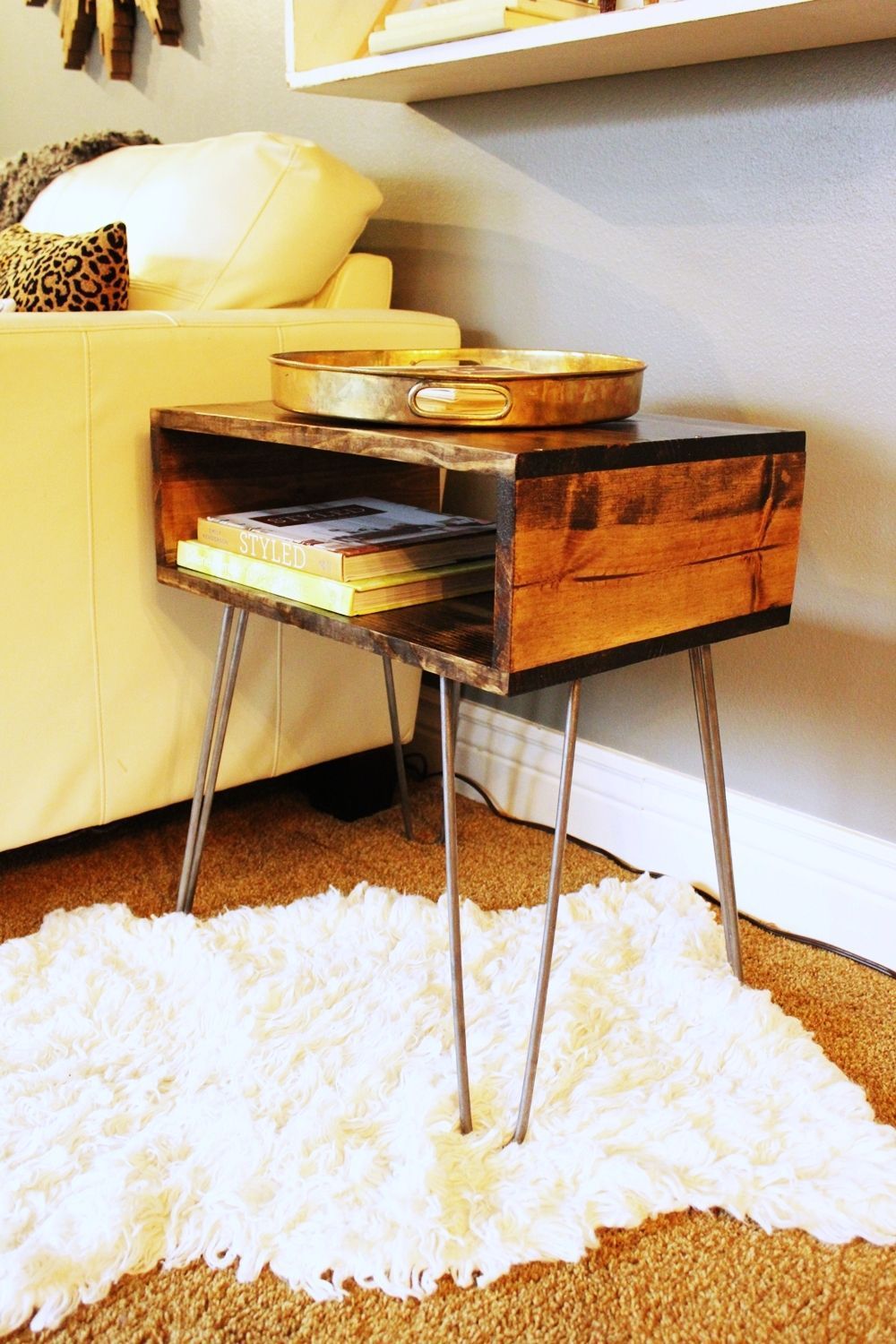 Another stylish idea is to make a hairpin leg side table that can double as a nightstand. The most difficult part would be the top which is made of wood and stained to have this vintage appeal. Once that part is done you just need to attach the hairpin legs and you can enjoy your new nightstand. Feel free to paint the legs if you want them to match the top.
7. DIY Headboard Idea
It may appear that headboards are very complex and difficult to build but in reality that's not always the case, especially if you want a simple design. You can even make your own upholstered headboard from scratch. This tutorial shows you how. Here's what you'll need: plywood, high density foam, batting, fabric, screws, a drill, and a staple gun. You'll also need some wood strips to attach to the back.
8. A Blanket Makeover
Tired of your old blanket? Maybe you'd enjoy giving it a makeover and making it look prettier. This could be done by simply adding some pom-poms. To make a pom-pom blanket you need a few simple things like yarn, thread, a needle, and a piece of cardboard. Build yourself a pom-pom making tool out of cardboard and start wrapping. You can also make tassels. Attach them to the edges of the blanket.
9. Pillow Makeover
Similarly, you could add some pom-poms to a pillow to change its look. The project starts with a throw pillow. Get some pom-pom trim in the desired color and some matching thread. Start sewing the trim to the edge of the pillow and cut off the excess when you're done. It's pretty simple and straight-forward. After that, all that's left to do is display your pom-pom pillow on the sofa or bed.
10. Clever Extra Storage
Nobody can really say they don't want more storage in their home. There's always a need for more so we'll show you how to add under-sofa storage to your living room or bedroom. You could use it for things like magazines or other stuff you don't want to keep on display but still need in the room. Basically, it's just a simple tray on casters. It rolls under the sofa when not needed and it's pretty easy to make. You need a rectangular piece of wood for the base, some small strips for the sides, nails, a hammer, four small wheels, and some glue. You can also paint it if you want.
11. DIY Wall-Mounted Shelves
What's nice about shelves is that you can add them at any time. They're all easy to build and you can easily craft them yourself. To make some floating bookshelves like these ones, for example, you only need a few pieces of wood, a hammer, some nails, glue, a drill, and paint. You'll also need screws for mounting. They're really great for the kids' room.
12. DIY Statement Mirror
Mirrors make great accent pieces because of their ability to make spaces look bigger. But if you also want the mirror to stand out and to become a statement piece, then you'll need to give it a custom makeover. A wonderful design idea is this gem mirror which requires a flat mirror to start with. You'll have to cut it to give it an octagonal shape. After that, use clear contact paper, metallic spray paint, fine grit sandpaper, and an X-acto knife to complete the design.
13. Easy-To-Make Floor Pouf
We're big fans of floor poufs. They're great to have around in case you need some extra seats or if you want something cozy and casual for the corner of your bedroom. Did you ever consider making your own poufs from scratch? It wouldn't be that difficult. You'd need some upholstery fabric, a large zipper, scissors, foam, batting, pins, and a rotary cutter.
14. A Custom Nightstand Lamp
In those moments when you just can't find a decent a lamp for your nightstand, an option appears: a DIY lamp. You can build it however you want but it would easier to just follow a tutorial. If you like this design, you can make something similar using a round cylindrical lampshade, 2 square pieces of wood, 4 round pieces of wood, a saw, sandpaper, and wood stain or paint.
15. A Macrame Plant Holder
Indoor plants are wonderful decorations because they don't only look beautiful but they also purify the air. It could be nice to have a plant in the bedroom. You could hang it in front of the window to give it plenty of light. How about a hanging plant holder to help you with that task? You could make one out of twine and plywood.
16. A Custom Wall Clock
Even though wall clocks aren't as popular as they once were, they still make nice decorations for the walls. They're both pretty and practical and this inspired a lot of interesting DIY designs. For example, this wood wall clock is one of the simplest and most stylish ones you could make. It doesn't have numbers on it so it's not meant to help you accurately tell time. It has more of an aesthetic role.
17. A Reed Diffuser
If you like essential oils and enjoy using them, perhaps you'd like to make your own reed diffuser. You'll need a glass container, five reed sticks or bamboo skewers, a narrow-mouthed funnel, and some light oil plus your choice of essential oils. Pour the oils into the container and then put the skewers in and gently swirl the mixture. The oil will seep its way up the skewers at which point it will start to smell.
18. Cute Confetti Duvet Cover
This is an easy upgrade if your bed already has a white duvet cover, if it doesn't, head out and buy one for this DIY bedroom project. Besides the duvet cover, you will need paints, a paintbrush, and a stencil for making the shapes you want to add to the duvet cover. In this example on Poppy Talk, the confetti are circular, but you could make your confetti star shaped, square, or whatever other crazy shapes you can come up with! Don't hesitate to paint some confetti on white pillow cases to match your new duvet cover.
19. Decorate With Twinkle Lampshade Hanging Lights
Does your bedroom already have a string of lights that may need an upgrade? Even if it doesn't, not to worry, as strings of lights can usually be inexpensive to attain. Or you can also use an old string of lights from your box of Christmas decorations. To make the mini lampshade pictured in this example by Ella Claire Inspired, you can grab some dixie cups, jute twine, and some glue. Then you will just need to use the glue to attach the twine to the cups in a nice spiral shape. Use a knife to make an X in the bottom to slip the lights through, and you're done! Enjoy your cute hanging lampshade lights!
20. Construct A Useful Bedroom Bench
Everyone wants to add a bench to their bedroom! And with this DIY bedroom bench by A Beautiful Mess, adding one to your room has never been easier. You will require some fancy materials to affix the parts, but the coolest thing about this project is that you can make it easily match your bedroom aesthetic. All you have to do is pick out a rug that matches your color and décor to staple to the wood to create the bench. And later, if they desire to change your room strikes again, you can effortlessly remove one rug and replace it with another for a whole new look.
21. Make Your Own Rug
Now that you've changed your duvet cover, lighting, and added some additional furniture, you probably need a new floor rug to match it all. Make your own shag rug by following these instructions featured on eHow. And to do so, you will need to pick out a bunch of yarn in varying colors, thus this is the perfect opportunity to pick out colors that match your new look. This project will take some time to complete, but you will absolutely love your new rug when you finish!
22. Mount Hanging Mobiles
A unique accessory you can consider adding to your bedroom is a mobile. This is something that is unexpected, but it can really add a soft touch to your bedroom. Try making this simply Fern Haning Mobile featured on Lars. It only requires a few materials, and when you end up loving it, you can definitely make a couple more to really spice up your ceiling. You can even get creative and cut out shapes that are something other than fern leaves.
23. Put Your Name In Light Up Letters
Who doesn't want to see their name in lights? This decoration is extremely cheap to make, only requiring cardstock, paint, a hole puncher, and some string lights (if you didn't use them for the above project). Follow the instructions outlined on Oh Happy Day and pretty soon you will have some awesome light up letters! For those who would prefer not to have their name on the wall, you can also use the letters to create a phrase or maybe just a word that inspires you.
24. Design A Delicate Paper Wreath
This DIY bedroom project is perfect for a fairy or garden themed space. To get started, pick up a foam disk, a ribbon, and paper in the color you want your roses to be. Next, you'll need to make the paper flowers, the instructions to do so can be found on Lia Griffith. Then you will simply glue the blooms you made to the foam surface. Add a ribbon to hang your wreath and this will instantly give your bedroom a beautiful garden aesthetic.
25. Add Gold Embellishments
Nothing quite upgrades a room like adding gold embellishments. The Gathered Home outlines how to add gold leaf to your curtains with ease by using a few inexpensive materials. But you don't have to stop with your curtains, you can also add gold leaf to throw pillows, wall art, and your furniture while you are at it. And if gold leaf isn't quite your style, copper leaf is another great way to embellish the items you already have in your room.
26. Make Your Bed A Canopy Bed
Maybe you always wanted a canopy bed as a child and never got one. With this DIY bedroom project by Lauren Greutman you can add a beautiful canopy that will complement your bedroom even if you are an adult. This is an especially good project if you have some old curtains you are looking to repurpose, as you will only need to purchase the curtain rods. But even when you do need to purchase the curtain panels, this project is still a low-cost way to completely transform the look of your room.
27. Store Photos On A Shuttered Clipboard
This cute clipboard is a great bedroom project for repurposing old window shutters. To start this adorable decoration will need the color of spray paint you wish to spray the shutters with to give them a fresh look, and maybe some sandpaper if they are a little worse for wear. After they are sanded and painted, you just hang them up and you are ready to go! You can also make cute monogrammed clothes pins to go with the clipboard like they did in Old Salt Farm.
28. Make A Hanging Rope Shelf
If affixing shelves to the wall isn't an option in your current living situation, try instead this hanging rope shelf by Burkatron. It's not only quick and reasonably priced, but it also won't leave as many holes in your wall as a traditional wall mounted shelf. Just make sure the items you place on this shelf aren't too heavy, otherwise, they may pull the hooks from the wall or cause them to bend.
29. Redo Your Bedroom Door
When someone embarks to redecorate their bedroom, they rarely think of decorating the door. This is why this DIY bedroom project will make your room feel extra special and unique. And the best part is, you will only need some electrical tape and time to create cool designs! In this example by Ipsy DIY, black electrical tape is used on a white door in geometric patterns. But don't feel restricted, this project can easily be done with any color electrical tape you can find!
30. Set Out Adorable Mini Glass Terrariums
These mini glass terrariums featured on Why Don't You Make Me are absolutely adorable, but this certainly isn't a DIY bedroom project for the faint of heart. This project does require some glass cutting and shaping, but once you conquer that, it's smooth sailing from there. The best part of this project is you can use these terrariums for mini cacti or other small plants, but they also make a great decoration on their own without any plants.
31. A Faux Brick Wall
Tired of the same old paint job in your bedroom? Us too, that's why we love this faux brick wall idea featured on Schneidermans blog. You can either create your own brick design using the instructions in the blog, or it is fairly easy to purchase premade brick paneling. After you mount your brick paneling, paint the wall the color of your choosing and enjoy the awesome warehouse loft space vibe you created!
32. Design A Vintage Jewelry Box
These adorable vintage drawers were featured on Wedding Star Blog, but we think they would make the perfect addition to any vintage themed room as a jewelry box! And for those who already have a cute drawer display, this bedroom project is a spectacular way to breathe new life into them. You'll just need the vintage patterned paper of your choice, some glue, and vintage style drawer handles and you are in business!
33. Create A Shopaholic Organizer
Do you love shopping but can't quite bring yourself to get rid of the nice bags things come in? In this project by Le Zoe Musings you can reuse those bags to make a totally awesome organizer for your bedroom! Take your shopping bags and affix them using staples or push pins to a cork board. This will look best if the cork board has a neutral-colored background. In the example, only one size bag was used, but you can get creative and mix and match bags from different stores to keep all your things organized!
34. Redo Your Pendant Lamp
This colorful and unique project by Poppy Talk certainly won't suit every bedroom makeover but it was so cute we just had to include it in this list! It is also super simple to make as you will only need is ping pong balls, string, spray paint, and the lampshade you intend to decorate! Stringing the ping pong balls might take a little patience, but this is definitely an activity that can be completed in a single afternoon.
35. A No Sew Bed Skirt
Can't sew a bed skirt? No problem! With this easy DIY bedroom project by The Tattered Pew, you can create a bed skirt with a drop cloth and a nail gun. Although the instructions mention bleaching the drop cloth to make it white, you could also dye the drop cloth any color you desire. It might even be worth using the instructions for the confetti duvet above and making a painted confetti duvet bed skirt to match!
36. Add A DIY Letter Board
For those who love the idea of having a letter board in your room, but don't like the price, you can effortlessly create your own following these instructions by Jolly and Happy. This bedroom project will most certainly take a few hours to get it looking just right, but once you finish you will be able to display cute messages in your bedroom without having to fork out tons of cash!
37. Put Your Photos In A Rustic Photo Gallery
Whether you have lots of photos you want to display, or maybe one large photo you want to give a rustic divided look to, this bedroom project by The Hamby Home is perfect for you! And best of all, the project can help you recycle those old windows you aren't sure what to do with. This project doesn't have to be rustic either, as you can also paint the window a nice bright color or metallic for a completely different look.
38. Add Space Saving Nesting Tables
These nesting tables by Finding Silver Pennies are a great addition to a small bedroom that struggles with space. You can pull out the tables to use as a desk, a place for your coffee, or even to do your DIY projects, then easily stow them away when you need more space for other activities. Our favorite part of this DIY bedroom project is that these nesting tables can be transformed with a coat of paint whenever you want to redo your room, meaning you can keep them around for a long time even with changing aesthetic tastes.
39. Paint Your Dresser
One way to change the look and feel of your furniture without spending a ton of money on new furniture is by applying a coat of paint. And don't be afraid to get creative. In this example by Camille Styles, the dresser was given a fresh coat of white paint before adding a gold diamond pattern on top. You can also inexpensively spruce up the look of an old dresser by changing out the knobs with something a little more modern, or even some knobs with a rustic vibe, if that is the look you are going for.
40. Make Your Own Laundry Basket
The basket where you put your dirty laundry is often an overlooked part of your bedroom. With this fabulous project by Honestly WTF, you can create your very own laundry basket to match the exact color palate of your room. Just grab a woven basket and paper raffia in the colors you desire and you are ready to go! You will need a pom pom maker if you don't already have one at home, but this is a great tool to invest in, especially for those who plan to do more DIY bedroom projects.
41. Wallpaper Your Closet
It can be difficult to think of a classy way to spruce up your closet. Follow this example by Domino to wallpaper your closet into something new! In the picture, a crazy print is used to accent the room, but if your bedroom already has a lot going on, it might be best to stick to a solid or more simply patterned wallpaper.
42. Create Your Own Wallpaper
So maybe you've decided to embark on the above DIY bedroom project and wallpaper your closet, but you're finding it impossible to pick the perfect wallpaper! Surprisingly, making your own wallpaper isn't all that hard. You can follow this example in Pis Aro Ita to create the perfect wallpaper for your bedroom.
43. Upgrade Your Nightlight
This DIY bedroom project can transform an old simple nightlight into something fancy which can fit any style of décor you want! In this example by Resin Craft Blog, a nightshade is created for the nightlight by using scrapbook paper and resin. The cool thing about this project is that it is highly customizable depending on the scrapbook paper you select. And for rooms that need more light, you can cut sweet shapes in the paper before applying the resin to allow more light to filter through.
44. Store Documents In A DIY Leather Organizer
If you haven't had the chance to work with leather, this project is the perfect opportunity to do so. And when you are finished you will have an awesome organizer to hang about your desk, or in your closet to keep documents organized. In this example by Design Sponge, the organizer is built with three folders, but you can make yours hold more or less just by altering the size of your plank. And don't forget that wood is easily paintable to help this project fit in a more softly styled room.
45. Makeover Your Armoire
Although armoires have become a bit rare when it comes to bedroom décor, they can still be a fun addition to a rustic or farmhouse themed room. If an armoire has a spot in your bedroom, you can make it over to give your room a fresh look. In this project by Paint Me White, the armoire is painted roughly using a pale color paint while letting the black below show through for a more rustic look.
46. An Antique Truck Terrarium
For those who liked the previous terrarium idea but don't have the skills to embark on glass cutting, this terrarium idea by Club Crafted is absolutely adorable and easy to do! You will need to acquire an antique truck, and the succulents you place in it won't be alive, but this will be a stunning piece of décor that you are sure to receive compliments on!
47. Add Cubby Shelves
Some rooms seem to struggle with organization no matter how hard you try to keep things clean! These DIY wooden cubby shelves featured on Lily Ardor are cute while also being extremely useful thanks to canvas bins which are placed on some of the shelves. In the example, these shelves are made for a craft room, but we think that you can easily incorporate them in your bedroom space for increased organization and storage!
48. Words In Disco Letters
This is another take on the light up letters previously mentioned, but is a much easier project for people who don't have hours to devote to a single DIY bedroom idea. For this version, you will still need to have cardboard to make the letters, and the paint of your choosing, but then you will glue gems to the surface for a disco appearance. In this example on Pop Cosmo, they used sequins and pins to create the desired look.
49. A Wine Bottle Vase
This DIY bedroom project is perfect for people who are going for a farmhouse or other rustic type look in their bedroom. Follow the instructions on Shabby Chic to create these amazing wine bottle vases that will be the perfect minimalist addition to your room. These are easy to make, so consider making two and placing one on each side of your headboard for a balanced look.
50. Spice Up Your Candles
Who doesn't keep a candle or two in their bedroom for a romantic evening? Make your next evening of relaxation even better with this DIY lace candle holder project by Spirello. Not only do these candle holders look amazing, but they are so easy to make that you can create one for each and every candle you own! Just keep in mind, these candle holders are flammable, so don't leave the candles in them unattended.
Upgrading and redoing a bedroom can often seem like a daunting task in terms of the time it will take and the money you will spend. But thanks to this list of DIY bedroom projects, you can have the bedroom of your dreams in no time at all, and on a budget you can afford. Just let your friends and family know they may not see you for a while—because you will definitely want to spend plenty of time in your new amazing bedroom you designed!