60 DIY Coffee Table Inspiration For Every Home And Style
The coffee table would have to be one of the most versatile pieces of furniture one could make. It's not just for the living room and it doesn't always have to be rectangular.
You can take it outside on the porch or choose to group several small accent tables together instead of a single piece so you can have more flexibility. Find out more about these ideas and more through the DIY coffee table projects featured below.
DIY Coffee Table – Video Step by Step Tutorial
We've put together a tutorial for your DIY coffee table inspiration to show you just how easy this project can be. To make your own coffee table, you're going to need the following:
Set of 16-inch hairpin legs
3 x edged glue panels – 18 x 48 inches
Table saw
Sander
Face mask
Wood glue
Clamps
Nails
Wood filler
Polycrylic
Step One: Cutting the wood
Cut the pieces of wood on your table saw. Cut one piece on each side to make sure the pieces are of the same width. Adjust the table saw and flip the board to make one final cut to ensure you have straight edges on both sides.
You also want to set up a jig on the table saw to cut at 45-degree angles. What you're basically looking to make here is two wood pieces for the top and bottom side of the table, plus two smaller ones that serve as sides. Make sure to sand the surfaces when you're done.
Step Two: Attaching the wood pieces
You want to use quality wood glue here and apply it on the edges of the wooden pieces, right on the 45-degree cuts. Make sure you put wood glue on both pieces of the miter joint and use clamps to hold all the pieces together.
You can use nails or screws to hold the pieces together, but you need to make sure that they are correctly placed next to one another, creating 90-degree angles. Nails are mostly used as placeholders, as the glue will do most of the bonding.
For the best results, attach the two small sides to a large one, allow the glue to dry, and then come back and attach the second large piece so that you form a rectangle with all the four pieces.
Step Three: Filling the wood
As you remove the nails from the corners of the table, you will need to fill the holes using wood filler. If you notice any miter joint gaps, you can use wood filler on those as well.
Step Four: Sanding the filler
When the wood filler is dry, sand the surface once again. Take a damp rag and use it to remove any sand dust from the top and interior of your coffee table.
Step Five: Applying wood finish
You can choose whether you want to keep the natural color of the wood or if you want to apply some wood stain to give it a different finish. Either way, you have to use a protective finish coat such as Polycrylic.
It usually takes two or three coats of this protective finish and remember to sand the surface between two coats and also after applying the last one.
Step Six: Attaching the legs
Hairpin legs will work really well with this table. Make sure they are all placed in the same spot (at the same distance from the edges) and pre-drill the holes required to insert the screws and mount the legs in place. Enjoy your new DIY coffee table.
What Are the Different Table Styles?
Tables are usually classified based on their type of the decor style they match.
Accent tables – The term "accent table" is a colloquial term that refers to a variety of different table forms, including console, end, or coffee tables.
Coffee tables – A coffee table is typically positioned in front of the couch in a living room or seating area. You can use it to showcase food and beverages, as well as coffee table literature, plants, and other trinkets.
Console tables – Console tables have a narrow and thin design, so you're likely to find them behind the sofa or in hallways and entryways.
C-tables – As the name suggests, a C-table is designed with a unique C shape that allows you to swivel this furniture piece over a couch or a bed.
Side tables – As the name says, a side table goes beside a sofa and is an excellent spot for a light or beverage. They are sometimes referred to as "end tables".
Nesting tables – The nesting table is an excellent choice for a space-constrained home. It's basically an accent table that has two or more pieces which can be stacked one on top of the other.
Drum tables – The drum table is a massive, round table that dates all the way back to the 1700s. Occasionally, it is tall enough to bring up a chair, and occasionally, it features bookshelves or drawers, as well as a tooled leather top. Nowadays, the term is frequently used to refer to a large round table.
Ottomans – In some situations, an ottoman can also double as a table. To turn an ottoman into a table, people usually turn to a tray that creates a leveled surface for people to place their drinks and snacks.
Table Styles
Industrial – Industrial tables, in particular, can be true works of art, with some appearing to be constructed entirely of surviving manufacturing machinery (even if they are merely copies). When thinking of industrial coffee tables, picture exposed metal legs and distressed wood.
Mid-century modern – Apart from the famous tulip table, mid-century modern tables are defined by their honey-stained natural wood and their low profiles, which is frequently engineered plywood. You can get ultra-modern pieces as well as more gently modern and casual things.
Farmhouse – Farmhouse tables frequently serve as both centerpieces and gorgeous works of art in this décor, while antique trunks and dressers sometimes double as accent tables.
Shabby chic – Shabby chic is comparable to farmhouse design but is distinguished by the lighter woods used and frequently by an underlying femininity. Shabby chic tables are frequently refurbished in shades of pastel or white, and are sometimes paired with flea market treasures to impart an air of old world charm. It's quite usual to find shabby chic coffee tables constructed entirely of reclaimed pallets.
Scandinavian – What distinguishes Scandinavian furniture is its practicality. Tables are frequently slim yet elegant, consisting of metal or engineered wood which is stained or painted in relatively light hues.
What Are Most Coffee Tables Made Of?
While there is no exact statistic for this, most coffee tables are made from wood. However, there are other materials that do come close, so if you want to know more about what you can use for a DIY coffee table, check out the list below.
Wood – By far the most frequent coffee table surface, wood is prone to water rings, which is why the majority of people protect it with coasters and trivets.
Metal – Metal coffee tables are a popular choice since they are composed of durable iron, aluminum, steel, or a variety of other alloys. Frequently, this particular type of coffee table is paired with a glass top or a mix of glass and wood.
Glass – Glass is another common material for tops. When purchasing a glass-topped table, keep in mind that spills and water rings will be more evident on the surface, necessitating regular cleaning.
Stone – You can always opt for a marble or stone-topped coffee table for a traditional, majestic appearance. The maintenance required for a stone top varies according to the type of stone.
How to Decorate a Coffee Table
Once you have finished your DIY coffee table, there is also the matter of decorating it properly. When it comes to DIY coffee table decorations, you're pretty limited only by the size of the tabletop and your own imagination. Here are some tips:
Use small sculptures placed on glass or wooden trays.
Place your favorite potted plants.
Decorate with a vase that has natural or artificial flowers.
Adorn your DIY coffee table with interesting table-top lights.
You can't go wrong with a fruit bowl.
Set up a miniature Zen garden.
Use transparent glass bowls with pebbles or semi-precious stones.
Use colorful candles and candle stick holders.
Build a New Coffee Table With These Simple DIY Plans
1. A Pallet Coffee Table
If you're looking to build something for your outdoor deck or patio, consider a pallet coffee table. It's easy to put together and cheap to make. Also, it would look very charming if you decide to keep the time-worn appearance of the wood.
2. A Pallet Table with Hairpin Legs
A pallet table with hairpin legs could look cute in the living room especially if the goal is to create a cozy and casual ambiance. The hairpin legs give it a slender and feminine look and the pallet top can be built to include storage shelves inside.
3. Add a Tile Top to a Coffee Table
You can use a variety of different materials when building a coffee table. For example, you can even give your coffee table a tile top. Use a single large tile if possible to maintain a clean and simple look and a flat surface.
4. A Slim and Stylish Coffee Table with Hairpin Legs
Here's another coffee table with hairpin legs but this time with a more slender and clean look. It has a practical storage shelf for things like magazines, remote controls, phones, and other such items.
5. A Wood Slab Table with Hairpin Legs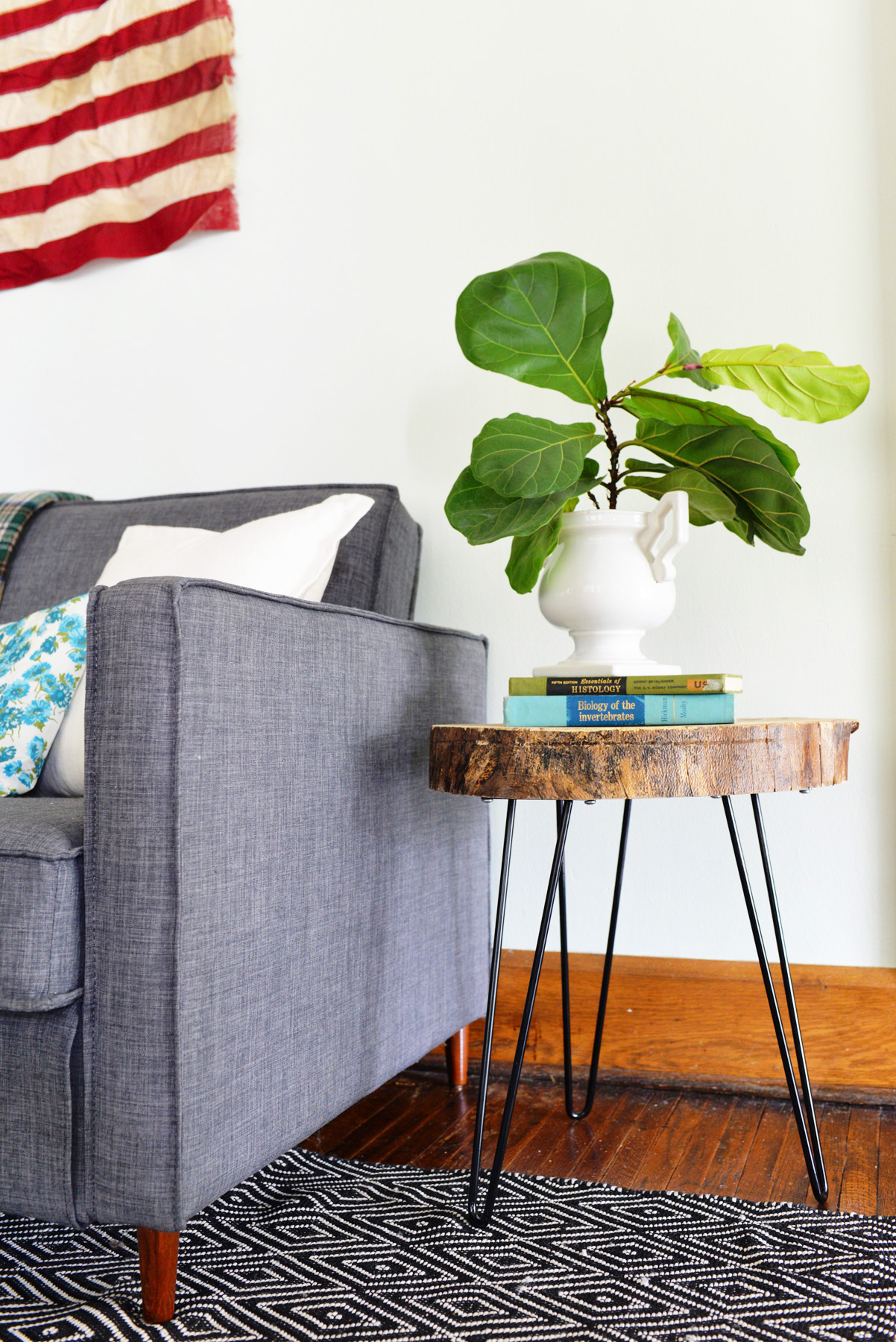 You can also put hairpin legs on a wood slab table and you can turn this into a stylish companion for your living room sofa or that cozy lounge chair in the reading corner. Leave the bark on for more character.
6. Hairpin Leg Side Table
A smaller version of the coffee table can serve as an accent piece in the living room or even as a nightstand in the bedroom. This hairpin leg side table is a great example. This one is not tiny but it's not big either but of course, you can change the proportions as you see fit.
7. Create a Coffee Table Out of Wooden Crates
Put together 4 wooden crates to make a coffee table. It's a very simple project which you can complete within minutes. Also, the crate table actually looks pretty nice and has these neat storage nooks on each side where you can keep books, magazines, and all sorts of things.
8. Use a Solid Live Edge Piece of Wood for the Top of the Table
The trend of coffee tables with hairpin legs continues with this unique piece that features a solid live edge piece of wood as its top. We love the knots and all the imperfections in the wood. They give the table lots of character.
9. Put a Planter in the Center of the Table
If you're looking to give your table a little bit of extra charm, a cool idea could be to carve out a hole at the center and to put a planter inside. You can be sure your new Ikea Lack table will stand out. Use this as an accent piece or even as your main coffee table.
10. Transform a Stool into a Coffee Table
Speaking of Ikea hacks, check out this other cool project from hunker. This started out as an IKEA Alseda stool which is a lovely piece on its own. It got a plywood base and four cute little legs and just like that it became a chic little table.
11. An Outdoor Coffee Table Made From Concrete Pavers
If it's an outdoor coffee table you want to build, consider a more rugged design and maybe using some less common materials as well. This concrete coffee table featured on bybrittanygoldwyn has a top made of three concrete pavers and a wooden frame.
12. DIY Marbled Resin Coffee Table
Want to explore a bit your creative side? How about an artsy coffee table that captures your style in a unique way? One such idea is described in a project from deliciousanddiy. The supplies used include some Agate crystal slices, resin, mod podge, paint in different colors, glitter, wood stain, tape, a drill, wood boards, and a foam paintbrush.
13. A Coffee Table with Resin Inserts
You've probably seen those amazing tables with resin inserts since they've been very popular for quite some time now. Well, you can make your own amazing coffee table using a similar technique. It's all described on instructables.
14. Round Coffee Tables
Round coffee tables are charming in their own special way. They're also not any more difficult to build than rectangular tables. The technique is just a bit different but that always depends on the type of design that you choose. The instructions for this particular table can be found on themerrythought.
15. A Sculptural Coffee Table
We're absolutely in love with this type of sculptural coffee table that truly looks like works of art. A designer piece however costs a fortune. The good news however is that you can make your own table from scratch if you can find a cool-looking piece of driftwood to use as a base. Find out more about this idea on charlestoncrafted.
16. DIY Marble Coffee Table
Give your new coffee table a marble top to make it look elegant and also to make cleaning easy. White Carrera marble always looks amazing and is also quite affordable too, not to mention that marble is timeless so you don't have to worry about your new table going out of style. Check out the details on thestripedhouse.
17. A Square Coffee Table
A blocky coffee table like this one has its charm too. The boxy design allows it to better showcase the beautiful and natural patterns and knots on the wood boards so don't hide the imperfections but rather learn to take advantage of them. You can find this project on diycandy.
18. Create A Sawhorse Coffee Table
Since pallet wood already has that signature vintage look, you can choose to exploit that in your projects. A perfect example of how you can do this is a sawhorse coffee table featured on funkyjunkinteriors. It's such an unusual-looking piece that you can actually place it in a variety of different settings and use it for different purposes, depending on your needs.
19. Spray Paint the Legs of Your Coffee Table
Take a round piece of wood and screw four hairpin legs on its underside….it doesn't really get any simpler than that. You'll have a stylish coffee table in no time and you can choose to customize it if you want to. For example, you could spray paint the legs. You can find the instructions on deliacreates in case you need them.
20. Build A Chalkboard Coffee Table
I sure wish I had a table like this when I was a kid. For some reason writing and drawing with chalk on furniture is oddly satisfying so you might as well embrace the idea. Building a chalkboard coffee table is easy and you can even choose to give an existing table a makeover rather than building something from scratch. It's all on burlapandblue.
21. A Modern and Industrial Coffee Table
This would have to be one of the most unusual DIY coffee table projects we've encountered. It comes from instructables and it has a strong industrial vibe. All that's needed for this table is wire decks, an acrylic sheet for the top, and a bunch of cable ties.
22. Build The Frame Using Metal Pipes
If you like the industrial look another cool idea is to build the frame using metal pipes and fittings. Complement it with a wooden top for a pleasant balance of textures and finishes. You can spray paint the pipes to give them a less rugged appearance or use copper pipes that already look chic. Check out imgur for more details.
23. An All-Wood Coffee Table
An all-wood coffee table is always an option. A trip to your local hardware store will allow you to get all the materials you need, including some ornate details which you might want to include in your design. Check out imgur to find out more about the project.
24. A Concrete Table Top for Your Coffee Table
You know what else you could use to make a unique table top? Concrete. It's more versatile than you think and it will give your new table a solid and sturdy look. Also, it's nice that you can play with various different shapes that you might like. Complement the concrete top with a wooden base and a few metallic accents for a stylish industrial look. Check out imgur for more details.
25. DIY Factory Cart Coffee Table
If not for those cool-looking metal casters this coffee table would actually look pretty conventional. This project from shanty-2-chic proves once again how important the little details are when designing anything.
26. A Crate Storage Coffee Table
Having any kind of storage option built into the coffee table is very convenient, as proven by this cool little project featured on hertoolbelt. The table has these little wooden crates that fit perfect inside its frame and which can be used for storage or even as seats.
27. DIY Balustrade Coffee Table
Part of being creative is finding new uses for certain items and that's something you can definitely take advantage of when making your own coffee table from scratch. A cool idea comes from itsagrandvillelife. This table uses four wooden pillars as supports for its frame and it looks amazing.
28. Sawhorse Coffee Table from Scratch
If you like the look of this sawhorse coffee table, then you should definitely check out the tutorial from rogueengineer. It explains how you too could build something like this from scratch, and you can even use the info to build a dining table that shares the same style if you ever want to.
29. Store a Cute Basket Underneath Your Coffee Table
Even if your coffee table doesn't have any sort of drawers, shelves or secret storage options you can still keep a cute basket underneath if there's room. This little table featured on cherishedbliss shows you how that might look like.
30. Add Geometric Designs And Patterns To Your Coffee Table
Adding a little artistic touch to your DIY coffee table design is not that difficult. Geometric designs and patterns are easy to work with and to incorporate into just about any project. If you need some inspiration, check out this cool table from diyhuntress.
31. A Factory Cart-Style Table
A factory cart-style table like the one featured on addicted2decorating could be nice outdoors on patios or decks, especially if you put casters on it. The rope handles are a chic little touch and really spice up the design.
32. A Cozy Farmhouse-Style Coffee Table
Add a warm and cozy touch to your living room with a farmhouse-style coffee table. This one has the signature X-shape frame design and a handy shelf at the bottom which can hold a crate, a basket, a stack of books or a few decorations. Check it out on shanty-2-chic.
33. A Wooden Coffee Table Made From a Stack of Boards
Isn't it cool how this coffee table looks like a random stack of boards? It definitely has a casual vibe and the design offers lots of opportunities for customization. Check out the tutorial for this table on abeautifulmess and start from there.
34. DIY Round Coffee Table
This round coffee table from shanty-2-chic reminds us of those empty cable spools which by the way you can repurpose into furniture pieces for your outdoor deck or potentially a rustic interior. The symmetrical design is quite interesting.
35. Repurpose An Old Shutter Into A Table
Repurposing an old shutter into a table top is not something many think of which is why we find this coffee table project from farmhousemade so interesting. The shutter basically divides the table top into several sections and that can actually work out pretty well in the end.
36. A Wooden Planter Table
It could also be interesting to have a coffee table that's actually more than just a table. Maybe you'd enjoy a table with a little planter built right into it. Alternatively, you could turn that cut out section into a little cooler for your drinks when you're entertaining. Check out instructables to find out how this is made.
37. A Coffee Table Made From Six Wooden Boxes
Speaking of interesting coffee table designs, we're also excited to share with you this other cool project from instructables. This table is made of six wooden boxes arranged around a metal frame. It has a Minecraft-ish look and it's easily something you can put it in a modern or a contemporary living room.
38. DIY Outdoor Games Table
Why bother with a chess or checker board when you can actually use the table as one? This is actually a very cool idea for an outdoor table or a coffee table that you can put in your game room or even in the living room. It would definitely make a great conversation piece. Check out the instructions on shanty-2-chic.
39. DIY Coffee Table with Additional Storage Compartments
Hidden storage is always cool and this coffee table shows us one way to make it work when you're building your own furniture. The top of the table has hinges which allow the internal storage compartment to be accessed from two sides. They also give the table a distinguished rustic appearance. You can find the tutorial for this on shanty-2-chic.
40. X Leg Wooden Coffee Table
This is a nice look for a dining table but you could potentially adjust the design a bit if you want to apply the same design principles when building your coffee table. We like the storage shelf underneath the top and the solid wood legs. If you feel the same way, check out diymontreal for more info on this project.
41. DIY Live Edge Wood Slab Table
As cool-looking as this coffee table may be, finding live edge wood slab like that is not easy. At the same time, that means each table is unique since there are no two trees exactly alike. The hairpin legs balance out the design and give the table a sleek and lightweight appearance. Check out charlestoncrafted for more details on this.
42. DIY Modern Succulent Outdoor Coffee Table
A DIY coffee table is one of the best ways in which you can customize a sitting area or a living room and that's true for the outdoor areas as well. This table would be perfect for a deck or a patio area. It doubles as a large planter for succulents and has a transparent top which lets you see inside and admire the beautiful greenery. Check out snugglebuguniversity to find out how it was made.
43. An Imperfect Wooden Coffee Table
As mentioned previously, a big wood slice makes a great top for an accent table or in some cases even for a coffee table. What's cool about this design is that each piece of wood is unique and thus each table is equally unusual and special. You can even go as far as to use a wood slice with visible cracks or cuts and other imperfections in order to give your table more character. Find out more about this project on craftifymylove.
44. A Mid-Century DIY Table
This is a mid-century DIY table that was featured on ohohdeco. It looks great as an end table, but with a few small design changes, you could also use the same principles to make yourself a coffee table. It would have to be lower and possibly bigger too. You're going to need plywood panels for the hexagon-shaped sections and wooden dowels or repurposed broom handles which you can paint or stain in any color you want.
45. A Tree Stump Coffee Table
A tree stump coffee table is one of the easiest things you can make. There's barely any work to be one, especially if you decide to go with a natural look. There are of course lots of ways in which you can customize such a table. You can seal it to preserve its original look but you can also paint it, install wheels or casters on it and even combine multiple colors and finishes to create interesting patterns and designs. Another cool idea is to combine several tree stump tables to create a set. Check out twelveonmain for more inspiring ideas.
46. A Plywood and Reclaimed Board Coffee Table
We really like the pattern on the top of this DIY coffee table from uglyducklinghouse. As it turns out, it's not difficult to replicate and you only need a piece of plywood and a bunch of reclaimed boards. The idea is to cut the plywood to the desires size and shape and then to cover it with boards placed on top of it at an angle. After some sanding and staining, everything will fuse together beautifully and you can install the hairpin legs to complete the table.
47. Repurposed Wood Pillar Coffee Table
It's always interesting to see coffee tables made using repurposed materials and that includes a lot more than just pallet boards and reclaimed wood. Take this lovely design for example. Those are wood pillars, the kind usually used on staircases and balustrades. Finding four posts that look like shouldn't be that difficult and once you bring them home you can have them stained or painted to match your style even better. You can find more details about this project on itsagrandvillelife if you're interested.
48. An Outdoor Table Made From A Chicken Crate
Speaking of coffee tables made from repurposed materials, check out this unusual project from chicken crate/ coop, clean it, attach a piece of plywood at the bottom, put some plexiglass on top and install casters if you want to be able to move it around easily.
49. Use an Old Window to Create a Table Top
Another equally interesting and unusual project can be found on martysmusings. This time the table uses an old window as a top. The rest of the table is crated from fence boards which gives the cost of this whole project low. Additionally, this is a lift-top coffee table, since the window top can be lifted up and the space underneath can be accessed and used for storage.
50. Factory Cart-Style Coffee Table
A bunch of old fence boards were used here to make this amazing factory cart-style coffee table. The gray patina and the weathered look of the wood gives this table such a lovely and unique look. Casters were installed on the bottom and rope handles were added to the sides, making it super easy to move this table around. If you like what you see head over to addicted2decorating to find out all the details behind this project.
51. A Coffee Table with Plenty of Storage Space for Games and Books
Having a coffee table with some sort of integrated storage is always useful and that's something you can take care of yourself if you're building your own table from scratch. It doesn't need to be a complicated project. This table for example has a side panel that folds down to reveal a hidden storage area inside. You could easily build something similar. Follow this tutorial on youtube and you'll be done in no time.
52. A DIY Coffee Table With Open Storage
This DIY table has some built-in storage too. It's not a hidden compartment but rather a very open space which gives the table a desk-like appearance. The mid-century modern design suits it beautifully and also makes this project super easy. The entire table was made from a single sheet of plywood. Check out the tutorial on youtube to find out more about it.
53. A Stylish Metal-Based Coffee Table
Metal-based coffee tables are very stylish and look lightweight, sleek and elegant while also being very simple. There are numerous ways in which you can craft one for yourself and there's one tutorial on youtube that stands out. It shows how you can build this table without any welding. The secret is square aluminum tubing. It's easy to cut and you can push square wooden dowels inside them to make them stronger and sturdier.
54. A Smart Coffee Table with a Secret Compartment
There's one area we haven't explored yet: smart coffee tables. The term is pretty abstract and can refer to a lot of different features. In this particular case we're talking about a motorized coffee table with a built-in pop-up outlet, a secret compartment and also a projector. On top of it all, the design is really cool is stylish. Be sure to check out the complete tutorial on youtube if you want to make this table yourself.
55. A Large Round Wooden Coffee Table
If you like the idea of adding a large wooden coffee table to your living room, you'll love this DIY project from Liz Marie Blog. It creates a rustic feel thanks to the color and texture of the wood. This large table offers a very sturdy solution for your home and will be ideal for placing drinks and snacks on during a party. When you aren't entertaining guests, use it to stack books or other ornaments that you enjoy displaying in your living room.
56. A Distressed Coffee Table with Storage
For anyone who has children with lots of toys, you'll love this distressed coffee table from Rogue Engineer. It has a huge storage space hidden within the table, which is ideal for hiding toys, LEGO, or books. It has a unique white and wood rustic design that will really stand out in any room while also keeping the space much tidier. We love how this idea suggests creating one drawer for the adults and one for the kids, offering everyone their own storage space in your new furniture creation.
57. A White Stained Circular Coffee Table
Many of the DIY projects on our list today just use plain wood in their design. This white wood table from Charleston Crafted will really stand out in your home thanks to its white tabletop. You'll find that white stained tables can fit in almost any color of room, making them a modern yet timeless solution for your living room. This is a really simple project that creates a stunning piece of furniture for your home. We love the geometric base that makes the perfect place to store a stack of magazines or a basket, as shown in this photo.
58. Pink Washed Plywood Coffee Table
Another lovely color that will work in almost any room in your home is pale pink. Fall for DIY shows us how to make this pretty pink plywood table that is stained with a light pastel color for a hint of pink. It's a really large and versatile table, so it could even be used as a temporary desk for your home. If you have a big office, this would also make a great coffee table to place in there and would be ideal for sitting on a sofa behind to host meetings.
59. A Thick Wood DIY Coffee Table
A thick wood coffee table is the perfect solution for anyone who is looking to add a substantial piece of furniture to their home. This industrial coffee table from Handmade Haven is ideal for a large living space and offers plenty of space to rest your glasses and ornaments on. Underneath the table, you'll find plenty of space to store books and magazines, and it will be able to handle a good amount of weight due to its sturdy design.
60. A Coffee Table for Gamers
For anyone who has a gaming fanatic in their home, you'll love this fun idea from Instructables. This retro arcade table would make a great addition to any living room or games room but also offers enough space for your coffee mug or plates. It's a really sturdy table which can be spray painted in any color you like to fit your décor, but we think the black design looks sleek and stylish. It's a great project for an intermediate or advanced DIYer and makes one of the most versatile tables on our list today.
DIY Coffee Table – Conclusion
Which one of these sixty ideas are you most excited to try out first? All of these DIY coffee table plans will make a great project for a rainy weekend and will completely transform your living room.
You'll create a new centerpiece for your room while also improving your DIY skills in the meantime. Whichever one of these DIY coffee tables you create this year, we hope you have fun during the process while also creating a stunning piece of furniture for your home.
FAQ
How Tall Should a Coffee Table Be?
A coffee table is a multipurpose piece of furniture that can be used as a service station, an eating surface, a storage area for books and other items, and even as a footrest. Thus, with coffee tables ranging in height from 12 to 24 inches, it can be challenging to determine which one is ideal for your objectives.
Coffee table height should ideally allow you to effortlessly rest objects on the surface while seated. Adding to the difficulty of selecting the ideal coffee table is the need to account for its length, as well as the position and size of the room's seating.