Latest in Home Decor and Design at IDS Toronto
The International Design Show Toronto 2016 was a lively showcase of products, designs and ideas with a Canadian flavor. Dominated by bathrooms, kitchen and flooring, the show also included a wide variety of independent creators who presented a beautiful range of home furnishings and accessories.
Because many Canadian designers are known for their wood products, they had a strong showing at IDS.  From small specialty artisans to Ontario Wood's group exhibit, the material was plentiful in lighting, furnishings and accessories.
Wood Anchor presented a beautiful hand-hewn slab table and amazing wood chandelier. The company is a full custom fabrication shop/design-build studio specializing in hand built wood furniture, wood furnishings, and wood art. It uses reclaimed and locally harvested lumber from sources that include old timbers from historical buildings, trees cut down by the City of Winnipeg due to Dutch Elm Disease (DED), and other species of trees cut down due to development or farmland.
It's not often you run across a woman in woodworking, but in the Studio North/Prototype section of IDS, we happened upon Megan Tilston, of Merganzer furniture and design.  Her interest in woodworking was sparked by her grandfather and she know works for Merganzer, which creates beautiful pieces like this table from the Wave series. Wilson has a background in graphic design and "takes a thoughtful approach in crafting playful and sculptural furniture that sparks the imagination," according to her bio.
Another lived wood piece was this console from Many Squares. This very different product is made of hundreds of squares mounted on a flexible panel that can be installed flat or bend around curved shapes.
While furniture was not the bulk of the show's offerings, there were indeed plenty of amazing chairs.  From handcrafted wood models to retro upholstered pieces and those fashioned from reclaimed materials, chairs were everywhere!
Also in the Studio North & Prototype section, we found these unique and shiny pieces that are a far cry from anything recycled. Designer Dean Jackson developed his Aeropod series as "unique pieces that serve a function and stimulate conversation." It is a rare edition of only 49 special cabinets, each customized for storage such as wine, watches, tobacco, jewelry or martinis.
While bathroom and kitchen fixtures abounded, these designs from DXV by American Standard were hands down the most interesting. DXV is the high-end, cutting edge line from the fixture company.  Created using a 3-D printer, DXV's three prototype designs are like concept cars — expensive and limited edition.
What's most intriguing is that there is no large water main running through the fixture: The water flows through the thin spiral of the fixture.  As designer Regina Sturrock explained, it's a revolutionary design of how water is delivered through an innovative fixture.
Concrete as a design material is still very popular. From thin concrete skins that can be applied to walls like sheetrock, to concrete fire pits, fireplaces and furniture, designers presented many options.
One of the newest materials is this carbon fiber material that is encased in a composite, innovated by Designs by DT. The fiber is highly drapeable, can conform to virtually any shape and is highly durable.  Designer Mike Ip uses the fiber to serve as the base for desks, shelving and tables.
Pantone have already released it's colors of the year, but UK-based Farrow & Ball released their new colors for 2016 at the show, displayed on deer heads.  The company, known as craftsmen of paint and paper, also showed their new wall coverings.  While the 80's may have given wallpaper a bad name thanks to cringeworthy designs and cheesy borders, today's wallpaper is more about texture and artisanship. Farrow and Ball's papers are printed with their own paints, which makes matching and coordinating a breeze.
IDS 2016 had plenty of lighting options to see — from hand-crafted wooden versions to shiny, modern lighting fixtures. Either way, today's lighting makes use of LED technology as well as the new designs where the bulb is an artistic component, not an eyesore to be hidden under a shade.
Floor coverings were generously presented and some of the most interesting rugs were from Jan Kath, noted as one of the world's most in-demand creators of hand-knotted carpets. Kath takes traditional rug designs and adds a new dimension, with precisely planned bright colors or an explosion of lines masking parts of the design. Kath creates his design so that "he purposely breaks with  conventional styles and  throws strict design rules overboard," says his website.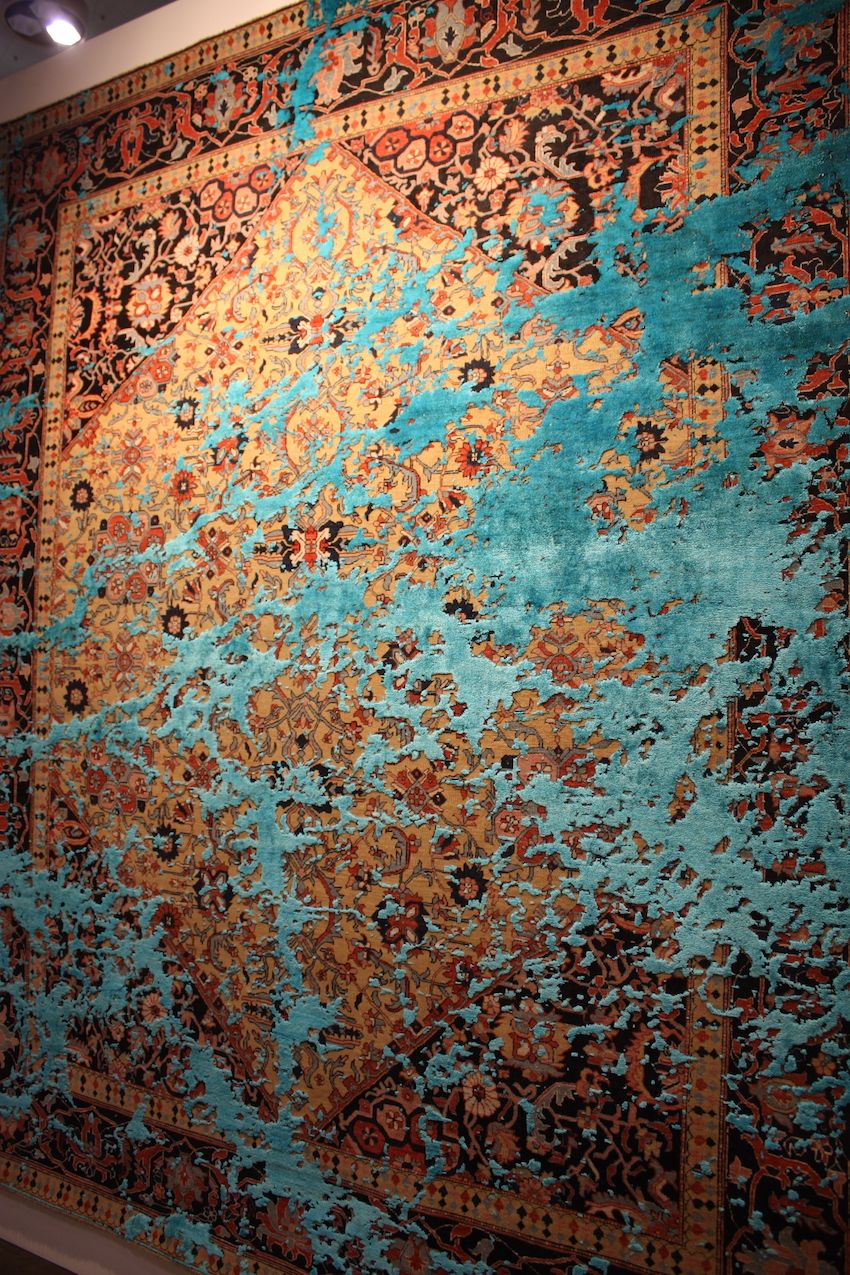 Wide plank floors were one of the trends identified during some of the presentations at IDS. While the popular grays of last year are still selling well, natural colors and parquetry designs are very hot.
Modify Furniture is another really interesting studio that was included in the Studio North & Prototype area of the show.  It is a design/build furniture studio based in Bridgeport, Connecticut that was founded by former pediatrician Marci Klein. Her "small studio with big ideas" creates these functional and colorful credenzas with customized utility trays, which are also included in the desk.  Many features are customizable, including the artwork on the front.  From graffiti works to your own children's art, anything can be featured on the metal doors.
Customization was the key word when it came to images for your walls or accessories.  More than just wallpaper, the products we saw were digitally printed and stunning.  From realistic wood to images of your choice, your imagination is truly the only limit here.
Grafiti images from around the world adorn light fixtures by Art2Lights. Gathered by two friends who traveled together, the images are colorful and truly cool.  The company can produce a custom light fixture for you with an image that you provide — think of the possibilities!
Hand crafted, retro modern, rustic chic or 3-D printed — it was all there at IDS Toronto 2016.  Keep an eye on Homedit.com for features on the trends, products and designers who exhibited at the show.