30 Cool Shower Designs That Will Leave You Craving For More
There's no shortage of ideas for shower designs to fit your bathroom space. Here, we will review 30 shower designs, many of them walk in shower ideas that offer relaxing and luxurious comfort.
And although bathroom spaces are smaller than living rooms, they offer opportunities for you to tap into your creative skills. By exploring luxury walk in shower ideas, you can develop your bathroom space design skills.
If you want your master bath to have a beautiful shower to complement your master bedroom, you'll need to see beyond the functional bathroom aspect of the shower. The key here is finding a relaxing walk in shower concept for your bathroom space where you can enjoy shaving and bathing in comfort. If you think marble will do the trick, then make sure you do it right.
History Of The Modern Shower
The first shower was patented in 1767 by William Feetham, a London stove maker. And in 1810, the hot shower appeared, but it wouldn't be until the next century that walk-in shower ideas began to emerge.
It wasn't until the 20s that bathroom showers began to enter US households. Until then, most people had a tub as showers were an upper-class privilege. The modern shower wasn't always so black and white, and the idea of tile or marble had yet to find its way in residential construction until the late 50s.
Modern Shower Designs
There are many types of shower designs and walk-in shower ideas. The most common are electric, mixer, power, and digital showers.
Electric showers are versatile and ideal for when you need a quick shower. They save electricity but require strong water pressure.
A mixer shower relies on an existing hot water source. It mixes hot and cold water together before it's sent to your shower.
If you have low water pressure or prefer to shower in the morning, a power shower is for you. This is a mix between an electric and mixer shower but may use more water than other types.
Today, digital showers are the latest to emerge. Their unique features allow you to save water and adjust temperatures.
Difference Between Digital Shower And Electric Shower Designs
The differences are almost black and white and easy to understand.
Electric showers work by running cold water over a separate and sealed heating element.
Digital showers draw water from separate hot and cold connections, leading to a digital mixing processor before being pumped to the shower head.
What Are The Advantages Of A Digital Shower?
You can set ideal temperatures for multiple users. They give you mega-precise temperature control. They have eco-friendly settings such as proximity sensors that reduce flow when you step away to shampoo your hair.
Their unique control system allows you to control your water temperatures. With a quick press of a button, you can enjoy an ideal shower every day.
Best Bathroom Shower Designs
Before you give your shower a sleek look or redesign the room where you bath, you need to know what you want. Do you like marble? What kind of walk-in shower experience do you wish to create? Do you want something relaxing or is beauty the goal? Do you want a black and white look or a colorful tile option? Or maybe marble instead of tile is your thing? Or black and white tile? You won't know until you've explored your options and reviewed the available data.
Bathroom Tile For Your Large Walk In Shower
Instead of marble, when you choose tile, it will impact how long your tiles will last and how often you'll need to clean them. Porcelain tile is popular for shower walls, walk-in showers, and even shower bench.
Ceramic tile is good for walk-in showers. They create a warm and inviting look for your master bath. If you want a back wall or white subway design then see if ceramic tile is possible. For a more beautiful and sleek appearance, go for marble tile. Keep in mind marble is more expensive, but for an elegant white bathroom design, they would be ideal.
Mosaic tile looks good with natural light features and tall glass doors. The tile comes in a wide range of colorful shades. The tile adds texture and can bring your walls, floor, and ceiling to life. Tiles can be fun to work with.
Outdoor walk-in shower ideas are something to consider for your bathroom. Many people enjoy immersing themselves in nature with an outdoor shower experience. Limestone, slate, and pebble tile deliver added style in natural light settings. Natural tiles last longer and look nicer.
Shower Door Options
Your shower's door just as important. Glass doors are popular but not necessary for some walk in showers. One option would be plastic doors. Plastic and glass can be clear or frosted, depending on your needs and the style of the room. If you have a marble layout, you won't need to worry about doors.
After you've chosen a door, think about your shower's door design. This will depend on your bathroom and the location of the shower.
After you decide between sliding or hinged doors, determine if you have enough space to open and close your shower's door. Measure your shower's space before buying anything to ensure you don't have problems later.
30 Walk In Shower Ideas That Will Blow Your Mind
1. Horizontal Shower
A marble horizontal shower offers a different kind of beauty altogether. The luxurious shower lets you achieve total relaxation, while reliving stress and tension in your muscles. It may even be better than soaking in a marble tub.
2. Outdoor Walk In Shower
Wouldn't it be great to have a walk in shower that was outside? Well, now you can. This walk in shower features double glass doors that serve as windows. Complete with wood flooring instead of tile, this walk in offers a compact and efficient showering experience. You could add tiles on the wall or floor if you wanted to accent the area.
3. Massage Jet Sprays
Vertical showers are luxurious and relaxing. Water jets spay and massage your body. All you need to do is walk in, close the glass door, and let hot steam cover your body.
4. Modern Open Walk In Shower
Cool walk-in shower designs are stunning. Glass panels serve as the ideal walls that can complete its glass shower door design. This one gives an image of falling rain. You can find this awesome idea at fancy.
5. Compact Shower With Glass Walls
Here's a compact shower that's not part of the bathroom but integrated into the open layout. The ceiling shower head, granite, and glass walls form a nice design.
6. Color Changing Shower Tiles
Temperature-sensitive glass tiles will change color according to the temperature of the water. They may look plain and simple at first but once the water gets hot and steam rises, you'll see how cool they can be. (bookofjoe).
7. Minimalist Shower Design
This modern walk in shower features a stylish and futuristic design. The beauty of this design is the circular glass capsule. The bathroom design is a combination of shape, transparency, and location. Here's the white subway look that you've always dreamed of having.
8. Spa Walk In Shower
A long and narrow bathroom is not a disadvantage. Just look how cool this shower is. And the combination of materials and finishes and exquisite as well. The space feels very relaxing, just like a spa.
9. Multiple Heads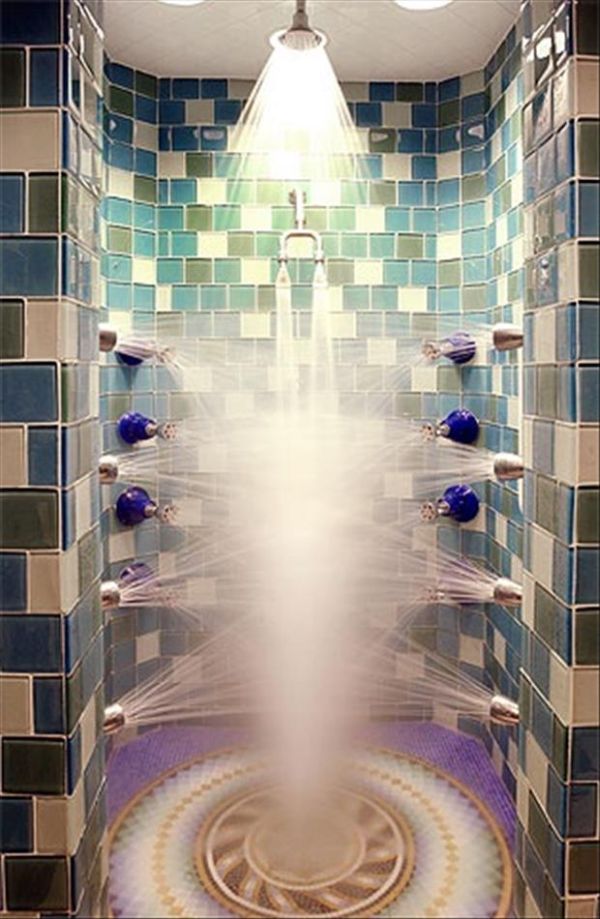 And here's another great idea that proves you don't need too much space to make the most of simple experiences. Multiple heads can be installed at different heights for maximum efficiency and relaxation. You also don't have to worry about a glass door.
10. Add Accessories
And here's yet another small but stunning walk in shower idea. It's all about planning the design and investing in the right accessories to get the best shower experience you can afford. Go with a black and white vibe if you feel like it.
11. Light Enhancements
Light enhances the bathing experience. Certain shower nozzles are sensitive to temperature and change colors, but you can create an ambiance using accent lighting and gorgeous tile work.
12. Stone And Wood
The materials you use are also important. Use stone and wood if you want your bathroom space to look relaxing. You can even make it look like a sort of hidden cave.
13. Stone Bench Tropical Shower
Cover the walls with stone to make a nice bench environment. Glass walls and doors allow more light to enter your bathroom. Once the steam rises you'll be transported into another dimension. You could also add non-stick flooring which would make is safer to walk.
14. Wood Log Frame
Frame the shower with wooden logs. Instead of a tile wall, this one uses glass and wood support beams. They can enhance the whole décor. The stone floor also helps with the whole rustic look in this case. This is a room you would want to rest in, and with non-slippery flooring, you can create the ultimate natural space.
15. Zen Shower Plants
This would have to be one of the most Zen showers ever. The mirrored panel on the ceiling resembles a skylight and reflects the décor. Today, shower plants are all the rage and can have a relaxing effect on your mood. If you have plants in your shower design, you'll need to put them next to a window. Also, install flooring or tile that can handle plant soil. Whatever you decide, white tile would not be a good idea. You want the room to be healthy and offer a bath experience that's clean and safe.
16. Glass-Encased Walk In Shower
This glass-encased walk in shower takes center stage in this master bedroom suite. It's an element that divides and connects different areas at the same time. The porcelain floor can get slippery, so add a cool bathroom rug for safety.
17. Ceiling LED Strips
LED strips installed on the ceiling enhance the shower experience and make the design stand out by highlighting key elements in the room. All walk in shower ideas need cool lighting.
18. Minimalist Walk In Shower With LED Lighting
LED lighting also accentuates the elegance of the room and minimalist shower. The transparent glass walls allow the rest of the room to feel unobstructed and airy and the turquoise accents look great in the gray context. The floor and wall are a sign of high-taste. Out of all the walk in shower ideas, this one is at a level by itself.
19. Stunning Outdoor Shower
A stunning outdoor shower can be designed with a tub featuring an organic shape, sculptural stones all around it, and a pebble floor. Who wants a tub when you could have this?
20. Minimalist Shower Design
A minimalist design can have a dramatic impact with the right elements and accents. This shower impresses with its stature, shape, and exquisite palette. This one comes with a small soaking tub and a dark concrete floor.
21. Outdoor Garden Walk-In
This shower cubicle is outside and doesn't have a protective wall. . A glass shower wall separates it from the courtyard and garden. It's an interesting idea, but for some, privacy can be an issue.
22. Quick And Easy Outdoor Shower Designs
If you like summer rains, then you'll love this one. It's perfect for the garden. The Viteo outdoor shower is compact and only takes a few minutes to assemble.
23. Refreshing Outdoor Oasis
Transform your outdoor space into a refreshing oasis. The combination of stone and greenery is a tropical shower to dream about.
24. Circular Outdoor Shower
Speaking of outdoors, one striking feature is how it shoots water from every direction with circular shower jets. If you need a focal point for your poolside area, patio, or garden, look no further.
25. Pocket Shower That Fits in the Palm of Your Hand
If you're stuck in a place that doesn't have a shower, you should be prepared. This pocket shower fits in the palm of your hand. Fill it with water, hang it from a tree and enjoy.
26. Beautiful Tile Shower
Those looking for simple yet stylish walk in shower ideas can look no further than this makeover from Unexpected Elegance. The shower walls and floor tiles are neutral gray and look great in any small bathroom space. Among walk in showers, this might offer the easiest in shower experience. You could also go with white tile, but that would require more cleaning. Light color tiles require more maintenance.
The shower doesn't require much floor or wall space. If you want to customize your bathroom by giving it a modern makeover, you can do so without spending a fortune.
27. Sliding Glass Shower Doors
Noting Grace shares this shower makeover that focuses on adding sliding glass doors. You won't have to worry about making room for open hinged doors.
Glass doors offer privacy when showering and create a modern and stylish aesthetic for your bathroom. Plus, this makeover won't break the bank. The modern touches make this bathroom a space one that everyone can enjoy. Not every makeover has to be marble.
28. Shower On A Bus
Many families are opting to live in smaller space, and one of these types of living quarters was shared on Insider. However, this school bus conversion came with a few issues for the tall father who couldn't fit in their shower.
The room was made taller after they removed the ceiling which allowed more natural sunlight to enter. After all, a skylight window offers a better in shower experience.
29. Multi-Function Shower Head
One key feature of any bathroom is the in shower water head. If you want to elevate your in shower experience, consider this multi-function head from Wayfair. It has a swivel and pivot feature, allowing you to find the ideal angle when taking a shower. It also leaves room to customize your shower experience by adjusting the water flow.
Finally, another key feature is the built-in massage jet. This can help to soothe weary muscles and help you feel healthier and less achy.
If you are looking to improve your bathroom experience but can't afford a marble makeover, this idea offers a quick upgrade.
30. Rainfall Walk In Shower Designs
When you think about rainfall shower heads, you think that they need to be attached to your ceiling. While this is one option, it can often involve a lot of work. For a faster solution, consider this wall-mounted rainfall shower from Wayfair.
A modern and stylish shower head with the benefits of a rain shower. It has a modern and stylish design that helps you control water, so you save time and money.
Frequently Asked Questions (FAQ)
FAQ
Are Two Shower Heads Better Than One?
Like anything that we've already discussed, it depends on your walk in shower ideas. Sometimes people will install multiple heads for show purposes. Others like them because they provide more steam and deliver a better quality shower experience.
When you create a new bathroom, see what you can learn from audience insights first. The beauty of any walk in shower will be up to you. One head functions like an assistant editor who works on paid commissions.
What Is A Shower Enclosure?
A shower enclosure is a watertight structure with enclosing walls, a draining floor, a door or open access way. Its floor isn't slippery and each wall protects from moisture.
How Long To Wait To Shower After Painting Bathroom?
According to market research and relevant data, the average is three days. However, it depends on the size of the bathroom, paint, and window ventilation.
What Is A Luxury Shower?
Luxury showers do not have a barrier between the bathroom tub and shower floor. Instead, there will be a slight slant that leads water to a drain and not pool on the bathroom floor.
A curb-less shower looks great with tile floors and adds a striking feature to your shower's decor and bathroom design.
What Is A Walk In Shower?
Walk-in showers are designed without curbs or have low curbs to step over so you can walk in the shower just like entering a room. Those with mobility issues enjoy the ease that walk-in showers provide. Walk-in showers without doors are easier to clean and give bathrooms an airy, spacious look. Also, a walk in shower is less maintenance than a soaking tub.
What Is The Standard Size For Shower Designs?
According to ADA accessibility requirements and market research data, the standard shower size is 36 x 36 inches.
The International Residential Code sets the minimum shower size at 30 x 30 inches.
Can You Paint Bathroom Shower Tile?
Yes, you can paint walk in shower tiles. Keep in mind that it won't last forever. As you wait for three days for the paint to dry, you can enjoy soaking in a tub. Of course, you can't go with a white subway look if you have tile.
Shower Designs Conclusion
Now that you're familiar with multiple walk-in shower designs, put your creative skills to work.
With the many sleek shower designs available, it can daunting when upgrading your bathroom layout. Remember, measure your bathroom space.
The ceiling, floors, and the entire area of the bathroom will need to be measured. to create the best in-shower experience.
If you want traditional tile or marble, get ready to spend. If you want to add. a window, watch out for unique ticks that could cause problems down the road.
The goal is to design an in-shower experience you can look forward to every morning or night. There is nothing stopping you from taking your walk-in shower ideas to the next level.