Designers Embrace Whimsical Home Decorating Ideas
From big beaded mushrooms to giant sharks and seating that looks like it came out of a gym, today's modern designers are creating fanciful, playful pieces that spark creative home decorating ideas for every room of your home. Never has there been a better time to indulge your personal style in home decor with new levels of whimsy.
Design Miami/ in December 2015 was the U.S. debut of the Afreaks collection by the Texas-born Haas Brothers. The twins collaborated with a South African group of female artists who are beading experts. While the women were already creating beaded objects and animals through their Monkeybiz company, they have started calling themselves the Haas Sisters, thanks to their wildly successful collaboration.
In the same vein, artist Katie Stout created an entire room of whimsy that any child would love to inhabit.  The young Brooklyn-based artist creates items like stuffed chairs, tables from paper pulp and rugs with three-dimensional eyeballs.  This room has everything from hand-painted wallpaper to furry bedposts and a seriously overstuffed braided rug. Even if you chose not to go full-on fantastical, Stout's creation provides plenty of home decorating ideas for a teenage bedroom.
Mushrooms also bring a fun design concept to lighting.  These lamps from the Pierre Marie Giraud Studio and are functional as well as playful. Belgian artist Jos Devrient created these interesting pieces.
Secondome of Rome  is a design platform that focuses on worldwide emerging designers and innovative projects. The studio's exhibit at Design Miami/ features Body Building by Milan-based Italian design duo Alberto Biagetti and Laura Baldassari.  The show "explores the idea of the body, its potential and the discipline of perfection…The Body Building "antigym" consists of unique pieces made of precious materials and exquisite details, executed with the incomparable precision synonymous of the excellence of Italy's hand-made tradition," says the gallery's description.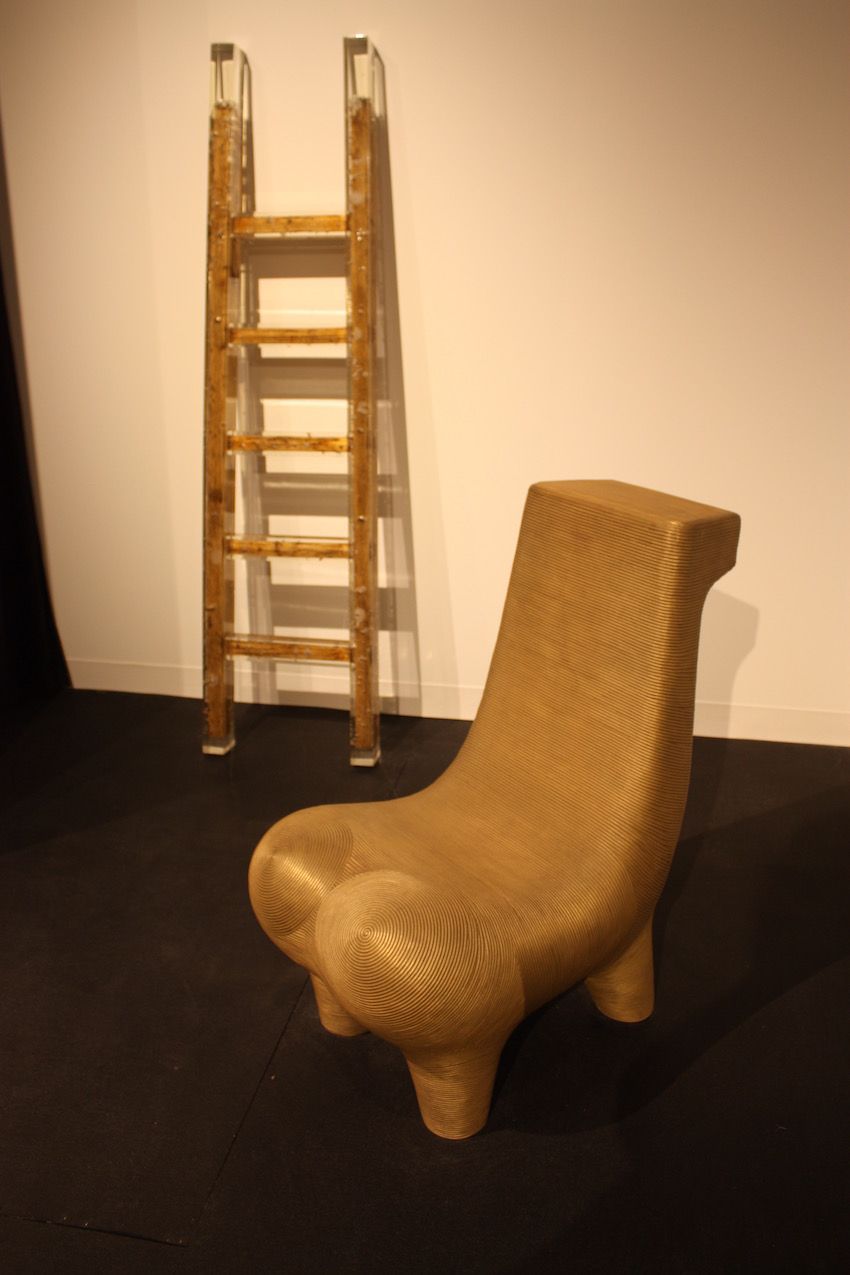 Created by Porky Hefer, the hanging chair Fiona Blackfish is just plain awesome. Hefer has been called one of South Africa's most awarded creative people. During a 16-year career in advertising, he has worked with big brands like American Express, Nike, Coca-Cola and Durex. Hefer currently works as Porky Hefer Design creating unusual pieces that are exceptional home decor ideas.
At first glance, this looks like a wooden vessel, but it's actually a trompe l'oeil piece made of ceramic by Eric Serritella. This masterpiece of clay is one of many Serritella has created, several of which have been added to some of the world's most important modern and contemporary art collections over the past three years, according to Jason Jacques Inc.
Like little garden fairies, these Moss People by Kim Simonsson are playful and mischievous at the same time.  Either as garden culture or as modern home decor ideas, the nylon-covered figurines evoke a dark side as well.
Seomi International, is a South Korean Gallery that has "introduced contemporary design that captures the values of Korea's naturalistic aesthetics and artisanship."  Most of their pieces look to have been created with a touch whimsy, if not an outright goal of being unusual.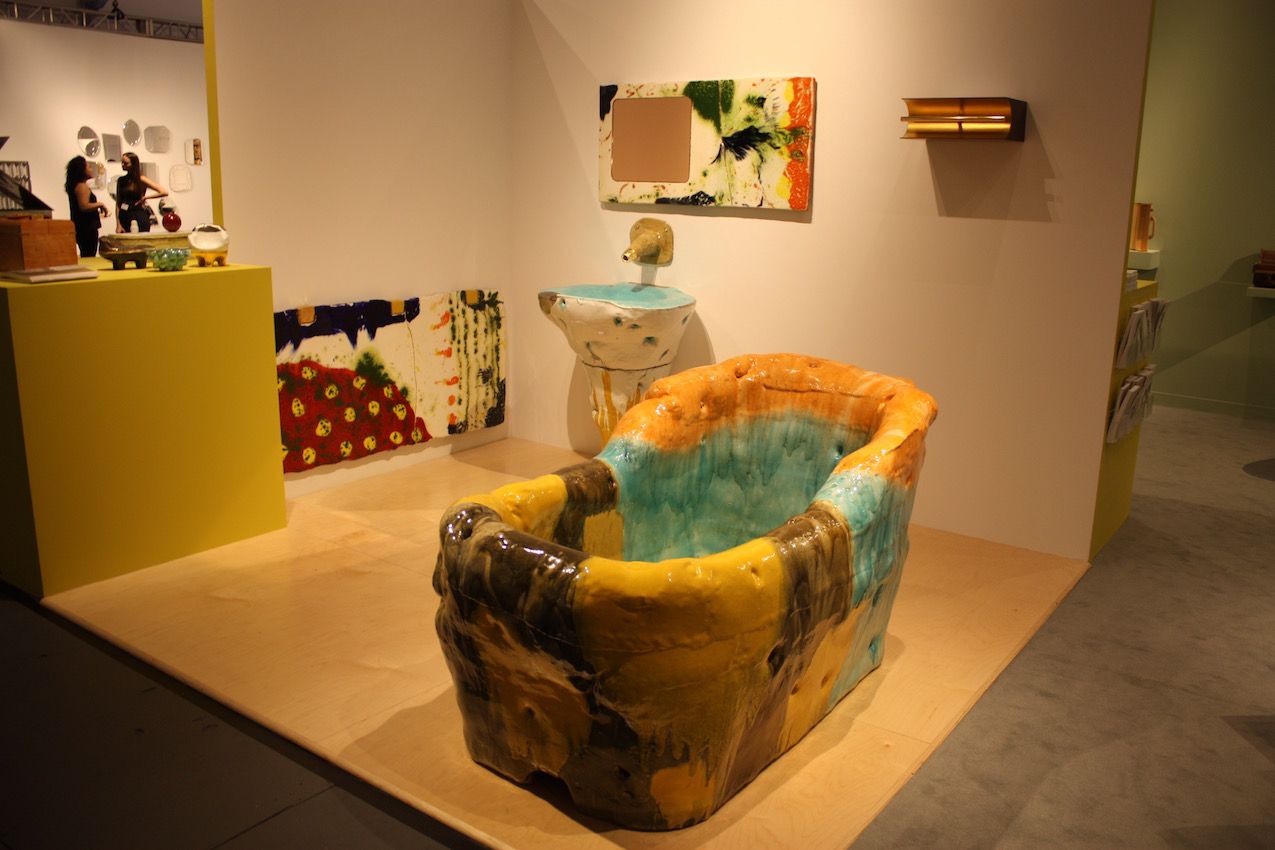 This bathroom is nothing if not whimsical. Designer Lee Hun Chung creates these ceramic pieces by hand and fires them in a hand-built kiln, using glazes developed in the 15th century.  According to Artsy, he "thinks of his ceramics as 'three-dimensional landscape painting,' imbued with the colors of his native Korea." If the entire bathroom is too much for you, using one of the pieces would be a creative home decorating idea.
Jeff Zimmerman, master glass artist, "belongs to a group of daring contemporary artists who employ the ancient material as a means of expression rather than an end in itself," reports Zimmerman's biography. His objects and lighting fixtures are all whimsical, whether they are practical or not.
We'd call this shelving with a twist!  More art than function, this piece from the Sara Myerscough Gallery is by Irish designer Joseph Walsh. Walsh writes: "In the Enignum series of work, I have stripped wood into thin layers, manipulating and reconstructing them into free form compositions. I then shape through these layers to reveal not only the honesty of the structure but the sculpted form which is a unique collaboration of man and material. The title derives from the Latin words Enigma ('mystery') and Lignum ('wood'), for me they sum up the series: the mystery of the composition lies in the material."  (Joseph Walsh)
Rub-a-dub-dub, a boat for a tub. How much fun is this freestanding boat-shaped bathtub from Galerie Kreo in Paris?
This piece brings new meaning to the term love seat.  The Patrick Derom Gallery presents this awesome sofa made to look like lips.
Either as a stool or a small table, Erin Sullivan's sculptural furniture features realistic features of organic subjects. She uses the lost wax method, often used by jewelers, to create her striking pieces.  Many stools are fun pieces, but this one is realistic as well as quirky.  We adore the feet!
Clare Graham's Pop Top side chair, from 2000 is an attention getter. We've seen lots of examples of up cycling, but this is a very artistic — and functional — creation made with found materials. Upcycled materials plus imagination can yield distinctive and different home decorating ideas.
Whimsical pieces have long been a part of home decor ideas, but never has there been more variety.  The main luxury of having your own space is the ability to express your own style through furnishings and decor, and that includes as much whimsy as you want.