How to Decorate a Master Bedroom – 50 Beautiful Decoration Ideas
The master bedroom is an important space in the home, although it often is the room that's last to be decorated. Even decorating kids' bedrooms often takes priority. Why is this?
Maybe because few people ever see the master bedroom, and we want to spend our decorating energy on the spaces that can be appreciated by the most people.
However, it is this very trait of exclusivity and privacy that make the master bedroom a valuable room to decorate. It's a rejuvenating space, a retreat, and an intimate getaway from the world.
Here are some ideas for how to decorate a master bedroom that you'll want to spend time in.
50 Beautiful On-trend and Timeless Decoration Ideas
Add plant life.
A bedroom should be a retreat, a place for rest and rejuvenation. Few things embody rejuvenation like a healthy plant. It adds color, pattern, texture, and an organic flow of positive chi in and around your bedroom.
Consider the Rule of Threes.
While there are exceptions to this rule, as there are for all rules of decorating, it is a good rule of thumb when you're trying to decorate a bedroom: Group pieces into threes, or at least into odd-numbered units. There is an inherent sense of balance and satisfaction that comes when that third component joins the other two.
Have an easily accessible night light.
This can be almost anything, from a ceiling-hung pendant to a wall sconce to a simple tabletop lamp. But a night light makes a bedroom truly relaxing – leave it on for someone else, use it for your own reading or work, or simply use it to add stylistic height to your nightstand area.
Get creative with your headboard.
There are many lovely traditional headboards…but there are many equally lovely Untraditional headboards. Have a piece of fabric, a blanket, or a woven that is significant and meaningful to you? Use it as a headboard! Use low profile curtain rods to mount it behind your bed for a totally customized headboard.
Mimic, but not necessarily match, nightstands.
Some people are more comfortable with matching sets, and that's completely fine when it comes to nightstands. But another way to approach nightstands is to choose two pieces that have something in common – color, context, or overall shape, for example – but aren't exactly the same. It's a good idea to keep them relatively equal in size and proportion.
Let your ceiling stand out.
Of course, retrofitting a tray ceiling into your existing bedroom may be completely expensive and a pain, if not downright impossible. But if you are looking to design your bedroom in a new construction, consider incorporating a tray ceiling for elegance and dimension. Paint it a shade slightly deeper, or a tint slightly lighter, than the rest of your walls and ceiling.
Place a flat surface at the foot of your bed.
In this soothing bedroom of soft neutrals, a burgundy ottoman bench at the foot of the bed serves as a grounding force visually as well as a completely useful place to sit or throw clothes. Temporarily, of course.
Involve a mirror.
Mirrors are great for bouncing light around in a room, helping it to feel brighter and more spacious. They also serve a very useful purpose in the bedroom – they provide a place for one final check before leaving the room to face the world.
Embrace symmetry.
When possible, symmetry is a very restful and relaxing aesthetic because of its structure and order and predictability. Far from boring, however, symmetry infuses a sense of proper balance and elegance into the bedroom.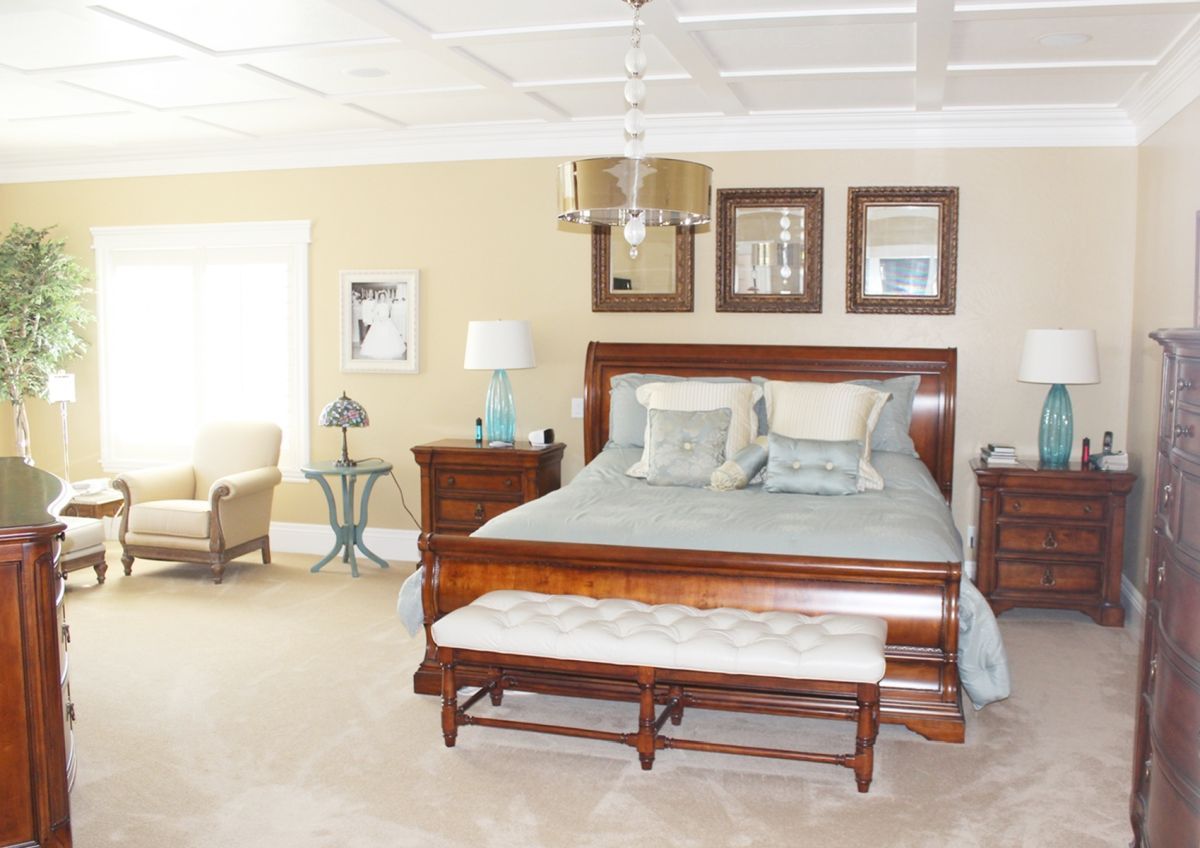 Symmetry could manifest itself in something as simple as matching nightstands and bedside lamps. Even when the master bedroom layout itself is anything but symmetric, symmetry surrounding the bed fools the eye into feeling the balance of symmetrical design.
Use plenty of pillows.
You probably don't want to have to move a million pillows to the side every night before bed, but a healthy stack of soft and squishy pillows helps a bedroom feel inviting and touchable.
A stack like this makes you want to flop down and rest for a while. When all the pillows are in the same color family, they weave together seamlessly.
Related: The 10 Best Memory Foam Mattress Toppers Let You Wake Up Refreshed and Pain-Free
Center artwork over the headboard.
In some cases, you can even avoid a headboard altogether and simply use artwork as the visual headboard of your master sleigh bed. But to create a greater headboard presence, should you desire it, consider finding some large artwork that fills the horizontal headboard distance, center, and mount it.
Incorporate a lounge area.
Of course, not all master bedrooms are spacious enough to create an actual sitting area, but if yours has the space, use it! A comfortable chair or two and a table will be an inviting space to sit and relax and talk or read after a long day.
Even in a smaller master bedroom, this concept is a good one – a single chair tucked away in a cozy corner will have a similar soothing effect.
Use interesting lighting.
With the variety of table lamps on the market today, finding the perfect one for your master bedroom has never been easier…or more challenging. If your bedroom is more on the serene, neutral, monochromatic side of design, consider choosing a table lamp that has an interesting lamp shade or a slightly deeper tint or hue to mix things up.
Balance white walls with color.
One way to decorate a bedroom with white walls is to provide warmth and comfort via color infused into the space elsewhere. A sweet turquoise four poster bed in this guest bedroom, for example, makes one feel instantly at home.
Keep a portion of the nightstand clear.
Whether it is a master, a guest, or a child's bedroom, it's important to keep at least a portion of the nightstand free and clear of décor. This allows the sleeper a convenient place to put a drink of water, a book, a phone or tablet, eyeglasses, hair elastics, or any number of last-minute set-downs.
Even the smallest of master bedrooms needs some sort of horizontal surface next to the bed. You may need to get creative in what this actually looks like in a small space, but it will be worth it.
Make the walls interesting.
Of course, a lovely paint color will go a long way in creating the special ambiance of a beautiful bedroom, but you can even take the wall décor a step further and add custom trim or design work onto the wall itself. This takes even a small bedroom into its own memorable deign sphere.
Hang window treatments to the floor.
The look is chic and put-together, not to mention luxurious. When it makes sense, have your drapes hang from ceiling to floor to make the room feel taller and, consequently, more spacious.
Use neutral colors.
A soft neutral color scheme tends to create a soft neutral aura, which is a restful environment for anyone entering a bedroom. It is recommended that you incorporate a few pieces with darker tones to ground the space, however, and keep it from floating away altogether.
Hang artwork off-center.
Not all artwork should be centered. If you are trying to create a framing effect, for example, such as you might be doing around the bed, it's a good idea to hang artwork on the outer edges of the "frame" you're trying to create. Be sure to align the outer edges of any pieces of such a frame; in this case, the outer nightstand edge lines up beautifully and restfully with the outside edge of the frame.
Lean some pieces.
In a more traditional or perhaps more formal bedroom, it might be a good idea to give the space a little bit of an approachable, fresh air by casually leaning some stuff against the walls. This says that the room is open for being lived in.
Frame a 3-D object.
One clever way to decorate a bedroom is to find a frame that you love, in the style and scope that makes sense for the bedroom itself, and then remove everything except the frame itself. Then find a beloved 3-D object, in this case a bowl/plate, mount it to the wall, and "frame" it.
Maximize corners.
Every bedroom will probably have its fair share of corners. Rather than allowing these corners to turn into an amoebic discarded clothes pile, provide them with intentional aims. A dresser, for example, gives a bedroom corner a distinct purpose; the decorated top of the dresser provides it with some warmth and style.
Let the bed be the star.
If your master bedroom is tiny, you might be tempted to downsize your bed to make space for other "necessary" components of a bedroom's furnishings. Don't do it! Even in the tightest of quarters, a bed that is unapologetic, bold, and comfortably inviting is going to set the whole room at ease.
Hang artwork.
Sometimes, the last place that we decorate is the master bedroom. But this private getaway is probably in greater need for beautiful, rejuvenating décor than any other space in the house. Make space for beautiful things, whether that means furniture or wall art or anything in between.
A sweet dresser-top vignette maintains a soft color palette of the space but infuses it with plenty of style and charm.
Vary pillow texture.
While the prints are relatively simple, the textural variability of these bed throw pillows is comforting and inviting. Faux fur pillows of any length are a very on-trend piece of décor right now.
Install stylish hardware.
Closet doors don't need to keep their builder-grade doorknobs to be functional. In fact, you will love your master bedroom so much more when you personalize the small things. Glass knobs are so much more alluring, you may find yourself opening your closet doors for no reason at all.
Repeat colors and shapes.
While you don't want the master bedroom to look or feel boring, it's a solid decorating method to repeat varied aspects throughout the room. For example, the subtle striped look of the white duvet cover mirrors the original bathroom door. Blues are varied but connect the room as a whole.
Wall-mount musical instruments.
If music is your jam, or even if you play an instrument or two, you might consider mounting the instrument(s) to a tucked-away corner wall in the master bedroom. This serves two purposes – it is both decorative, and it keeps the instruments safe from curious little hands.
Hang just one curtain.
Not every window needs two curtains. In this small space, two floor-length drapes on a 10-1/2 foot ceiling might feel quite heavy. A single curtain provides elegance and privacy without feeling like too much. Also, as a deeper tone of the wall color, it maintains a feeling of connection to the rest of the space, which is important for any single decorating component.
Keep the original.
If your master bedroom has charming original pieces, such as this chippy door that has survived more than 100 years of home ownership, keep them! This particular door has been rehung as a barn door, giving it a fresh, contemporary look with plenty of authentically historical charm.
Use few pillows.
While some people love the sumptuousness of a mass of pillows on the master bed, others prefer the simpler appeal of a couple of well-chosen pillows…and nothing more. This latter preference is more minimalist and certainly makes preparing for bed and then making the bed in the morning a faster and more straightforward task.
Go green.
Green is a very restful, organic color and makes a perfect surround for the grounded master bedroom. Consider combining green with other earthy colors, textures, and elements for a soothing space.
Dust horizontal surfaces.
It goes without saying that a clean master bedroom is a more beautiful master bedroom. Nightstands are notorious dust collectors, often because items get set down and sometimes aren't moved again for ages. If you feel like your master needs a decorating overhaul, start by cleaning it. You might be surprised at the kind of freshness and space that results.
Make a canopy for your bed
Canopy beds have a distinctive and charming look and there are many different styles and variations that you can choose from, including going the DIY route and making your own canopy for the existing bed. You can make something super simple out of metal pipes and fittings and hang sheet curtains for an airy look. Check out onekingslane for details.
Put messages on the pillows
A really cool way to personalize your bedroom is with accent pillows and on that note making custom pillowcases is an awesome idea. You can use iron-on letters to add cute messages to your pillows like quotes, lyrics and so on. It's not difficult or very expensive and you can use existing pillowcases for this project. More details can be found on ajoyfulriot.
Hang a green garland
Garlands are not just for festive occasions like Christmas or Halloween. They can also be everyday decorations. If you go with a simple and neutral design that makes use of some greenery like eucalyptus branches for instance you can make something super stylish and bohemian. You can use twine to connect all the branches and to hang the garland up on the wall. Fresh eucalyptus looks beautiful but if you want this to be a more permanent decoration you can use faux greenery instead. Head over to averystreetdesign to see how the garland is made.
Give the bedside table a makeover
Furniture makeover can definitely become quite detailed and complicated but this one doesn't have to go in that direction. This project is featured on gabyburger and shows how you can use contact paper to quickly and easily transform a bedside table. The white marble contact paper looks exquisite and was used here to cover up the top of the nightstand.
Dye a pillowcase
Pillows are great decorations for the bedroom and what makes them stand out is usually the case. If you want to try something different, a cool idea could be to dye your pillowcases, whether it's an existing one or that you make specifically for this occasion. This really cool design is made using an indigo dye kit and lots of wooden clothespins both with and without hinges. Those with a hinge create the dots and the other ones create the horizontal lines. The tutorial for this can be found on abeautifulmess.
Hang a curtain divider
Separating the sleeping area from the rest of the room can be a nice idea, especially if you also have a desk or a lounge area in the bedroom. However, solid dividers can make the room feel too small. Something light and breezy like a lace curtain can be the perfect option. You can make a lovely wooden beam to hang it from and to hide the rod. You can find more detail about this design on lovegrowswild.
Make a decorative headboard
If there's no space or no real need for an actual headboard in your bedroom, you can still have one in a different form. A decorative headboard that's basically just some hanging wall art could look cool here. This is something made out of a wooden branch and a bunch of paper flowers. The flowers are hanging from string and the branch is suspended on hooks. More details about this project can be found on amandapuleo.
Make an actual headboard
Of course, if you want a headboard that looks nice but also serves a functional purpose then something a bit more solid would be great. This is a design idea from themerrythought which is grat for twin beds. It's nice and simple and it doesn't cover up the wall behind it. To make it you need a pine board, a bunch of dowels and dowel pins, wood glue and a few tools.
A shiplap accent wall
This is a really cool way to add more depth to the bedroom and at the same time to create a shelf that you can use as a space to store and display a few things like picture frames, books and so on. This vertical board accent wall design from themerrythought is simple and well-balanced. It also serves as a support structure for the lamps, freeing up space on the bedside tables.
Craft a freestanding clothing rack
Something like this can be useful in a tiny bedroom where there's no space for a big wardrobe or a closet. At the same time, you can still have a closet and this rack as an extra accessory, something separate that keeps your everyday outfits. This is easy to make out of wood dowels and PVC side elbows. Connect them with glue and reinforce them with screws. If you want to check out the tutorial, head over to themerrythought.
Make a 3D accent wall
There are many different ways to make accent walls. The most common option is to use paint. You can do that and also add a 3D effect to the design using wood trim. Create a geometric design which can be symmetrical, simple, complex or that mimics a particular look. This lovely accent wall from themerrythought has these beautiful lines that look like mountain peaks just behind the headboard.
A stylish tray for breakfast in bed
Breakfast in bed is always great but it can be even better with a stylish tray that you made yourself. You can either build it from scratch out of wood or plywood or you can revamp your existing one. Use marble contact paper to cover up all the sides and for a chic accent touch add two golden metal handles. This idea is inspired by the beautiful setup featured on lavaca.squarespace.
Wallpaper the walls
Installing wallpaper on a wall is a really nice and simple way to change the décor and ambiance in a bedroom. Peel and stick wallpaper is very convenient and very easy to use without the need for extra supplies and equipment. Also, it's easy to take out without leaving residue on the wall in case you want to change the design in the future. Check out this idea and more on sarahhearts.
Revamp an old mirror
This is a really cool idea for using an old mirror as a decoration. Rather than making it look super modern, this makeover strategy aims to give it an antique look. That's done with antique gold rub'n'buff and a brush and the project also requires a bunch more supplies like muriatic acid, gold spray paint, a paint stripper and a plastic putty knife. The instructions can be found on blesserhouse.
Frame some plants
Adding some greenery to the room can look lovely but rather than putting some flowers in a vase you can go a different route and frame some pressed plants. Make the frames yourself out of wood and glass and follow the tutorial from remodelaholic to make sure they have the right design and configuration.
We hope you have been inspired by some of these tips on how to decorate a bedroom and, even more, that you are able to move forward in creating a bedroom of restful and beautiful space.