101 Headboard Ideas That Will Redefine Your Bedroom Space
Headboard ideas should be taken seriously. As a furniture decor item, a headboard is a commitment. A headboard is more of a relationship than a mere household decor item. When you think about it in that context, it's the only decor item you sleep with at home.
Although headboards are optional, when you have one, you feel secure when you sleep in your bed. There are many headboard designs and styles, which makes choosing the right one a bit challenging. However, when you find a headboard that's right for you and your bedroom, you'll realize the search was worth it.
We didn't want leave anything out, which explains our all-encompassing list of headboards. Once you get going, you'll understand why it would have been wrong to make a standard Top 10 list. That would have been a disservice to the art of the headboard.
So, buckle up and prepare for a journey through the world of headboard designs. When it's over, you'll have enough knowledge to make a decision on which headboard is right for you.
Best Headboard Ideas For 2022
We thought it would help if we showed you various headboard styles and what makes them unique. We'll also provide you with extra information on the materials used to make headboards.
Wingback Headboard Ideas
Winged headboards are upholstered headboards featuring two "wings" on the upper left and right hand corners of the headboard and wrap around the top corners of the bed. Wingback headboards come in many varieties and styles.
Among bedroom decor, it doesn't get more traditional than a wingback headboard. You can use soft colors or go with a bold color.
The arched wingback headboard adds an extra layer of flair to the bedroom's design.
Rockport Gray provides the backdrop for this dark velvet wingback headboard.
Tufted Wingback Headboard Ideas

A tufted wingback headboard can match the color of your walls, or use the headboard as a color accent.
Curved Wingback Tufted Headboard
A curved wingback headboard is ideal for a small room. The tall headboard makes the room look bigger.
Tall Tufted Wingback Headboard
This example illustrates how a tall tufted wingback headboard with foam padding can be an attention grabbing bedroom decor item. The headboard is a statement and focal point of the room.
Simple yet elegant. This wingback headboards makes them classic decor pieces. A wingback headboard is a good fit for a small room.
Tufted Headboard Ideas
Not to be confused with wingback headboards, tufted headboards are similar but without wings on either side.
The tufted style is san attention grabbing decor element. When you choose a bold color, it's a good idea if your room features other similiar bold colors.
Velvet Headboard
Large Tufted Headboard
A tall headboard can be the focal point of your bedroom.
Headboards offer vintage appeal. They're popular in both traditional and modern bedrooms.
Bold Color Headboard
Chic Headboard Idea
A headboard allows you to be as stylish as you want. It might be the most versatile home decor item on the market today.
The tufted headboard is popular as it combines comfort with style. It's elegant and has a nice and cozy look, perfect for your bedroom.
Standard Wingback Headboard
Reclaimed Wood Headboard Ideas
Wood Pallet Headboard Ideas
Wood Headboard With Lights
Wooden pallets are popular because they add warmth to the room thanks to the material's natural qualities. A wooden pallet can be made from reclaimed pieces if you want to add character to the design or to preserve the story behind the material or it can be made from pallets, efficient and very cheap. Such headboards can add a rustic or vintage touch to the room and they're also great for contemporary decors.
DIY Headboard Ideas
If it offers support for your bed, then it can be a headboard.
Old Books
If you prefer a more unusual type of design for your headboard, you could try using unconventional materials. For example, maybe you have a bunch of old books you no longer need. You can stack them and create a complex structure to use as a headboard. Of course, it would be simply decorative. You could also opt for a large bookcase or you can attach open books to a wooden board.
DIY Headboard Wall Design
In most cases, the headboard is nothing more than just a purely decorative element. This eliminates its functional side and only leaves the visual impact. As a result, you could try painting your headboard onto the wall. It will simply be an illusion of having a headboard without wasting space with a real one.
Headboard Illustration Ideas
In the following examples, you'll discover that you don't need an actual headboard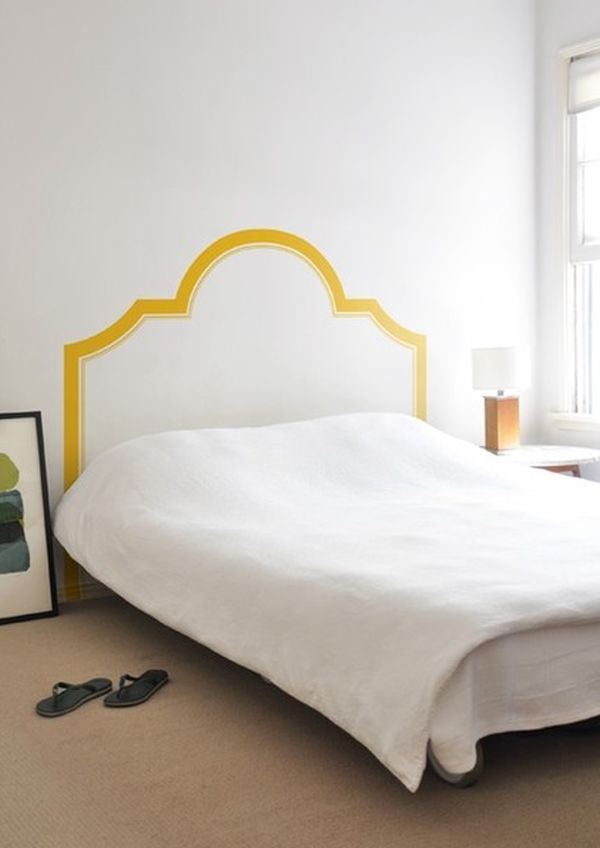 A similar idea would be to opt for a decal instead. You simply adhere it to the wall and there's your headboard. It's the image that counts in this case and not any of the other features that come with an actual headboard. When you choose a decal you can also think out of the box and opt for a more unusual design.
Chalkboard headboards.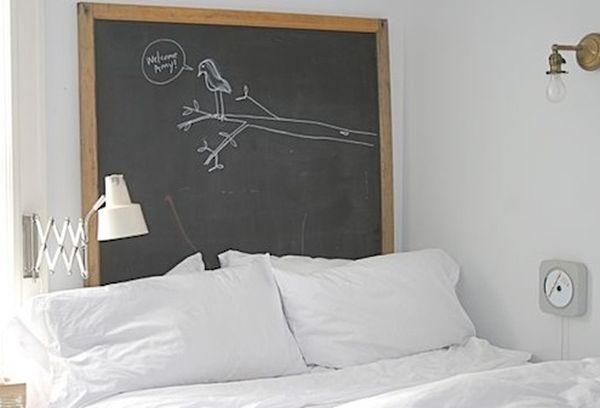 Chalkboard headboards can be very fun because they allow you to personalize them as you want. You get to write funny or inspirational messages on them or you can paint all sorts of designs on them. They can be a very nice choice for the children's room. Instead of an actual headboard you could also just apply a few coats of chalkboard paint to the wall.
Mirror Headboard Ideas
Mirror headboards are very interesting. They can be very fancy and they add elegance to the room, not to mention that they can make the room seem more spacious. In addition, they give you the possibility to choose a very interesting frame. Of course, I don't even have to tell you how fun they can be for couples in their private time.
Old Door Headboard Ideas
We we said you could use anything for a headboard, we weren't joking. The following headboards are old doors that have been repurposed and turned into headboards.
Rustic Headboard Ideas
Pick a door style that matches your own. For example a barn door can look interesting
A door headboard is simple enough to blend in and quirky enough to stand out
.
We now return to the DIY projects. If you want to add a vintage touch to your bedroom or you prefer recycled elements instead of new ones, a very nice idea would be to use your old doors as a headboard. Depending on the type of door, you could have a rustic, modern, elegant or colorful headboard.
Painted Geometric Headboard Ideas
Contemporary Headboard Ideas
Geometric designs can also be featured by classical headboards.
Modern and contemporary headboards, just like any other elements designed in these styles, often focus on clean, straight lines and geometric patterns. You could opt for a headboard that features an abstract design or for something simple. You can also use color to make them stand out.
Modern Art Headboards
In the case of a bedroom that needs a focal point you could forget about the traditional headboard designs and go instead with something a little more artistic. You could paint the wall or you could choose a headboard that beautifully combines art with comfort and functionality.
DIY Headboards
In this set, well look at how national flags make for ideal headboards.
Union Jack Headboard
Amerian Flag Heaedboard
Lone Star State Headboard
Don't mess with Texas, especailly when it comes to DIY headboards. Who wouldn't fell safe with this headboard?
US Flag Headboard
If you're the patriotic type or if you simply like a certain flag, not necessarily that of your country, then you can use the flag as your headboard. Flag carry a lot of symbolism so the visual impact will be strong. You can use an actual flag and attach it to the wall or to the headboard or you could paint it on a wooden board.
Curtain Headboard Ideas
Instead of a headboard you can opt for curtains. This is a good idea especially if you also have curtains for your windows. Then you can use the same type or something similar.
The curtains will add a nice intimate feel and they will also add coziness to the room with their texture. This is also a nice opportunity to personalize the headboard.
Freestanding Headboard Ideas
Single Bed Headboards
Wooden Headboard
The headboard is a very important element for any bedroom but if you want to emphasize its importance or if you want it to look more dramatic, you can opt for a tall design. Tall headboards can be very impressive and sumptuous.
Frequently Asked Questions (FAQ)
FAQ
What Is The Purpose Of A Headboard?
A headboard supports your bed while protecting your bedroom wall against potential damage. As a form of bed support, it helps prevent your mattress and bed springs from warping. Overall, it's a stylish decor item that can enliven a bedroom space.
Does A Headboard Help You Sleep?
Adding a headboard to a bed frame provides stability for your bed. A headboard minimizes movement while ensuring a steady base so you can sleep comfortably. A headboard and rails will provide even more stability for an even better night's sleep.
What Kind Of Foam Do You Use For A Headboard?
We recommend replacing old, worn-out headboard foam with a Soft-Medium density polyurethane foam depending on the thickness required. Headboard made out of Polyurethane foam is the most durable and is considered as the best foam for headboard should you spend a lot of time sitting up in bed.
What Is A Strutted Headboard?
Strutted headboards have two reinforced struts that attach the headboard securely to a divan base. This attachment is invisible when the bed is pushed against a wall.
What Are Beds Without Headboards Called?
A simple bed frame is basic. It comes with legs to hold up support beams and it does not come with a headboard and footboard.
Headboard Ideas Conclusion
If you're looking for a DIY project then consider a new headboard for your bed. An elegant headboard is a wonderful way to add character to your bedroom.
Headboards come in soft colors or bold, and it's up to you to decide what your own design. A DIY headboard would be an inexpensive way to invigorate your bedrooms pace.
If you want to replace your old headboard, a wooden headboard isn't difficult to make. All you need is a few pieces of sturdy wood, fabric, and a staple gun.