DIY Crafts For Adults That Help You Rediscover Your Creativity and Passion
Crafting is one of the most satisfying things to do in life and it has nothing to do with age or any other aspects. It's simply a great feeling to build something from scratch or to find a clever new use for an old item. Kids are encouraged to do a lot of crafting in order to develop their dexterity, creativity and other skills. As adults, we sometimes forget how great that is so here are a few DIY ideas and projects that should revive your appetite for crafting.
Some of the coolest and easiest DIY projects make use of very basic items and resources like plastic bottles for example. This concrete candle holder is one of them. The bottle is used as a mold for the candle holder which you can fairly easy remove once the concrete is nice and dry. Different types of bottles give the candle holder a different shape and look so enjoy exploring all the possibilities. Check out this tutorial on diys.
Take one of your top favorite photos and print it on canvas, then make a nice frame for it and display it in your home. It's a pretty simple project that you can do on a weekend or whenever you have a bit of spare time. To make this framed photo canvas you won't need much: wood trim, a small saw, some wood glue, a bit of tape, polyurethane finish and a brush plus a nail gun (or a small hammer and some nails, that would work too).
Tired of losing all of your hair clips or just having them all scattered around the house? Perhaps it's finally time you did something about it. The first solution that comes to mind is to just get a small container and dedicate it to this. Of course, we love putting a custom spin on everything so here's an idea of how you can make a concrete container from scratch. It's simple and stylish and you can make the mold for it out of cardboard. Check out diys for more details.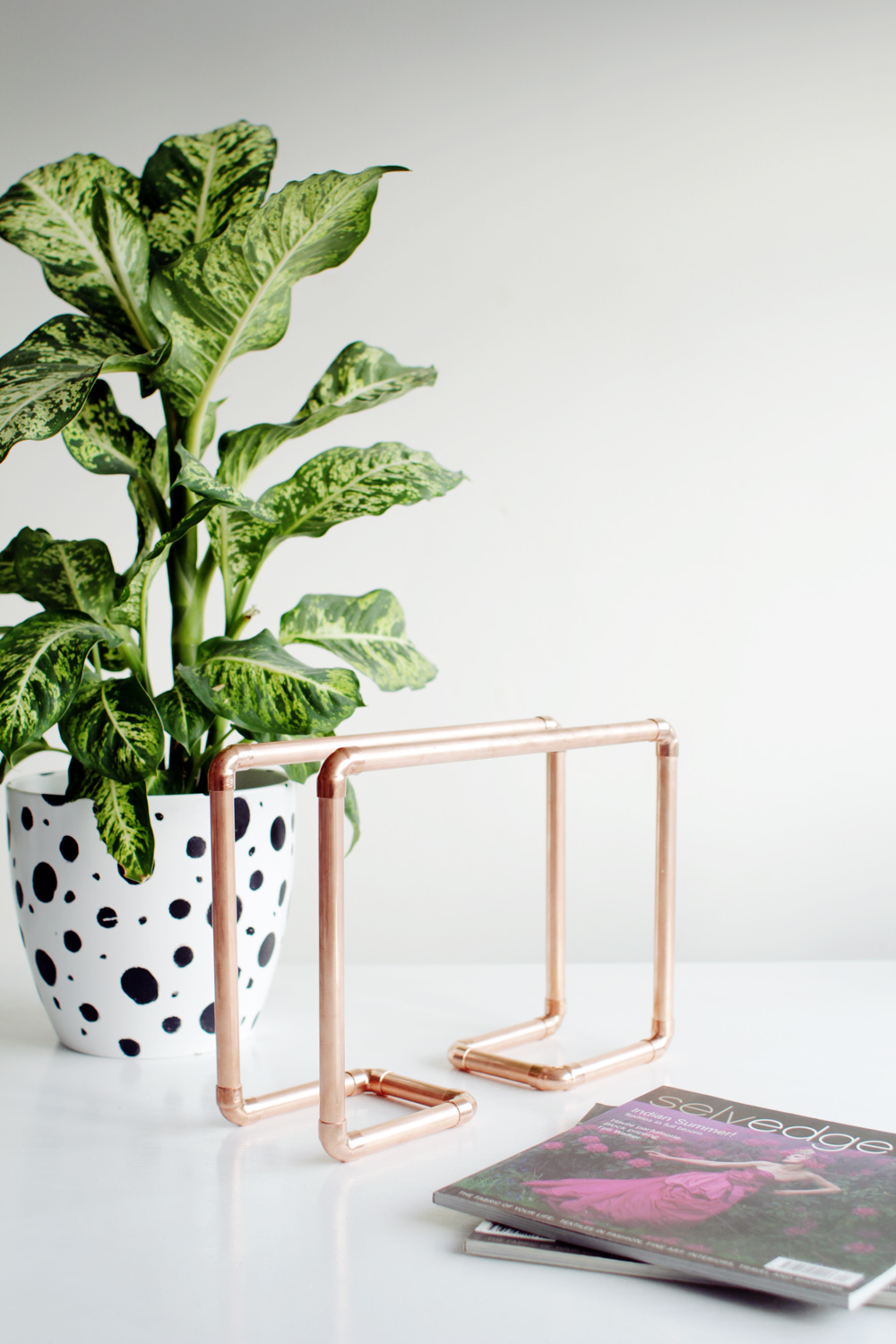 You can also keep your home organized by making a magazine rack. That way you'd have a special place to keep all of your magazines and catalogues and they won't take up space on the coffee table and the sofa all the time. You can make a really chic one out of copper pipes and connectors. Working with these supplies is actually a lot of fun and a lot easier than you might think. Keep in mind that you'll need a pipe cutter and some strong adhesive for this project.
It's quite annoying to have the doors in your home randomly close whenever there's a draft or not staying all the way open when you need them to. As always, there's a simple solution for that: door stoppers. They're not hard to come by and there's a fairly varied selection in stores but why buy them when you can make them yourself from scratch and feel a lot of satisfaction for it? Check out this lovely concrete door stopper from diys and imagine all the beautiful ways in which you can customize and personalize it.
There's also plenty of cool crafts you can do for special events. For example, make a concrete advent candle holder to celebrate Christmas and the days leading up to it. You'll need quite a few molds for all the individual candle holders and plenty of concrete mixes as well so make sure you have enough resources before you start the project. Once the concrete is dry and you remove the molds, you can go ahead and decorate each individual piece. Check out diys for ideas.
Making furniture is not out of the question either. Of course, this is a bit of a larger scale project which requires you to use a few tools like a saw and a drill and safety is important. This coffee table design however is really simple which makes it a great project for a beginner DIYer. Building the base is the first step and you can use balusters as legs to make things easier. For the top you can repurpose a large slate floor tile which will give your table a modern look.
A framed chalkboard is a nice decoration to have around the house. You can use it as a display item and you can write cute messages on it to welcome our guests with if you decide to put it in the entryway. You could also keep it in your kitchen and write down notes, recipes, lists and so on on it. The kids could use a little chalkboard as well in their study room or bedroom. With that in mind, you better get started with this project. Here's what you're going to need: a thin piece of wood, a frame, spray paint, chalkboard paint, a brush, super glue, a saw and some sandpaper.
A lot of people use standing desks these days to maintain a healthier lifestyle and to avoid sitting down too much while they're working. Standing desks can be really expensive which is why we thought you might prefer making one from scratch instead. You can use metal pipes and connectors for the base and a piece of wood for the top. Decide what the best height for the standing desk would be and make it so. If you leave the components bare your desk will look industrial but that can be changed with paint and stain if you really want to.
Here's another nice idea of how you can make a magazine holder from scratch. This time it's a design that involves wood and a very simple shape. This x-shaped magazine holder can also be used for a couple of books and other reading materials and is nice and compact so it can fit in rooms of all sizes. All you need to make this is two rectangular pieces of wood or equal dimensions, a saw, a ruler and a pencil.
This globe pendant light is not shaped like a globe but actually made out of a globe. It's a very interesting and ingenious idea and a really cool design for an office, a library or study room or a kid's bedroom. You can use any old globe for this and even a half of it would be enough in case some part is damaged. You'll also need a pendant light kit, some copper tape for the rim (or some other type that suits your style) and some spray paint.
A little bit of extra storage can sometimes come in super handy, especially when it solves a particular issue. Accessories like scarves, hats, belts, sunglasses and so on don't really have a place on a regular entryway rack and what this brass storage unit addresses. It's a very simple piece with a clean and chic design which consists of a thin brass rod suspended with string and a few S hooks and hangers. You can have this done in no time at all.
It's not just hanging pendant lamps that can be crafted from scratch but other types of fixtures too. This, for example, is an industrial bathroom light fixture with a nice wooden back and three Edison bulbs hanging from above. It's perfect for the space above the mirror and the design can potentially be altered to include more or fewer light bulbs if needed.
Sometimes it's nice to just craft something pretty that you can display on one of the walls in your home. This wall hanging has a stylish and abstract design which makes it perfect for modern and contemporary interiors. It's made with repurposed metal hoops, wood beads and waxed string. It's easy to make and customizable. You can play with different colors for the rings and the beads if you want to or replace the black string with something else.
Adding a window box or two to the house is a nice way to improve the curb appeal and overall appearance of the exterior facade. It's also something that you can enjoy from inside the house as well, a way to add some color and beauty to the view outside the window. Planting and customizing a window box is fairly easy if you have an idea of how you want it to end up looking. If not, you can always find inspiration online and in other places.
If you're planning a family gathering or a special event soon, consider crafting a few things that can add a special twist to the decor. For example, make some floral napkin rings for the table. These look absolutely charming and are quite easy to make as well. You need some thin flexible floral wire for them, metal rings (or thick gauge wire), floral tape, fabric ribbon and a bunch of succulent clippings and flowers in various colors, shapes and sizes.
A terrarium is a nice item that you can display on shelves or use to fill out gaps in your home decor. They're really easy to put together and a lot of fun to customize and to decorate with whatever is available like plants, pebbles, seashells, even little toys and figurines. If you want to add an elegant touch to the design, add a geometric terrarium base as well. You can also make this from scratch out of wood.
Glass jars are always good to have around. You can use them to store and organize all sorts of things but also to make beautiful decorations and accessories for your home. One idea is to paint Mason jars and to turn them into stylish vases. Use tape and paper to cover up the areas that you want to keep clear and spray paint the rest. You can use this technique to create all sorts of cool designs and patterns.
Another very useful thing to keep around the house is a box. Cardboard boxes are cheap and very versatile but they don't really look that great and those that do are not nearly as affordable. Luckily, it's a lot of fun to solve this issue yourself. You can make washi tape decorative boxes for all the items that need storage and you can make your pantry or closet looks extra beautiful using this technique.