Colour Combination with a Twist: Perfect Palette Pairings for Today's Interiors
We're all probably pretty familiar with classic colour combinations (black and white, anyone?), as well as those pairings that have had major popularity over the past decade or two (grey and bright yellow come to mind). And, with colours, it can often feel like everything's been done before. But there's still hope! You can achieve a perfectly fresh, contemporary colour combination in your interior decorating with a little creativity and willingness to look outside the box. Here are some great new colour combination ideas for your modern décor plans. Enjoy!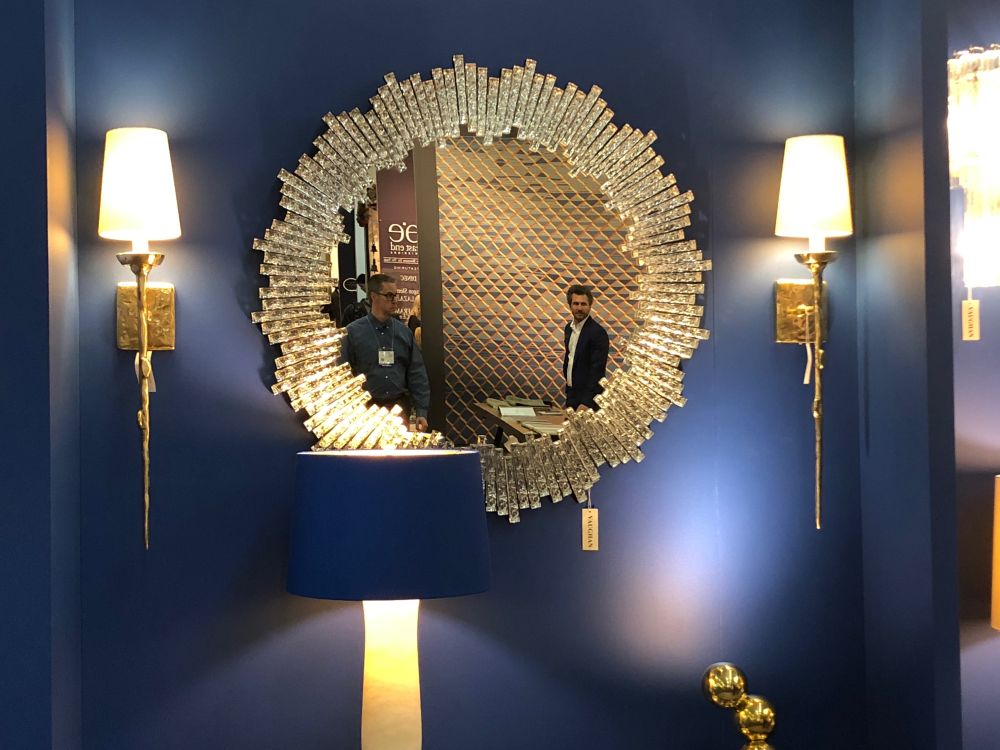 Cobalt blue + gold.
Rich, deep, yet vibrant cobalt lays a perfect foundation for luxurious metallic gold in contemporary colour combination. Such a saturated hue is a natural complement to gold, as the pairing exudes sophistication in even the humblest of spaces.
Mustard + deep rose.
Mustard is one of those colors that is not necessarily beautiful in its own right, which makes it a perfect colour companion for a variety of lovely colors because it provides depth, balance, and just the right "pinch of ugly" to keep things real. Deep rose is sensuous and romantic; mustard matches the saturation content, which makes the pair equally yoked and a perfectly modern pairing.
Peach + red.
Traditionally, colors in the orange family have been held in reserve around colors in the red family. That's not the case with the gorgeous colour combination of peach and red. Its softening, sweet effect allows peach to downplay any potential abrupt visual cues sent out by red. In its turn, red amps up the energy and excitement surrounding the wallflower color peach.
Turquoise + bold skyblue.
While these colours are relatively close in paternity, there's enough difference in their colour temperatures to make them good partners for each other. You can maintain a sort of monochromatic aesthetic with these two hues, which adds to the sense of calm and serenity but takes away the potential for blandness. That's a decorating win-win.
Plum + khaki.
It takes a special color to appreciate the noble neutrality that khaki embodies, and plum is just such a color. With plenty of vibrant energy, plum combines with khaki to give itself support and a foundation while forcing the traditionally bland hue a little closer to the limelight. The colour combination is still relatively neutral, but with a fun twist.
Red + electric turquoise.
When a colour combination involves two heavy hitters in the saturation department, it's a good idea to surround them with plenty of enveloping neutrals to maintain a nice balance. This colour combination is deliciously electrifying and provides plenty of stimulation in a neutral-loving space.
Bright red + bright pink.
This bold colour combination could probably overtake a space if left to its own devices, but tempered with plenty of natural light and other neutrals, the pairing is fun, energetic, and fresh. As you can see here, even a small dose of either color is enough to transport the palette into an entirely neutral space.
Spring green + sandy brown.
One of the colour combinations that appears frequently in nature is finding its way, yet again, into contemporary design. The soft, unassuming spring green that offers visual hope and expectation is kept grounded and secure with a close association to its natural cousin, an equally soft sort of natural, sandy brown. This is a great colour pairing for a nature-loving space in the modern world.
Purple + red.
Red is not typically combined with purple wheel, particularly as they're next-door neighbors on the color wheel, and red is actually purple's mother. This is an atypical colour combination, according to traditional colour theory, but that doesn't mean it's not fresh and appealing when done well. Consider altering the saturation or proportion of one of the hues so they don't compete. Or surround them in plenty of white or similar pale neutrals so they have a chance to show each other off.
Fuchsia + charcoal.
Grey is a major contender for neutrality in the contemporary home. It's trustworthy, stable, and chic. But it's not, in and of itself, vibrant or exciting. Which makes fuchsia a perfect color pair to create an energy balance and eye-catching modern aesthetic. Keep the fuchsia proportion small, as it packs a big visual bang for its physical buck.
Tangerine + military blue.
While some colour combinations come together because of their similarities, many work well as a team because of their differences. This modern pairing of tangerine and military blue is perfect example. Bright and fresh, tangerine infuses a more inherently subdued and somber military blue with life, excitement, and a modern sense of aesthetic balance.
Indigo + mint green.
For something so often associated with babies and nurseries, mint green is certainly a powerful colour. Indigo gives the feeling of calm, of a day's end, and then pow! mint green is right there to shake things up. The unexpected nature of this colour combination is what makes it so delightful in a contemporary design setting.
Soft aqua + pale pink.
Pale pink is making a comeback in a variety of modern colour combinations, and this space shows its beautiful versatility once again with soft aqua. With each hue matching in its cool undertones, their saturation is also comparable, which means neither colour overshadows the other. Rather, they work together to bring harmony to a sweet, relaxing space.

Turquoise + coral.
A more saturated twist on the recently popularized aqua and red colour combination, turquoise and coral combine to create a true power couple. This pairing is both grounded in common sense and ready to take flight, simultaneously.
Chocolate + orange.
This isn't your orange-and-brown retrofit colour combination. On the contrary, the rich colors are deep, unapologetic, and bold. With a slightly blue undertone held by each of the hues, this pairing feels much more fresh and forward than the yellowy oranges and browns of decades past.
Pale blue + cool purple.
The rich sophistication of a deep, cool purple maintains a vibe of approachability and humility when paired with pale blue. Working together with a yin and yang reminiscent of the night and morning skies, pale blue and cool purple are a unique new colour scheme for the modern world.
Pale indigo + chartreuse.
Complementary colors purple and yellow take a slight deviation and introduce their cousins, pale indigo and chartreuse, to pair together. The effect is a charming and fresh colour combination. Light, breezy, zesty, yet grounded, these two colors work on their own or in a wider contemporary palette.
Yellow + ballet slipper pink.
There's a reason ballet slipper pink has stood the test of time and come out on top. Despite its delicate pale pink nature, the hue has a gritty tie to hard-working grey, which keeps it from floating away altogether. Pairing it with a deep yellow is unexpected and provides plenty of yin and yang for the aesthetic senses.
Kelly green + royal blue.
There's something arresting about the unapologetic vibrancy presented by Kelly green and royal blue independently. But when the two are paired together, we've got a visual feast of the best that nature has. Vivaciously organic, the combination is fresh, modern, and spunky…but with enough sensibility to make it work.
Purple + brown.
We're probably used to seeing purple paired with black, silver, and grey. But combining purple with brown is a new twist of colour combination that's unique enough to catch one's eye without feeling over-the-top. An earthy and organic color by nature, brown's humble beginnings serve as a lovely foundation to the starlit colour of royalty.
Ruby red + butter yellow.
This warm, energizing colour combination is a great way to bring a contemporary update into a space with lots of warm neutrality. It doesn't contrast so much that the colors grate, but it adds a colorful punch to give a space a breath of fresh air.
Pale pink + slate blue.
This pairing involves two colors with decidedly different genealogies and equally distinct stereotypes, but they work together charmingly. Keeping the pink more lighthearted in an oversized floral upholstery, and the slate blue more staid in its even tonality on the wall plays off the two colors' intentionalities in a fun, offbeat way.
Copper + black.
Black paired with metallics has been a classic colour combination through the years, but we generally think of black being paired with gold or silver. Copper is the design world's friendlier metal, being neither snooty nor poor but a welcoming bonding agent to all. Paired with black, copper is distinguished and dressed up; paired with copper, black is made approachable and less intimidating. Combined, these two colors really do seem to bring out the best in each other.
Pale blue + regal purple.
Whether on their own or mixed with a neighborhood of similarly-saturated hues, pale blue and regal purple are a dynamo colour combination. The boldness of one juxtaposes nicely with the shyness of the other. When paired in a modern setting, the overall effect is bright welcome.