Cement Countertops – The Focal Points Of Contemporary Minimalism
Concrete countertops are advantageous from several points of view but the detail that interests us today is their aesthetic appeal. We wanted to see how various interior designers worked with cement countertops and to find inspiration in their choices. So here it is, our selection of kitchens with cement countertops and other beautiful features that we hope can inspire you too.
Somewhere near the western shore of the Gulf of Thailand there's a beautiful resort called Casas del Sol. It's a collection of five villas, each with their own swimming pool, two bedrooms, two bathrooms and spacious living areas that include this open plan kitchen which has polished concrete flooring and a matching island and cement countertop.
When designing Casa nel Bosco, a residence located in Morciano di Leuca, Italy, architect Luca Zanaroli wanted it to complement its surroundings, in particular the olive trees present on the site. In order to do that, simple and traditional materials were used throughout the house, concrete and wood being two of them.
In 2010 LENS°ASS Architects completed The Rabbit Hole project, a conversion of an old farm into a contemporary home with one section also functioning as a veterinarian clinic. The project took place in Gaasbeek, a village in Belgium. The new design is a beautiful mixture of old and new, as you can see here.
There's something very charming about a cement countertop, despite its structural ruggedness. It's this duality that inspired SJB Architects to use this material when designing the Shoreham House, a single-family residence in Melbourne, Australia.
It seems artist Ângelo Fernandes favored concrete when designing this writer's home and for good reason. The client, a writer (obviously) wanted this to be a minimalistic house where he could spend time reading and writing. It didn't have to be welcoming since entertaining was not on the client's list of favorite activities and it had to lack any big fancy and unnecessary details.
It used to be an old barn but now it's a contemporary home with an eclectic interior that blends large wooden beams on the ceiling, polished concrete on the floor and crystal chandeliers. The kitchen island seems to grow out of the floor. Interior designer Joséphine Gintzburger chose to use the same material for the two.
With a name like the Concrete House we kind of expected to find more concrete in this residence from Piedmont, California. The house was remodeled by Ogrydziak andPrillinger Architects and it features a beautiful and very nicely balanced mix of materials. In the kitchen, for example, wooden floors and cabinetry are complemented by cement countertops and a matching ceiling.
This small and surprisingly simple kitchen was designed by BAK Arquitectos for a summer home located in Buenos Aires, Argentina. It has a thick cement countertop, a double sink and open shelves.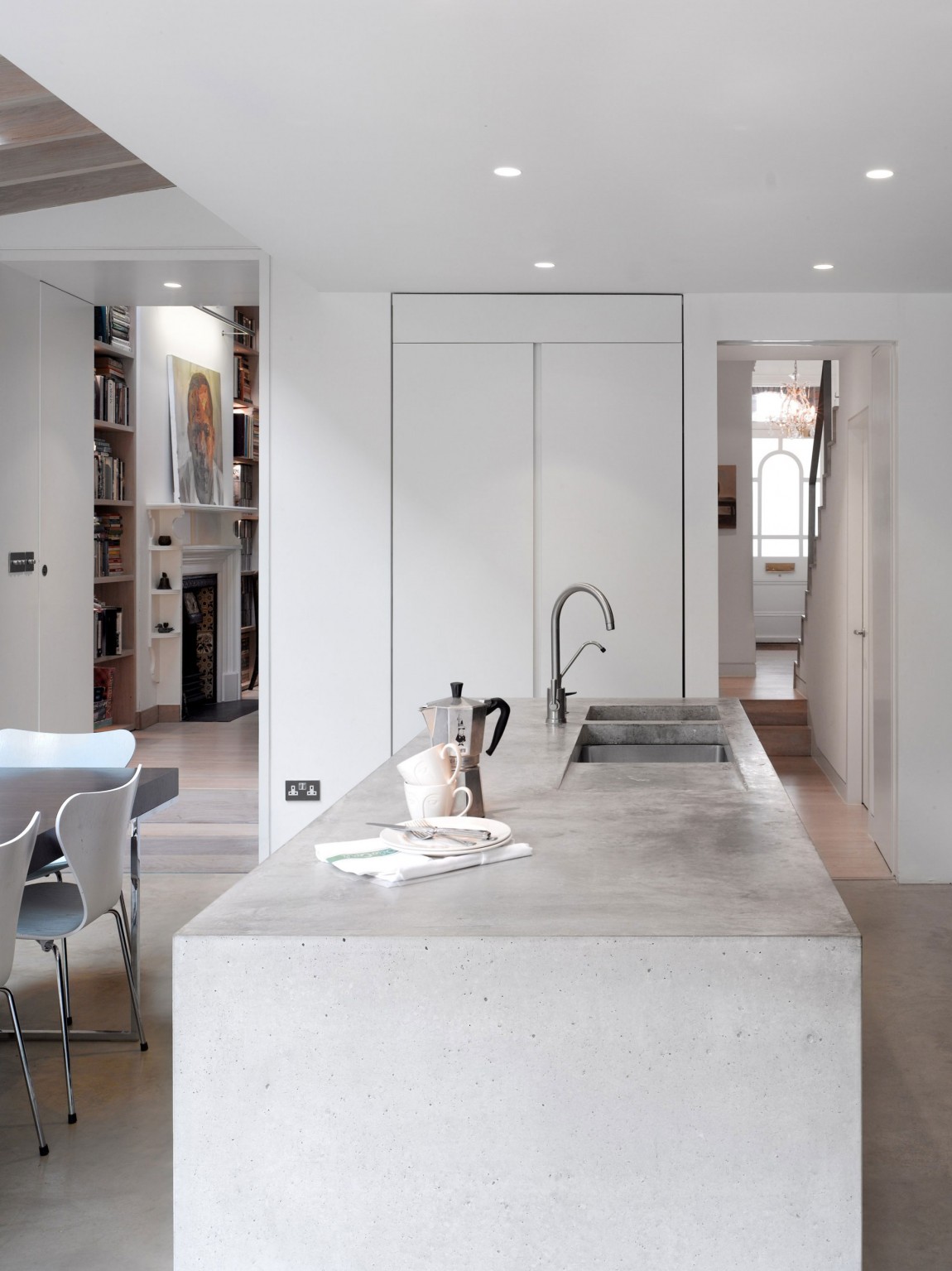 The concrete island may look a bit rough around the edges but Platform 5 Architects knew what they were doing when they added it to this lovely home in London, England. They designed the Book Tower House with white walls, high ceilings and large windows to ensure a bright and open interior where the occasional industrial detail wouldn't feel overwhelmingly cold and austere.
The cement counters fit nicely in this kitchen, mostly because of the nature of the house. This is a beach house designed in 2009 by Olson Kundig Architects. It was built with walls made of rammed earth and it's a modern version of a traditional surfing hut so pure and simple materials and textures actually suit it very well.
Exposed concrete and rugged, unfinished materials and surfaces are quite popular in contemporary interior design. A lot of the kitchens feature cement countertops and in a lot of cases polished concrete flooring is chosen as an alternative to the usual wooden floors. A while ago, Shift Architecture Urbanism redesigned and transformed what was once a dilapidated residence in Rotterdam, The Netherlands and this is the result.
The choice of materials is also interesting in the case of this family home that architect Davor Popadich created for himself in Auckland. The design is reminiscent of beach houses and modest sheds, featuring elements such as this heavy concrete kitchen island, the sliding barn door and the occasional reclaimed wood accents.
Getting to build your own home from scratch is pretty special. Still, remodeling an existing home is exciting too. The situation in the case of this residence in Brussels, Belgium was a bit different. When the current owners acquired the site the project was already started and the foundation slab had been poured. The new design had to stick to that size but the L'Escaut Architectures saw this as an interesting challenge. They chose to give the house a strong contemporary feel with hints of rugged beauty, hence the cement island, counter and staircase and the polished concrete floor.
The Flower House has a surprisingly rough interior design considering its delicate name. A lot of concrete is involved in the design which makes the layout of this space pretty permanent. This is a project completed in 2013 by EZZO in Porto, Portugal.
The Concrete House was designed by Matt Gibson Architecture in 2015. It's a residence located in Melbourne, Australia and its interior is beautiful and intriguing. We fell in love with the kitchen and the fact that it features wood on the ceiling and concrete on the floor. We also like the concrete island/bar and how it looks surprisingly lightweight and delicate given how heavy and robust it actually is.
Renovations are always exciting, especially when there's a huge change in style. This home on the French Riviera went from rustic to modern and minimalist. It's now a more open and fresh-looking space with a kitchen that features thick cement countertops and open shelves complemented by white cabinetry. The design was done by Simonsen and Czechura.
This home designed by Jane Cameron Architects is also defined by a simple decor. Its interior is centered around a black and white palette with warm wood accents and the occasional touch of color. The designers combined hard surfaces such as concrete and marble with softer materials and bright and cheerful colors and the result is a harmonious composition.
The designs we covered so far have shown the dual nature of the cement countertop. On one hand it's sturdy, strong, heavy and a bit rough but on the other hand it's also surprisingly versatile and malleable, able to adapt to a lot of different settings and decors and even to become the bridge between styles.
The unique, custom interior design created by Corben Architects for this home is inspiring in a rather unexpected way. One of the key design features is a 9 meter long polished concrete countertop that curves as it reaches the floor. This unexpected fluidity of the lines turns this simple design element into a focal point for the entire house.