Small Bedroom Ideas That Maximize Style and Space
Small bedroom ideas are essential when you're trying to fit everything into a space that's small. It's a problem we've faced all too often.
Still, the struggle to furnish and decorate small spaces is not all bad as it inspires your to come up with creative and innovative solutions to overcome the problems.
Overcoming Small Bedroom Challenges
If you're looking for ideas on how to decorate a small bedroom, consider bunk beds, Murphy beds, hidden storage, or open shelving.
These are just some of the ideas that can help you deal with a lack of square footage in a practical way that makes sense.
And speaking of square footage, the typical average apartment bedroom is about 11′ x 12′ but those in dense urban areas can be even smaller.
Although every bedroom has its unique issues, there are also some general tips that will help in most situations.
Add Function to the Bed
As noted above, there are lots of ways to make your bedroom space more functional. From platform and bunk beds to Murphy beds, you can free up more floor space or add practical storage solutions. Maybe a daybed is an alternative for you Explore the possibilities.
Ditch Floor and Table Lamps
Don't devote valuable floor or table space to lighting. You can find great options that use wall space and will solve all your lighting issues without taking up space you can use for something else.
Forego the Nightstand
Yes, you need something by your bed, but why not use a windowsill or small wall-mounted shelf instead.
Create a Vibe with Feng Shui
Many people like to arrange a room based on the ancient Chinese concepts of balance in Feng Shui. This can be a challenge in a small space because you probably only have one good spot for your bed.
Experts say you can still create positive energy by placing the bed against the dominant wall and not under a window, if possible. Try and make sure that you have a full view of the door from your bed, which should also have open space in front of it.
Check out more ideas in the examples below. These small bedroom ideas can be customized based on the function of the room.
30 Small Bedroom Ideas
1. Custom-Built Wooden Platform
By raising the bed on a custom-built wooden platform studio Paulo Moreira Architectures managed to give this small bedroom a good amount of storage without having to rely on big closets, wall units, or even on wall-mounted open shelves. This leaves the room looking bright, open, and airy.
2. Built-in Bed with Storage
Another one of the cool small bedroom ideas for adding storage to a tiny bedroom is featured in this space designed by INT2architecture.
The design includes a built-in bed with open shelves, drawers, and storage compartments framing it in a rather cool way. There's also no need for a bedside table with this design that makes the most of the wall space.
It also leaves space for a separate homework station with a writing desk, a blackboard, and even a screen projector.
3. Tiny House on Wheels – Cozy Sleeping Area
As you can imagine, a mobile home doesn't have much square footage. In fact, there's barely any room inside for the basic necessities. Still, that doesn't mean a cozy sleeping area is out of the question.
A perfect example is this tiny house on wheels from The Netherlands which features a loft bed with a skylight and a good amount of shelf storage. Considering the small space and limitations, that's actually among the pretty cool small bedroom ideas.
4. Open and Airy Loft Bedroom
The Draper designed by LandArk is another cool example. This mid-century modern house on wheels has a flat roof which makes its small bedroom loft look more open and airy.
Windows let in natural light and views of the surroundings plus the space is big enough for a king-size bed which definitely increases comfort.
5. Loft Bedroom with a King-Size Bed
A lot of cool small bedroom ideas can be borrowed from mobile homes like the one designed by New Frontier Tiny Homes. This tiny house managed to fit a lot of features inside in spite of its very limited footprint.
For example, it has a loft bedroom placed on top of the bathroom which accommodates a king-size bed, a set of open shelves, and two sconces. It's small but it's very cozy and comfortable and creatively uses the wall space available.
6. Custom Built Small Bedroom Structure
Also inspired by small homes on wheels, this tiny house was built on the bed of a 24-foot long, 8-foot wide flatbed trailer. It's a unique, custom structure built entirely from scratch using sustainable materials and inside it has a small kitchen, a dining area, a workspace, a small bedroom raised on top of a storage unit, and a bathroom.
Everything within this custom trailer house fits in 196 square feet (18 square meters) of space.
7. A Living Room, Dining Area, Kitchen and Sleeping Area in One Space
How can you fit a living room, a dining area, a kitchen, and a sleeping area with not one but 3 beds in a tiny apartment that only measures 39 square meters across? Well, creativity and flexibility have a lot to do with the answer to this question.
Architecture students Catalin Sandu and Adrian Iancu reveal the solution: a single space that can do it all, with a sectional sofa, a pull-out dining table, a Murphy bed, and a movable wall partitions that created two fold-down beds.
8. Partial Wall or Divider in a Sunny Apartment
Another one of the good small bedroom ideas is making a small bedroom fit into a space without actually looking tiny.
You can do this by separating the sleeping area from the rest of the floor plan using a partial wall or a divider as opposed to closing off the room with fixed walls. This is the strategy in this 31 square-meter sunny apartment.
9. Making the Most of a Small Space with a Loft Bed
13 square meters, that's how much this entire apartment in Poland measures. That's barely enough for a small bedroom so how can this actually be more than that?
Interior designer Szymon Hanczar got creative and managed to fit in this small room a loft bed, a tiny kitchen, a workspace, a bathroom, closet space, and even a few cool extra features such as a hammock or a wall-mounted bike rack.
10. Taiwanese Small Bedroom with Raised Bed Platform
We also find this apartment from Taiwan to be full of inspiring small bedroom ideas.
The apartment was customized by A Lentil Design and has large windows which are most prominent in the bedroom. In here, the bed is raised on a platform that serves as a substitute for the usual storage closet space.
11. Steps and Drawers Leading up to the Bed
As you can see, raising the bed on a platform so you can fit more storage underneath is a pretty common idea when it comes to small bedrooms. There are actually all sorts of different ways in which you can achieve that.
A particularly cool idea comes from studio elii which designed this apartment in Madrid. There are steps leading up to the sleeping area and inside each of them, there's actually a pull-out drawer. More than that, if you pull out the stairs and move them to the side you reveal even more storage space underneath the platform.
12. Window Installation to Brighten up a Small Bedroom
A common issue when it comes to a small bedroom is that it tends to look cluttered and sometimes even dark and suffocating.
Decor Dots gives us an idea that might appeal to you in that sense can be to install a window between the bedroom and the adjacent room just to make the room feel more open.
13. Wall-Mounted Open Shelves and Windowsill Bedside Table
There's barely enough room for the bed in here so forget about nightstands, dressers, and other things. Still, it's not all terrible.
You can turn the windowsill into a sort of bedside table alternative and a few wall-mounted open shelves might create adequate storage without cluttering the room too much.
14. A Long and Narrow Bedroom Solution
Whenever a room is long and narrow that poses problems because there are limitations when furnishing and decorating the space.
In a small bedroom like this one for example you'd have to place the bed on one side of the room and everything else on the other.
This is a design by Christine Lakas and it includes wall-mounted bedside lighting.
15. A High-Ceilinged Room with a Loft Bed
A small bedroom with a high ceiling presents an awesome opportunity to have a loft bed and to use the space underneath for extra storage or for something entirely different.
By taking advantage of the vertical space, you can even have another room under there. A good combo would be a loft bed with a dressing room underneath.
16. Clothing Rack Wardrobe
Apart from the bed which takes up a lot of space, especially in a small bedroom, the other big furniture piece is the closet.
There are ways to optimize that by giving up the idea of a traditional robust closet and using a clothing rack or an open storage system instead.
17. A White and Bright Bedroom Space
Using white as the primary color can make a small bedroom seem larger, even if it has an unusually challenging and awkward layout. A big window can help create an airy and fresh vibe as well even if the view is not particularly flattering.
18. Hidden Compartments under the Bed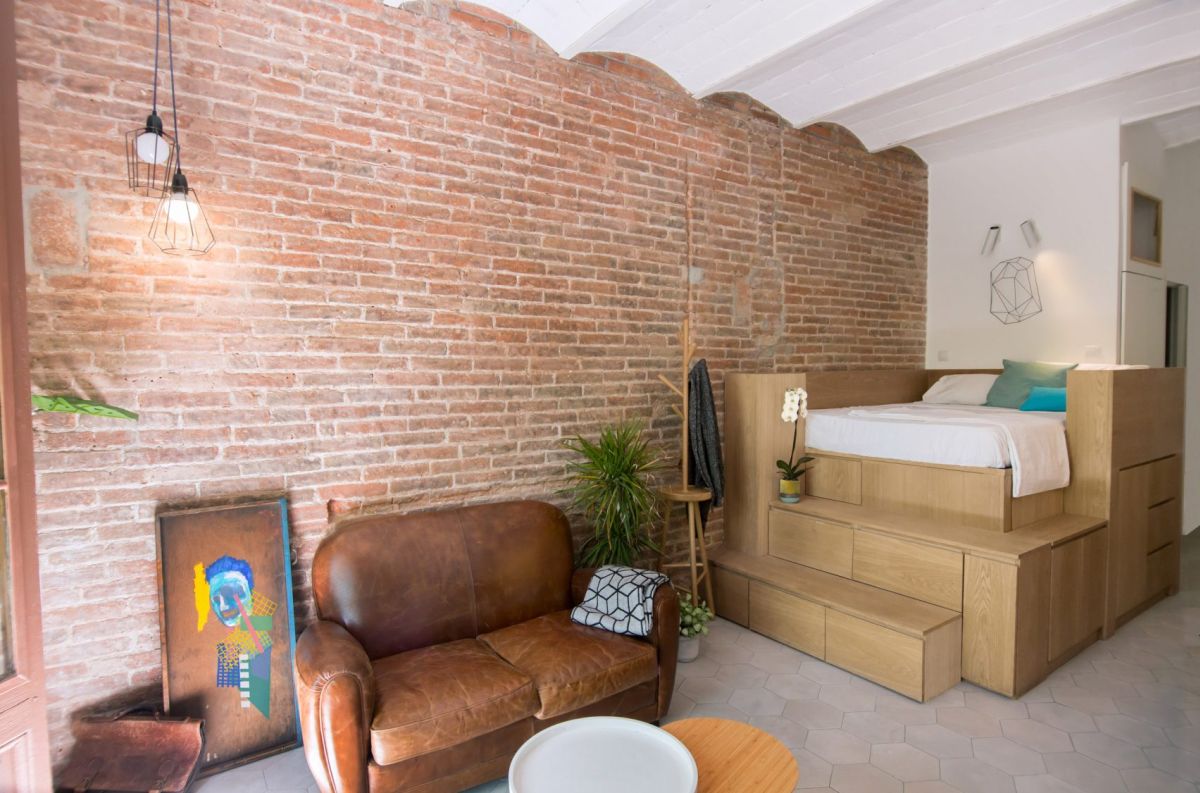 When remodeling this small apartment in Barcelona, the approach chosen by Naimi Architects was to make almost every piece of furniture serve more than one purpose. This is one of those essential small bedroom ideas.
One example is the bed which is integrated into a storage module with drawers that double as stairs and cleverly hidden compartments on two of the four sides.
19. Gray Walls and Ceilings to Expand a Small Room
Although it's true that white makes a small space seem bigger, that doesn't mean this is your only option when it comes to small bedroom ideas.
A perfect example is this tiny room which has these beautiful gray walls and a ceiling in a slightly lighter shade of gray. Although it's a tiny bedroom, it doesn't look that way anymore.
20. Upper Wall Shelving Unit
Painting all the walls in the room and even the ceiling in the same color is a nice trick if you want to make the space appear larger.
Use this strategy when customizing a small bedroom and while you're at it, use all the vertical space too. Check out this shelving unit that was mounted on the upper part of the wall, just below the ceiling. It keeps all the rarely used items nice and organized and it takes up none of the valuable floor space.
21. Creative Storage Solutions
Instead of hiding drawers and storage compartments under the bed platform, what if you could reverse the role in a way and have a platform with a slide-out bed under it?
This way you could put something completely different on the platform such as a desk, a table with some chairs, even a kitchen. It would be like having a secret bed right under your nose. This is one of the many creative storage solutions you can rely on when dealing with a small space.
22. A Pop of Color on One of the Walls
If the bedroom is so small that all you can fit inside is a sleeping space, you might as well make it look charming and welcoming. One f the fun small bedroom ideas is to incorporate your favorite colors into the design or make one of the walls stand out.
Check out this quirky small space featured on lamaisondannag and be inspired.
23. Wallpaper for a Splash of Decoration
Wallpaper can also be your friend when decorating a small bedroom. Use it to make one of the walls stand out and install it on the ceiling as well just so you have something beautiful to look at when relaxing in your cozy bed.
Instead of a nightstand, you can attach a small shelf to one of the walls. Don't forget the lighting and, of course, the decorations.
24. A Selection of Colors and Textures
A lot of times the key to creating a breezy and welcoming decor is using a palette of colors, finishes, and textures that suits the space. In a small space, you might want to limit yourself to a few neutrals or to the timeless and always stylish black and white combo.
You can add a few subtle hints of gold for an even more elegant effect.
25. Cozy Sleeping Area with Storage
The bed is obviously the centerpiece of this tiny Berlin apartment. It's actually more than just a simple bed as it also includes a considerable amount of extra storage, and additional seats. It even has stylish sconces attached to its headboard.
Built-in furniture like this can serve as a cozy sleeping area without needing anything else around it.
26. A Headboard with Storage
If you usually have a headboard with your bed, why not make the most of it and double it up as storage? Any small space or apartment will benefit from small bedroom ideas like this one, which won't take up much extra space in your room.
This headboard with storage offers a clean and modern look and is ideal for anyone looking to store books or clothes in their room.
27. Store Books Above Your Bed
Apartment Therapy shares this fun bed headboard that is ideal for a small space. If you love to read, you can have a book within easy reach of your bed.
This bed frame storage solution doubles up as a funky piece of artwork and will look great in any small space.
28. A Trundle Bed
A trundle bed is a simple way to add extra space to your bedroom, as shown in this tiny cabin from a wardrobe closet. The design is an elegant, minimalist sleeping space.
29. Narrow Storage Cabinets
This New York apartment makes the most of its space with narrow storage cabinets. You'll love the sleek look of these cabinets, which can fit into any small space and will easily blend in with your walls.
It's a great way to add extra space for your clothes or books, without making the room feel darker or more cramped.
30. DIY Murphy Bed
You may have stayed in a hotel before with a murphy bed, and it's a fantastic way to save space in a small bedroom or apartment. The bedframe forms shelving for extra storage too.
When you're not sleeping, simply tuck the bed away and you'll have a huge space for working or exercising. By Brittany Goldwyn shares this incredible DIY project, which will completely transform the entire wall of a small space.
Frequently Asked Questions (FAQ)
FAQ
How do you style a small bedroom?
There are lot of ways to make a small bedroom look stylish and still be super functional. Try space-saving ideas like installing a Murphy bed, using underbed or other hidden storage, or add narrow cabinets. You can also cordon off the space with a room divider, add floating shelves or other wall-mounted fixtures to hold necessities.
How do you arrange furniture in a small bedroom?
The first thing to do is position your bed because that is the main element. From there, be smart about planning storage, make use of any extra space such as under the bed, and try to be rather minimalist when it comes to decor.
How can I decorate a small bedroom with a low budget?
Some of the budget-conscious ways to decorate a small bedroom include choosing the smallest bed you can live with. Moreover, keep the bed high, the floor clear and the colors monochromatic. Go for minimalism in decor and use mirrors to make the space feel larger.
Which way should your bed face?
First, the placement of your bed will be dictated by your specific space. After that, many people choose to follow the rules of Feng Shui to orient the bed. Making your bed face west makes the best position for restful sleep. Facing east represents creativity. Avoid facing the bed north, which can make you lethargic. South-facing is the worst because of high energy.
What makes small rooms look bigger?
For a very small space, stick with wall colors that are bright and reflective. This will make your tiny bedroom feel open and airy. Reserve any bold or dark colors for an accent wall.
Small Bedroom: Conclusion
All of these ideas on this list will offer solutions for even the smallest bedroom in your house and completely transform it into a new and open space.
With creative storage solutions and unique décor ideas, you'll find something here to convert even the darkest and dingiest rooms.
A little bit of creativity can help brighten up any space, and give you plenty of storage for clothes, books, and anything else you might have cluttering up your space.