Wall Mounted Bike Racks That Look Great While Being Practical
Bikes are excellent for getting around in the city. They're practical and fun and they take up relatively little space compared to other vehicles. They do, however, need to be properly stored, usually inside the house. A wall-mounted bike rack solves that problem without taking up valuable floor space. There are lots of indoor bike rack types and designs to choose from and we selected a few of them, the one that we find most interesting.
Vertical bike racks are among the most space-efficient and this one is a perfect example to show this feature. It's called simply Rack and it's designed to be used inside a house or apartment. It's made of solid hardwood and powder-coated steel and it has a self-leveling mounting system that allows it to be placed on a variety of surfaces. You can use it for most types of bicycles.
In tight spaces, chances are the only free space you can find on a wall is a horizontal slot. No worries because you can still store your bike there with ease. In fact, there's a bike rack designed specifically for that. We're talking about the Zero Gravity Rack. It takes your bike off the floor and keeps it on the wall without wasting a lot of space there either. It's perfect for small apartments.
If you really love your bike (which you should) then you probably don't want to hide it in a dark garage or to keep it in a corner. If that's the case, we have a special suggestion just for you: get a Bike Shelf. It's a piece of furniture that lets you turn your prized bike into a work of art. It really makes the bike shine and it doubles as a practical rack for jackets, bike helmets and other accessories too. All you need for a great bike trip can be stored here.
A bike rack doesn't need to be very complex or to stand out if all you need is for it to safely keep your bike off the floor to free up space. The Pincher wall-mounted bike rack by Karl Mikael Ling is perfect in that sense. It's very simple and very intuitive. It doesn't take much space and it works with a lot of different types of bikes. The rack is made of metal coated with polyurethane and it can hold up to 30 kg which is a lot more than a bike usually weighs.
This is the Bikinibicis, a small and practical bike rack designed by Mas Dolor. With it you can turn your beautiful bike into a wall decoration, a part of your home. The rack is made of wood and doubles as a small shelf on which you can keep your bike helmet, gloves and other related accessories or which can hold a cute flower pot to soften the look of the bike.
The cool and stylish thing about the Slit Bike Rack is that it looks beautiful when you take off the bike. In fact, it even has a somewhat mysterious look. The rack is created by Mikili Design and looks like a square wall fixture. It has a small door/shelf that opens at a 90 degree angle ad there's a slit in it that holds the bike in place, leaving enough space around it for a vase, a small pot or your usual bike gear.
To keep a bike off the floor and on the wall, all you really need is a simple system, like a handle that can stay in place and wrap around the bike's frame like an arm. That's just what the Make Bike Rack offers. The design is not over complicated with unnecessary features. It's a bike rack and nothing more. It's made of solid maple or walnut and it can hold bikes with handlebars or up to 19" in width.
All wall-mounted bike racks of this type are more or less the same, each having its own particularities. This Very Nice Bike Rack designed by Ballou Projects impresses with its elegance and simplicity as well as with the delicacy of the overall form and smooth lines and angles. You can also get it in the floor stand version. The wall-mounted one is designed to hold horizontal top tube bikes
if you're concerned about how the bike rack will look like and whether or not it will seem out of place in your cozy home decor, you'll be glad to know that some are actually designed to blend in and to look natural and stylish in most homes. One of them is this wall-mounted bike rack from kilnwood. It's made of wood from affected forest trees and it doubles as a small bookshelf. Its name is Bika.
Speaking of bike racks that double as bookshelves, check out the one by Knife and Saw. Its name is generic: Bike Shelf. It was designed to allow bike owners to store their bikes in small apartments without sacrificing a lot of space and without being worried that the bike will ruin their home's decor. With this rack you can keep the bike out of the way and use it as a shelf along the way.
Every inch of space is important, especially when you're living in a small place. That being said, there's no point in wasting space with big and bulky bike stands or keeping the bike on the floor when you can mount it on a wall. Actually, the Bike Dock is also great for garages and pretty much any other space, no matter how big or small it is.
The name of this chic bike rack is
Iceberg
. It's entirely handcrafted from oak and birch wood and it's really easy to install thanks to its simple mounting system that only uses three standard screws. You can install it on pretty much any type of wall. The design is intuitive, clever, simple and stylish, allowing the rack to stand out in more than one way.
With the Bike Valet you don't have to worry about a thing. This wall-mounted bike storage system is made of structural aluminum and can accommodate a variety of different bike frames including some of the more unusual road bikes and a lot of different frame tube sizes. You can hang the bike from the top tbe or the seat tube and it will stand beautifully on the wall, freeing up the floor.
There are plenty more wall-mounted bike racks to choose from. There are even some interesting designs that we found on Etsy, including this one. Its design is very simple and versatile, perfect for modern and minimalist spaces. the rack which is very similar to a shelf is made of mahogany or maple wood with a clear coat that shows off the wood's natural color.
Here's another stylish bike rack system from Etsy. This one is more like a hanger. It's made of ash wood and it can adapt to every type of bike, depending on its shape and size. You can install the two hangers anywhere you want in order to comfortably and beautifully accommodate your unique bike.
Whether you're using your bike every day or only occasionally or even if you're just keeping as a decoration, the Case storage system will allow you to showcase it in a beautiful way and, of course, to store it on the wall to save floor space. The rack is part of a beautiful collection of storage units designed for modern spaces.
Adjustable bike holders are very practical because they can adapt and can work with a variety of different bike models. The Ibera one featured here is designed to store your bike horizontally and off the floor so it's a wall-mounted rack. The weight limit is 39.6 lbs and the sturdy and strong construction of the rack ensures that you'll be able to use it for a very long time. It's made of aluminum and has two hangers with padded arms that keep the bike level and protected. The angle can be adjusted to suit various types of handlebars.
Depending on the type of bike that you have and its size and design, this wall-mounted hanger will keep it level or at an angle, allowing you to store it horizontally on a wall and off the ground. The hanger can support up to 66 lbs and its design is both simple and convenient while also being aesthetically pleasing and versatile. A cool extra feature is the folding hanger which gets out of the way when not in use, saving you space. It's a great bike storage system for a variety of different spaces such as garages, garden sheds but also home interiors in case you live in an apartment.
If you're looking for a bike rack that looks simple, is very sturdy, space-efficient and can hold several bikes, this Ultrawall model seems to offer all of that and more. This compact design allows you to store up to six bikes side by side, vertically on a wall. It's 48'' long and has 6 rubber-coated hooks, with a total weight capacity of 300 lbs. It keeps the bikes safe and secure and it's easy to install and to use. Everything is made of powder-coated steel which makes the rack very durable, resistant to rust and very resilient overall.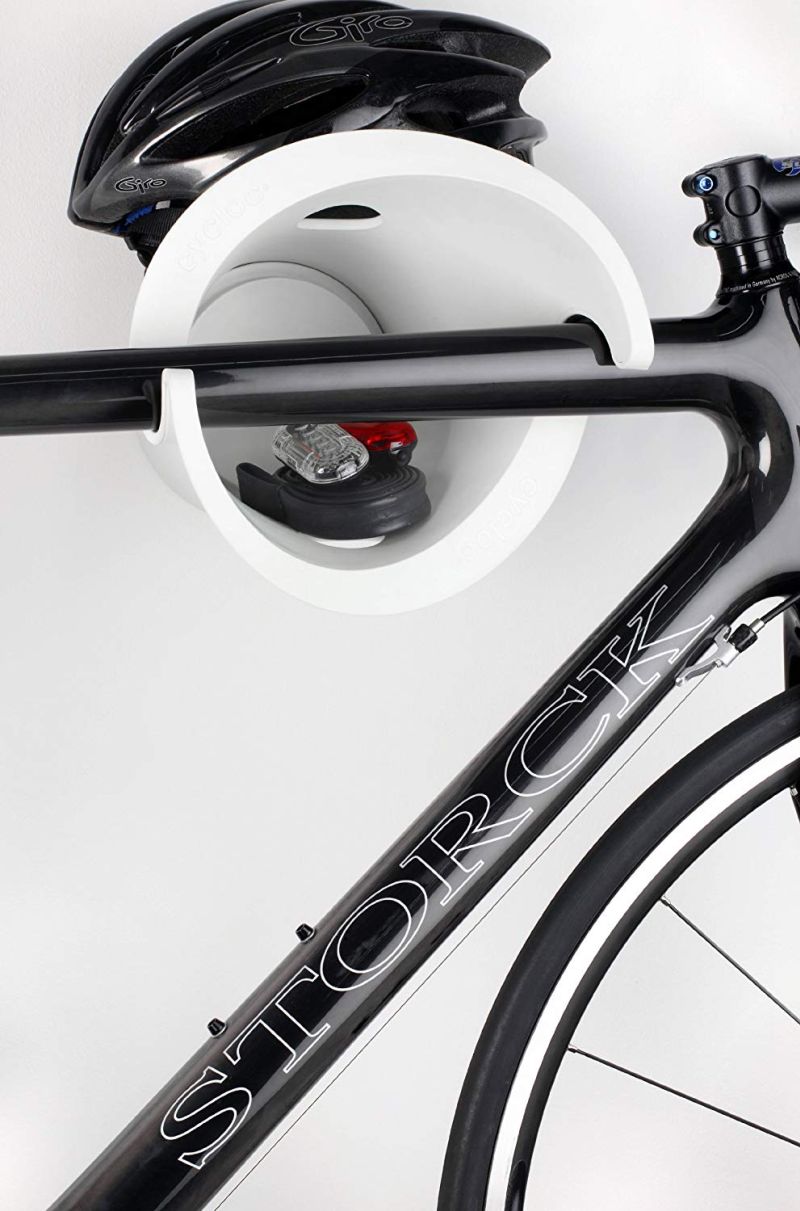 In case you'd prefer something that stands out a bit more and doesn't really look like a typical bike rack, considers models such as the Cycloc Solo. It has an unconventional design that allows it to look more natural in apartments, offices and various other interior spaces. It's easy and intuitive to use and comes in a variety of different colors. It also comes with a spacer so you can use it for bikes with wide handlebars as well. You can also rotate it to accommodate different frame angles, depending on the type and design of your bike. The frame is always protected by the rubber coating. Additionally, you can also store accessories and equipment inside this quirky-looking rack, at the center.
Given the overall structure and design of this bike rack, it would be simple and convenient to have it installed in the entryway of a house or an apartment. It would, of course, be suitable for garages and sheds as well in case these options are available. The cool thing about this product is the customizable design which allows it to adapt in order to fit a variety of different types of bikes. It's perfect for the entire family. Moreover, it comes with a shelf at the top where you can store equipment, tools and various other related things. The rack can support up to 200 lbs and the shelf can hold 100 lbs.
Having a bike repair stand at home is very convenient and practical but a lot of them tend to be quite big, heavy and intrusive which may not work if you don't have a lot of space at your disposal. That shouldn't be a problem for this particular stand. It's designed to be mounted onto a wall so keep that in mind and pick the spot carefully. It's easy to use and useful not just when doing repairs and maintenance on the bike but also for cleaning it. It keeps the bike level and can hold tubes of various different sizes (between 1.2'' and 2.9''). You can also use it to clamp various parts for repairs.
This is yet another different type of bike hanger. The idea behind this one is that it extends in order to fit snugly and tightly between the floor and the ceiling. That means there's no need for drilling holes into the walls and it also means you can potentially move the stand or adjust its placement if needed. It can hold two bikes and has a total weight capacity of 50 kg (110 lbs). It extends to 3 meters (118'') and weighs 5 kg (10.3 lbs). Given how versatile it is, you can install this in a variety of different spaces such as garages, apartments or even covered outdoor spaces as long as the distance between the roof and the floor is less than 3 meters. Of course, given that the bikes are stored horizontally, this is not the most space-efficient solution.