The 18 Most Popular Kitchen Cabinet Styles
Kitchen cabinets can make or break a kitchen. Here we look at 18 most popular kitchen cabinet styles today. You will see how cabinets can become the focal point of your kitchen.
It is crucial to do some research before choosing your kitchen cabinet style.
There are many kitchen cabinet styles, but there are a few styles that are most popular in the US. The following kitchen cabinets you'll find in many American homes.
Popular in the United States Kitchen Cabinet Styles
Shaker Cabinets
Shaker cabinets are popular kitchen cabinets. The shaker cabinets have a five-piece door with a recessed center. They fit with transitional kitchen designs and are often cheaper than other cabinets.
The cabinets come in many colors, but white and grey are the most popular. The hardware is oblong to fit the center of the cabinet doors and drawers.
Shaker cabinets are a safe kitchen choice if you're unsure of what you want.
Traditional Cabinets
Traditional kitchen cabinets can be any color, from wood grain to pale green, yellow, or blue. The cabinets have a rectangular groove on the front, making them unlike others. They look like shaker cabinets, but the center is convex.
Older homes feature this style. Hardware stores sell them more than other styles. If you want a safe choice, choose these cabinets.
Farmhouse Cabinets
Those who like interior design have thought about farmhouse cabinets. Farmhouse decor is warm and welcoming, and farmhouse cabinets are no exception. Though it's hard to pinpoint what they are.
Woodgrain farmhouse cabinets are pale and textured. They feature a barn door as the cabinet door. The doors give your kitchen a farmhouse feel.
Louvered Cabinets
Louvered cabinets are easy to spot. They look like a washboard or classic window shutters. The cabinets have small wood slabs on top of each other, so they look like window blinds.
You can paint them any color. The cabinet shape style defines them. They add a springtime feel to your house.
Make sure to add a vase of daisies if you get louvered cabinets.
Louvered cabinets are common in laundry rooms and bathrooms. Although that shouldn't stop you from stepping out of the box. It is here where the magic happens.
Craftsman Cabinets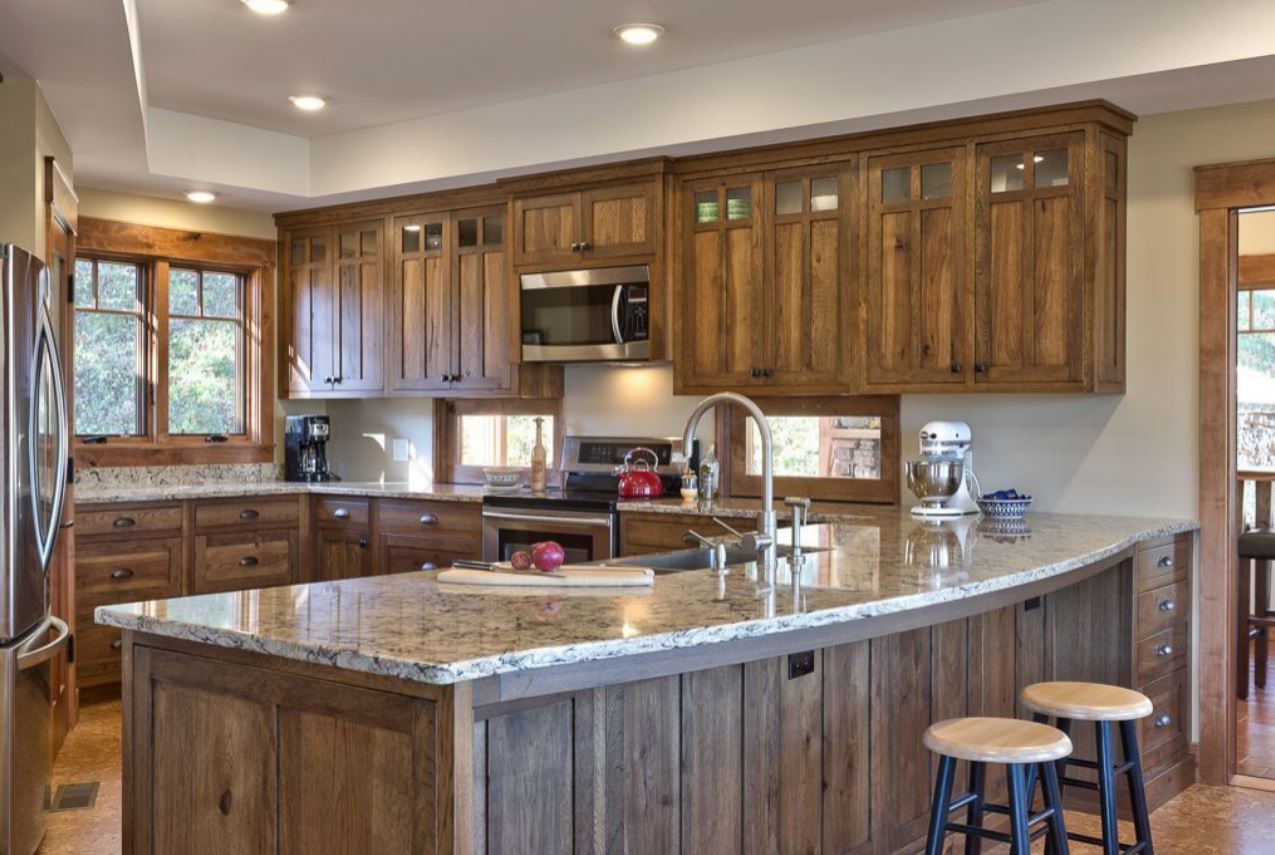 Craftsman cabinets are versatile. Craftsman cabinets are handmade by a small business or private woodworker. The cabinets are finished but unpainted.
Related: Everything You Need to Know About Craftsman Homes
The natural wood grain is part of what defines craftsman cabinets as it makes them look so natural. Cabinet hardware is simple.
This ensures that the focus is brought to the quality work that the woodworker has put into the cabinets.
Boho Cabinets
Bohemian decor may make one think of the 1970s. However, it has never been more prominent than it is today. Bohemian cabinets are painted a bright color with unique designs. Or a soft color to accent brighter decor.
Related: 40 Bohemian Bedrooms To Fashion Your Eclectic Tastes After
The kitchen itself should feel earthy, yet exciting. Boho style is the perfect combination of relaxation and passion. The word spiritual suits it.
Bohemian cabinets are for artistic types. They offer a casual look while inspiring creativity. The cabinets reflect culture and personality.
Shabby Chic Cabinets
Shabby chic cabinets come in soft colors. They look older than they appear. This can also happen if they are brand new.
The strategy is used with many decor styles, but with shabby chic, there's a refined nature.
Shabby chic cabinets are soft. The most common shabby chic kitchen cabinet colors are soft pink, blue, green, and white. If painted white, the other kitchen decor should be a soft color and the room's focal point.
Glass Cabinets
Glass cabinets aren't solid glass. They are wood cabinets with glass doors that are wood-framed. There can be panels/grids, or they can be left solid, which is a cleaner look. Glass cabinets give a cabinet an airy feel.
Glass front cabinets add style to your kitchen. With bigger areas, they can help break up the room. Glass is also a natural light reflector.
With glass cabinets, you'll save money on electricity. If you install them next to windows, they will provide even more light.
Glass front cabinets are also a great way to show off your crystal or china collection.
Rustic Cabinets
Rustic cabinets are like farmhouse cabinets. The biggest difference between farmhouse cabinets and rustic cabinets is that the latter is warmer, solid, and wooden.
They are darker and more earthy than farmhouse cabinets.
You can find inspiration for rustic cabinets by browsing through cabin and lodge kitchens. If you see a fireplace in a cabin, there's a good chance that there are rustic cabinets in that kitchen.
Mediterranean Cabinets
Mediterranean cabinets are authentic and historic, or at least they are made to look that way. They are the type of cabinets you'd see in a French home from the 1800s.
You may see a butcher block in the corner with a bread bowl on the island.
The point of Mediterranean cabinets is to take one back in time. Or at least, make one feel as if they are journeying through time to experience life in historic Europe.
Italy, France, Greece, or another Mediterranean country feature this style.
Chrome Or Steel Cabinets
Metal cabinets are hard to come by and aren't very popular in residential houses. They are reserved for commercial kitchens or workshops. They are durable and offer a modern, yet industrial feel to a kitchen. Pair with Edison bulbs for an industrial look.
If you can't find or afford chrome cabinets, you can always fake them with shiny silver paint. It won't be quite the same.
You can experiment, and most people won't know the difference.
Chrome kitchen cabinets reflect light and have a mirror shine. They will also attract fingerprint stains. If the chrome is too sharp, kitchen glare will be an issue.
With stainless steel cabinets, your options are limited.
Beachhouse Cabinets
You would find beach house cabinets inside a beach house. They are almost always white, coral, teal, or seafoam green. Many times, you will notice that beach house cabinets are whitewashed as well.
The reason is that people with beach houses want their decor to look like it has been washed by the sea. If you can afford it, you can even get driftwood cabinets made with real driftwood.
Contemporary Cabinets
When you hear contemporary, you may think sleek and minimalist. That's what contemporary cabinets are. They offer a taste of modern, with a less eclectic design than most modern cabinets.
Contemporary cabinets have a variety of shapes and colors. But the most common types are soft woodgrain, black, or white. The hardware is sleek, modern, and geometric, with little design on them.
Asian-Influenced Cabinets
Asian cabinets from Japan, China, and Thailand, have two primary styles. The first style is a cultural, and historic, style that features bright paintings on simple wood grain cabinets.
This style can be eccentric and warm.
Related: 30 Kitchens With Stylish Two-Tone Cabinets
The other style is contemporary, sleek, and simple. Japanese culture is known for its minimalism, with the famed author Marie Kondo hailing from Japan. Either way
Slab Cabinets
Slab cabinets are modern cabinets that have flat fronts with no grooves or intentions. The hardware is very simple, or even non-existent. They look like shaker cabinets with just one panel.
If you want to keep things as simple as possible, then slab cabinets are perfect. It doesn't get easier than slab cabinets. These can be made of any material you have on hand or can imagine.
Simple Shelving
If you're trying to find a way to forgo cabinets, you can opt for shelving instead. These will work like cabinets but without the walls. There can be tops and bottoms, with shelving in between.
Simple shelving instead of cabinets can free up space and make a kitchen look open. You can make them out of wood, glass, metal, or something else. This gives you room for creativity.
Just An Island
If shelving isn't your thing but you still want cabinet space, then consider getting a large island. The island can store everything out of sight. This eliminates the need for standard kitchen cabinets.
If you need more space, you can add a pantry, utility closet, or even an overhead pan rack. This can add a lot of character to your kitchen. Opting out of getting cabinets altogether is a bold move. But sometimes bold moves pay off.
Frequently Asked Questions (FAQ)
FAQ
What color cabinets never go out of style?
White kitchen cabinets never go out of style. In the US, they are used in most kitchens. White adds comfort and brightness to your kitchen.
The cabinet color offers a clean feel. One concern is how they require more cleaning than dark-colored cabinets.
Can kitchen cabinets be repaired?
You can repair kitchen cabinets, but it depends on their condition. If your cabinets have water damage you will need to replace them. For delaminated parts, use carpenter's glue and clamps to repair your cabinets.
You can paint your cabinets to make them look brand new. Wood cabinets require a shellac-based primer before you start painting.
What is cabinet refacing?
Cabinet refacing involves replacing the skin panels and drawers. Scratched and cracked cabinets need refacing.
After you apply a fresh veneer, your kitchen will look brand new. Refacing is also a good way to give your kitchen a new style.
What is the difference between cabinet refacing and refinishing?
Cabinet refacing involves placing new materials on top of your cabinet frames. The cabinet's doors and drawer fronts are replaced. With refinishing, you change the color of the existing materials.
Both methods are cheap compared to installing new cabinets. Also, do not refinish oak cabinets.
Kitchen Cabinet Conclusion
Kitchen cabinets are the face of your kitchen. You want to choose the best style and color. The kitchen is the busiest room in most homes. Based on the amount of indoor traffic a kitchen receives, you want to make sure the room looks great.
Solid wood is the best cabinet style based on appearance and durability. Most cabinets feature a wide range of colors and styles. When considering kitchen cabinets, take your time and make sure you select the right ones.