What It Takes To Design A Glamorous And Luxurious Space
It's always easy to tell the difference between a space that looks pretty and one that looks glamorous and luxurious. Luxury interior design is on a whole different level and you can usually spot its uniqueness instantly without having to dig for the little details. Glamour is more of a state of mind than a characteristic of the design or decor. So how can you achieve that look? It shouldn't be very difficult if you already have e general idea about what you expect from the space.
One of the elements that define glamorous and luxurious interiors is the abundance of metallic accents. They're great if you want to get a mirrored look without actually using mirrors.
That look was achieved here with the help of this unique Fortuna table which is made of polished brass. It can sit up to 9 people and it's a gorgeous piece for the dining room.
This exquisite dining table was used in combination with sculptural stools/ side tables with the same metallic finish and an imposing Matheny chandelier that mixes classic and modern accents in a design that's elegant without being opulent. Its tiers are made of golden tubes.
This glamorous dining room has a similarly sophisticated and exquisite look thanks to furniture pieces like the Empire table which has a mahogany top coated in fine wood veneer and polished brass details that match the legs.
The table is complemented by elegant chairs like the Sika which has a beautiful wingback design and leather upholstery with brass tackles or the Iguazu armchair which is similarly beautiful and ideal for modern spaces, featuring the same type of wingback design.
Instead of a classical chandelier, this space is decorated with a delightful Duke suspension light which is designed to look stylish in modern and contemporary decors thanks to its sleek and adjustable construction.
We go back to the metallic accents which are often a symbol of luxury interior design. The Eden series lets you mix and match 7, 8 or 15 modules which form unique and exquisite coffee tables. Their designs are inspired by tree trunks and suit a variety of decors and settings.
This stunning cabinet has a design inspired by the city skyline with a sculptural form and a gorgeous two-tone finish. It was named D. Manuel after the king Portugal who was known for his explorations. The cabinet is a tribute to his legacy.
To the left you can also spot the Palace cabinet which has a mahogany frame complemented by clear and smoked glass. Its design is reminiscent of the 17th century, in particular the carriages and elegant display cases. The bookcase reinterprets those lines in a delicate manner.
In between the two cabinet there's the Erosion side table/ stool. It's a small and quirky accent piece which can be used in combination with most modern and contemporary interiors thanks to its simplicity and understated audacity.
If you're looking for glamour and luxury then you must also be prepared to add some drama to your home decor. Furniture pieces like the Diamond Metamorphosis sideboard know how to stand out and impress. This design translates the concept of metamorphosis usually associates with insects into a sculptural design that's also a reinterpretation of a classic (the Diamond piece).
At first glance, you can spot the glamor in here thanks to the presence of metallic accents, sumptuous wood and leather and great use of texture. The focal point would be the Monocle Folding Screen which is a refined version of the usual room divider. It's made of three walnut panels with brass-lined circular holes that match the frame.
The Quantum Mirror featured on the wall is based on the same combination of materials. It has a solid walnut frame with brass accents. It's an accessory that would look glamorous in a variety of settings including many bathroom designs.
Another gorgeous piece of furniture we spotted here is the Hudson Armchair. It has a modern design inspired by the 1960s. The dark blue leather upholstery and varnished walnut frame are the standard finishes which give the chair a really cool retro look.
The chair makes a great combo with the Jackson floor lamp. They're a great duo for the reading corner or the living room or bedroom. The lamp is actually a tribute to Michael Jackson and his iconic hat and dance moves. It has a lot of flair and is the perfect accent piece for a mid century modern decor.
The last furniture piece featured here is the Kelly bar stool. Its body is made of stainless steel with a brushed brass finish and this makes it a really great option for luxury interiors focused on metallic accents. It features a comfortable leather seat featured in white.
There are a few things that make furniture pieces like the Loren Armchair stand out. First of all, it has a simple and elegant design, with a tiered back and armrest that wraps around the seat. Then there's also the circular base which is made of brass and adds a really nice touch to the design.
The armchairs are used here in combination with the Kahn Sideboard which looks exquisite thanks to its clean lines and elegant contrasts. The sideboard has a glossy black body with brass accents and a black glass top. The interior is made of wood and has a caramel-colored finish.
We mentioned before that dramatic lighting is characteristic to a lot of luxury interior designs. However, soft lighting is equally important. Table lamps, sconces and candles are often employed to add stylish accent lighting to the space. The Donna table lamp is an interesting example. The lamp is made of marble and brass with a shade made of straight brass tubes.
If you prefer something more sculptural and dynamic, then perhaps you'd like the Atomic table lamp. It has a design inspired by molecules with four round spotlights and golden and black accents, a combination that often defines a lot of elegant and sophisticated interior designs and decors.
Speaking of molecules and atoms and the designs they inspired, here's another really interesting piece. It's the Newton console table and it has a really futuristic and sculptural look. It's made of metallic spheres and semi-spheres, all joined together to form a unique table with a flat top. The finishes available are aluminum, black and gold. It's a limited-edition piece and this makes even more interesting and special. If you enjoy the bubbly design of the console, you might also like the matching freestanding bathtub.
The golden accents featured by the console table would look lovely in combination with a Ring mirror. It has a round frame made of mahogany and a design that's a little bit antique but also a little bit modern. You can opt for a gold leaf, silver leaf or copper leaf finish.
A luxury bathroom needs pieces like the Crochet washbasin which you can see here. This is an exquisite piece with a glossy lacquered finish and intricate brass details. It has a marble top and polished brass legs. Its design is inspired by the traditional knitting techniques spread all over Europe, hence the name.
You could pair that gorgeous washbasin with an eye-catching wall mirror like this one. The Apollo mirror is actually composed of 13 different frames of various sizes attached to 21 wood spindles. Its starburst design turns it into a focal point for the room.
Choosing a tub for a glamorous bathroom is not an easy task. A bathroom design that's simple and elegant could use a tub that stands out and becomes a focal point. The Diamond can easily achieve that. It's a modern piece inspired by timeless designs and sculptural forms and it features silver leaf and translucent black accents.
The Diamond collection that we just mentioned also includes a really beautiful washbasin unit/ vanity. It maintains the balance between timeless beauty and modern simplicity. You can use it in combination with the matching tub or as a singular accent piece that becomes a focal point for the bathroom.
Freestanding washbasin are often preferred in large or glamorous bathrooms. This one is named Koi after the Japanese symbol of love and friendship. It has scales on its body just like the fish. The brass gives it a stylish and sophisticated look while the marble washbasin contrasts with the base in a really elegant way.
A matching piece more suitable for a larger bathroom would be the Koi washbasin which has a very similar design. Its base is covered with brass scales and the top is made of black marble with delicate veining. This is a double washbasin guaranteed to stand out.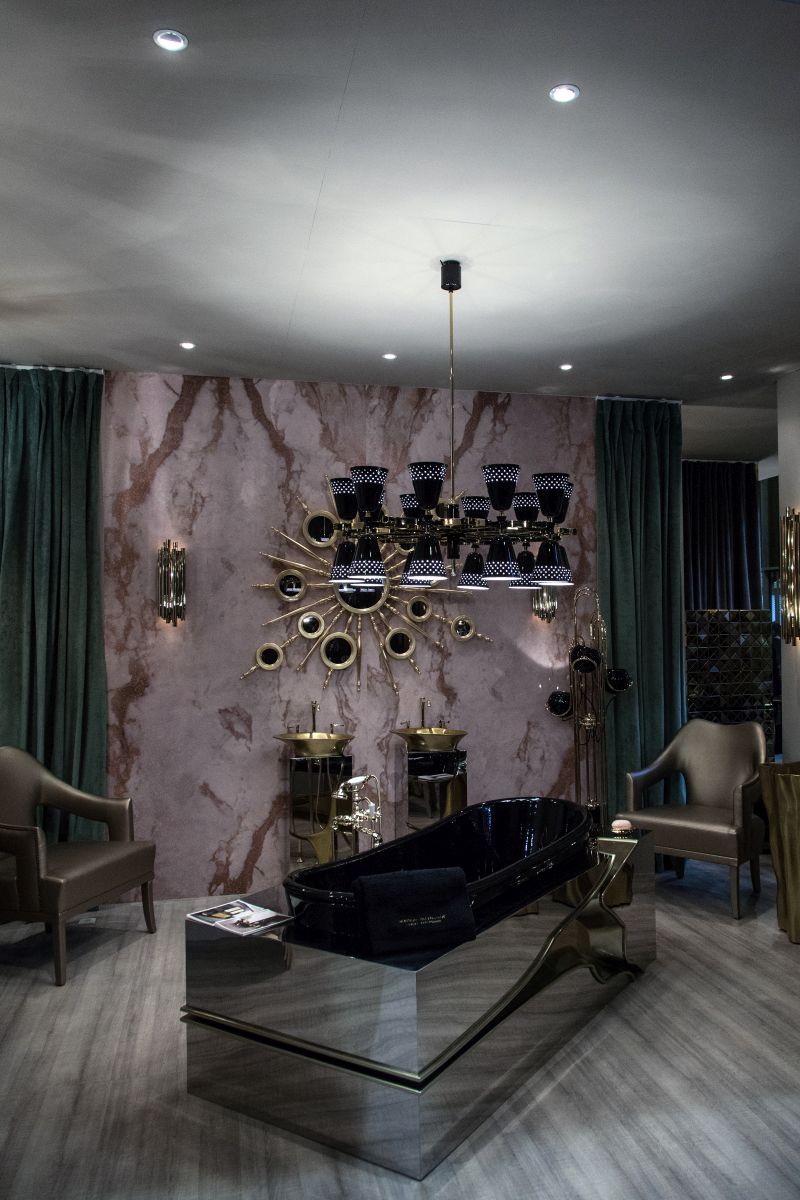 There are three gorgeous things that caught our eye here, besides that beautiful chandelier. One of them is the Lapiaz bathtub named after the formations produced by disintegration of limestone and dolomite rocks. Its design is meant to translate the beauty of freshly cracked rocks into a gorgeous statement piece with artistic flair.
The tub and washbasin freestand units form a matching set. they showcase the same beautiful and organic lines complemented by polished brass and lacquered surfaces.
The third beautiful element featured here is the No 20 armchair, created after trying to capture the beauty of natural forces in 24 different prototypes. Its design represents strength and elegance without being too bulky or lacking sophistication.
Luxury and exclusivity are defining characteristics of this beautiful Seronera table. It has a top made of natural ebony with a lacquered finish for a black high gloss finish. The frame is metallic with a brass finish. But that's not all that makes this table stand out. A really beautiful and unique detail is its irregular and organic shape.
At the center of this glamorous living space you can see the stylish Thor's well coffee table. It has a marble top and brass metal base with a beautiful spiraling design. The combination of materials is intriguing and eye-catching and the design as a whole is both simple and complex.
In the background you can also see the Uluru cabinet. It was named after an Australian mountain and its design mimics the beautiful shapes that define the peaks and mountain in general. The Rust color is amazing, giving the sideboard and truly remarkable look.
The color of this Crooked Forest cabinet is also remarkable. The navy blue with high gloss varnish looks really beautiful in combination with the golden metallic accents that define the cabinet's sculptural and yet very simple design which was inspired by an interesting forest in Poland where the pine trees grow with unusual twisted shapes.
There's also a beautiful Dracaena armchair here. The name is inspired by what is also known as the Socotra Dragon Tree. Its branches inspired the design and form of the chair. The piece has strong curves and a very sophisticated look. It stands out without necessarily being eye-catching in any dramatic way.
This is a drink bar and it's something you might want to include in your stylish and sophisticated living room, dining area, game room or in a variety of other spaces. This is the Giencoe bar, named after the Baobab trees that grow in Africa. It has a multi rim structure and exquisite golden leaf details.
The bar is paired here with a Burol sofa. Its name means chocolate hills, the strange geological formations that inspired its beautiful form. The colors available for the sofa were chosen in accordance with the natural colors that cover these formations throughout the year. They change from green to brown, hence the options available for this furniture piece.
A really cool piece of furniture for a glamorous dining area would be the Winchester table. It has a stainless steel and brass frame and a round glass top. The design is sculptural and impressive and the gold plated finish goes really well with the black and brown glass tops, giving the table a mysterious and glamorous look that doesn't take away its simplicity and minimal charm.