Warm Colors for the Fall Season
Warm colors are those colors that involve or are based off of red, orange, yellow, and brown. Of course, warm versions of cool colors exist as well. Probably it's the shift in nature from greens and blues to these warmer hues – think of the colorful changes happening on trees in Fall – but there is something almost tangible about the season that makes warm colors not only appropriate but inherently desirable. In this article, we'll study several ways to stylishly incorporate warm colors into a contemporary space.
RED
Red is a color that is associated with many things, not the least of which are appetites and boldness. Interestingly, depending on its undertone, red can be warm (yellow undertone) or cool (blue undertone). As a vibrant, eye-catching color, red is well-suited to a variety of rooms in strategic, but generally smaller, doses – an accent chair in a living room, for example, or a picture frame in the entryway or dining hall.
Blue-based reds, such as burgundy, have a cooler feel than reds that lean toward the earthy side of the color spectrum. This red sienna is close to brown and looks perfectly natural on a warm green rug. A huge window lets in plenty of natural light to counterbalance the warm, darker hues at the lower visual level.
ORANGE
Comprised of red and yellow, orange can't help be anything BUT warm. This energetic, radiant hue is cheerful and optimistic and can be associated with decreased feelings of hostility or aggravation. With this in mind, it would make sense to incorporate a splash of orange in common areas; the inside of a cone pendant light is a chic and subtle way to do this.
Despite its red and yellow parentage, orange might be closest in color character to brown. Its muted versions exude a sense of quiet confidence and reassurance. On a clean-lined contemporary chair, orange makes an impact that's stunning but not over the top.
In a large space that could potentially feel overwhelming, calming wall colors are an excellent way to help the room feel cozier and, therefore, more attractive and inhabitable. This is a great solution for huge bedrooms, oversized family or living rooms, or any space that really just needs to be brought down to a comfortable scale to the human body. "Warm colors look as though they come closer, or advance (as do dark colors), which is why they're often used to make large rooms cozier". Orange accents help to break up a mass of black in this living room.
GOLD
When a child draws "sunlight," s/he is generally going to grab the yellow. When a child draws "fire," the colors will likely be orange and red (on top of brown logs). When all these colors are combined well, the result is gold, which exemplifies the comfort that is associated with warm colors. In addition, warm metallics, such as gold, add shine to a space to enhance the aesthetic energy.
As we're reflecting on sunlight and heat during this discussion of warm colors, let's look at the tendencies of warm colors in interior design. Warm colors, like these golden side chairs, are invigorating and inviting. They are friendly and reassuring. It's not a bad idea to pair warm-colored accent chairs, space permitting, to provide a balance in color temperature throughout your space.
YELLOW
Yellow is a color that people tend to strongly gravitate toward or (just as strongly) retreat from because it is so vibrant and so bold. Typically, "yellow lightens moods and encourages introspection", although one must use warm yellow with care and restraint in interior design so as not to overwhelm and carnival-ize a space.
Yellow's complementary color pair is purple; the richer the yellow, the more at ease it is with muted versions of bluish purples, such as indigo or periwinkle. This space includes the yin and yang of color energy – warm yellow wall with cool blue accents.
Sometimes, all a cool space needs is one warm piece to provide all the balance it needs. This leggy side table in a somber mustard yellow hue, is the visual draw into this space.
OLIVE
Olive is a warm green, which means it leans more heavily toward the yellow side of the green spectrum and further from the blue side. Warm greens like olive were very popular several decades ago; they are coming back (in more manageable proportions, perhaps) to modern décor in large part because they are restful and elegant.
Olive green is a color associated with U.S. currency and, as such, also hints at wealth and luxury. This doesn't mean olive is stuffy or snooty, though. It can be paired with brighter colors, like these stool tops, to be a grounding force and team player simultaneously.
BROWN
"Green and brown are the basic colors of nature upon which all the others stand. Even at their strongest undiluted values, warm colors tend to imbue feelings of security". Certainly brown is a major component of an organic sort of comfort and safety.
Dirt, soil, mud, wood. These are the things of the earth, which essentially makes brown itself the color of the earth. By definition, then, it isn't surprising that brown is considered to be probably the most grounding color of them all. That's not to say that it can't be infused with a few more of the orange strains and become comparable to fire, with all its energy and excitement.
As we've discussed, brown is incredibly grounding. It can be a key component, even in a subtle, background way, in helping a cool room feel less, well, cold. A stained wood piece will instantly warm up any space it inhabits, partly because it's natural wood, and partly because that wood is brown.
A WARM VERSION A OF COOL COLOR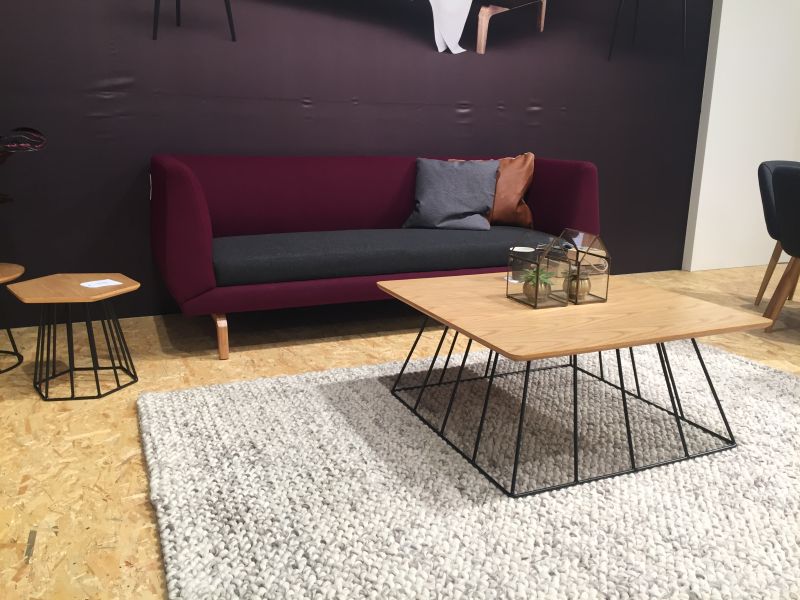 Red, orange, yellow, and brown have been the hot topic of this article on warm colors, of course. But there are plenty of warm versions of cooler colors that have the same sorts of visual impact as regular warm colors; they just go about their balancing act a little more subtly, perhaps. A plum sofa with more reddish undertones reads as warmer and more comforting than purples with bluer undertones. This is a nice way to bring cooler elements into a space without changing the room's aesthetic temperature significantly.
WHEN WARM COLORS COMBINE
As you're well aware by this point, warm colors are those colors that are found in nature that tend to play a large part in the daily life of an individual (one who sees nature, anyway). They are effective as singular warm color pieces to infuse a sense of friendly comfort into a space; however, when warm colors are combined, they present a gorgeous representation of all things heart-warming. This piece of wall art exemplifies this Fall color phenomenon of natural splendor beautifully.
Here is a closeup of the wall art media: sharpened colored pencil groupings. Isn't this exquisite?!