Drama And Elegance Reflected In A Black Kitchen Countertop
Few things other than a black kitchen countertop can add drama and elegance to this space in a way that isn't really linked to a specific style. A lot of timeless designs are based around the color black, seeing how versatile and easy to pair with any other color it is. But there's something special about a black countertop, something that speaks for the daring and bold nature of the decor without going overboard, that makes the room look glamorous without really standing out or being opulent in any way. Of course, we must also mention that black kitchen countertops are quite practical since they hide scratches and stains really well.
A black kitchen counter is the way to go if you want the decor to look masculine without really losing its elegance. Pair the black counter with cabinetry in warm and neutral tones such as beige or even brown.
Kitchen islands with black counters are less unusual than any other black element in a kitchen. That's because this color can make even a large island look sleek and stylish. It can make a large and solid island appear less bulky and this is definitely something to cherish in a decor.
The combination between a black counter and a natural wood base is very elegant and also timeless. The contrast of colors and the warmth of the wood make this pair very popular and commonly used in all sorts of designs.
Pair a black kitchen counter with a black sink. It's a way to add depth to the design and keep things simple and elegant. For an even less conspicuous look, the sink faucet can also be black.
Black counters are suitable for bars, although kitchens are not much different either. A modern decor can easily accommodate a black counter and even a black backsplash. In fact, the two can match for a cohesive and sleek look.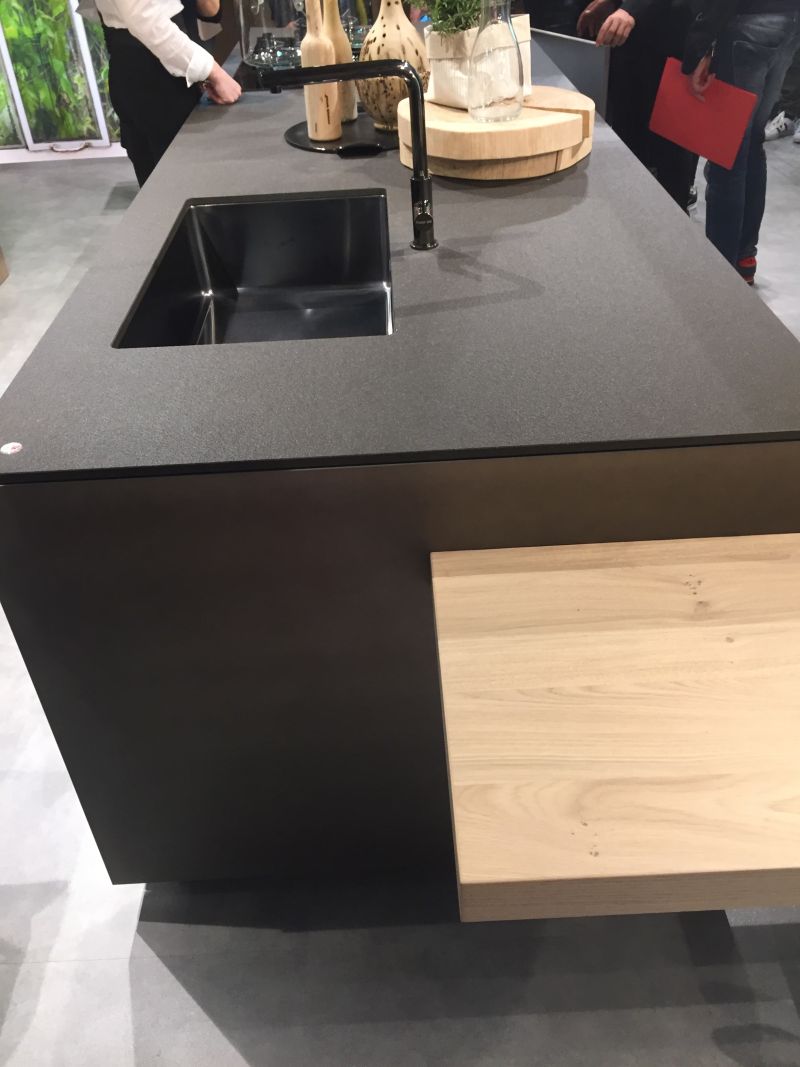 There are many stylish ways to pair black and wood. For example a black kitchen island can have a table extension with a natural wood finish. The two would contrast and this would allow each one to stand out as an independent piece of furniture.
The black and white combo is also timeless and widely used. It suits kitchens of all styles. In a traditional decor, for instance, you could have a black marble top and white lower cabinetry with black detailing around the doors and drawers.
Black marble counters can beautifully adapt to a variety of styles. They're widely used for kitchen islands and they're often paired with wooden bases that showcase the material's natural grain.
Although black is a color sometimes associated with negative elements, in interior design it becomes a symbol of timeless elegance. You can't really go wrong with a black countertop whether you use it as an extension for the cabinetry, a separate island or a contrasting element for the light-colored cabinetry.
Matte black is particularly mysterious and attractive, making anything look sophisticated. Pair such a counter with touches of gold for a luxurious look.
When you don't want to make your kitchen look dark and gloomy, using black is small quantities is a good idea especially if the room is small. So limit yourself to a black countertop and lighten up the decor with white cabinetry and other features.
When there's nothing else to match a black countertop with, it can look a bit out of place. So perhaps pairing your kitchen cabinets with black drawer pulls and hardware can be a way to avoid that.
As we mentioned before, black is a very versatile color which works well with any other tone. For example, pair a black marble kitchen top with a burgundy backsplash or a touch of red. This would bring out the sophisticated beauty of the counter and the bold charm of the backsplash.
While it's true that black counters can hide stains and scratches well, that's not true for all of them. In some cases, maintenance is not exactly any easier.
A nice thing about black counters is that they match well with most electric cook tops. The pairing looks seamless and natural although the contrast still exists between the materials, finishes and even the nuances of black.
When paired with other black elements or with dark grays, black kitchen counters look particularly beautiful. This is a look that suits modern and contemporary kitchens. Another interesting thing is that a black counter really brings up the color on the ingredients and dishes standing on it.
If you fear that a black counter would make your kitchen look too dark, there's a simple way to deal with that. You can install LED lights under the wall cabinetry and they'll really light up the room.
Another way to lighten up a kitchen that has a black counter is by choosing a light color for your wooden cabinetry. This way you can be confident of a beautiful balance even if you decide to also have a black backsplash or accent wall.
Industrial-style kitchens often have dark colors in their designs. Black is sometimes used in combination with polished steel surfaces or with mirrored finishes as a way to add depth and glamour to the space.
The lighting is always important in a kitchen regardless of the colors used in its design and decor but more so when black is or gray are the main tones. It's important to make the space feel inviting and comfortable.
The warmth of wood is always a great way to complement anything black. This combination is also very pleasant to the eye. A nice thing about this kitchen is the series of chalkboard surfaces which give it a playful and fun look.
There are many different materials to choose from when selecting a countertop. Depending on the color and style you prefer for the kitchen, the options become more limited. If you like black, consider marble, granite or tile.
Pair black with gold with the ultimate glamorous look. This applies to anything from furniture to lighting and even kitchen counters. So if you have a black counter, select your dinnerware and kitchen accessories with care.