32 Stylish Ways To Work With Gray Kitchen Cabinets
Picking a color for a room's décor is not as easy as it might think. Before you choose the color palette you have to pick a style and then you have to think about functionality. Gray, however, is a very versatile color, able to adapt to a variety of styles and spaces. Gray kitchen cabinets, for example, look stylish in most situations and help give the room a balanced look.
Beautiful gray kitchen layout design ideas
Light gray as a main color is very versatile and forgiving. It is true however that it can appear dull and boring in some cases but that can be easily avoided by introducing an accent color, as exemplified in this elegant kitchen designed by studio RS | MANNINO. The brass fixtures and little hardware details really stand out.
Gray was paired here with other similar colors such as white and a very faint shade of blue. The island is oddly enough featuring the darkest color in all of the kitchen, except for the floor of course. The stainless steel appliances blend in very easily and all the fixtures suit the neutral theme of the space really well as well.
There are many different ways to introduce grays in the kitchen. In this scenario we have a traditional kitchen which has a fairly diverse palette of materials and finishes used in its design. The color of the walls is only slightly different that that of the cabinets and the backsplash does a great job at blending the nuances together. The island has a dark gray body which allows it to stand out. This is a design by studio Great Falls Construction.
For this other traditional kitchen a more uniform distribution of colors was chosen. We have light gray cabinets and a matching island. The walls are beige and the backsplashes are white which together with the rich-staines wooden floor and the other earthy accents add warmth to the space. The gray cabinets and the white countertops go really well together too. This lovely kitchen was remodeled by Andrew Roby.
In case you're wondering, darker grays can look beautiful n the kitchen too. The traditional overall design of the space feels fresh and stylish thanks to this subdued and fairly modern color palette. Of course, elements such as the wooden island and floor, the exposed ceiling beams and some of the appliances and fixtures help to ground the space and highlight the style in a subtle yet effective manner. This is an interior done by Orren Pickell Building Group.
I think everyone can agree that marble looks amazing in any kitchen. White marble in particular has a very stylish and modern vibe. You can see it here paired with a series of light gray cabinets and a wooden floor. It adds a refined and elegant touch to the design and it spices up the décor without being very bold about it.
This contemporary kitchen introduces a really cool idea: that of pairing gray cabinets with a bold and contrasting accent color. In this case that color is blue and comes in the form of a glass backsplash which cills the wall space between the two sets of upper cabinets and even continues onto the ceiling. Studio Sustainable Nine also introduced here a gray brick accent wall which blends in and stands out at the same time.
Gray also makes an excellent secondary color or accent. A beautiful example is the contemporary kitchen by Atelierzero. It features a very beautiful color palette with unique nuances based on blue and gray. The walls and ceiling are white and create a clean backdrop for the beautiful furniture. In addition, the light wooden floor complements the cooler colors and turns this into a welcoming space.
In a lot of modern and contemporary homes the kitchen and the dining area are often combined into a single large space. That can also be seen in this eclectic apartment furnished by Coblonal Interiorisme. The entire kitchen is pushed against a single wall and has a living room-inspired vibe with a clean and simple look. The cabinets feature a nice shade of warm gray which goes really well with the intricate floor design.
Simplicity is the key to creating a contemporary interior design. The kitchen created by ORKO Studio is the very definition of that. We love how pure and simple the palette of colors and materials was kept here. The thing that stands out the most is ironically the series of gray cabinets which lack any visible hardware or details.
This looks like a black and white image but there's no filter applied here. Instead, the space is decorated using lots of grays and neutrals. Despite this rather bland palette of colors, this is a very detailed design with lots of character and that's manly due to the finishes and textures used here by QUADRUM STUDIO.
Another similarly simple and stylish interior was designed by Olga Paliychuk. The focus here was on light grays and the way in which they interact with textured finishes and other similar nuances. This kitchen has an airy vibe but it's also inviting. The gray cabinets perfectly match the walls of the room which allows them to seamlessly blend in and make the space appear larger.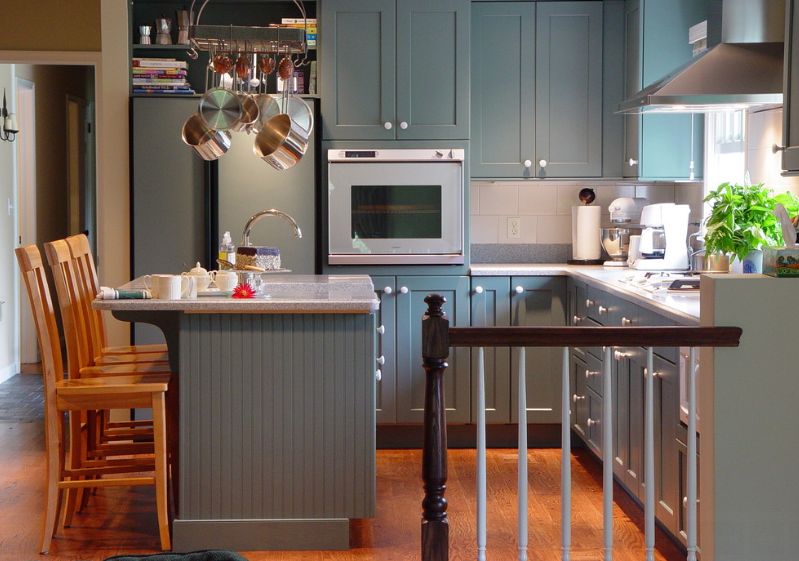 Pair gray cabinets with warm colors and materials.
Gray can appear austere and cold compared to other colors and in a room such as the kitchen which is supposed to be warm and inviting, using this tone can be tricky. The key is to pair it with warm materials such as wood and with bold accent colors such as yellow, red or orange to squeeze out a bit of cheerfulness.
Keep the palette neutral to let the materials stand out
In the case of a kitchen decorated with rich materials such as marble and some types of wood, too much color can be distracting. A good strategy is to keep the color palette neutral and simple to allow the materials to stand out.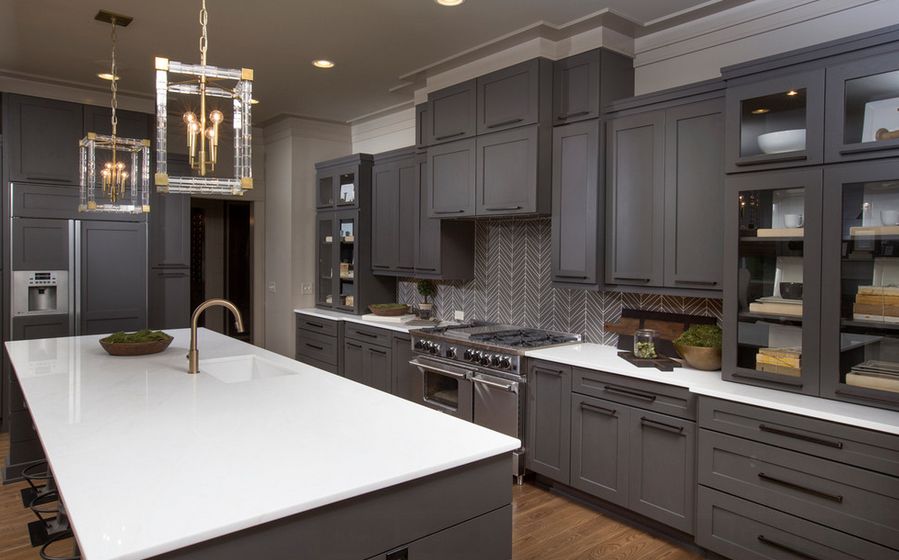 Use light shades for a bright and open look
If you want to make the kitchen look bright and spacious, a dark shade of grey used for the cabinets may not be your best option. Opt instead for lighter shades and paint the walls white. This way the décor will be bright and airy.
Picture sources: 1, 2, 3, 4, 5, 6, 7, 8, 9, 10, 11, 12, 13, 14, 15, 16 and 17.