Wood Countertops Bring Warmth to Any Style Kitchen
Wood lends a special warmth and depth to any room and it's no wonder that those who love wood want to include it in the kitchen. Wood countertops – whether they are live edge, slab or butcher block – add enduring beauty to your layout. While they are attractive, they are not for everyone, mainly because they require more care and maintenance than other popular countertop materials.
Most wood countertops are made from pieces of hardwood that are laminated together with glue for strength and stability, says This Old House. That said, wood countertops are affected by changes in atmospheric moisture, so if they're not properly constructed, installed, and maintained, they can warp or gap.
Six Big Reasons to Choose Wood Countertops
Lots of choices. The list of woods to choose from for countertops is long and the available looks are multiplied when you add in the options for stains, grain styles and edge treatments.
Versatile. Wood countertops work well with all décor styles and mix well with other countertop materials. They are equally at home in modern kitchens as they are in country style or transitional styles.
Warm and quiet. Woods natural qualities have long been valued and are sometimes called the "antidote" to too much stainless steel and stone. Wood countertops are quieter than many other because banging is not so pronounced. Also, a dish banged on a wood surface might not chip or break as easily as it would on a stone surface.
Environmentally friendly – Wood countertops are increasingly being made from reclaimed wood, and most types are recyclable. You can also choose Wood that is certified by the Forest Stewardship Council (FSC certified). These products are verified to be sourced from managed forests that sustain resources and the communities that produce them.
Very Functional: You can do all your kitchen work on a wood countertop and eat on it as well. While you can damage wood countertops with knives, the surface won't hurt your knives. The sharp blades on your good knives will last longer than they would if you're working on concrete or granite. The surface is also not vulnerable to damage from citrus and acidic liquids.
More economical. Wood is easily cut, fabricated, and installed by an expert. This can make it faster to get and cheaper to purchase than other countertop materials. It can also be sanded and refinished if it gets damaged.
Four Major Downsides of Wood Countertops
Sealing is a Must: If not sealed correctly, a wood countertop is porous and can harbor germs. Wood also must be kept very dry around sink areas and spills must be wiped up right away.
The Threat of Water: If the countertop isn't regularly treated with mineral oil or another protectant, the wood can be damaged if water sits on the surface or seeps into the seams.
Required Refinishing: Over time, a wood surface shows some wear and may need a new coat of finish, or a complete re-sanding and refinishing. This will likely need to be done after 10 to 20 years depending on the degree of use.
Scratches and Dents: Wood is softer than most other surfaces like tile, stone and metal. While some people feel that these marks lend character to the wood, some don't. It's really important to use a cutting board to preserve the surface.
Options for Types of Wood
According to construction guru Bob Villa, maple and bamboo are the most popular species because of their availability and sustainability. However, many hardwoods are also well-suited for kitchen countertops, depending on the look you want and the region in which you live in. An example of a regional wood used for countertops is mesquite in the Southwest United States. Mesquite is as well suited as black walnut or cherry. Woods that are very soft like pine are not usually used for countertops
Wood Countertop Styles
Most wood countertops are traditional butcher blocks, but today they are chosen more for their appearance than their usefulness for chopping. These countertops are modern versions of the thick rounds of sycamore that butchers worked on until the 1880s. lengths of hard maple glued together took their place in the early 1900s because they are a stronger, more durable surface.
The most common type is made from boards placed on their sides and glued so that the narrower edge forms the surface. De Vos Woodworking says the strips can be "continuous lengths with no joints, or random- length pieces that are finger-jointed." These types of countertops work best in for large countertops, like long kitchen counters or island tops. Because wood only moves in one direction, across its width, edge grain butcher block is more stable than other wood countertops. It can also be less pricey.
Go with the right grain
Home Style Choices points out that the orientation of the wood's grain determines the appearance, functionality and durability of the countertop. There are three main ways wood can be assembled for a countertop:
Edge Grain — This is the most common type and is made from boards on their sides glued together so that the narrower edge (called a stave) faces the surface. These work best for countertop areas, such as long counters or islands. Because the wood will only move across its width, this type is more stable and can also be less pricey
End Grain — Blocks of edge-grain wood are turned on end and are glued together to make a grid. This is the traditional way butcher block countertops and cutting boards are made and it requires more wood and labor, so consequently it costs about 40 percent more. End grain is also more prone to movement, so it's often thicker help prevent cupping and warping. While it's often chosen for its checkerboard appearance, it's also easier on knives and is less likely to show cut marks.
Face Grain — This type is also called flat or plank grain. A series of 4- to 12-inch-wide boards are laid flat and glued into an almost seamless top. While this technique highlights natural patterns in the wood, it also makes these countertops more likely to show cuts, dents and dings. Face grain is considered more decorative works best on surfaces that will receive light use, such as dining islands, tables and bar tops and desks.
5 Common Edge Treatments
Because wood is easily tooled, intricate designs can be incorporated, so you don't have to limit yourself to the most common styles. Custom work can cost more, so if budget is a concern, these are the most common edge styles:
Roundover — Called an eased edge, this profile is simply rounded for a classic. It is a versatile choice that works with any décor style. It also makes it easy to sweep up crumbs and bits.
Chamfer — This is also known as a beveled edge, a popular choice for all typed of kitchens, from contemporary to traditional.
Large Roundover With Fillet — This is a steeply rounded edge with a decorative ridge that is usually 1/16 to ¼ inch high. It is an elegant and traditional choice, however, it means more attention to cleaning.
Ogee — An ogee curves in and then out like an S.
Large Roman Ogee — In this style, the S-curve is reversed. It is a more formal look.
The Cost of Wood Countertops
Many wood countertops are solid butcher block or made to order using high-grade wood that has been dried for longer wear. These obviously cost more than stock wood countertops. Costs can range from $12 to more than $200 per square foot uninstalled. The price depends on the species, thickness, construction, and finish of the wood.
Birch or beech butcher-block counters made can cost little more than laminate and less than half the price for low-end natural stone or engineered countertop materials.
Choosing a Wood Countertop
Types of wood
The list of wood species you can use us nearly unlimited and depends on where you purchase your countertop. Common woods like oak and maple are more affordable than exotic woods like teak and tiger wood. How you will use the countertop will also affect the wood you choose because of its hardness. You can check the hardness of various wood species on the Janka Hardness scale. The harder the wood, the higher the hardness number and the more durable the countertop will be.
Solid wood — it's the only way to go. Other wood products like particleboard or MDF with a wood veneer can swell from moisture. It can also not be refinished or sanded when nicks and happen.
Live-Edge or Slab Style
For a countertop that will not see heavy use, a slice of wood that features the natural contours of the tree can't be beat. Variations in thickness and size, as well as availability, make them difficult to include in a functional kitchen. These are best suited to dining areas, bars or decorative countertops, not workhorse surfaces. The more gnarly the edge, the greater the artful feel.
Maryland Wood Countertops explains that a live edge slab stands out from other countertops and instantly adds style to your home. The most common types of slab woods are Maple, Walnut, Cherry, Elm, and Red or White Oak.
Like other wood countertops, live edge counters look better with age as long as they are cared for. When choosing a live edge piece, look for wood from a builder or craftsman who air dries the wood for a number of years and/or kiln dries it to lower its moisture levels.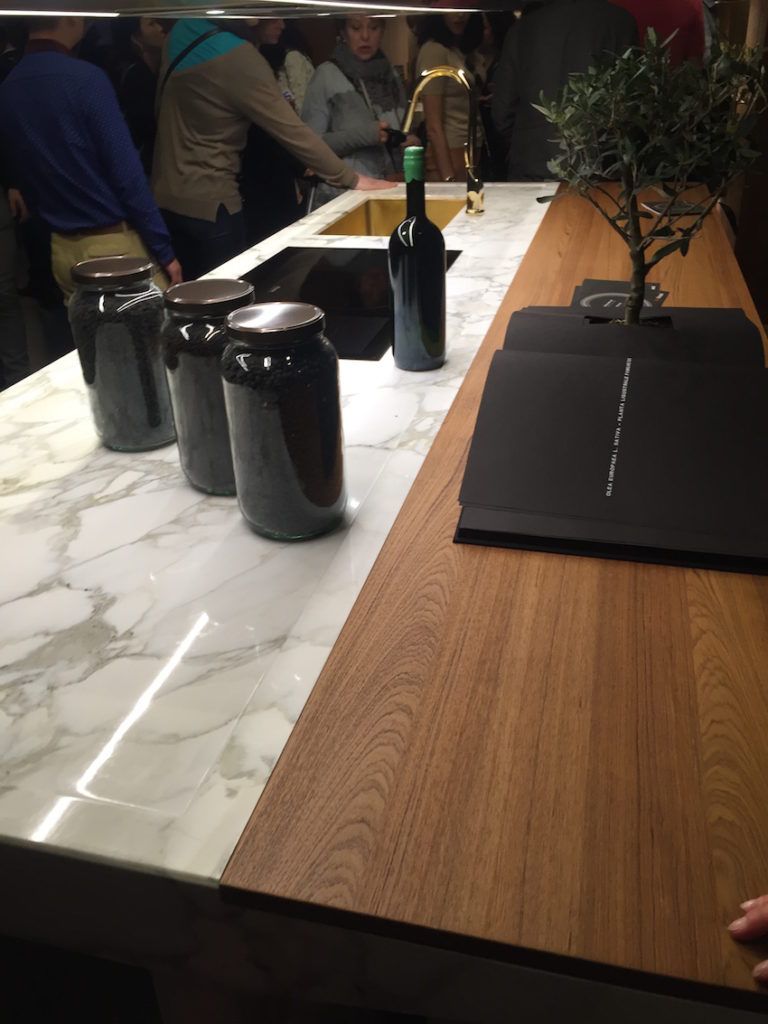 4 Finishing Options
Choosing wood for your kitchen countertop means that you will need to add a food-safe protective coating on all sides and edges.
Oil is a common finish.  If you use an FDA-approved mineral oil, you will get a matte look as well as a food-safe surface. It soaks in rendering the wood moisture-, heat-, and stain-resistant. Another option is a non-petroleum-based walnut oil or a "curing oil." Tung oil, which is the most common type, hardens to create an imperceptible coating that doesn't peel. It also has greater water resistance thanks to its small molecular structure that lets it penetrate wood. Any oil finish will have to be renewed periodically to keep the wood protected.
An Oil-Wax Blend is generally made from mineral oil and beeswax or paraffin wax. It  provides an additional layer of protection against moisture and seals the oil in the wood. It's easy to apply and requires rubbing it into the direction of the wood grain and letting it sit for about 20 minutes, Then, just wipe away the excess and buff it.
Clear coat is a urethane, acrylic, or resin-curing-oil finish that provides the best protection. All these finishes are food-safe once fully cured. This type of finish is considered permanent and may require less ongoing care. If you use these finishes, however, repairing a worn or damaged top requires fully stripping and refinishing the surface.
Waterlox is a newer type of waterproof finish that is a combination of tung oil and resins. It is said to penetrate like raw oil, while creating a hard finish. it is also heat and stain-resistant, says Devos Woodworking. Waterlox is applied in multiple coats, with more added to areas around sinks and cook tops. While these are more durable, they also have some limitations. Although food safe, you cannot cut on a countertop finished with Waterlox nor can you use any bleach-based cleaning products because they can harm the surface, notes Devos.
Is Staining Required?
Stains can enhance the color or grain of a wood countertop, but they're not required. Staining wood increases the cost by 5 to 10 percent. That said, stains allow you to achieve a pricier look by using an inexpensive, light-colored species of wood and turning it a richer color.
Think about the Sink
All cutouts, edges, and surfaces must be treated to keep moisture out of the wood. This makes undermount sinks ideal for wood countertops, according to Paul Grothouse of the Grothouse Lumber Company. Drop-in sinks go well with clear-coated or factory-finished countertops but need a flexible sealant beneath the rim.
Caring for Wood Countertops
Cleaning and sanitizing wood countertops is critical.  
Every day, wipe the countertop with a damp cloth and a little dish soap. Then wipe it with a clean, damp cloth. Kill germs by spraying a solution of 1 part white vinegar to 4 parts water onto the wood. Wait 10 minutes, then wipe it away.
Don't use cleaners that contain ammonia or bleach, which can harm the finish.
Remove stains and odors by sprinkling on a good amount of table salt. Using a lemon quarter, rub it into the surface while squeezing lemon juice on the countertop. Let it sit and then wipe it clean.
If you have a scratch, we recommend using a colored paraffin wax stick in a matching to fill the groove. Using a plastic scraper, remove the excess and buff the area with a cloth. For deep cuts and burns, sanding the surface is necessary. Start with coarse sandpaper, moving up to finer grits and ending with very fine grit. Finally, reapply oil or an oil-wax blend and buff. You can also make your own filler by melting beeswax or household paraffin wax and mineral oil over a double boiler. Use a 1:4 ration of wax to oil. Rub this while want into any cracks to seal and protect them.
Can You DIY a Wood Countertop?
Yes, you can! Wood countertops are easy to install. If you are comfortable cutting wood, you can can cut prefab butcher-block tops to fit around corners, sinks, and appliances. Wood is much easier in the regard than marble or stone. Finishing the wood countertop is even simpler. An experienced DIYer can typically install wood countertops over a weekend. There are loads of on-line tutorials for building and installing wood countertops.
Top Tips for Doing it Yourself
First, decide if you are going to construct the countertop yourself or if you will purchase a premade countertop.,
Measure once, then measure again. Measure the tops of your base cabinets and then add the overhang you want. Typically people choose 1 to 1½ inches, except for islands where you want to include seating. In those cases, a 12- to 16-inch overhang is appropriate.
If you will be building it, you have to first pick your wood, based on the hardness you need. A finished counter should be about 1-1/2″ thick and no less than 1-1/4. Chose boards free of large defects, such as knots or cracks which may open up over time allowing bacteria and water to collect.  Your counter should be made up of at least four boards for stability – the more boards, the more stable the countertop. You'll also need to let the wood acclimate to your home's atmosphere.
If you're not an experienced woodworker, you can still go the DIY route by choosing a premade wood countertop. You send a cardboard template to a manufacturer or builder who will make the countertop. This is particularly simple for an island.
Follow installation instructions to make sure the countertop is securely attached and then finish it in your preferred manner.
Whether you choose to do it yourself or have wood countertops professionally installed, they will lend a unique character and style to your home. It also doesn't matter if you opt for just an island or decide to have all wood countertops, the warmth will mix with your décor and create a long lasting and beautiful kitchen.