Modern Cabins: 50 Contemporary Designs That Redefine Outdoor Living
Modern cabins are the future of home design. We'll look at 50 contemporary designs that draw inspiration from traditional cabin styles. When we're done, your definition of a cabin will be different.
What Is A Cabin?
If you look up the word, cabin in the dictionary you'll see it says; A small wooden shelter or house in a wild or remote area. When you think of a house in the wilderness or a forest, an image of a small, wooden home comes to mind. You might also think of a rustic retreat with a cozy interior.
Modern cabins preserve the coziness and comfort associated with traditional cabins, but also include unique features. Even their construction process is different, with prefab cabins serving as one example.
Situated on Block Island on the coast of Rhode Island, this prefab cabin was built in 1967 by designer
Jens Risom
to serve as his retreat.
Modern Cabins
The modern cabin is unlike the traditional cabin. Today, architects and designers ae building cabins in ways that are to imagine. Worldwide, cabin designs have become a reflection of the future.
The owner of this modern cabin built by FLOAT Architectural Research and Design in Oregon had a peculiar and interesting request: she wanted a roof that would allow her to hear the rain falling on it. Surrounded by green plants, the home interior design is protected from the heat.
The Rolling Huts by Olson Kundig are a set of modern cabins located on a site that used to be an RV campground in Mazama, Washington. They're steel-clad boxes on steel and wood platforms built on wheels. The cabin interior offers a minimalist style.
Modern Warmth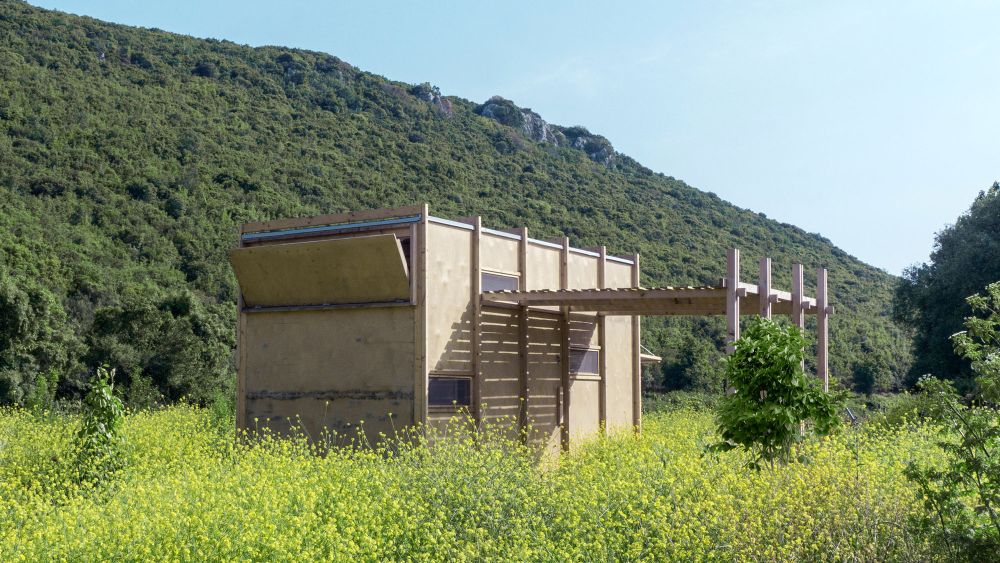 Situated on a plot of land near Edirne, close to the border between Turkey and Greece, this
off-the-grid cabin
serves as a wonderful summer retreat, being perfect for remote locations such as this one.
The prefab cabin was designed by SO? Studio with weatherproof birch panels on the exterior. The stone wool insulation and a compact but well-organized cabin interior includes a kitchen, a loft bed, a bathroom and a daybed.
Modern Prefab Cabins
Single unit prefab cabins are pre-assembled and then delivered to your designated location. The cabins are built with sustainable materials and include traditional home amenities like a kitchen, bedroom, and a bathroom. They're also equipped with intelligent storage solutions and appliances.

This modern prefab cabin in Nordmarka, Norway, is a winter hideaway as the nearby forests offer cross country skiing opportunities.
Designed by Jarmund/Vigsnæs AS Architects MNAL the modular cabin ppears to be hovering above the slopes. Inside, the space is divided into two zones, one of which is a two-story area at the center.

Called Shelter, this prefab cabin by Danish retailer Vipp takes only six months to produce and an average of four days to install. There are two volumes which protrude from the roof, one serving as a sleeping loft and the other functioning as a chimney.

When building architect James Cutler of Cutler Anderson Architects designed this cozy prefab on an island near Seattle, Washington, he wanted it to serve as a design studio for him and as a hangout for his daughter and her friends. The weatherproof furniture serves as an interior design accent.
Horizontal Prefab

You can't call this a cabin, although it has similar characteristics. Surrounded by mountains and foothills, this holiday prefab home from Washington was designed by Prentiss Balance Wickline and has a floor plan with different volumes that form a private courtyard.
Modern Hybrid Cabins
A hybrid cabin is a structure that combines two or more construction methods. The cabins are made with wood, stone, glass, shake shingles, reclaimed siding.

This hybrid example is clad in wood and polycarbonate, the frame construction has built in vents that allow for air circulation. It is raised from the ground on four concrete blocks, minimizing its impact on the site.
The tropical getaway is from architect Erin Moore. It consists of two pavilion cabins which frame a 300-year old solidified lava formation. Located on the island Maui in Hawaii, the hybrid cabin is tailored for an outdoor-centered lifestyle.
Geodisc Prefab

This geometric and compact shelter was designed by Manuel Villa and is meant to serve as a backyard cabin for a family home from Bogotá, Colombia. It's shaped like a regular polyhedron. The wood cabin interior has a freestanding drawing area with a desk and sofa.
Two-Story Contemporary Cabin

This home, which has one side with windows only, is from Vandeventer + Carlander Architects here, one option is to create an addition, in this case a wood box which adds more floor space.
You can find this expanded cabin on Vashon Island, Washington.
Open Decor Cabin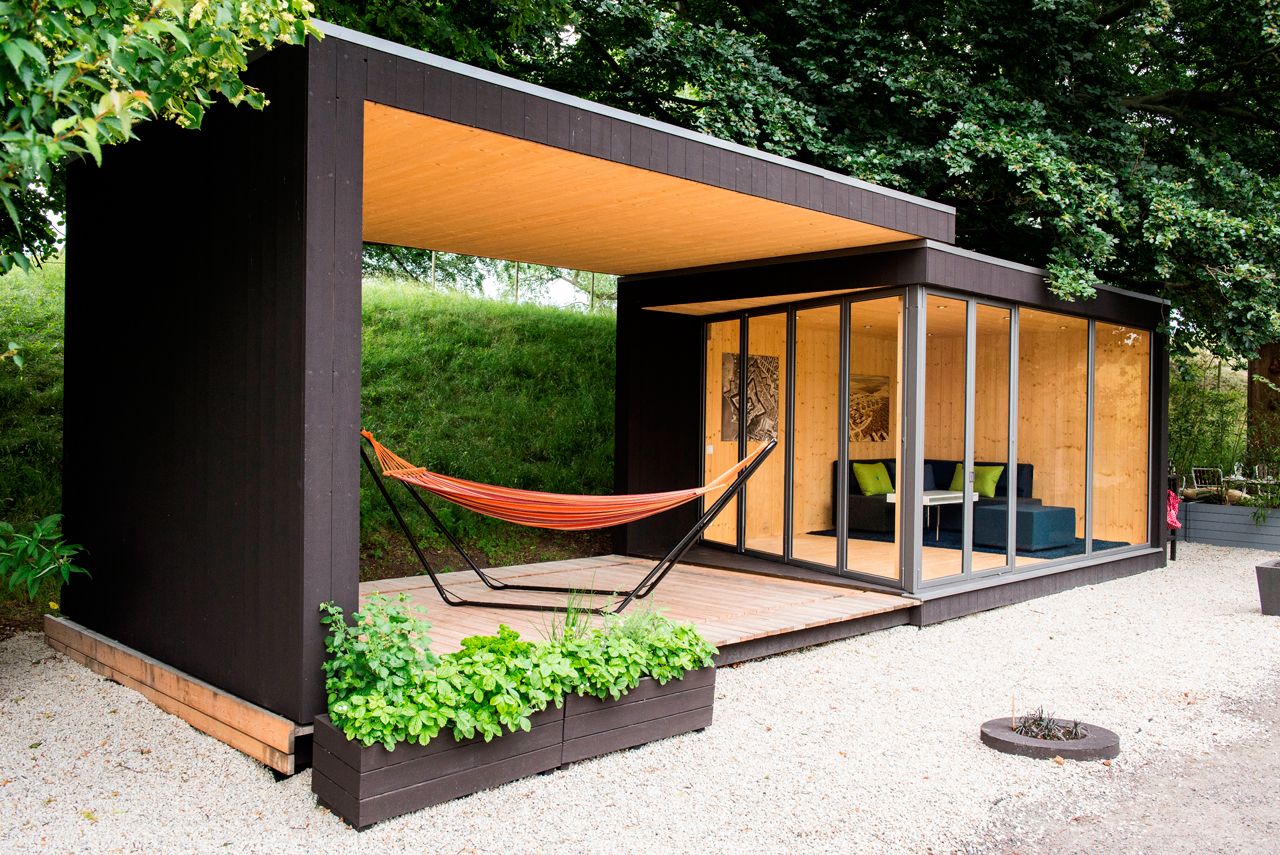 One of the most attractive things about modern cabins is there are many prefab designs that offer cool advantages. This is example is in Friluftsstugan, Sweden, and designed by Kenjo.
Its defining feature is a retractable roof that can create a covered exterior space.
Contemporary Country Cabin

The project developed by David Jameson Architect, Inc. in Maryland, US is not just a simple modern cabin but a set of three, each with a distinct function: a gust cabin, a master cabin and a lodge.
They've all been built and designed as a group, the choice of materials and the placement allowing them to stay cohesive.
Modern Chink Cabins
Chinking refers to a broad range of mortar or other infill materials used between the logs in the construction of log cabins and other log-walled structures. Today, modern design has pushed the chink cabin to new heights. Designers have started using cabin roofs to help a cabin blend into its environment.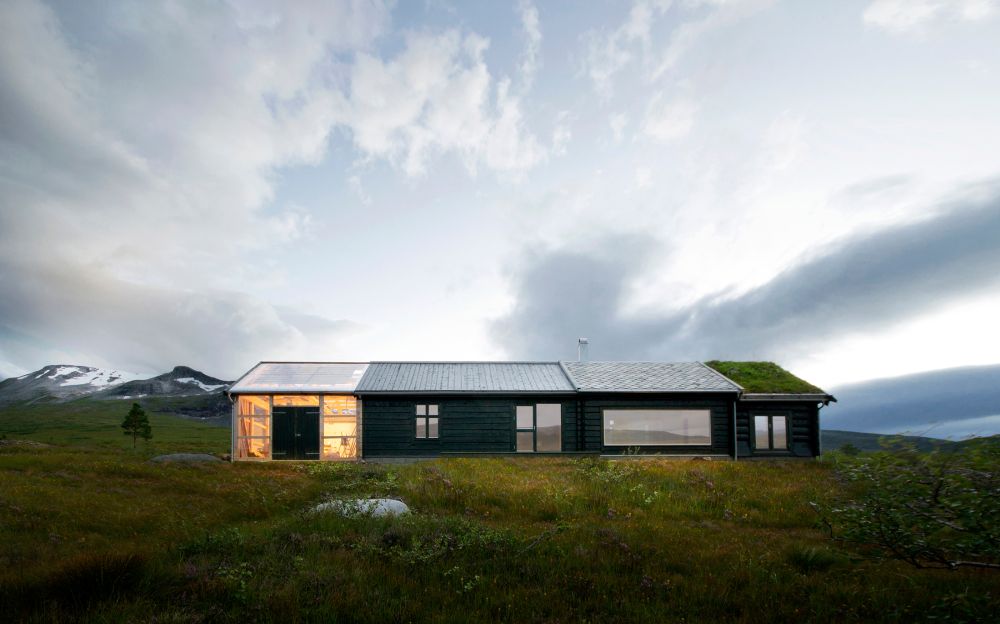 This is a single cabin organized into four different volumes and you can see this division in the way the facade and the roof is designed: in four different styles. This unusual patchwork design was created by Rever & Drage Architects.
The cabin interior features four types of materials and patterns on the roof. One of the volumes is a glass and wood box and another has a green roof.

Notice how the roof of this chink cabin features the same as the surrounding scrub brush. Because of this, the structure serves as an example of a modern chink cabin. Located in the Cairngorms National Park in Scotland, Moxon Architects designed this small retreat to blend into its surroundings.

Designed as a family retreat by Heliotrope Architects, this example is in the San Juan Islands in Washington. The architects gave the cabin a roof garden to make up for the lost habitat and retractable wall panels.
Multi-shaped Cabin

Because it's situated 1200 meters above sea level in northern Norway, close to a glacier, this modern tourist cabin had to be built to withstand extreme conditions such as heavy rains, storms and strong winds. It's one of the lodging facilities of the DNT (Norwegian Trekking Association) and was built by JVA.
The interior design has seven bedrooms and a total of 30 beds. It also has two entrance on opposite sides and a series of common spaces at the center.
Triple Decker Cabin

The Delta Shelter is a remote cabin built on stilts and with a steel-clad exterior. The home is in Mazama, Washington. The cabin was designed by Olson Kundig and the inspiration came from its immediate surroundings.
The raw materials and the design gets inspiration from the topography and allow the cabin to blend in while maintaining its unique character.
Minimalist Nature Cabin

With a simple plan and a linear design, this charming family retreat is situated on top of a steep bluff which gives the perfect view over Alma Lake in St. Germain.
It was designed by Johnsen Schmaling Architects to take advantage of its location and to blend in with nature thanks to the restraint palette of materials used throughout the interior and exterior.
Outdoors Cabin

How about this design as a place to rest? Although small in size, this holiday lakeside cabin from Loosdrechtse Plas offers comfort and functionality. Designed by 2by4-architects and a minimalist frame and glazed surfaces. The cabin interior allows the barrier between indoors and outdoors to disappear.

The first ting anyone noticed when looking at this small black cabin from Hudson Valley is the geometry. This is the A45 cabin, the first in a series of tiny homes designed by BIG for prefab housing startup Klein.
The home is a one-story structure with a small footprint of only 17 square meters and a series of triangular walls made out of dark-finished pine wood. The design is similar to that of an A-frame cabin but with a funky and eye-catching twist.

The Sunset Cabin is located on the southern shore of Lake Sincoe in Ontario, Canada. It was designed and built by Taylor Smyth Architects who found inspiration in the cottages made out of wood branches. The cabin is small and meant to serve as a cozy retreat separate from the main cabin which is situated further up the hill.

To ensure that this modern cabin from Quebec blends in, studio Cargo Architecture used a restraint palette based on wood.
They also kept the architecture and the exterior design simple and neutral and maximized the views from the living space by incorporating large sliding glass doors into the decor.
Snow House Shapes

Another example of how seamless the connection between a cabin and nature can be is this remote, gray alpine retreat on Vancouver Island. It was a project developed by architects Susan and David Scott.

The requirements in the case of this holiday lodge were quite simple. The residents asked Bohlin Cywinski Jackson to build a holiday cabin which could accommodate their family and guests.
The architects used timber wood as a primary material and designed the cabin to reflect their clients' Scandinavian heritage.
Modern A Frame Cabins
An A frame cabin is characterized by a triangular and tall roof resembling the capital letter "A." The cabin style has come a long way since 1934, when the first A frame home was built in the US. Today, modern A frame cabins are not only exclusive to America and can found all over the world.

Of all the A frame cabinss worldwide, this one is a stands out. Designed by Luke Stanley Architects and Anthony Hunt Design, New South Whales, Australia, the structure looks like a tent.

Located in Whistler, British Columbia, this A frame features a minimalist design from Scott & Scott Architects. The interior design on two floors, the lower one containing a gear drying room and storage space for sports equipment, a washroom and laundry area.

This contemporary A-frame was built in the 70s. Studio Y100 Ateliér made sure to create a cozy and inviting interior design but also to keep it simple and casual.
Modern Post And Beam Cabins
Post and beam cabins consist of vertical and horizontal logs designed to make a structure stronger. The cabin's frame is like other cabins, but the beams add extra support to the ceiling. With this cabin style, you can use wood, log siding, or concrete. Today, post and beam cabins have expanded beyond their traditional shapes.

Reclaimed and recycled materials are popular among modern cabins. One such example is this artist's studio cabin from Washington. This example was developed by Eerkes architects who used plywood, a porthole window, and several other materials rescued from houses set to be demolished.

Sometimes a modern cabin can be a great solution if you're thinking of downsizing. It's like a tiny home which simplifies everything. The design is from Studio Suyama Peterson Deguchi.
Mixed Shaped Cabin

Cabins are single-structure buildings with compact and simple designs, but that's not always the case. Designed by EXE studios, this living space is located in the Divčibare, Serbia.
Monolithic Cabin

Aside from its location, this grey design has an interior that's only 2.4 by 4.9 meters. It was designed by OFIS Arhitekti and structural engineers CBD. It sits perched on the border between Slovenia and Italy.
The exterior is made from aluminum panels combined with glass and timber while the interior design feature a minimalist style.
Situated among trees in a forest from upstate New York, this modern cabin was designed by studio JacobChang and built by its two owners.
The cabin is lifted off the ground in order to remain level in spite of the sloping terrain and relies on support from the trees, hence its name: Half-Tree House.
Tiny Cabin
Everybody knows what a tiny house is, but not many have heard to the "tiny cabin." And just like the tiny house, the tiny cabin offers the same easy lifestyle. The only difference is that a tiny cabin isn't on wheels.

Unlike most modern outdoor living spaces, this retreat from Noorderpark in Utrecht, The Netherlands has no running water or electricity and relies of firewood as fuel for the fireplace and the kitchen.
Inside there's a storage room, a washroom, a cooking and dining space and the cabin serves as a temporary shelter for the volunteers that maintain the park. The cabin was designed by cc-studio.

Developed by the University of Colorado Denver, each room looks like a compact box suspended in a large and open frame. The units serve as dormitories for the Colorado Outward Bound School.

The Signal Shed by Ryan Lingard Design, in Oregon, is an indicator of the respect that the studio and its clients have for nature and its beauty. The cabin serves as a short-term home and outdoor adventure outpost and sits on on uneven plot of land, on a series of pier footings.
The blackened rain screen cladding allows the structure to blend in seamlessly with its surroundings.
The Manshausen Island Resort from Steigen, Norway includes an 18th century small farmhouse and now also a series of modern cabins designed by Stinessen Arkitektur. The cabins are positioned on rocky landscape and are partially cantilevered above the sea.
Cabin Units
The Colorado Outward Bound School (COBS) in partnership with the
Colorado Building Workshop
where 28 students built outdoor units in Leadville, Colorado.
Cabin interior spaces measure 200 square feet. Each unit is powered by a single electrical circuit which provides lighting, heating, and energy for operating the small appliances.

When designing the cabins in Valle de Guadalupe, Mexico, the studio graciastudio led by Arq. Jorge Gracia, focused on nature and landscape. The residents are treated a spectacular view and a break from city life. The cabin interior design is steel which allows the cabins to age beautifully and change color.

This ccontemporary design from Belgium might be one of the smallest cabins ever. It was designed by studio dmvA architects and the interior has a minimalistic structure.
Cabins are typically small single-story structures but there are exceptions. This one is like a tower than it is a cabin. Designed by architect Hanna Michelson of Tham & Videgård Arkitekter, it was built for the Bergaliv Landscape Hotel in Sweden.
Mixed Material Cabins
As modern architecture has shown us that you can make a cabin out of any materials. As long as the structure provides a safe living space, who are we to define what makes or doesn't make a cabin?

This cabin features wood, concrete, siding, aluminum, and glass. It doesn't adhere to traditional cabin definitions. Designed by Hunter Leggitt Studio, this structure accommodates five people but can also host up to 10 guests whenever required.

Nestled into the hillside and among the pine trees of the Whitetail Woods Regional Park in Minnesota. Designed by HGA Architects and Engineers stand on concrete piers which helps them have a minimal impact on the surrounding land.
The initial desire was to create treehouse-like structures but a more accessible version was designed.

Built to serve as an extension to a log cabin which dates back to the 1960s, this modern cabin designed by Maddison Architects looks pretty futuristic. The architects separated the old and the new houses but still kept their individual identities.
Cabin Clusters

The Conguillío National Park is located at the bottom of the Llaima volcano in Araucanía, Chile and at its center you can find Araucanía, a wood lodging complex for guests which includes several facilities and functions. It was designed by Gubbins Arquitectos and Polidura + Talhouk Arquitectos.
Cabin Interior Room

When commissioned to design a compact living space complete with everything required for a weekend getaway, architect Sean O'Neill came up with the plans for this beautiful cabin. Built with a 10' folding glass wall, the living area opens to turn into a covered porch area.
Air Space

The Delta Cabin designed by studio AToT- Arquitectos Todo To and located in Argentina is not the type to blend in, not at first sight anyway. However, it has a strong relationship with its environment. The cabin doesn't touch the ground, so it has minimal impact on the environment.
Elegant Interiors

This design studio Bruno Zaitter Arquiteto built this amazing cabin 3 meters above the ground. The home has a total footprint of 50 square meters. Its main volume is a 12 meter long container adjacent to two metal boxes with glazed walls.
Traditional Cabin

We thought we'd end on a classic note. The example is of a traditional cabin. This what almost every cabin in the world looked like in 19th century. Located in Wienerwald, Austria, the home is a tribute to the classic cabin.
From design studio Raumhochrosen, the cabin interior is about meditation and discovering oneself and finding inspiration.
Frequently Asked Questions (FAQ)
FAQ
Are Prefab Log Cabins Environmentally Friendly?
Prefab means less waste, so yes, prefabs are environmentally friendly. Prefab manufacturing means far less material waste than traditional building styles due to the reduced risk of damage caused by natural materials or from an unused surplus.
Also, prefab materials are kept in factories instead of construction sites, so they're less likely to be stolen, vandalized, or damaged.
Is It Cheaper To Build A Cabin Or House?
Some factors that influence the cost include whether you build on flat land, if the land needs to be cleared, and the cabin's square footage. Log cabins have a similar price per square foot as the cost to build a house, which is about $100 and $200 per square foot.
Depending on your design ideas, you could easily spend more on your cabin interior design than its exterior design.
Can You Live In A Cabin Permanently?
Many are meant to be vacation or summer homes. Often, they are for spending time indoors, and their floor plans reflect this. If you want to live in a cabin year-round, transition your space from a vacation home to a full-time residence.
You cabin interior would need to have the right natural materials and plenty of room if you wanted to make it your house.
What Are The Differences Between Log Cabins And Log Homes?
A log home is any structure built by logs, while a log cabin is the smaller, more secluded, less-modern version, one of those "a square is a rectangle, but a rectangle isn't a square"
How Do You Fireproof A Cabin?
There are a few essential things you can do to protect your cabin from wildfire. You can start by removing dead and dense vegetation within 30 feet of your cabin.
You should also prune tree branches up to six to ten feet from the ground. Also, do not use outdoor burning; recycle mulch and compost. If you have a fuel tank and woodpile, keep them separated by at least 25.
And if you have large windows, install multi-pane windows, tempered safety glass, or fireproof shutters.
Modern Cabin Conclusion
As you discovered in the examples, they homes have come along way in the past. They still offer a serene lifestyle while providing a break from city life. Living in a modern cabin is about transporting your life to the countryside. Living in a modern cabin doesn't mean you need to throw away your computer. Your home may resemble a house from the early 20th century. but that's where the comparisons end.