60 Modern Cabins From Around The World Reveal Their Design Secrets
A cabin is by definition a small wooden shelter in a remote location and the image most of us have in mind when thinking about one is that of a rustic little retreat with a very cozy interior. It's time we start to change that perception because modern cabins take things to a whole new level. They preserve the coziness and comfort but they also include a lot of cool and new features. Even the construction process is different these days and prefab cabins are the best example. Today we're looking at 60 modern cabins and their amazing designs.
Situated on Block Island on the coast of Rhode island, this prefab cabin was built in 1967 by designer Jens Risom to serve as his family retreat. A few years ago the designer decided to update it and to make it ready for the next generation and this meant some maintenance was in order. An important task was to replace the glass sheets on the North-facing facade which opens up this A-frame cabin to the beautiful views around it.
Designed to serve as a family retreat by Heliotrope Architects, this modern cabin is located on one of the San Juan Islands in Washington State and is in perfect harmony with nature and the landscape that surrounds it. The architects gave the cabin a roof garden to make up for the lost habitat and retractable wall panels so that the living spaces can be completely opened to the outdoors.
The owner of this modern cabin built by FLOAT Architectural Research and Design in Oregon had a very peculiar and interesting request: she wanted a roof that would allow her to hear the rain falling on it. There were also two other challenges that the team had to overcome: building this cabin without road access, without electricity and without major excavation and making sure the cabin can be removed and recycled at the end of its life. 
The Rolling Huts by Olson Kundig are a set of modern cabins located on a site that used to be an RV campground in Mazama, US. The owner wanted to rescue the site and to allow the landscape to return to its natural state and, surprisingly, these cabins do exactly that. They're basically just steel-clad boxes on a steel and wood platform on wheels.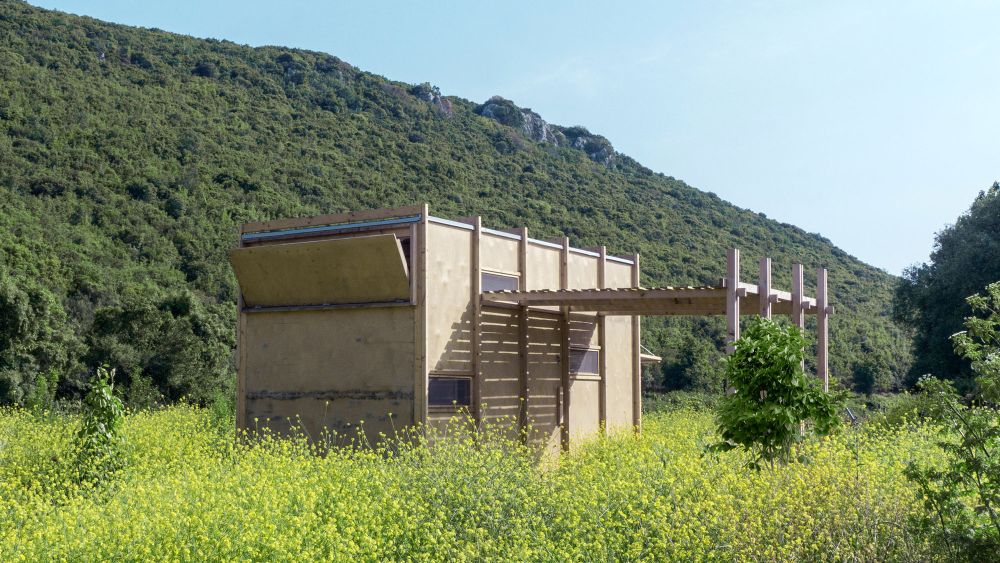 Situated on a plot of land near Edirne, close to the border between Turkey and Greece, this off-the-grid cabin serves as a wonderful summer retreat, being perfect for remote locations such as this one. The prefab cabin was designed by SO? Studio and features weatherproof birch panels on the exterior, stone wool insulation and a compact but well-organized interior which includes a kitchen, a loft bed, a bathroom and a daybed.
This modern cabin from Nordmarka in Norway is mostly used during the winter months when the nearby forests offer great cross-country skiing opportunities. The cabin was designed by Jarmund/Vigsnæs AS Architects MNAL and it barely touches the ground beneath it, appearing to be hovering above the gentle slopes. Inside, the space is divided into two zones, one of which is a two-storey area at the center.
When architect James Cutler of Cutler Anderson Architects  designed this cozy cabin on an island near Seattle, he wanted it to serve as a design studio for him and as a hangout area for his daughter and her friends so he made it as cozy and as fun as possible, with features reminiscent of tree houses. The exterior were are clad in corten steel allowing the cabin to blend in with the surroundings.
You can barely call this a cabin, although it has the right characteristics. Surrounded by mountains and foothills, this holiday home from Washington was designed by Prentiss Balance Wickline and features a floor plan organized into different volumes which form a private and cozy courtyard. The volumes are clad in weathering steel which gives them a timeless and worn look.
Apart from its unusual and spectacular location, this cabin also has a special and uncommon design, being very narrow and measuring only 2.4 by 4.9 meters. It was designed by OFIS Arhitekti who worked with structural engineers CBD and you can find it cantilevered over the edge of a mountain on the border between Slovenia and Italy. It's from aluminum panels combined with glass and timber and it offers some truly spectacular views.
Located on a remote site in Cape Breton, near Nova Scotia, this modern cabin is exceptionally tall, being reminiscent of a tower but nevertheless maintains its cabin-like characteristics. It was a project by Design Base 8 who were inspired by the local building typologies when creating this modern retreat. The designers gave it a gable roof and a shed-like look and at the same time highlighted the vertical nature of the cabin through features like tall and narrow windows or an exceptionally tall doorway framed by plates of weathering steel.
This geometric and compact shelter was designed by Manuel Villa and is meant to serve as a backyard cabin for a family home from Bogotá, Colombia. It's shaped like a regular polyhedron and it's a freestanding volume which contains a drawing area with a desk and a sofa. It has small square-shaped windows on the sides and a skylight at the top and one of the walls folds down and becomes a deck, opening up the cabin to the yard and revealing a glazed inner surface. 
It's possible to expand a cabin or a micro house and to make it possible for it to include more functions and there are various ways in which this can be done. As exemplified by Vandeventer + Carlander Architects here, one option is to create an addition, in this case a wood box which adds more floor space without drastically influencing the existing cabin's structure. You can find this expanded cabin on Vashon Island in Washington.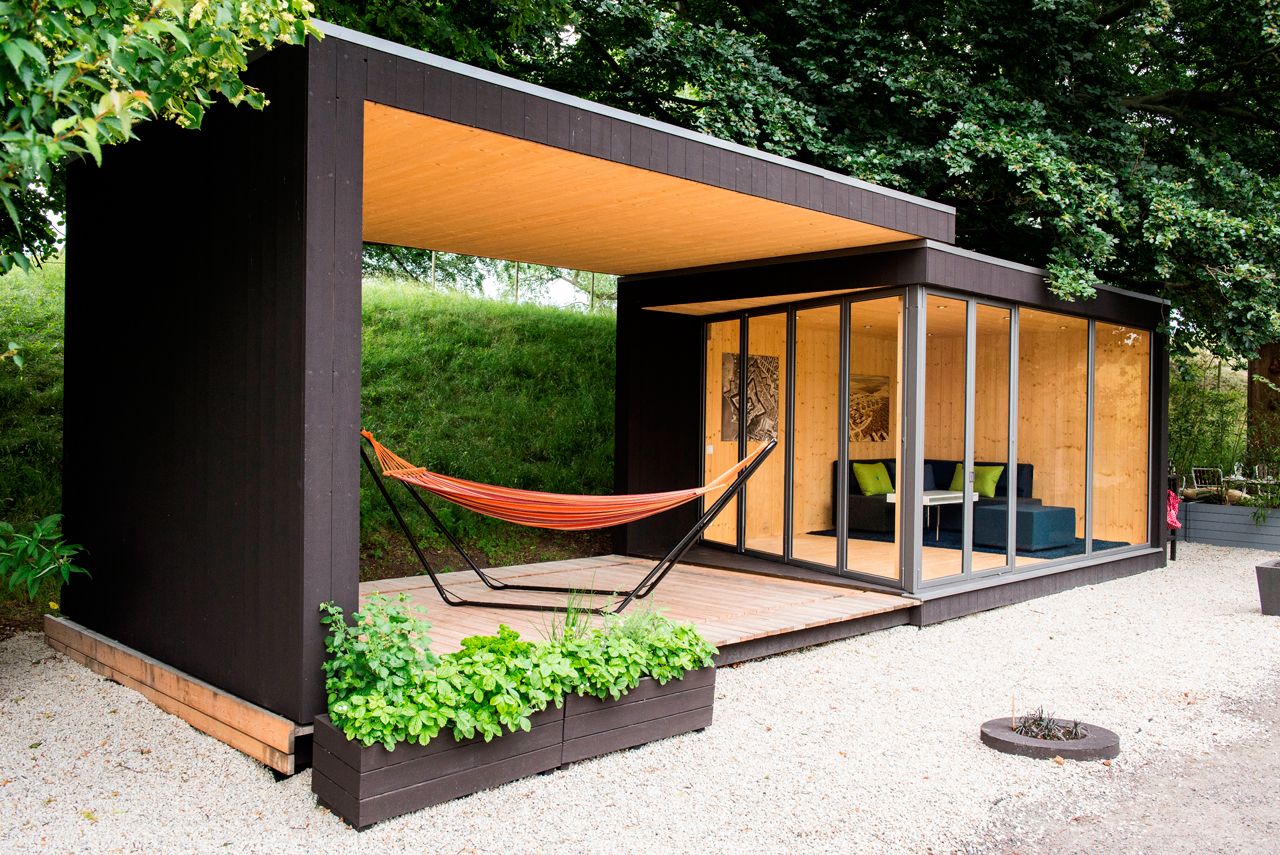 One of the most attractive things about modern cabins is the fact that there are many prefabricated designs that offer all sorts of cool features and advantages. One is the Friluftsstugan (Outdoor Cottage_ designed by Johan Svartnäs for Swedish company Kenjo. Its defining design feature is a movable roof which can slide out to create a covered exterior space. The wooden deck is always there and this ingenious design allows you to put a roof over it whenever you want to.
The project developed by David Jameson Architect, Inc. in Maryland, US is not just a simple modern cabin but a set of three, each with a distinct function: a gust cabin, a master cabin and a lodge. They've all been built and designed as a group, the choice of materials and the placement allowing them to stay cohesive. Further more, these cabins also share a special relationship with nature, blending with the water and the sky in a really cool way.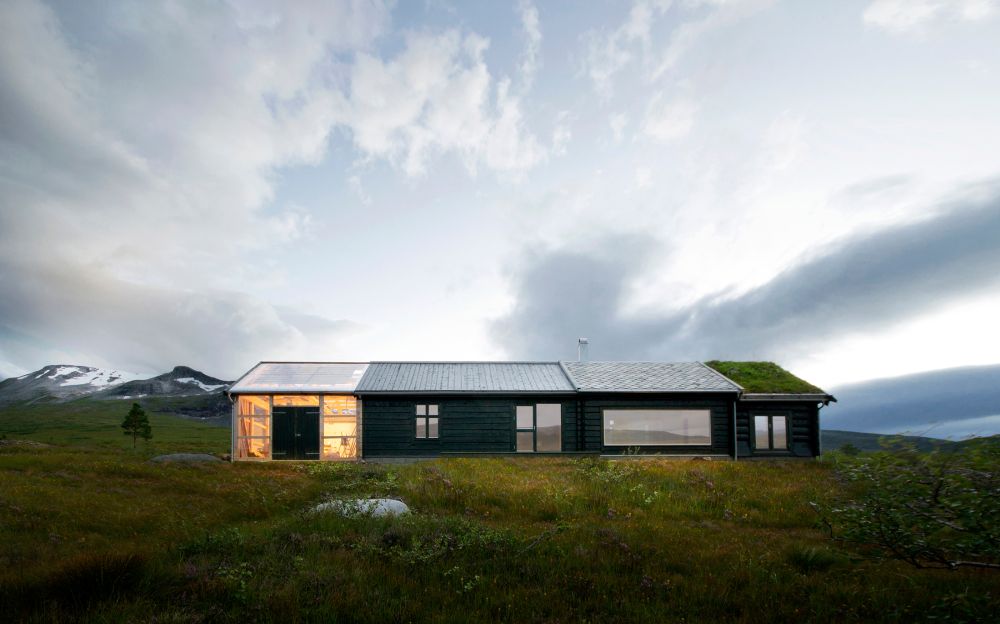 This is a single cabin organized into four different volumes and you can clearly see this division in the way the facade and the roof is designed: in four different styles. This unusual patchwork design was created by  Rever & Drage Architects. The four volumes are organized in a linear layout and feature four different types of materials and patterns on the roof. One of the volumes is a glass and wood box and another has a green roof. The other in the middle share common characteristics.
Because it's situated 1200 meters above sea level in northern Norway, close to a glacier, this modern tourist cabin had to be built to withstand extreme conditions such as heavy rains, storms and strong winds. It's one of the lodging facilities of the DNT (Norwegian Trekking Association) and was built by JVA. Inside, the cabin has seven bedrooms and a total of 30 beds. It also has two entrance on opposite sides and a series of common spaces at the center. 
The Delta Shelter is a remote cabin built on stilts and with a steel-clad exterior. It's located in Mazama, US and one of its coolest features is the option to close it off completely when not in use, sealing it and ensuring maximum security. The cabin was designed by Olson Kundig and the inspiration came from its immediate surroundings. The raw materials and the design respond to the topography and allow the cabin to blend in while maintaining its unique character.
With a simple plan and a linear design, this charming family retreat is situated on top of a steep bluff which gives the perfect view over Alma Lake in St. Germain, US. It was designed by Johnsen Schmaling Architects to take advantage of its location and to blend in with nature thanks to the restraint palette of materials used throughout the interior and exterior. 
Although small in size, this holiday lakeside cabin from Loosdrechtse Plas offers all the comfort and functionality needed by its inhabitants. The cabin was designed by 2by4-architects and features a minimalist frame and glazed surfaces which allow the barrier between indoor and outdoor to disappear almost completely, bringing the views inside and making it seem almost as if the cabin if floating above the water.
When designing this set of 20 cabins in Valle de Guadalupe, Mexico, the studio graciastudio led by Arq. Jorge Gracia focused on respecting the nature and the landscape as much as possible and having as little impact on the land as possible, hence the platforms which raise the cabins completely off the ground. the main material used in the project was steel which allows the cabins to age beautifully and to change color over time, blending in and achieving harmony with the surroundings.
The first ting anyone noticed when looking at this small black cabin from Hudson Valley is the geometry. This is the A45 cabin, the first in a series of tiny homes designed by BIG for prefab housing startup Klein. The cabin is a one-story structure with a small footprint of only 17 square meters and a series of triangular walls made out of dark-finished pine wood. The design is similar to that of an A-frame cabin but with a funky and eye-catching twist.
The Sunset Cabin is located on the southern shore of Lake Sincoe in Ontario, Canada. It was designed and built by Taylor Smyth Architects who found inspiration in the primitive cottages made out of branches. The cabin is small and meant to serve as a cozy retreat separate from the main cabin which is situated further up the hill. It was designed to offer beautiful views of the sunset, hence the name. 
To ensure that this modern cabin from Quebec gets to blend in with its surroundings, studio Cargo Architecture used a restraint palette of materials mainly based around wood.They also kept the architecture and the exterior design simple and neutral and maximized the views from the living space by incorporating large sliding glass doors into the decor.
Another example of how seamless the connection between a cabin and its surroundings can be is this remote alpine retreat from Vancouver Island. It was a project developed by architects Susan and David Scott. In addition to blending in seamlessly, this modern cabin is also special through the fact that it stands on six columns made out of Douglas fir tree trunks.
The requirements in the case of this holiday lodge were quite simple. The clients asked Bohlin Cywinski Jackson o build a holiday cabin which could accommodate their family and guests but which could also be left unoccupied for long periods of time without requiring any maintenance. The architects used timber as a primary material and designed the cabin to reflect their clients' Scandinavian heritage.
There are many beautiful and interesting A-frame houses and cabins out there but this one stands out. This is a modern cabin designed by Luke Stanley Architects and Anthony Hunt Design. It's located in New South Whales, Australia and it looks like a tent, which is exactly what the clients wanted. The cabin was prefabricated and assembled on site by a two-person team.
The small footprint of the Signal Shed built by Ryan Lingard Design in Oregon is an indicator of the respect that the studio and its clients have for nature and its beauty. The cabin serves as a short-term home and outdoor adventure outpost and sits on on uneven plot of land, on a series of pier footings. It features blackened rain screen cladding which allows it to blend in seamlessly. 
Structures built using reclaimed and recycled materials are always inspiring. One such example is this artist's studio cabin from Washington. This was a project developed by Eerkes architects who used plywood, a porthole window and several other materials rescued from houses set to be demolished. Further more, the cabin also features second hand appliances which helped to keep the budget small.
Sometimes a modern cabin can be a great solution if you're thinking of downsizing. It's like a tiny home which simplifies everything. Studio Suyama Peterson Deguchi faced the challenge of building such a cabin for a retired couple from Seattle who wanted to make their lives easier and simpler. The design of the cabin was inspired by the idea of a picnic shelter.
A simple cabin, as it turns out, can be quite exotic. A perfect example is the tropical getaway designed by architect Erin Moore. it consists of two pavilions/ cabins which frame a 300-year old solidified lava formation. the retreat is located on Maui island in Hawaii and was designed for an outdoor-centered lifestyle. It's used as a holiday/ weekend getaway.
Located on the Banks Peninsula in Canterbury, New Zealand, this charming retreat was designed to serve as a honeymoon retreat for paying guests. It features an unusual geometry with interlocking lines and a series of unusually-shaped volumes and it captures the most beautiful views of the surrounding landscape. The cabin was designed by Pattersons architects and consists of three volumes: a lobby, a bathroom and a living room/ sleeping area.
Most modern cabins are designed in relation to their natural surroundings, often the goal being to allow them to blend in with the landscape. This cabin from the Snowdonia region of Wales is no exception but there's more to it than just that. The Slate Cabin, designed by TRIAS, serves as a writer's retreat and features exterior walls covered in reclaimed slate tiles which contrast with the interior which is made entirely of light birch plywood.
There are various different materials from which cabins can be built, wood being the most popular one. It's what architect Alejandro Soffia for the interior of the Polycarbonate Cabin which is located in Guanaqueros, Chile. The name of the cabin is not related to the overall design of the structure but rather to a single element on the site: a long polycarbonate wall which separates the cabin from the adjacent building. 
Cabins are usually single-structure buildings with compact and simple designs but that's not always the case. EXE studio designed a cabin which defies these common characteristics. Located in the Divčibare resort from Serbia, the cabin is a combination of two monolithic volumes which can be easily differentiated thanks to their contrasting light and dark color themes. The cabin is built into the hillside, a measure which ensures minimal disturbance on the site.
Situated among trees in a forest from upstate New York, this modern cabin was designed by studio JacobChang and built by its two owners. The project had to be simple and had to stay within a $20,000 budget. The design is quite interesting. The cabin is lifted off the ground in order to remain level in spite of the sloping terrain and relies on support from the trees, hence its name: Half-Tree House.
This cabin from Whistler, Canada features a typical and minimalist A-frame design. It was built for a family of snowboarders and it fits into the neighborhood quite nicely, being surrounded by similar cabins and chalets, most dating back to the 1970s. It was designed by Scott & Scott Architects and its interior is organized on two floors, the lower one containing a gear drying room as well as storage space for sports equipment, a washroom and a laundry area. The upper floor houses the living and sleeping spaces.
It's easy to miss this cabin from Cairngorms National Park in Scotland, even when you're looking straight at it. That's because of the green roof which allows the cabin to disappear into the landscape and to become one with the scenery. And speaking of scenery, Moxon Architects also made sure that this small but cozy retreat also takes full advantage of its surroundings and views.
Looking at these cabins developed by  University of Colorado Denver, they look like compact boxes suspended within a large and open frame. The cabins serve as dormitories for the Colorado Outward Bound School and are each composed of two main elements. One is the box which contains the private indoor space and the other is the frame which offers storage for gear such as bikes, skis, kayaks and others plus a covered porch. 
Unlike most modern cabins these days, this retreat from Noorderpark in Utrecht, The Netherlands has no running water or electricity and relies of firewood as fuel for the fireplace and the kitchen. Inside there's a storage room, a washroom, a cooking and dining space and the cabin serves as a temporary shelter for the volunteers that maintain the park. The cabin was designed by cc-studio. 
Called simply Shelter, this prefabricated cabin by Danish retailer Vipp takes only six months to produce and an average of four days to install. It can be transported to pretty much any site and it consists of a metal and glass box on pilotis. There two volumes which protrude from the roof, one serving as a sleeping loft and the other functioning as a chimney.
Cabins, whatever their type may be, are usually small single-story structures but there are exceptions, like this one which is more a tower than it is a cabin. It was  designed by architect Hanna Michelson of Tham & Videgård Arkitekter and was built for the Bergaliv Landscape Hotel in Sweden. It serves as a cozy retreat for up to two people and it's 10 meter tall which allows it to offer some pretty spectacular views.
The Manshausen Island Resort from Steigen, in Norway includes an 18th century small farmhouse and now also a series of modern cabins designed by Stinessen Arkitektur. The cabins are positioned on rocky landscape and are partially cantilevered above the sea. Their orientation and design are based on the particularities of the views as well as on the privacy of the guests, hence the contrast between the wooden and glass sections. 
In 2015 13 students from the Harvard Graduate School of Design were faced with the challenge of designing an innovative and at the same time practical shelter which could withstand the extreme alpine climate. The project was developed by OFIS Architects and the students came up with 12 proposals. The one that was built is this modular shelter which was placed below Mountain Skuta in the Kamnik Alps, Slovenia.
Flexibility is pretty important for a cabin, although you can't always have that given the limited space. Hunter Leggitt Studio managed to overcome the challenge when designing the 510 cabin in Wofford Heights, US. The cabin is able to accommodate 5 people on a regular basis but can also host up to 10 guests whenever required. It's the perfect weekend retreat for families and friends. 
Nestled into the hillside and among the pine trees of the Whitetail Woods Regional Park from Farmington, US, these cool cabins designed by HGA Architects and Engineers stand on concrete piers which helps them have a minimal impact on the surrounding land. they're cozy, private and in sync with their surroundings. The initial desire was to create treehouse-like structures but a more accessible version was eventually designed. 
Built to serve as an extension to a log cabin which dates back to the 1960s, this modern cabin designed by Maddison Architects looks pretty futuristic. The architects decided to separate the old and the new cabins in order to allow them each to express their unique, individual identities and also to emphasize the strong contrast between them.
Simplicity was paramount for this cabin from Wienerwald, Austria. The structure serves as a quiet and private retreat and was designed by raumhochrosen in perfect harmony with its owner's needs and requirements. It's a space designed for meditation, for discovering oneself and for finding inspiration. Offering panoramic and expansive views was not exactly in tone with the character of the cabin so solid wooden walls were designed instead of full-height windows. 
The Colorado Outward Bound School (COBS) in partnership with the Colorado Building Workshop a group of 28 students designed and built a series of all-round cabins in Leadville, Colorado. Each cabin measures 200 sq ft and is powered by a single electrical circuit which provides lighting, heating and energy for operating the small appliances. They're simple and small and don't include baths or kitchens. These facilities are incorporated into a central lodge.
Not everyone finds modern commodities and facilities to be absolutely necessary, especially when spending time in a cabin. That's why architect Marianne Borge designed Woody15, a small cabin with a total surface of 17.5 square meters and a simple design and structure made out of 29 cross-laminated timber elements which allow it to be easily put together or disassembled. The cabin doesn't have a kitchen, a bathroom and not even electricity. All it has is a small wood-burning stove. 
The Conguillío National Park is located at the bottom of the Llaima volcano in Araucanía, Chile and at its center you can find Araucanía, a lodge/cabin complex for guests which includes several facilities and functions. It was designed by Gubbins Arquitectos and Polidura + Talhouk Arquitectos and was quite a challenging project. Because of the large distance between the park and the architects' office combined with the fact that 3.6 meter long wood planks were produced only 2 kilometers away from the site, the lodge was designed with facade which use these exact plank dimensions and with a simple structure which allowed local constructors to execute it. This is the result.
At only 12 square meters across, this cabin from Belgium would have to be one of the smallest ones out there. It was designed and built by studio dmvA architects and has a minimalistic structure. The advantage of such a small footprint is that this cabin can be easily transported via trailer to any location. The exterior is clad in burnt larch wood and the interior is designed with white pine which gives it a very clean and airy look. The cabin has a strong connection to the surrounding area thanks to the full-height pivot glass door. 
This beautiful summer cabin from Finland has a sauna and a workshop in addition to the cozy and inviting living area. It's a project completed by architect Aleksi Hautamäki and occupies a secluded piece of land on the edge of the Archipelago National Park. The rugged landscape presented some challenges but the magnificent views far outweigh any inconveniences. The cabin is surrounded by water and enjoys its own little piece of paradise. 
Inspired by a desire to create a small and simple shelter made of wood, in a remote area with gorgeous surroundings, architect Renée del Gaudio came up with a modern design for this lovely place in Fairplay, U.S. which follows the general framework of a traditional cabin. It enjoys a beautiful location with panoramic views over the mountains and the pine forest and has a double-height ceiling and large windows which bring these views inside, making them a part of the design. 
The region of Imingfjell in Norway has magnificent views but also imposes a series of very strong building regulations. All the cabins in the area are requires to have sectioned windows, standing wood paneling and between 22 and 27 degree gabled roofs. Rather than oversimplifying the design because of all the restrictions, studio Arkitektværelset As came up with a unique and original plan and a very interesting look for this mountain cabin. All of the required elements were incorporated into a very modern and sculptural design that's both suited for the region and inspiring in general. 
The Charred Cabin from Chile is as lovely as it is tiny. It only measures 15 square meters across but it's tall enough to include a main floor and a loft area. The cabin has a blackened exterior and a very simple box-like shape topped with a flat roof. It's clad in pine wood planks and has a variety of small windows or different shapes and sizes positioned at different heights. This was a project completed by studio DRAA. 
When commissioned to design a compact living space complete with everything required for a weekend getaway, architect Sean O'Neill came up with the plans for this beautiful cabin. It's modern and simple and it has a 10' folding glass wall which allows the entire living area to be opened to the outdoors and to become a covered porch area. Because this also needed to be an off-the-grid cabin, it stands on a trailer base and uses solar energy. It can be easily relocated along with all the included utilities and everything inside. 
The Delta Cabin designed by studio AToT- Arquitectos Todo Terreno and located in Argentina is not the type to blend in, not at first sight anyway. However, it has a very strong relationship with its surroundings which is gradually revealed throughout the program. The cabin is raised off the ground which allows it to have a minimal impact on the site. It also has large full-height windows which bring in the beautiful views and its framework extends upwards to create a slender shell around the rooftop, turning this surface into a gorgeous observation deck. 
This tiny cabin only has a 5 square meter footprint. It's also unusual and eye-catching, looking a lot like a miniature greenhouse. It has two solid walls on the sides, one of which is actually a pair of doors that open up this facade and expose the interior to the surroundings. The other two sides and the roof are framed in glass. This allows the cabin which is actually nothing more than a bedroom to be exposed to the surroundings and to offer panoramic views of both the landscape and the sky. It's like sleeping outside but actually feeling secure and comfortable. This was a project by studio JeanArch. 
In an effort to maximize the connection with nature and the beautiful surrounding landscape as much as possible, studio Bruno Zaitter arquiteto built this amazing cabin 3 meters above the ground. This gives it nice views over the entire surrounding area and placed it among the canopies of the trees. The cabin has a total footprint of 50 square meters. Its main volume is a 12 meter long container placed adjacent to two metal boxes with glazed walls. Together, these sections create a very cozy and relaxing space with all the necessary functions including a work area, a spacious bedroom, a kitchen, living room and a bathroom with a soaking tub. This beautiful forest cabin is located in Brazil. 
This modern A-frame cabin is actually an old chalet built in the 1970s which has been recently reconstructed and renovated. A lot of the structural elements have been preserved including the roofing and the interior staircase and a few major changes were made to the interior, one of which was to remove one of the upstairs bedrooms in order to allow more space for the living room and to open up the area. The glazed facade marked by a set of green entrance doors fills the interior with natural light and also frames a gorgeous view of the surrounding landscape. Studio Y100 Ateliér made sure to create a cozy and inviting interior design but also to keep it simple and casual. There are only neutral and earthy colors and natural finishes throughout the entire space which puts emphasis on the vibrant colors of nature and the magnificent views.