22 Wall Decor Ideas to Take to The Office
The office decor is a rough topic for almost all office workers. When you spend most of your waking hours in this room, you want it to be a place that's inspiring and beautiful. However, when it's not your home office, there is a limit to what decor you can use.
It's too easy to skip decor altogether if your office is little more than a closet, but even closets have wall space. When you can't fit an extra chair or a bookcase for styling, think wall decor. And we're not talking about the neutral factory prints. Take a look at these 22 ideas for office wall decor and you'll have your office feeling like home in no time.
When your office is mostly gray or brown, it will be extremely beneficial to your walls to add some sparkle. Look for a wall sculpture that suits your fancy and make sure it's in a shade of gold, silver or copper. It will really set the tone for your office.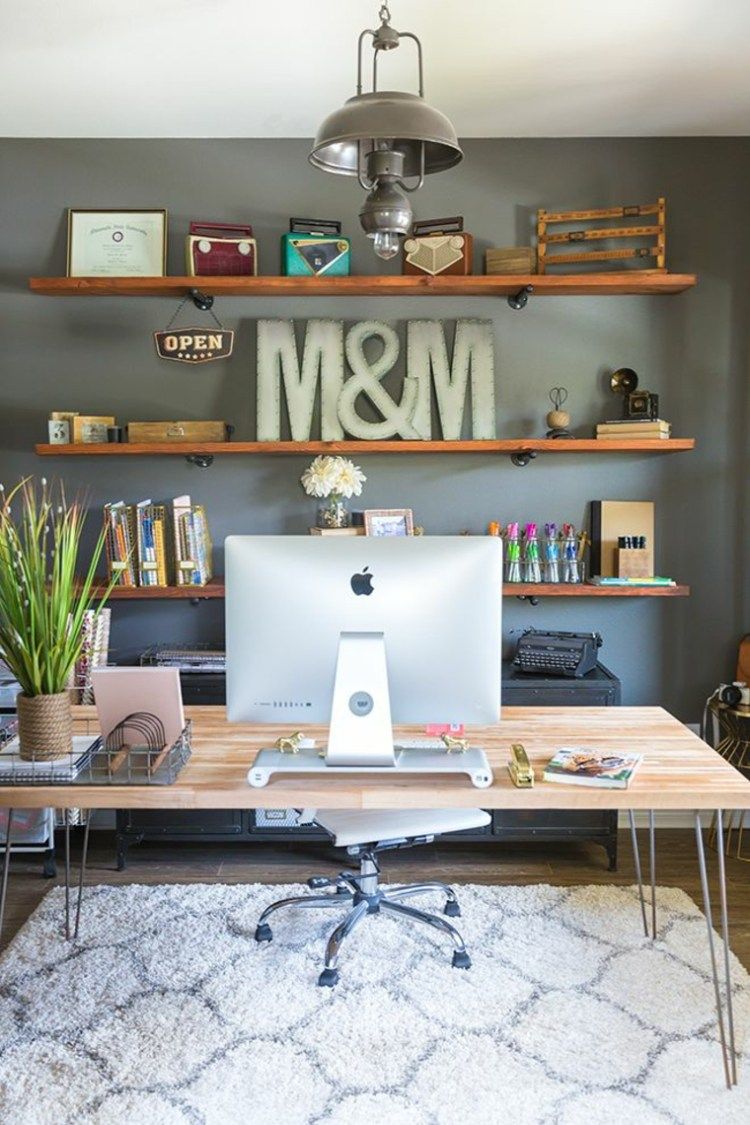 There's nothing so official as your own monogram. Whether you make it yourself or buy your letters, hanging your initials in your office will make you feel like the boss of the place.
Inspiration is important to help motivate you through the workweek slump. Hang a canvas in your office with one of your favorite quotes displayed on it. It could be something work related or just helpful to get your mind back on track.
Bringing plants to the office is always a nice idea, but sometimes it isn't practical or even permitted. If you're pining for some nature in your work life, find a couple prints that display leaves or flowers or anything from the great outdoors for the same effect.
Of course it doesn't have to be drawings or paintings of nature to be art. Take your collection of shells, pressed flowers or stones and mount them in a shadow box for your office wall. You will appreciate looking at your favorite nature collection every day.
Yes, woven wall hangings are still in. Since you can easily find them in neutral colors like brown, gray and cream, they make a nice soft option for your office wall. Your space will feel more like a living room after hanging one of these.
There are all kinds of options for removable wallpaper and wall murals nowadays. Find one with a fun pattern to create a statement wall and liven up your office in a big way.
Don't forget about our beloved gallery walls! Gather together some of your favorite prints, family pictures and quotes, all around the same color, for a beautiful cohesive work of art in your office.
When your office space isn't very big, you need to think carefully about how you use the space you have. Buy or make a wall calendar with an acrylic square and you'll have something that is beautiful and practical.
You've heard of the moodboard. If your office is a little on the casual side, go ahead and create a moodboard on one of your office walls. Photos, quotes, magazine clippings, framed or not, it's all fodder for an inspiring wall to look at every day.
Adding some color to your workspace, whether it's a home office or not, can make this area more cheerful and inspiring. There's a variety of different ways in which you can do that. Consider options such as a brightly-colored office chair, a quirky and colorful table lamp or some vibrant wall art. This office created by studio InDesign / Lori Ludwick can give you an idea of how to combine some of these elements.
If colorful decors are not really your thing, perhaps the opposite could suit you better. A black and white office décor could give this space a distinguished and elegant look plus if you'd like you can also sneak in a little bit of color too. We really like the subdues tones of the area rug used here by interior designer Stafford Bensen.
Just because this is a space where you work doesn't mean it can't also look inviting and be comfortable. In fact, your home office could be a part of the living room area or could partially look like one. Consider adding a comfortable sofa and a couple of chairs to change the ambiance in this room. Studio Summer Thornton Design used a similar strategy for this colorful space.
A good general strategy when designing an office or a workspace is to find a way to combine functionality with a pleasant aesthetic. In this case studio Town Line went with a black accent wall filled with shelves and storage compartments. The desk is the centerpiece of the room.
Sometimes minimalism can be a very powerful tool when designing a space. Take this beautiful office by studio Niosi Design for instance. The desk is the only piece of furniture here and there's no window treatments of any kind and yet this space has a lot of character and doesn't look austere or overly simplified.
Accent walls are also worth considering for an office space. An accent wall is a wonderful way of introducing a powerful and interesting color or a pattern into a room's décor. This dark blue used here by studio Marker Girl Home really stands out against the white and gives this space a refined and classic look.
Symmetry isn't always great but in some cases it makes sense. Check out this elegant office space by studio West Village GC. Symmetry is its strong point and was used here in a way that stands out but doesn't feel forced.
The desk is probably the most important piece of furniture in an office so consider all the options before settling on a specific type or style. If you're short on space or you want something small and casual, perhaps a wall-mounted desk and a few floating shelves would look great. Since it would be a fairly simple setup, you might even want to build it yourself. Check out this DIY desk tutorial from thecraftedlife for more details.
Bring your workspace to life with some handmade decorations and accessories. There's plenty of ideas to choose from, like this lovely fringe calendar garland from homeyohmy. You can customize this one with some of your favorite photos and surround yourself with beautiful memories.
Speaking of calendars, they're not as popular today as they sued to be. Nevertheless, you can still make one a part of your beautiful office's décor, especially if it would also have a useful purpose and not just a decorative one. The acrylic wall calendar design featured on jenwoodhouse is perfect for a modern office decor.
These honeycomb shelves would look great anywhere plus they can also be used to store and display various things like books, candles, small planters and so on. Imagine adding a few to your office. It would be both a practical and a stylish addition and, best of all, you can craft the shelves yourself. You can find the tutorial on abeautifulmess.
Another nice DIY project that would be absolutely perfect for an office is this iron mesh board featured on myparadissi. It's just a little something to put on a wall and to fill with inspiring pictures, quotes and various other things. You can also use it as an organizer so it's not just for looks.