Amazing Prefab Cabins From Around The World
How many times did you feel like you wanted to just get away from everything and everyone and to spend some time in a small cabin in the middle of nature, surrounded by freshness and beauty? Achieving all that is easier than you think, especially with so many prefab cabins and affordable design options available on the market right now. There are many advantages that come with the idea of a prefab cabin and we're hoping to pinpoint the most important ones in the examples that follow.
The cabin dormitories of the Colorado Outward Bound School
What you see here is a set of cabins designed for the Colorado Outward Bound School. They're meant to serve as micro dormitories and they embrace the landscape in a beautiful manner, offering views of the distant mountains and of the forest. Although these are individual structures, they act as a collection, a community organized in such a way that social spaces are created as a result of the relationship between these modules.
These prefab cabins were built in three weeks and installation was easy. The assembly involved connecting the two elements of the structure, the box and the frame. The cabins have covered porches and snow roofs and this really cool and modern design which makes it seem as if the roof is floating, sitting at an angle and not really touching the rest of the cabin. It's a design which allows natural light to enter the interior spaces from all sides.
A group of rolling cabins in Mazama
In 2008 someone purchased a site in Mazama, Washington with the main goal of allowing the landscape to return to its natural state. The site used to be an RV campground and is now occupied by a series of stylish prefab cabins designed by Olson Kundig. The ideas of wanting to revive the landscape and that of putting a bunch of houses on the site are quite contradictory but the architects found a very clever way to make them both work. They raised the cabins off the ground and placed them on wheels.
Each prefab cabin is basically a steel clad box set on a platform. The interior is quite small but there's also a generous outdoor deck protected by the roof which extends the living area outside without even interfering with the land below. Each cabin is oriented towards a view of the maintains and away from other cabins and this way they all enjoy a good amount of privacy while remaining clustered together.
A portable prefab cabin for two
Probably the coolest thing about prefab cabins and other similar structures is the fact that they can be transported pretty much anywhere and installed on site. That's actually what makes the ÁPH80 series so cool and interesting. The project was developed by Ábaton Arquitectura. The prefab cabin design which they came up with is able to accommodate two people and can be transported and placed almost anywhere.
The cabin is simple and sturdy and features a gabled roof which makes it look really cute and stylish. The interior is organized into three different areas which combined measure 27 square meters. The spaces include a kitchen and living room zone, a full bathroom and a double bedroom. The materials used throughout are sustainable and recyclable for the most part. The main material used throughout the cabin is wood. It comes from regulated forests and it gives this prefab cabin and very simple and at the same time warm and calming appearance and ambiance.
Plug-and-play prefab houses by Cocoon9
A lot of architects and designers are focusing on small-scale living and offer inspiring solutions and ideas in this sense. An example is the company Cocoon9 which specializes in designing and manufacturing prefab houses, offering a variety of options to choose from. The smallest structure they produce measures only 15 square meters but that doesn't stop it from being packed with function and style. The company describes there as "plug-and-play houses with the sophisticated features of a custom home or luxe resort".
There are three types of floor plans to choose from, one having a separate bedroom and two having open layouts. There prefab cabins or micro homes, whatever you want to call them, manage to offer the perfect blend of user-friendliness, function, looks and flexibility. Use them as garden home offices, forest cabins, guest houses or whatever else you want. You can choose between three types of materials for the exterior cladding of these prefab cabins: wood, stone or metal.
Geometric prefab cabin by BIG
The prefab cabin prototype designed by BIG stands out from other similar projects thanks to its unusual geometric design and eye-catching form which is defined by clean and sharp lines and angles. The cabin is unusual in more than one way and there are a lot of cool and interesting things about it. For example, the fact it has triangular walls is definitely not standard. From one side it looks just like a regular A-frame house but that's just an illusion. The structure has a square base and a minimal footprint measuring 17 square meters in total. Inside there's an open-plan living area, a sleeping area and a small kitchen and a bathroom.
Minimalist prefab boxes by Alchemy
Located in Santa Rosa, US this pair of contemporary structures were a project by Alchemy Architects which illustrates just how awesome working with prefab structures is. The buildings were designed in Minnesota, built in Oregon and then shipped to California. The accessories such as the stairs and the porch railings were prefabricated by the architects in Minnesota. It was all assembled on site.
The project consists of two separate structures. One of them is clad in whitewashed oak and incorporates an open living, dining and cooking area plus a bathroom and the other structure houses the sleeping area and some storage space. Both of these prefab modules have steel frames, sliding glass walls and corrugated steel elements.
A tiny prefab cabin for writers
The idea behind this project is simple. Author and designer Cornelia Funke needed a private space where she could go to find inspiration and to get over writer's block so she went to New Frontier Tiny Homes for help. The studio offered her the perfect solution:  a small prefab cabin which can be transported to virtually any location in the world. The cabin has a modern and simple design with rustic accents and comes equipped with a desk, storage for books on the walls, a library ladder and a small kitchen with a loft bedroom above it. The cabin is designed with writers in mind but can also adapt to other types of requirements as well.
Sophisticated prefab cabin in Brazil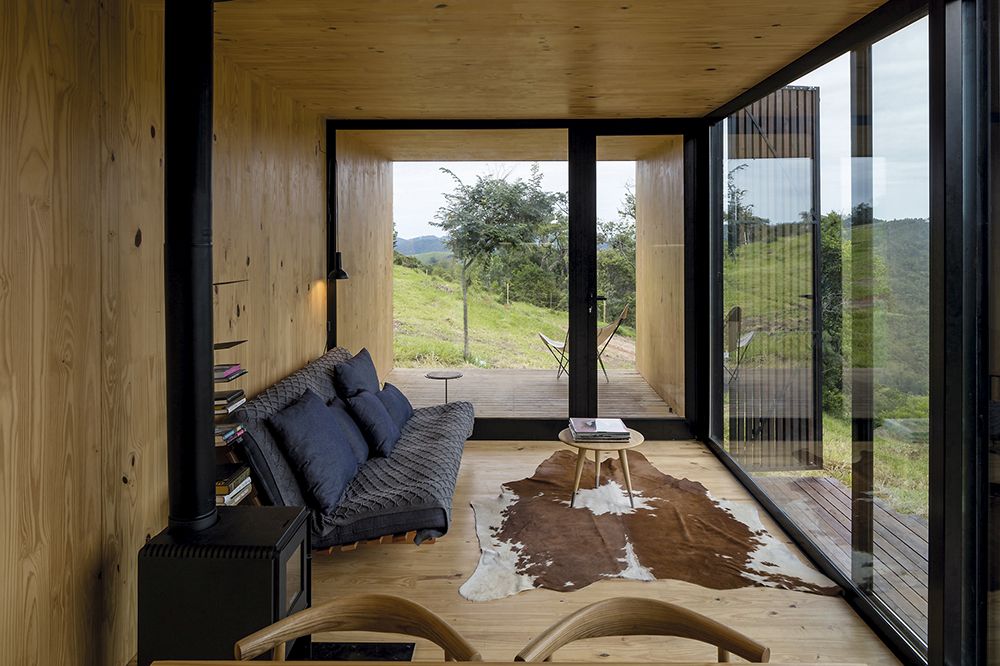 In Brazil there's an amazing region called Catuçaba which has only recently started being explored. It's where you can find amazing prefab structures such as this stylish and modern cabin designed by MAPA in 2015. The region is not exactly suitable for traditional building techniques and so alternative options are being used. Prefab cabins are perhaps the best option. Surrounded by dense vegetation and mesmerizing views, this cabin was transported as several modules and assembled on site using crane trucks.
A prefabricated retreat in Uruguay
Since prefabricated cabins can be manufactured in one place and then transported to almost any site out there, this gives architects and designers the opportunity to be creative and to not be limited in their projects by trivial inconvenience. This also makes it possible for anyone to live off-the-grid and in comfort. An example in this sense would be this beautiful retreat from Maldonado, in Uruguay. It was a project done by MAPA and the structure was prefabricated 200 km away from its site.
The E.D.G.E.
The E.D.G.E. stands for Experimental Dwelling for a Greener Environment and is a project developed by Revelations Architects. It's a minimalist structure situated in Bayfield, US. It was partially prefabricated, the major goals of the project being to offer high quality living conditions at an affordable price and in the form of a structure which can be easily assembled and dismantled for easy relocation. The project is a hybrid which combined traditional crafting techniques with digital fabrication and the result is this simple and at the same time eye-catching building with a small and compact form and tons of functionality.