15 Cheap Building Materials for a New Home on A Budget
Building a home – no matter what size—is increasingly more expensive, not just because of real estate prices, but also due to the cost of building materials. When it comes time to build, most people typically think about more traditional construction materials such as wood, concrete and bricks.
By getting creative with the types of materials you choose, however, it's possible to choose the cheapest materials that will help lower the cost of your new home.
When you seek out how to build a cheap house, take a look at alternative materials for the construction of the entire home or for various parts. We've rounded up a selection of the most common types of materials that can be used when looking for cheap homes to build.
Some of these materials may be options for your new home. It all depends on where you live, the kind of climate you have and what your local building codes are. In addition to being cheaper, many of these choices are also more environmentally friendly.
In a rush? Jump to the best building material!
How Much Does It Cost to Build a House?
The average cost of house construction, according to HomeAdvisor, is $290,314. While that may seem high, it is less than the median home sales price in the United States, which was $361,800 in July 2021, according to the United States Census Bureau and the United States Department of Housing and Urban Development.
Naturally, there are different costs that lead to variations of this sum of money, from cheap building materials to the size of the foundation, so let's take a closer look at the factors that influence the cost of a house.
Foundation
Excavation for your foundation requires heavy-duty equipment and skilled operators to ensure that the soil is level prior to installing the foundation for your home. Additionally, keep in mind that if a massive rock is beneath your plot, excavation prices may skyrocket.
Following excavation, contractors will lay the home's foundation, which will typically consist of concrete and lumber. Due to the additional square footage required to cover a basement, homes with basements often cost more than homes without.
Additionally, your home may require retaining walls to prevent adjacent soil from eroding and falling onto your foundation. Because foundation construction needs specialized equipment, materials, and personnel, the cost often comes out of the $34,000 budget, but budget an additional $1,000 just in case.
Framing & roof
Your future home's frame will be one of the most expensive components of your house-building budget, second only to the interior. This is the stage where your house begins to take shape. The skeleton of a house requires a ton of lumber, which can add up to $41,000 or more to the cost, and that includes the roof.
If the construction cost doesn't include trusses, this might add an extra $6,000 to the frame budget. It is not advisable to choose only the cheapest building materials for the frame because the risks are pretty high.
Sheathing, which is a flat covering of boards that covers and protects the frame and trusses, will cost roughly $3,000 to install. Consider it to be the skin that protects the bones of your home. If you include steel framing materials, your framing costs will increase by another $2,000.
Plumbing
The cost of plumbing a house varies significantly depending on the type of plumbing material that you plan to use. The most expensive option is copper pipes, as they end up costing approximately $9,000 for a 1,500-square-foot home. Alternatives to copper include chlorinated polyvinyl chloride (CPVC), polyvinyl chloride (PVC), and cross-linked polyethylene (PEX).
HVAC
HVAC installation costs typically range between $7,000 and $12,500. This comprises the installation of ductwork, central air conditioning, and a furnace. Costs vary according to your location's climate, your home's size, and the type of HVAC system you select.
By installing a woodstove or a fireplace, you may add warmth and possibly a higher resale value to your home. Installing a masonry fireplace costs approximately $4,500.
Electrical wiring
Electrical wiring in a new home costs on average around $8,000, which means about $4 per square foot. The entire cost of this project is determined by the type of wiring used, the intricacy of the floorplan, how many switches and outlets you want to install, and the type of electrical panel used.
It is critical to select a trained electrician for new building wiring installation. Your contractor will typically complete this in two stages: a "rough-in" phase while the home's frame is exposed, and a final stage following the installation of drywall. If you intend to install solar panels, consult a specialist.
Interior finishes
This is, by far, the category that will leave you spending the most money, especially if you know how to choose cheap building materials and still make your home look good. Naturally, how much you end up spending on your interior finishes depends on the style you're going for, the size of your house, and how much furniture you want overall.
Let's take some specific examples. Painting a home is usually going to drain around $8,000 from your budget. Insulation costs around $5,000.
You can expect to pay around $3,000 for lighting, $12,000 for flooring, and about $11,000 to install drywall. To keep it safe, you'll need about $75,000 for interior finishes.
Exterior finishes
The external wall is a high-priced line item since it encompasses the entire circumference of your home, which requires a significant amount of material.
Additionally, it supports the structure of your home and the roof, and keeps outside weather out, ensuring that even when the weather outside is dreadful, your home remains delightful.
Furthermore, exterior finishes include the installation of any openings in your home, such as the garage, windows, and doors.
You can anticipate those fees to be in the area of $12,000. An additional $10,000 will be added for roof finishes. This is another category in which a $1,000 cushion is recommended.
How Much Does It Cost to Hire a Draftsperson?
A draftsperson makes technical drawings, which are mostly employed in the building and manufacturing industries. They frequently collaborate with architects to contribute to the development of infrastructure, buildings, and airplanes. Typically, a draftsperson works with computer-aided design (CAD) concepts.
A draftsperson will cost between $812 to $2,672, with an average of $1,739 for a blueprint or house plan. They will charge between $50 and $130 an hour. A set of designs for a standard three-bedroom house takes at least ten hours to prepare and costs between $500 and $2,000, depending on the complexity.
How to Calculate Construction Costs for a New Home
Cheap building materials or not, it's not always easy to know upfront how much a new home is going to cost you. Material pricing or labor rates can all have a significant and complex impact on the final cost of a project. The effectiveness with which you convey your desires and needs to the individuals who will design and build your house can also affect the ultimate cost.
There are online tools that can help you calculate construction costs for a new home based on certain information that you are required to input. Some building companies will give you an estimated cost based on previous similar construction projects they had.
Building a House vs. Buying a House
Customization
A viable reason to buy an existing house is if you want to live near certain points of interest, like school, work, or family members. Additionally, the home's landscape is likely to be mature, which means you won't have to bother about establishing grass, planting bushes, or waiting for trees to grow.
And if you want to live near town, your best bet will be to purchase an existing home, as the majority, if not all, of the land will have been developed.
On the other hand, the primary downside of purchasing an existing property may be that you will not receive precisely what you desire. You may dislike the floor design and wish that the half bath on the first level was a full bath or that the main floor had another bedroom.
Loans
If you're building your own home, you'll almost certainly require a construction loan, and that is much different from a regular residential mortgage. Construction loans have higher interest rates, and delays can be costly to your budget.
Utilities
Construction entails ensuring that utilities are configured to accommodate your structure. Occasionally, they will not be, in which case you will need to consider everything from electricity to a septic tank. Additionally, even if utilities are already at or near your lot line, there will be additional fees connected with connecting them to your new build.
Pros of buying a home:
You can move in faster.
Takes less energy than building one.
Usually cheaper than building.
Can save you money with cheaper material options.
Cons of buying a home:
Fewer customization options.
Difficult to find a home in perfect condition.
You have to face competing buyers.
Pros of building a home:
You can build it as you wish.
You can build over time as you save money.
Better for your health.
No competing buyers.
Cons of building a home:
Higher upfront costs.
You can't move in until it's ready.
Unexpected costs.
Prefabricated panels
One of the quickest and most cost-effective ways to build a house is to use panels that have been prefabricated. Most of these panels come as part of a system that lets you build a custom home for a lot less. Although an entirely prefabricated house is one of the cheap homes to build, the panels offer a lot more flexibility in the building as well as materials.
According to Davis Frame Company, prefabricated panels save on labor costs and time. They also significantly reduce on-site waste removal costs and eliminate material cost overruns and delays because of weather or shortages of materials.
Homes constructed with these panels have speedier construction as well as a tighter fit among the sections because everything was done indoors in advance. Today's premade panels can easily be incorporated into a design made especially for the homeowner and certainly don't look prefabricated.
House-made from built mnmMOD panels
Lest you think that prefabricated equals a plain and boxy design, this gorgeous 2,500-square-foot home, conceived by Minarc of Santa Monica, California, uses prefabricated components. The mnmMOD panels used are the company's own prefabricated building system that is award-winning and patented. More than just affordable, it yields net-zero energy efficiency.
The panels are essentially a "kit-of-parts prefab house system" that uses Structural Insulated Panels (SIP) that Minarc describes as being like an ice-cream sandwich with recycled-steel-framing surrounded by Gypsum board and a waterproof exterior membrane.
They come filled with air-tight expanded polystyrene insulation and all necessary mechanical and electrical components. This helps reduce heat loss and gain, resulting in a home that has a lower carbon footprint. SIP panels contain a high percentage of recycled material and can be dissembled and reused. Even better: they are fire- and -termite-resistant.
Sleek and modern yet still homey, the Sherburne by Minarc uses some of the latest fabrication techniques such as the mnmMOD panels that are sustainable and can help yield 'net zero' efficiency, say the architects. These products are appealing because they offer the economy and waste-reduction of pre-fab construction but also have a host of other construction and life benefits.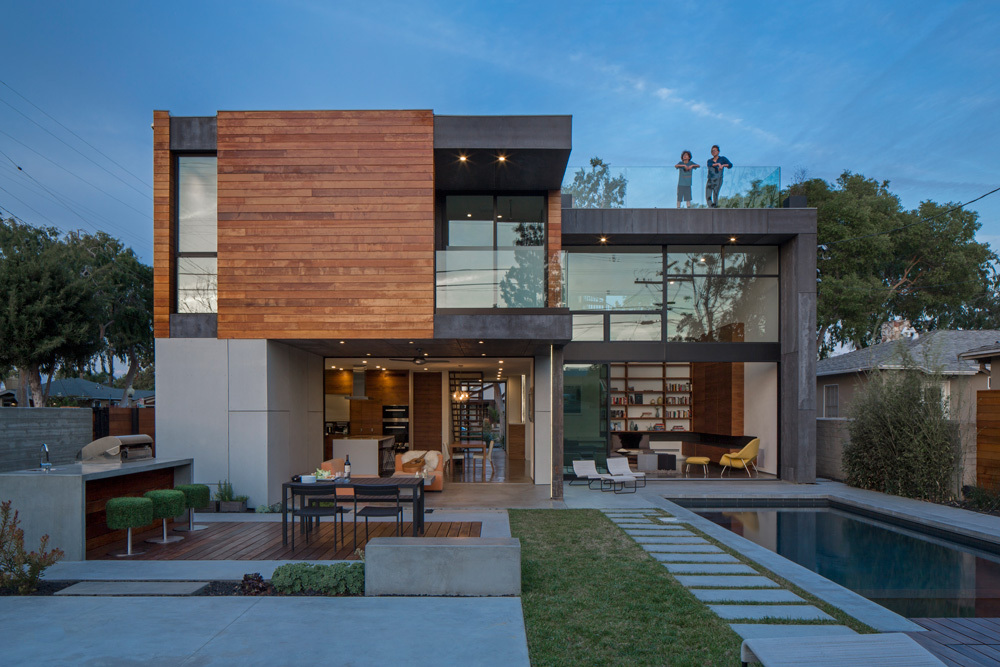 The home's design and construction is not only eco-conscious but it also creates a healthy environment, art of which is achieved with the use of the mnmMOD panes. Even without the obvious environmental benefits, this home is exceptionally appealing for its open plan, plentiful light and perfectly designed cross ventilation.
Concrete sheets
Concrete has become very popular for the exterior of residential homes and concrete sheets – or panels – are an easy way to achieve the concrete look for less.
Among cheap building materials, concrete panels are a stylish option that makes having a concrete exterior a lot easier.
Concrete sheets are quicker to install and are super secure and stable. These panels have been very popular around the world and are now gaining attention in the United States as well.
Concrete panels have lots of advantages, such as durability, weatherproof qualities, sound suppression and insulation properties. Because they are prefabricated, they also carry the benefits of general prefabricated panels.
Moreover, these panels are fireproof! All of these benefits also help save money on utilities as well as insurance, making concrete panel houses one of the cheap homes to build.
Single Family House Hoffstad
This uniquely designed home had to be able to stand up to harsh winds and rains. This is because it sits overlooking the fjords of Norway's Vesterøya peninsula. Architect Knut Hjeltnes turned to fiber concrete cladding to cover the home in a stylish, affordable and very durable way.
The house is on a steep site that was considered rebuildable. It sits on a concrete base that was cast on-site. Meanwhile, the upper part is a massive prefabricated wood construction, completely clad in fiber cement sheets.
While precast concrete sheets are great, there are locations where it's too costly or difficult to ship them. Studio RMA's modular concrete homes take cost-efficiency and climate concerns to another level by using a slightly different method. The modular sections arrive at the site made from structural foam with attached wire mesh. Once installed in place, the foam is sprayed with a layer of concrete.
Studio RMA says that the savings are significant. Construction using this method is about 60 percent less than traditional concrete or block walls.
The roof and walls of the home are made from the same material. This creates a home that is incredibly strong and can stand up to hurricane-force winds. It's also bullet-proof since it uses special binders and only 7 percent cement in the concrete mix. These structures are also super energy conscious because the foam helps modulate heating and cooling.
Stone cladding
Stone homes are gorgeous, but they are definitely not among the cheap homes to build. One way to get the look with less cost is to use stone cladding.
Cladding is like a veneer that is applied to the exterior of the home. It is typically lighter than a standard stone exterior and consequently costs much less because of savings on labor as well as materials.
Stone cladding can be used for the entire façade of the house or for just a portion, such as the base of the home or the chimney. It can be rustic or modern and can mimic different types of stone finishes.
It also comes in different thicknesses. Cladding is also a way to change the look and style of a home without building anew. This makes it one of the cheap building materials when you're on a budget.
The thought of a stone house might evoke a mental picture of an organic, earthy looking structure, but it is also great for more modern designs, like this one by Be Architecture. Located on Canterbury Road in Toorak Australia, the exterior of the home is clad in rough lava stone that draws attention to the structure and upward to the top floor. The stone cladding is also carried through into the main parts of the open-plan living space and the courtyard that figure prominently in the design.
The stone cladding is distinctive, but the lava stone is also formed by a similar process as the bluestone that can be found in the streets of Melbourne. This means that while it is eye-catching, it does not feel out of sync with the area. Stone is also an ideal counterpoint to large panes of glass.
Rural house with stone cladding
This vacation house in Aldeia de João Pires, Portugal uses stone which has always been a popular building material as. Renovated from an ancient community oven that the family had owned for decades, it is now a single bedroom vacation house.
Architects HBG Arquitectos created a home fit for both the cold winters and intensely hot summers. The stone exterior blends with the town and surroundings while it contrasts with the cozy, contemporary interior. The light and bright interior within the heavy stone structure shows how versatile this material can be. (Photographs: Ricardo Oliveira Alves_.)
Used shipping containers
The tiny home movement created a surge of interest in shipping containers as one of the cheap homes to build. Of course, using shipping containers as a cheap building material doesn't mean you need to have a tiny house. To create a larger structure for a roomier home you can use multiple containers.
Used shipping containers are one of the more environmentally friendly ways how to build a cheap house. Still, there are things to keep in mind if you choose to use them for home building. Because they have been on long sea voyages, rust, dents and other damage can be a concern. This is is why people often opt for "one-trip" containers.
Although they are slightly more expensive, they are generally in much better condition. Shipping container homes still need insulation. Also, they have costs associated with shipping them to your home building site. Regardless, with good planning, used shipping containers can be a very desirable cheap building material.
Tiny Shipping Container Home
The use of shipping containers for home construction has been gaining in popularity and why not. It's a perfect example of adaptive reuse and meshes well with the tiny house trend. A container home is also super affordable because there is no foundation to lay or roof to raise.
This stylish home is a great example of what tiny houses can look like. They actually look nothing like the original container. CargoHome, spcializes in building container homes. The company makes a variety of models that all start with a single-trip shipping container.
Inside, they're convenient and cozy. Meanwhile, on the outside, they're clad in wood. A larger model actually has a second container on top – a 20-foot size. This area acts as a second floor and creates a rooftop deck.
Typically, you see shipping containers used for smaller houses. However, you can use these prefab volumes to create larger, more traditional-style homes too. MB Architecture created such a house in Amagansett, New York. The Long Island home encompasses 1800 square feet and surrounds an existing tree on the property.
The architects made this design to match the size of the neighboring properties. The containers themselves were precut and prefabricated off-site.
It took just two days to install the entire structure, thanks to the ready components. Builders finished everything else after the installation. everything This includes from the tiling to the kitchen cabinets and the pool. This type of construction helps minimize the time needed for construction. It also mitigates disruption to the environment and the area.
Reclaimed timber
Reclaimed timber is not only one of the most common cheap building materials, but also one of the trendiest. Whether it's shiplap or rough-hewn timber, this type of timber can be stylish choice for building a new home. According to YR Architecture, Old timbers are usually more durable and dried out. In turn, this means they are less likely to warp or split.
In addition to increased visual appeal, environmental friendliness is also one of the reasons to use reclaimed timbers. Each piece is unique and will likely have an irregular shape. Of course, this can also be a challenge in sourcing materials and in construction.
It is possible can achieve cost savings on materials. Nonetheless, there can be a greater up-front time investment in locating and using reclaimed timber
Modern timber home
Lots of houses are built from wood, but here is one that is quite literally all timber. Designed by Kühnlein Architektur, the Timber House sits on a high plateau in Upper Palatinate, in Bavaria, Germany. Encompassing two sections, the layout creates two yards. One you see from the street as you enter and the other a private terrace facing the landscape.
At first glance, you might think that the façade has no windows, but it actually does. The timber facade — made from untreated larch wood — screens those facing the street.
The all-wood theme continues on the interior, where everything is wood: the exposed wooden framework, floors, as well as tables, cabinets and other pieces. There are no holes in the wall in this home. Exposed copper and copper piping make up all the hardware in this home, including electrical installations.
Reclaimed timber used in construction creates a home that has instant character and history that you can't get from modern, new materials. Toronto architecture firm LAMAS designed this Townships Farmhouse east of Quebec following the 19th Century traditional configuration for barns that uses courtyards to provide shelter from the wind.
Actually a working farm, this home also makes use of the "aisle" concept in order to make the most of the views. The entire structure is clad reclaimed wood and the soaring feeling of the vertical planks is amplified by the steeply pitched roof.
Designed with conservation in mind, the wood is actually hemlock cladding that was salvaged from old barns across Ontario. Inside, the wood floors are a similar gray tone, carrying through the vintage feel.
Corrugated metal sheets
If you really want to know how to build a cheap house, take a look at corrugated metal sheets. Once used for purely industrial purposes, these have really gained in popularity with the growth in industrial style. Actually, corrugated metal sheets have plenty of advantages besides cost. Steel is very durable and stands up to harsh weather conditions, fire and rot.
It is one of the easiest types of materials to maintain because all it needs is a fresh coat of paint or zinc coating to prevent rust. It's also totally recyclable. That said, it can be more difficult to work with because it is heavy and is not the best insulator, which can affect utility costs.
Austin house extension with glass and metal additions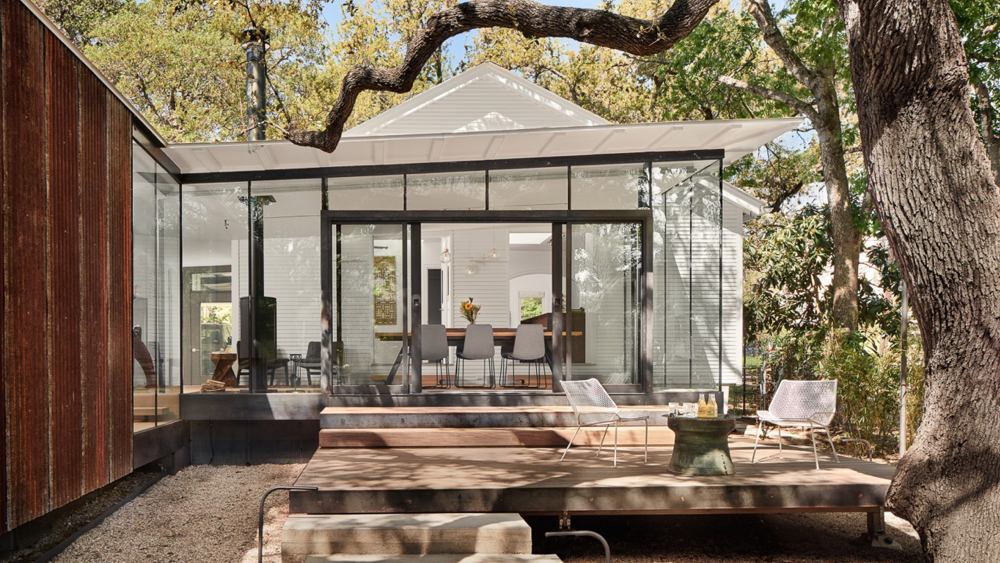 Corrugated metal was ideal for an extension to the backside of this bungalow in Austin, Texas. Nick Deaver Architects added the 1,000 square-foot section made of reused galvanized metal to create a new dining area featuring floor-to-ceiling windows.
It's a care-free choice that's also sustainable, having been rescued from going to the scrap heap. Moreover, because this more modern look is on the back of the home, it doesn't change the traditional bungalow look from the street.
The new L-shape is double the home's original size and surrounds a group of large oak trees. It has a low profile compared with the house that was already there. The roof of the addition gently slopes away from the enclosed garden. Actually, the extension is raised up off the ground to allow water to flow underneath to the creek at the rear of the property.
HHF's design for this weekend home in upstate New York uses four equally sized blocks that are arranged to create the modern structure. They are all timber construction clad in corrugated galvanized iron. This creates an austere, minimalistic exterior with an open, free-flowing interior.
In this pastoral setting, the iron-clad exterior brings to mind a modern version of an agricultural outbuilding. However, the style of the cladding and the glimmering finish have an elevated air. The horizontal edges of the corrugated iron sections overlap, giving more character to the structure of the wall. This also complies with local building codes.
Bamboo
If you live in an area that is conducive to using bamboo, it can be a cheap building material that comes with other benefits such as sustainability. Bamboo is one of the most renewable types of building materials as well as one of the strongest. Asian cultures have been using it for centuries.
That said, if you are going to use bamboo in building your home, it is important to find a builder who knows how to use. This is because they can't use traditional joinery techniques. In addition, it may not be suitable for dry climates because it can shrink or crack if there is not enough humidity in the air.
Tropical house with a bamboo facade
While this house is not exactly clad in bamboo, the main center section is veiled in bamboo panels. The residents can open them to see out or let more light in. Aptly named the Bamboo Veil House, this home is in Singapore and got its bamboo makeover in 2019.
At the request of the owners, Wallflower Architecture + Design created a design for a minimalist tropical house that features a large space for entertaining on the ground floor.
Inspired by the design of the Nezu Museum in Tokyo, the bamboo screen that wraps around the house was the designer's interpretation of that building. This veil around the central floor acts like a series of shutters. The residents can open and close them as desired.
Casa Bambu is named for the material that makes up part of this home. It is a relaxing getaway in an out-of-the-way location in northeast Brazil. The homeowners tasked Vilela Florez with completing the project in 10 months and within budget. To do so, the designer usedmas onry and bamboo to create this serene building.
The exterior of the simple structure features masonry blocks that form the "ribs" of the wall. In between these, gorgeous bamboo has an angled pattern, alternating its direction in each section.
These bamboo sections also help shade the façade, which helps regulate the temperature inside the home. Finally, the house takes advantage of the winds, which cross the pool and run through the vegetation before entering the bedrooms. Bridges connect rooms to the outside living space, which also lead to a swimming pool.
Industrial steel and iron
The popularity of industrial style is also making cheap building materials like industrial steel and iron equally popular. Steel Sustainability reports that cold-formed steel is great for residential construction because it doesn't rot, warp, split, crack or creep. It lasts a long time and is completely recyclable. Steel framing is sturdier and can be very cost-efficient. It's also a good choice for roofing because it lasts longer than many other types of roofing.
Using Industrial materials like steel and iron can open up lots of design possibilities, including amazing forms like this house in Sun Valley Idaho. Inspired by the high desert terrain that surrounds it, the materials used help create a home that serves as a refuge but also provides unparalleled unobstructed, 270-degree views of the mountains.
The massive vacation home – 6,500 square feet – created by Olson Kundig predominantly features glass facades. Otherwise, the home has a base of concrete but the cantilevered wings rely on steel for their stability and strength.
Steel also makes special interior design features possible, such as the pivoting door that is 23 feet wide, allowing for the full wall to open facing the south. With so much glass, climate control can be a concern. But, the overhanging steel roof helps shade the glass and exterior metal blinds can help shield the sun.
Traditional brick
Brick houses are very popular because they tend to last a long time. As long as you are not in an earthquake-prone area, brick can be one of the cheap homes to build. It is fireproof, stands up to inclement weather and creates a very quiet home interior. While it costs more than some other home options like vinyl siding, it is more durable and sturdier.
Many people also feel that it is more aesthetically pleasing. Costs can vary with the type of bricks, but traditional red ones are very affordable.
When budgeting for brick, make sure that you include installation because it is not a DIY project. You need a professional to do it. Improper installation can make the brick susceptible to damage or the weight can affect the stability of the foundation.
Iranian brick house
Even with a common material such as brick, it's possible to get a very uncommon-looking home. The Naghshe Khak Architectural Group's design for this seasonal residence in Royan, Iran is a prime example of this. Located on a 250-square-meter plot in a coastal complex, the owner wanted to create a house that was not only for their enjoyment but one that would be a model for future buildings in the complex. In addition, he had a particular interest in using bricks for the façade.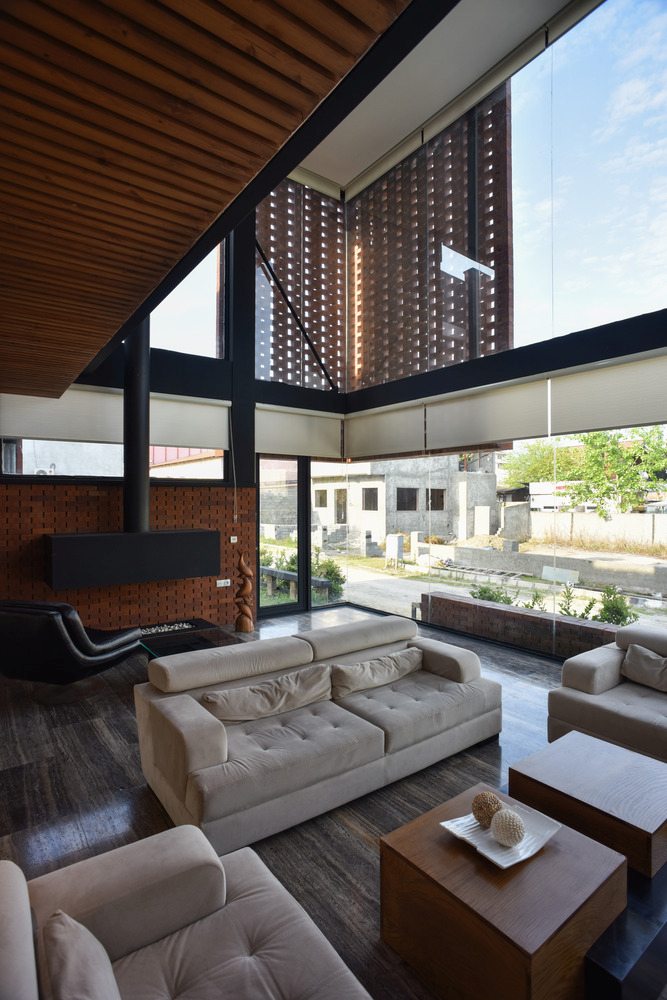 The designers created a spacious and comfortable home that features a large glass façade to bring in more of the outdoors into the interior design. From there, they added a textured brick design to the glass, changing the look of the home. The heavy bricks on the glass surfaces are suspended with a dry stone technique. This created an amazing play between light and shadows throughout the space.
New brick is most common in homebuilding but recycled brick is increasingly popular for many reasons. Maynard Architects designed this home called "Brickface in Melbourne Australia. It is constructed with recycled red brick and the exterior features accents of brightly colored bricks that have been glazed red and blue for contrast, color and pattern. The bright bricks also protrude from the surface, adding the element of play between light and shadow, shifting throughout the day.
The structure is actually a secondary building at the back of an existing home. It houses a garage, guest suite and rooftop deck. The structure is new, but has the charm of the more historic buildings in the area. In fact, in using the reclaimed bricks, Maynard says: "When the new build on the block, looks like the oldest building on the laneway."
Eco-friendly straw
Straw is a wonderful natural material with thermal and insulating properties, which makes it a suitable building material. Oh, yes, it's also on the list of cheap building materials that can save you money. According to Building with Awareness, you can use straw bales to build the walls of a home, creating a structure that is well insulated and environmentally friendly.
The bales are thick, so the home's walls will also be thick. However, you can carve them to make customized openings for windows and doors.
It may seem counterintuitive, but straw bales are also fire resistant thanks to their thickness. Again, climate can determine the viability of using straw for your home. Experts don't recommend using straw bale home construction in rainy, humid weather.
Largest Prefabricated Strawbale Building
Straw is not something that immediately comes to mind as a building material. But, it takes center stage in this new building by London-based Make Architects. The Sutton Bonington Biosciences Building at the University of Nottingham's agriculture campus is under construction. When completed, it will be the largest straw bale building in the UK.
It is being built with prefabricated panels filled with straw bales locally sourced directly from the University's farmland. Leveraging solar passive design and a carefully chosen site will minimize solar gain. This type of straw bale construction is not new in the UK. ModCell® — one of the first products to make large-scale, carbon-negative buildings a reality – built many of these buildings. This just gives you a peek at one of the many ways build an affordable and sustainable home.
The look of this home in Crestone, Colorado belies the materials that form its structure. Strawbales form the bulk of the walls. Gettliffe Architecture designed the home to be energy efficient and sustainable. Moreover, all aspects of its construction process are green. The home is at the junction of the Sangre de Cristo Mountains and the floor of the San Luis Valley. The design makes a relaxing retreat that's also well integrated into the environment.
The layout and orientation maximize natural light. And, using strawbales in the construction means that you need far less wood framing. An added plus is that the bales are very efficient insulation for the home.
The architects also incorporated various solar energy techniques, including hydronic solar panels and a sand bed that stores heat. Together, these supply more than 80 percent of the home's energy requirements.
Fresh concrete
If you're looking for how to build a cheap home, raw concrete may be just the building material for you. Concrete walls are water- and fire-proof, in addition to being a healthier building choice. Because concrete doesn't contain any organic materials, it won't sprout mold or mildew.
It creates a home that is sustainable and quiet, and able to withstand floods and earthquakes. Among the cheap building materials, raw concrete is also low maintenance. This is because you can leave it in its natural state or simply paint it.
Concrete shell house
Concrete homes have been popular for some time because they offer a lot of flexibility in design. You can take into account not only climate but also specific building site limitations. Located in Faqra, Lebanon and designed by L.E.FT Architects, this home had to fit on an oddly shaped triangular lot.
The region enjoys four distinct seasons so the structure has different outdoor areas catering to different weather conditions. These include a summer pool area and an autumn deck on the rooftop. Using concrete also makes it easier to incorporate curved windows. Inside, the spaces are clean and modern, with plenty of natural light.
Concrete can be the answer to many different building site challenges. This one-story home on a mountainside in Poland is the celebrated Ark Home. Robert Konieczny designed it using concrete for function and spectacular looks. The design also has to accommodate the need for security in a remote location and the high risk of landslides.
The home has a twisted orientation so that only one corner touches the ground. The section that contains the bedrooms hangs over the edge of the hill.
By using concrete, the designer could close off the entrance to the home with a ten-meter wall and a drawbridge. The home is insulated from the inside with a sprayed closed-cell structure foam, which is also a vapor barrier. This construction preserves the exterior appearance and eases construction.
Plastic
We already reuse and recycle plastics for other consumer uses, why not for construction? It's one of the cheap building materials that is in plentiful supply. Today, plastics in roofing, insulation, window elements and plumbing fixtures are common.
Creative architects and designers can also come up with novel ways to use this material in home construction. This also helps develop plans for cheap homes to build. In certain areas of the world, people are building homes with empty plastic bottles as construction materials.
Tall, dark and dramatic, you would never think that the cladding on this house is plastic. More and more, plastic is finding its way into outdoor building materials like composite decking. However, until now, builders haven't used it for actual homes.
Designed by Moomoo Architects, this matte black home is in Lódź, Poland. It is covered in a cladding called Thermopian. Typically used for roofing, the insulating plastic has excellent thermal, acoustic and insulating properties.
The distinctive exterior wall enhances the dramatic lines of the house. It looks like an open door, giving a glimpse of the windowed wall inside the space. Traditional Polish houses inspired the steep roof of the house. On the other hand, the asymmetrical orientation gives it a more modern look.
Glass
Yes, every house has elements of glass in the windows. But often, architects use glass as a building material. It's highly desirable because it makes the indoor space light and bright. Moreover, if it's a major part of the structure, it creates a dramatic home.
Glass might not rank highly among cheap building materials, but it does have advantages for home construction. For example, it's more lightweight than other choices. There is also a wide range of types of glass available, from shatterproof to tempered glass and glass blocks.
Hoffman House
Most houses use some glass – for the windows at the very least. On the other hand, this one in Valencia, Spain features a facade entirely made of glass, all the way around. Designed by Fran Silvestre Arquitectos, the home has a T-shaped roof that sits atop what is, in essence, a glass box.
Hoffman House has an open rooftop that you can walk on to enjoy the views. The angle of the roof provides privacy on top. Meanwhile, the interior has a thin box in the middle housing the bedrooms.
Interior walls are actually a series of sliding doors open to the living space. To highlight all the glass, the architects stuck to a limited palette of materials. Ultimately, this enhances the light that reflects through the home.
Glass is an excellent building material, particularly when the home site offers attractive views. This home in West Vancouver, British Colombia was designed by Splyce design studio of Canada. The steep terrain, mature trees and ocean views made it the ideal location for glass as a building material. The glass creates a home that fully appreciates the surrounding landscape.
Strict environmental and geotechnical considerations affected the footprint of the structure. Because it's oddly narrow, the house uses cantilevered sections to regain some of the lost space.
At the same time, the designers did away with window frames and extended the glass panels for all three walls. This not only enhances the interior space but helps blend it with the terrain outside. A wall-to-wall skylight further highlights this.
The architects say that the home is a contrast of the visual "porosity and openness of space" and the solid, "robust materiality" that links the house to the ground.
Earth
It's everywhere and easy to obtain: Earth. We dig into the earth to make the foundation for our homes, but increasingly, home builders are either creating homes inside the earth or using rammed earth for the walls of a home.
Perhaps fueled by the hobbit houses of movie lore, some are opting to dig into the earth. They are using the natural walls the ground forms as the confines of the home. Rammed earth homes are great because they use less energy and don't need as many building materials.
Another option is using rammed earth, also called pisé, to build a home. For this, builders mix a combination of earth, sand and clay and compact it using a rammer.
These sections, along with insulation, make the walls of the home. Some new companies, such as Watershed Materials, are using the very dirt they excavate from the home site to create the rammed earth walls.
Semi underground house
This underground home is an addition to an existing small stone building. To fulfill a desire not to disturb the beautiful landscape, architect Jordi Hidalgo conceived a design that is largely hidden under the hill and connects to the original structure via a glass walkway.
Located in rural Navarra, Spain overlooking the Navarra mountains, the addition is invisible from up the hill. The subterranean section that follows the silhouette of the hill, has an open plan space that holds the living, dining and kitchen areas. The green roof even shields an outdoor terrace. Even though it's technically underground, it still offers spectacular views: The full length has a glass façade across its entire span that puts the dramatic countryside on display.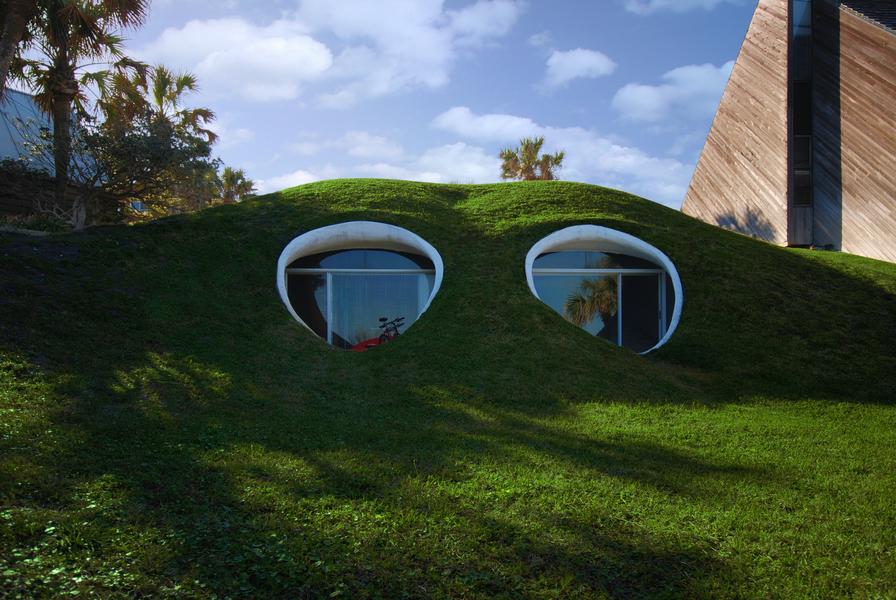 An architect transformed a dune from 1964 hurricane into an underground duplex in Florida. It may be one of the few subterranean homes on a beach, Architect William Morgan created this grass knoll that hides The Dune House.
The home is all curves with no right angles. The surrounding earth insulates it very well, meaning that it stays cool in the summer and warm in the winter.
Actually, a nautilus shell inspired the interior. The spiral staircases progressively narrow as you climb higher. Each unit is 750 square feet and has a lofted bedroom are with built-in closets in the wood-paneled walls.
The street side of the home has a charming curved entryway with two doors, embedded into the dune. Two rounded openings face the beach and have sliding glass doors. Above those are two decks, ideal for watching the ocean. Because the home is underground, the roof needs regular maintenance – mowing!
Waste materials
You can find cheap building materials among the wastes that modern world society discards. Creative builders are using all kinds of free and cheap items. Everything from cigarette butts to plastic bottles and rubble from previous buildings are free materials for building new homes.
Also, some are building new homes from recycled materials from other homes. For example, builders can use old doors and windows to create walls for a new home. As creativity and technology continue to develop, builders will use more types of waste as cheap materials for homes.
Like an artistic collage of multimedia materials the Collage House in Mumbai, India is a genius construction of waste and other materials. Designed by S+PS Architects, the home is fully modern on the inside.
The exterior façade includes windows and doors reclaimed from demolished houses in Mumbai. Reclaimed materials also figure prominently in the interior, including metal pipes that form a "pipe wall" integrating structural columns, rainwater downtake pipes and a spout sculpture that is amazing during monsoon season.
The central courtyard features scrap rusted metal plates, colored tile samples cut-waste stone slivers. It also has hundred-year-old columns from a dismantled house. All these old materials contrast with the sleek new interior. Even that still makes use of reclaimed materials like fabric waste and colonial furniture.
The hilltop location offer grand views but also the challenge of neighbors on all sides, so the designer created an iconic Indian courtyard, but with a twist: It's actually above ground level and sits atop a rainwater harvesting tank surrounded by rock that came from the excavation.
Small Home Floorplans
Small home floorplans don't mean less ease and functionality. Today's layouts make the most of a small space and this home in Uruguay is a great example. It comprises 90-square-meters and is totally prefabricated.
Near the beach and in a lovely rural area, it packs all the essential functions into a compact space. Using prefab pieces means that you minimize the impact of construction and cut down on waste. This also creates a perfect balance between nature and industry.
Simple floor plans for houses
The best simple floorplans are just that — simple. They are also affordable but also have all the features you need. The main thing is that they make efficient use of space and are still comfortable.
This house in Lithuania by Lunaarch has nothing unnecessary in its design or layout. This is true of both the interior as well as the exterior.
Inside, the efficient layout has only the most functional of furniture and appliances. This creates a sense of space and lets the residents enjoy the beauty of nature. Large windows bring in natural light. They also provide great views of the landscape and expand the feeling of nature.
A house with a simple floor plan can also have great outdoor spaces like this one does. Actually, it has three terraces that follow the path of the sun. This lets residents enjoy sunshine throughout the day.
A holiday bungalow in a spectacular site outside Mexico has a functional, simple floorplan. Although it's part of a series of holiday cabins, it's still the perfect private space.
The layout focuses on the living area and the master bedroom. As soon as you enter you can see the division. Vegetation fills the void and the two key spaces feature large front terraces. Fully enclosed sides ensure privacy from the neighboring cabins.
Nestled among the trees, the houses have spectacular views and blend in with the terrain. The property includes a common area with a large garden with a lounge and a pool.
House Kits With Prices
A house kit is kind of the ultimate DIY project. It's essentially a package with everything you need to build the basic structure of your home. Interest in house kits picked up recently because they're more affordable to build than a traditional house.
While it might sound like a newfangled option, it's not. Sears introduced house kits back in the early 1900s and they were popular until about 1940. Back then the designs were pretty much all the same. On the other hand, now you can get a house kit for anything from a she shed to a three-bedroom house.
We say they're cheaper, but you might wonder how much cheaper they actually are. Experts say that the house kit is about one-quarter of the total cost.
You still need to hire someone to build it. You'll also need licensed professionals for plumbing, wiring, etc.
Budgeting needs to include drywall, flooring and other surfaces.
Appliances, fixtures and other extras mean extra money.
Before you click "buy", be sure to consult with a contractor.
Getaway cabin house kit
If you're dreaming of a vacation home, a house kit might be the ticket for you. For just $7890, the Allwood Sommersby kit lets you build a light-filled 174-square-foot cabin.
With big windows and wide double doors, the house melds classic cabin style and a garden house vibe. It would also make a great guest house, she shed or office. Purchase options include an enclosed alcove that can be a bathroom. Best of all, two handy people can build this in about 4 days.
Solar farmhouse kit
Energy efficiency and farmhouse style are trending so the Solar Farmhouse from Deltec Homes Renew Collection is a great choice. It uses passive solar design and airtight construction.
The expansive layout covers 2,029 square feet and features what homeowners want. It has high ceilings, loads of storage and open plan living. It also has a great covered front porch — and one in the back too!
When it comes to cost, the size and features mean it's more expensive. The price also varies between northern and southern climates. The cost of the shell goes from $165,000 to $181,000 for colder regions. Some people love the house but decide they don't want to deal with the whole process. If that's you, turnkey options range from $510,000 to $720,000.
DIY shelter house kit
This Shelter-Kit brings you everything you need to build the shell of whatever structure you want. From there you can go totally DIY or hire a contractor.
The best thing about these homes is the variety of kits available. A wide range is available with prices ranging from a $24,000 one-bedroom house kit to a $145,000 three- to four-bedroom model. There's also lots of customization and consultation available to suit your desires and local building requirements.
New Homes in San Antonio – Shipping Container Style
Poteet Architects designed this house using a shipping container. The structure is a guesthouse and includes a bathroom with a shower. They designed a big steel and glass window wall that can lift or slide. This opens the space to the landscape and brings in lots of light.
Sustainable features include a green roof, bamboo plywood, and a gray water reuse system. The bathroom has a composting toilet. On the exterior, a wire mesh panel will support a green wall of evergreen vines.
Alternatives to Lumber
With lumber prices fluctuating wildly — and supplies often delayed — it's good to consider alternatives to lumber. You might already know about some other options for framing a house, but maybe not all of them.
Insulated concrete forms
These are concrete walls cast in place, sandwiched between two layers of insulating material. You can have any type of exterior treatment on these so they are great for houses.
Walls with insulated concrete forms are strong and resistant to disasters as well as mold, rot, mildew, and insects. They are also very energy efficient.
Structural insulated panels
These are part of a cost-effective system for building houses that is also great for energy efficiency. In fact, they are about 50 percent more efficient than traditional lumber framing.
Each panel has an insulating foam core between two other panels. The other structural facings are typically usually oriented strand board (OSB). They are manufactured in a factory specific to the design. Once they arrive, builders can quickly assemble them and make them watertight.
Structural steel
This type of framing uses steel beams for the bones of the house instead of traditional lumber. Essentially steel is safer against fire and rot. It can also have lower construction costs. On the other hand, steel-framed houses are less energy-efficient and can be susceptible to corrosion.
Light gauge steel framing
Also called cold-formed steel this alternative to lumber is similar to steel framing but is lighter weight.
While it's sustainable and speedy to build with, light gauge steel framing has a couple of downsides. It can lose strength in a fire so you have to protect it with fire-rated sheeting. This type of steel framing conducts sound easily, so it needs soundproofing as well as thermal insulation.
Cellular PVC
Designed to replace wood in trim and specialty millwork, cellular PVC is a honeycomb structure material of polyvinyl chloride. It can be cut and shaped just like wood and used in non-load-bearing situations.
Cellular PVC is impervious to water and insects, never needs painting and is long-lasting. However, PVC is a fossil-fuel-based plastic and is not environmentally friendly. It can also emit VOCs and is ultimately very difficult to recycle.
Composites
These types of lumber alternatives are now commonly used in decking. You can also use them in other home-building applications.
A composite is made from two or more materials to create an entirely new building material. There are different types and many are made from recycled plastic waste.
Composites are light and strong which means construction costs are lower. They are resistant to water and insects too.
Engineered Wood
Increasingly common, engineered wood is made by mixing pieces of real wood, scrap wood, wood fibers sawdust with adhesives. The resulting products look and function like wood but are stronger.
Plywood is the most common example of engineered wood but new varieties are on the rise. among them are particleboard or chipboard, oriented strand board (OSB) and Glulam timbers. "Glulam" short for "glued-laminated timber" is construction lumber made of laminated layers. In the end, they are stronger than lumber, but also more expensive.
Fiber Cement
This composite building material is mostly used for roofing and facades. It's strong and durable. Beside's looking great, fiber cement is resistant to insects and rot and is generally environmentally neutral. On the downside, it's heavy and more costly to install. Also, you'll have to repaint it at some point and if you swap it out, it's not recyclable.
Frequently Asked Questions (FAQ)
FAQ
What Is the Average Cost for Building a House?
While the average cost of building a house is $298,500, the majority of homeowners pay between $150,000 and $445,000. While you can obtain an estimate of what you might pay, keep in mind that there are several variables that affect the cost of construction. Of course, you can lower this cost through different methods, like opting for cheap building materials. 
What Permissions Do You Need to Build a House?
If you want to build a house, you are going to need a land title, land clearance, zonal clearance, building approval, a completion certificate, an occupancy certificate, and services plus utility installation. 
What Is a Design-Build? 
This is a delivery method for construction projects. The organization of the team and the flow of information among project stakeholders is what distinguishes design-build. 
Unlike other delivery techniques, design-build unites everyone around a common goal: wanting the project to succeed as a whole, not just their assigned component. Design-build encourages a collaborative environment for sharing knowledge and skills. This is because each firm's success is contingent upon the success of the other firms.
What is the cheapest type of house to build?
In general, the cheapest type of house to build is a tiny home. If you're looking at more traditional types of homes, then stick to a rectangle. That said, the specific location of the home and what materials you are using are among the factors in the cost. In the US, the average cost of building a home is  $285,239
How long does it take to build a house?
In general, the average time it takes to build a house is seven months, according to a 2019 U.S. Census Bureau report. However, these days, high demand, supply chain problems and problems getting enough labor can push that out to more than 10 months.
Other factors that can affect your construction timeframe are various approvals, weather and the specific homesite you have.
What kind of house can I build for $250,000?
For $250,000 you can get a house with about 2,000 square feet. In fact, this is just about $30,000 under the average US home construction cost.
That said, the location where you live will greatly affect what kind of house you can get for this amount. For example, suburbs around major metropolitan areas like New York, Boston, Chicago or Los Angeles, are far more expensive. In New York City, $250,000 will get you a 900-square foot apartment. By contrast, a $250,000 house in Wichita, Kansas is about 3,500 square feet.
How much does it cost to build a 2,000-square-foot house?
It costs about $200,000 to $310,000 to build a new, a 2,000-square-foot home. That may sound like a big range, but other choices can run up or hold down the cost. Material choices like exterior cladding and interior finishes are big ones. As we already noted, your geographic location also has an effect on how much home construction costs.
How much does it cost to build a small house?
Small homes are traditional houses that are generally not bigger than 1,000 square feet.
(Keep in mind that a tiny house is anywhere from 100 to 500 square feet.) The national average construction cost for a small house is about $125,000. Of course, there's a great deal of regional variation, so you'll have to adjust the cost for your specific region.