15 Beautiful Houses From Denmark Inspired by Their Unique Surroundings
Have you ever wondered what the houses from a different part of the world look like right now? We're doing that constantly and we like to share our experiences with you so today we're checking out a few houses from Denmark. Let's see what the inspiration behind their designs was and all the different ways in which the location and the surroundings influenced these projects.
15 Beautiful Houses Architecture From Denmark
An updated timber cabin in the forest

This lovely house from Ødsted, Denmark has this very simple and modest design. It looks like a timber cabin that has been updated to serve as a family home and to suit a contemporary lifestyle but somehow managed to maintain its charm along the way. The house was designed and built by studio N+P Architecture and sits on a site at the end of a small forest trail. The carport marks the boundaries of the site and allows the house to enjoy plenty of privacy as hikers pass by as they go through the forest. It's also important to mention that all the surrounding vegetation and the landscape around the house has been left untouched.
A charming little house with a massive terrace
This is another beautiful house from Denmark which was designed by studio N+P Architecture. It's situated on the. west coast and is surrounded by gorgeous views of dunes and the North Sea. Once again, this is a house that was inspired by its natural surroundings. It blends into the landscape and has minimal impact on its surroundings, attempting to frame all the beauty and bring it inside rather than try to tame it or shape it in any way. The design is simple and modern on the outside and clean and modern on the inside. All the rooms have access to a terrace which runs all the way around the house creating a border and ensuring a close connection to the surroundings.
Old-fashioned house with an updated design
Architects Christopher Carlsen and Morten Bang (Tegnestuen LOKAL) completed in 2017 a lovely project in Tikøb, Denmark. It's a 130 square meter house that was inspired by the traditional Danish houses but takes a more modern and sustainable form which uses eco-friendly materials. Like the old houses, it maintains a close relationship with its surroundings and nature in general. The architects chose to give this house a wooden frame in favor of the typical load bearing concrete walls. The brick single cladding gives the structure a modest and old-fashioned look but in a rather peculiar way. The interior, as expected, is bright, simple and modern.
Tiny wooden house built with recycled materials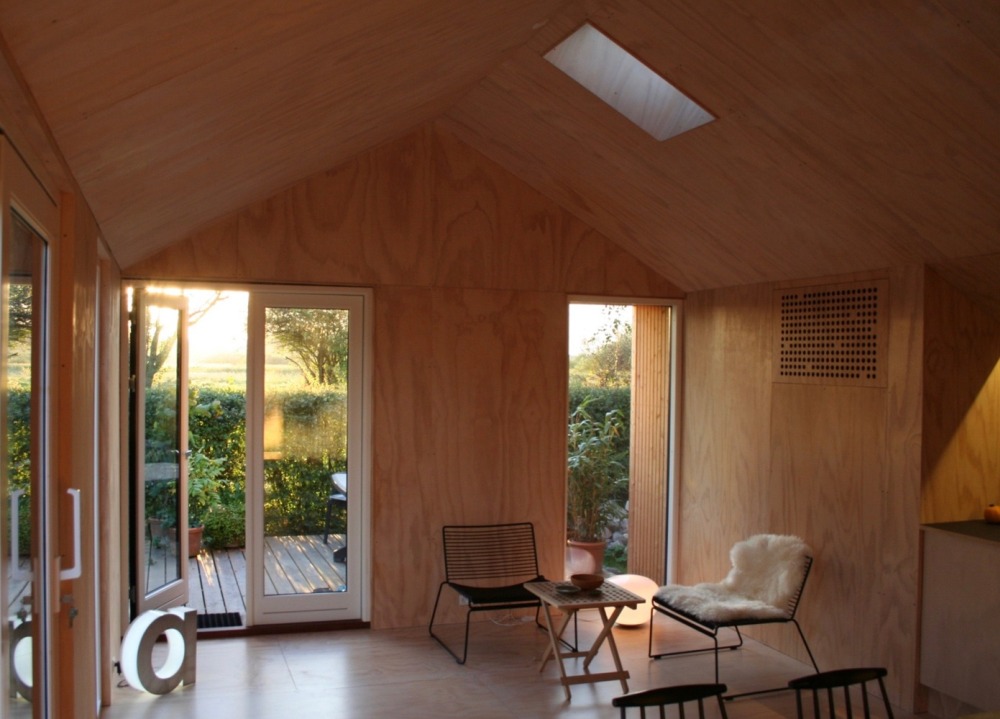 Located in western Aarhus around Brabrand lake, this lovely house only measures 50 square meters across. It was designed and built here by architect Kristian Olesen and the inspiration came from traditional allotment houses which are basically small wooden structures built by their owners using recycled materials. It's a compact structure which has been adapted to the limited dimensions of the plot. It's been elevated to provide protection against the floods which also happens to maximize the beautiful views which can be enjoyed from inside. Next to the house, there's a small patio and a garden.
A small house with an artistic touch and colorful windows
When designing this house, Studio-K found inspiration in the work of artist Olafur Eliasson. The idea behind the project was to create a house which could be enjoyed all year round but would have a summerhouse type of vibe to it. It's all built out of wood which gives it a fairly modest and simple look. In order to give it a more vibrant and playful appearance, the architect introduced color into the design. This was done in the form of colored windows and sliding glass doors which create a mesmerizing glow as the sunlight filters through during the day.
A modern design inspired by traditional Nordic homes
Villa P is yet another amazing project done by N+P Architecture. It's a house with a simple design inspired by traditional Nordic homes and it's built out of wood, slate and zinc which are materials that age with time and gain a patina, thus allowing the house to gradually transform and gain more character as each season comes and goes. These materials were also chosen for their durability and the ability to withstand the harsh conditions associated with the site which is close to the ocean. Of course, this location also comes with a distinct advantage: a panoramic view towards the harbour of Fredericia and Lillebælt.
Raw brick walls and an industrial theme
The inspiration for the design of this particular house from Copenhagen came from a rather unusual source. Studio David Thulstrup designed this as a private residence for photographer Peter Krasilnikoff who wanted a home reminiscent of old warehouses and factories which were typically constructed out of bricks and blackened steel. With that in mind, the existing garage already present on the site already fit the theme, featuring raw brick walls. The studio then proceeded to design a house with a modern-industrial look, high ceilings and lots of natural light using a series of simple materials. This is the result.
Panoramic views and beautiful skylights
Villa U is located in Aarhus and was designed by architecture studio C.F. Møller. It's a single family home with a modern aesthetic inside and out and large glazed surfaces which take advantage of the panoramic views and the proximity between the building and the natural landscape which wraps around it. The clean and simple geometry of the volumes ensures an open and airy layout and a seamless connection between the indoor and the outdoor areas of the house. At the center there's a double-height space with skylights and a beautiful brick fireplace.
A lovely forest house with a weathered exterior
This house from Asserbo is surrounded by a beautiful forest which turned out to be the main source of inspiration for its design. The project was developed by studio Primus architects who worked closely with the owner to come up with the best plan for this unusual structure. The goal was to create a small cabin-like house that would offer lots of privacy and would allow the owner and potential guests to enjoy the views and the forest. The most interesting design detail is definitely the facade of the house which is clad in solid oak boards which have been treated with iron sulfate in order to look weathered. This gives the house a lived-in look and lots of character.
Semi-underground house surrounded by trees
When designing Villa R, the architects at studio C.F. Møller had to deal with a series of local regulations which limited their options and dictated that the house could only be one storey tall and could only occupy less than 20% of the site. In response to that, they came up with an ingenious plan to partially build the house underground. This created more floor space and allowed them to include all the spaces that the owners wanted such as a playroom and a series of rooms for the kids for example. These were included into the lower floor area, leaving the main floor open to all the living areas. This section of the house also offers panoramic views of the forest and all the beautiful trees present on the site.
A cozy retreat at the edge of a lake
The Fjord Boat House is a project completed in 2020 by NORM Architects. It was designed to serve as a cozy retreat, a place where one can enjoy a peaceful and relaxing time and admire the magnificent views. The house sits very close to the edge of the water which was very important for the way in which it was designed and structured. From inside, it appears as if it's floating. The dark exterior helps the house to easily blend in with the trees and the vegetation that surround it and large windows and doors ensure that plenty of natural light gets inside, creating a bright and airy environment.
Multiple small cabins connected into a beautiful home
Using reclaimed materials, studio Lendager Group managed to create a charming holiday home with a really cool design. They used wood to create a series of modules shaped like small cabins, all with similar proportions, gable roofs and big glazed surfaces. They're all arranged in a row and connected to one another. Inside the transition from one area to another is seamless but it's also interesting how each area maintains its own individuality and uniqueness. In total this collection of modules incorporates five bedrooms, three bathrooms, three living room and a kitchen. It's absolutely perfect for holiday vacations and the gorgeous natural surroundings make it even better.
A cool geometry and three beautiful courtyards
When looking at this house from above you can immediately tell that it has a very peculiar shape. To explain this as simply as possible, there's a central space and three rectangular volumes that expand from three in different directions, creating three separate courtyards. This was a project developed by architects Marshall Blecher and Jan Henrik Jansen Arkitekter who worked together to create something unique in response to the topography and the beautiful natural surroundings. The interior of the house is quite interesting as well. It contains a series of common spaces towards the center and private and more secluded areas at the ends of the wings.
A family home with classic design accents
Situated on a sloping piece of land with a lovely view over a lake and gorgeous landscape all around it, Casa J is a wonderful family home designed and built by Christoffersen & Weiling Architects. It features a gable roof which, rather than looking bulky or giving the house a rustic cabin-like appearance, goes really well with its simple and modern aesthetic. Large windows and openings allow the interior to be extended outside and ensure an organic connection between the house and its beautiful natural surroundings. The interior is airy and inviting, with a distinctively classic flair.
A simple house with a winter garden
The Green House is a special project completed by architect Sigurd Larsen which consists of a contemporary house with a really cool feature: a winter garden. This section is attached to the south side of the building and looks very much like a stylish greenhouse. It's a 32 square meter space fully open to its surroundings. The massive windows and the roof let in tons of sunlight and the heat which is retained inside during the day is slowly released into the rest of the house throughout the night. This is also a perfect space from which to admire the surroundings regardless of how harsh the weather is outside.